Bengali New Year - Poila Baisakh / Nobo Borsho is just round the corner! We celebrate along with family and friends, greeting each other "Shubho Noboborsho" which means "Happy New Year". We are known for our love for food and on this special day, we feast all day long. I am sharing here a list of dishes that Bengali people eat on New Year!
I miss home a lot on these special days. Ma is such a great cook, and she makes so many delicious dishes on this day! I can't do even half of what she does! However, I try to make a few of these dishes to welcome the New Year and stay rooted to the tradition.
What to prepare for breakfast on Bengali New Year
Luchi - I am pretty sure most Bengalis like me would consider it their guilty pleasure too. Soft, flaky and almost melting in your mouth, when paired with dishes like Ghugni or Kosha Mangsho. It is a comforting and hearty treat.
For Breakfast, we pair Luchi with Cholar Dal or Aloo Dum
If you want to make it extra special, try Koraishuti Kochuri instead of plain luchi.
Koraishuti Kochuri - Koraishuti Kochuri is a classic Bengali dish. It's spiced green peas stuffed deep fried bread. It is stuffed with mildly spiced green peas, rolled and then deep fried in hot oil.
CLICK HERE TO SEE MY BENGALI RECIPE VIDEO PLAYLIST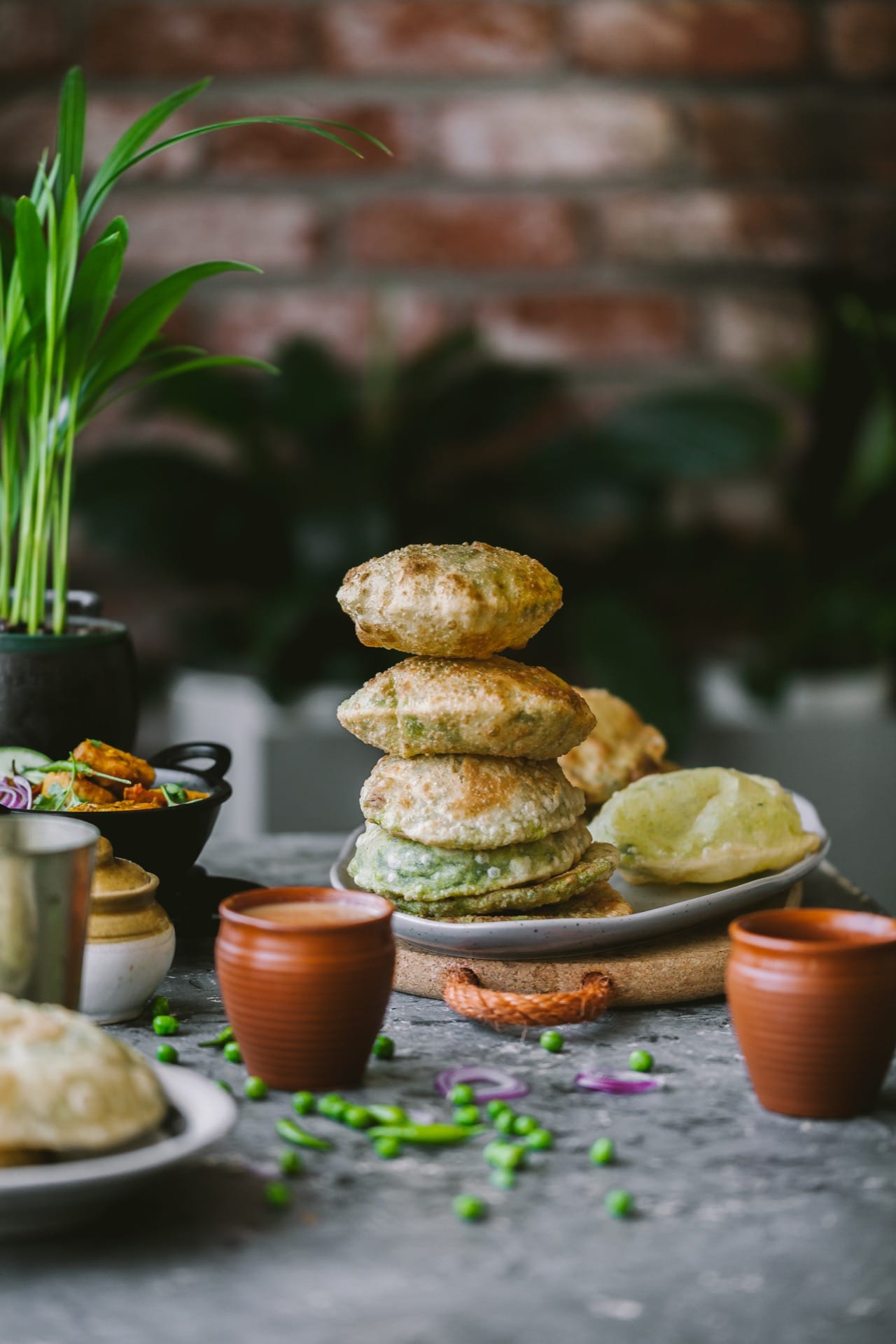 Cholar dal - Cholar Dal is a quintessential Bengali Dal. We prepare during any special occasion and especially during the festive season. We prepare this dal with Bengal gram (chana dal) and it has a beautiful flavor blend of sweet and savory.
Aloo Dum - This Bengali style dum aloo is a favourite in many households. Often you can even find it as a Kolkata street food during morning hours to feed the hungry souls on the go.
What to prepare for Lunch and Dinner on Bengali New Year
Tetor Daal (Bitter Gourd Yellow Mung Stew) - Tetor Daal – daal is a light lentil stew with a hint of bitter taste. It is a quintessential Bengali dish, most commonly prepared during summer months. Bitter gourd is known to cleanse your palate and soothe your tummy. This Daal is ideal for a detox diet.
Shoshar Shukto - A summer delight, light on the tummy Bengali style meal. This Shoshar Shukto takes about 15 minutes to make. We serve it with steamed white rice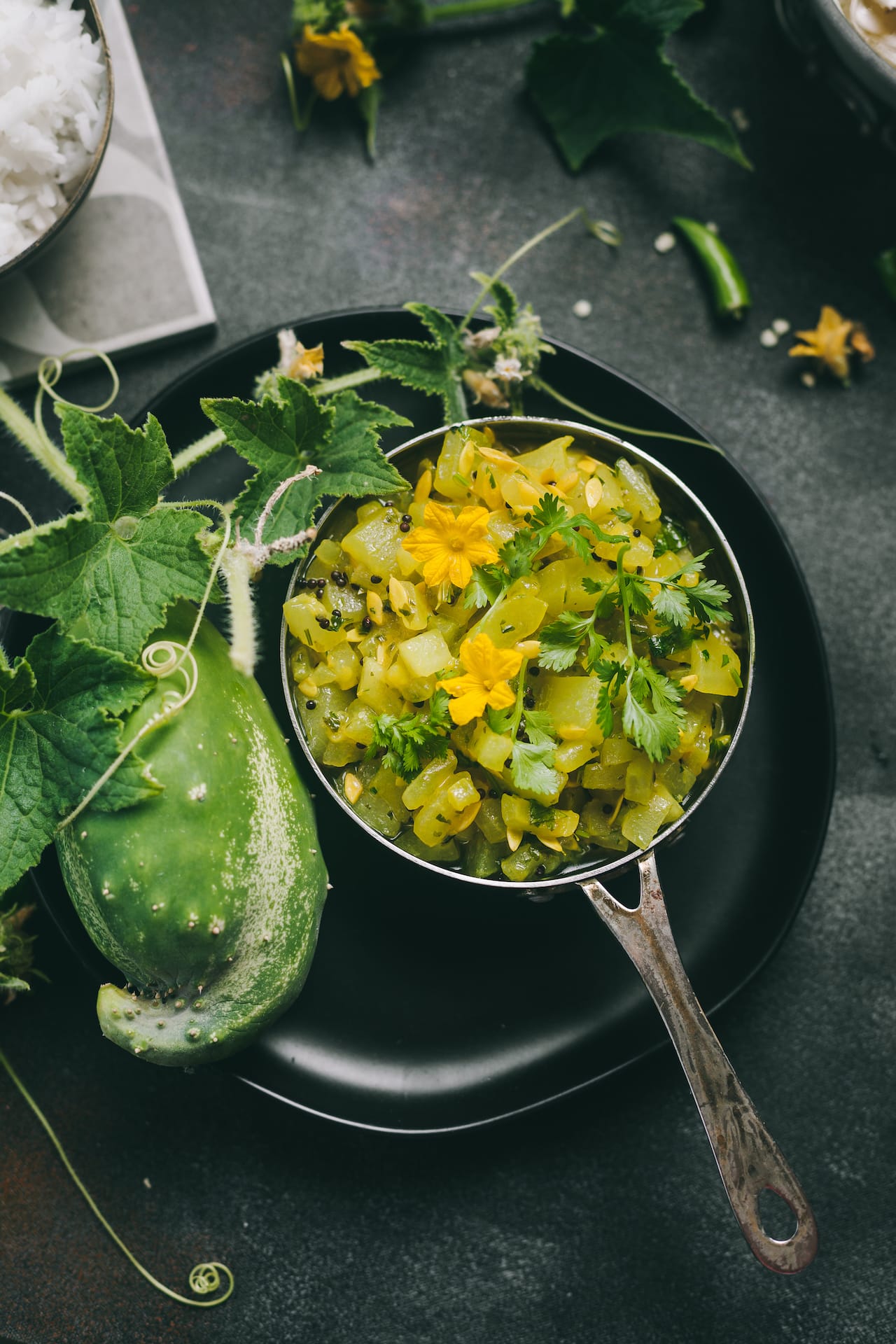 Kurkuri Bhindi - Crispy aromatic, very mildly spiced, these Air Fried Kurkuri Bhindi are highly addictive and goes great as a snack or side dish.
Aam Daal (Green Mango Lentil Stew) - Aam Daal is a quintessential Bengali daal (lentil stew) prepared throughout the mango season. It's mildly sour from using the green mango and utterly comforting when paired with steamed white rice. It is most commonly prepared using red lentil (masoor daal) but you can use your choice of daal too.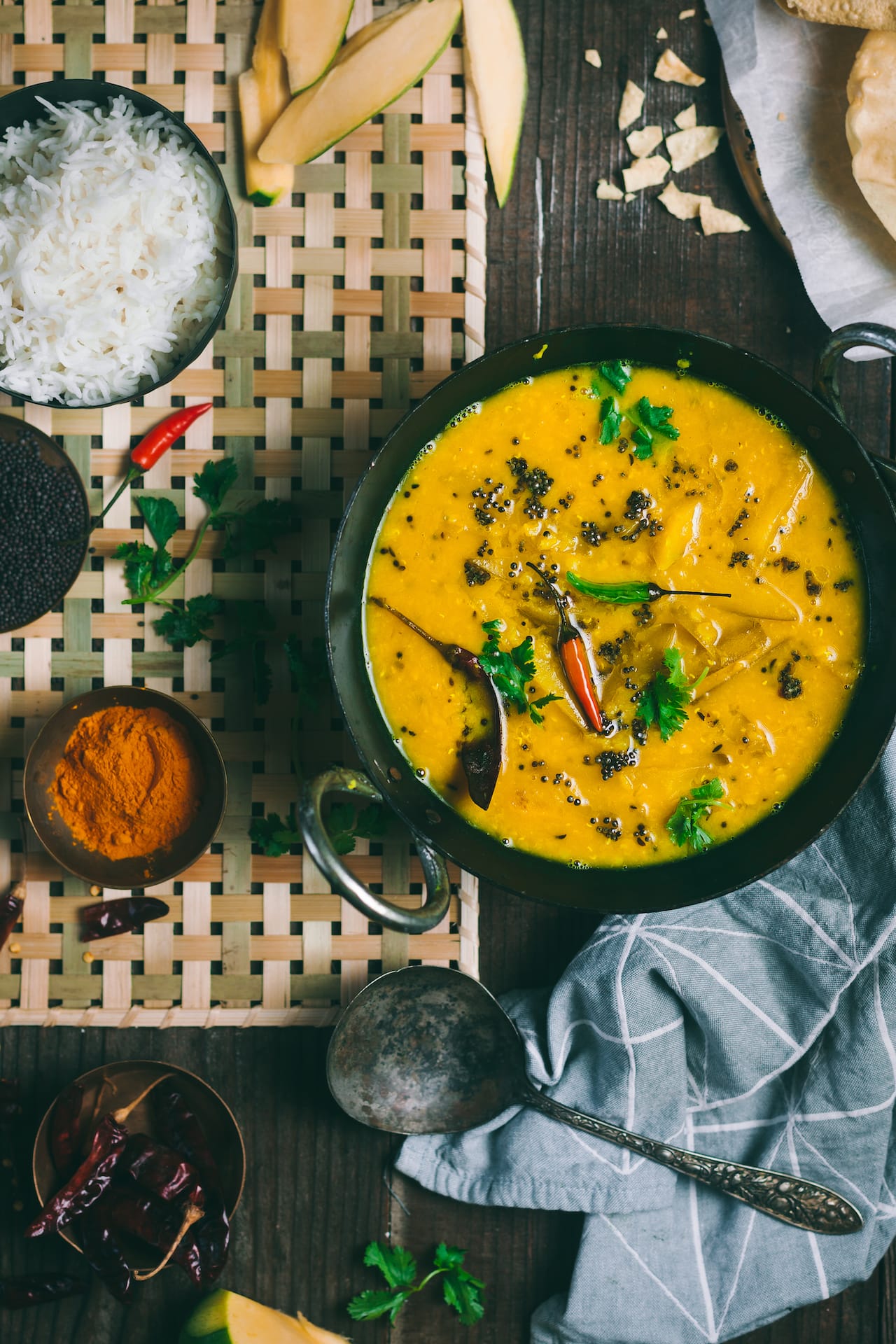 Dhone Pata Bora (Cilantro Fritters) - Crispy and Crunchy with very minimal spices, Dhone Pata Bora are fresh cilantro levaes fritters. It is a classic Bengali side dish that be served as an appetizer too. If you happen to dislike this green, then you can definitely try it even with fresh parsley.
Labra (Mix Vegetable Medley) - Labra (Mix Vegetable Medley) is quintessential festive food. The vegetables are slow cooked to release their juices that blend together to form a perfectly tasty dish. It's a very mildly spiced side dish.
Bengali Festive Food always includes a variety of Non Veg dishes. My list is not that big but will keep adding more Bengali Non Veg dishes this year. And will link those here too!
Dimer Kalia – Sweet Savory Bengali Egg Curry - Dimer Kalia is a quintessential Bengali Egg Curry that has a lovely blend of sweet and savory. Bengali New Year is around the corner and I have a rich creamy curry to celebrate the day. Typically, on a special day like "Poila Boishak" (Bengali New Year), the menu always includes fish, mutton and ends with dessert. While I love fish and mutton, I just wanted to give an option to people who would like to a take a slightly different route in building the menu.
Doi Maach (Fish in Yogurt Gravy) - Doi Maach is a traditional Bengali fish curry that has a yogurt based gravy. It tastes mildly tangy and the spices are subtle, which makes this dish so good for hot summer days. I have shared here a great trick that will avoid yogurt from curdling when added while cooking curries.
Macher Jhol Aloo Begun Diye - A very light Bengali fish curry, that doesn't call for onion or tomato. Just potato, eggplant and few mild spices is all it needs to prepare this Macher Jhol Aloo Begun Diye. Macher Jhol translates to fish curry, aloo means potato and Begun is eggplant. This simple light variety of Bengali fish curry is one of my absolute favorite.
Kosha Mangsho | Spiced Mutton Stew - Kosha Mangsho is a classic, every Bengali's favorite meat stew. It is prepared on every special occasions, including Birthdays. The dish is emotions for us, and we never get bored with it. It is best paired with either Luchi or Basanti Pulao. But you can enjoy it even with paratha and plain white rice.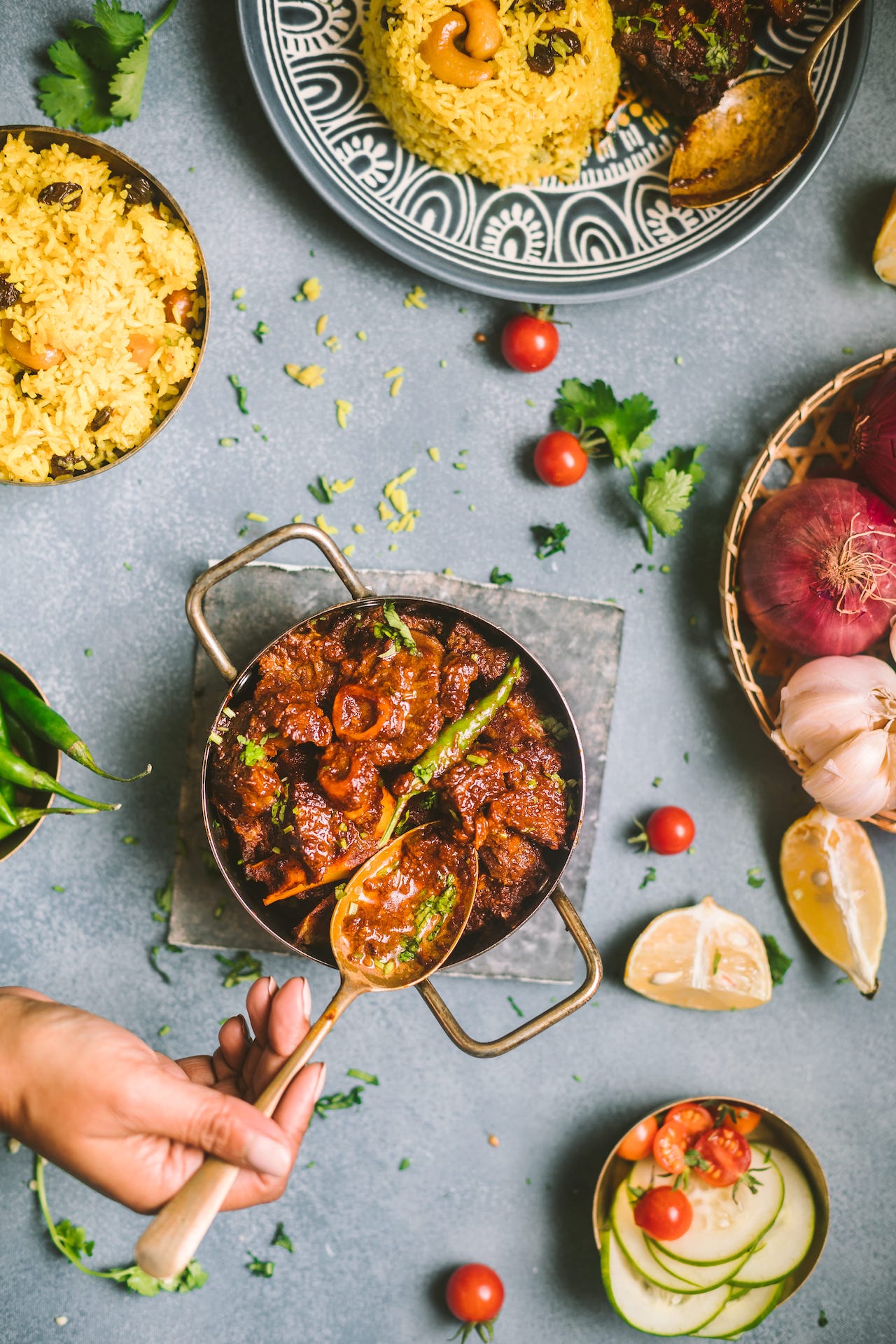 Sweet and Spicy Tomato Chutney - A Bengali meal often ends with a chutney, and we always prepare it with seasonal fruits and veggies. My all-time favorite has been this Bengali Tomato Chutney. You get the sweetness of the tomato and mild spiciness from whole fresh green chili. It typically served with rice, however some people like to enjoy it with crispy papadum.
Basanti Pulao - Bengali Basanti Pulao also refer to as Mishti Pulao (Sweet Pilaf/ yellow rice) is a festive pleasure. It tastes pretty amazing on its own, but you should try it with Kosha Mangsho (Bengali Style Mutton Stew). We typically prepare it with an aromatic short grain rice called "gobindo bhog chaal" but you can use any non-sticky short grain rice.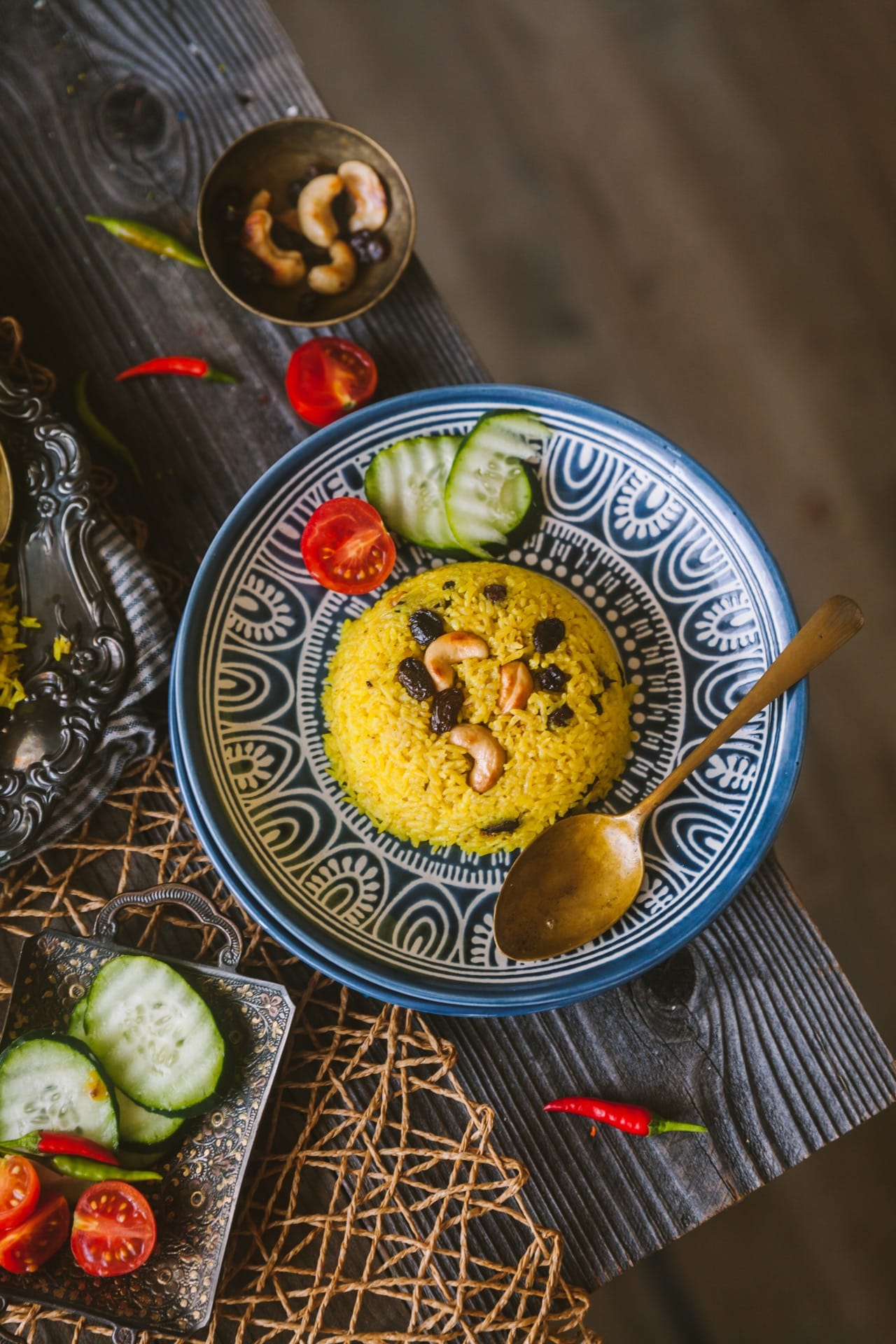 What to prepare for Dessert
Mishti Doi - Mishti Doi, literary translated to "sweetened yogurt", is one of the most popular Bengali desserts. You can find it in every sweet shop in Kolkata. Big or Small! All it needs is three ingredients and a bit of time.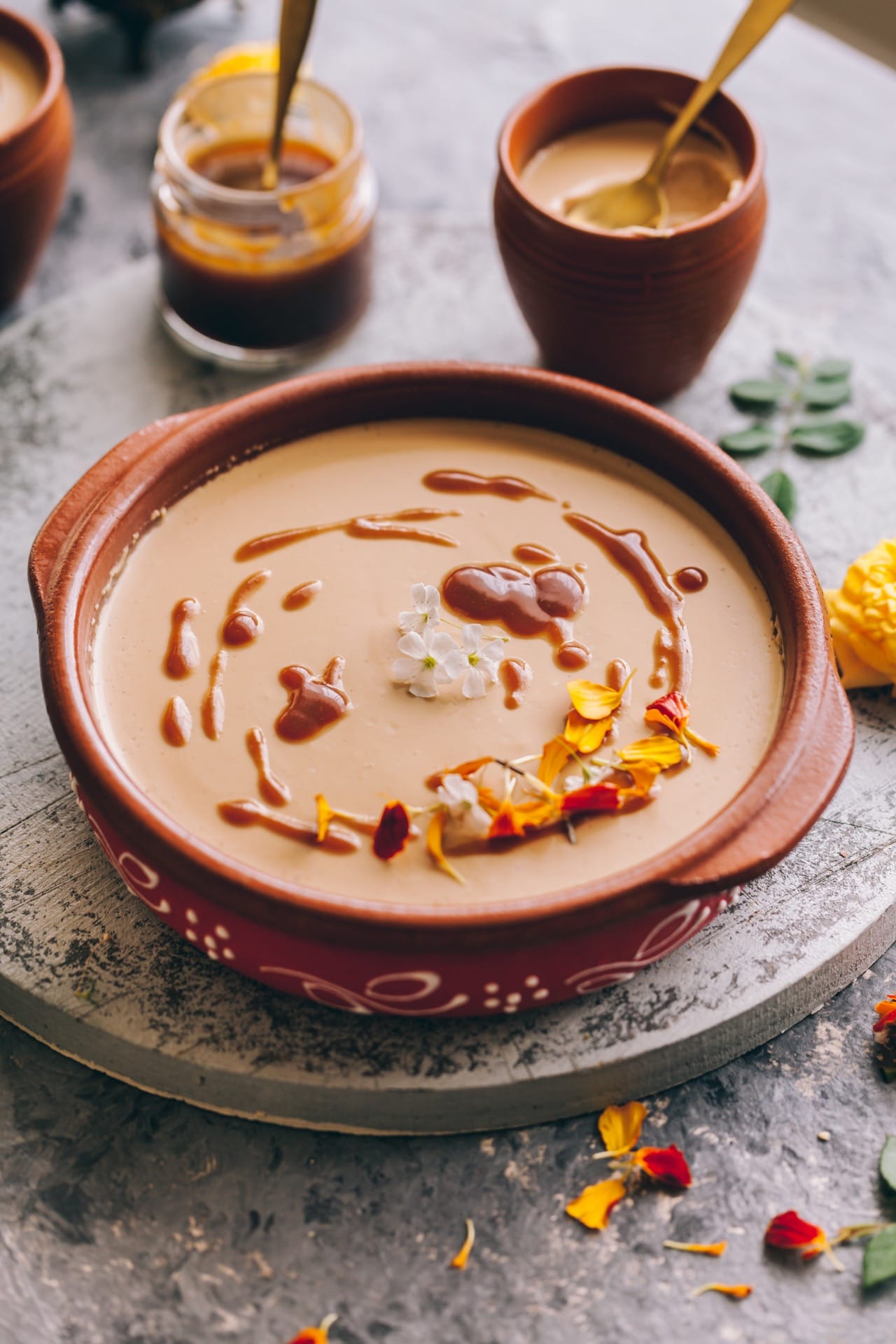 Khejur Gurer Payesh - Khejur Gurer Payesh is a Bengali comfort dessert. We prepare it with short grain aromatic 'gorinbobhog rice' or 'kalijeera rice'. We typically use sugar to sweeten the dish. However, on a special occasion the white payesh is turned into mild brown by using kejur gur (date palm jaggery).
Rasgulla/Rosogolla - The term literary translate to rosho (syrupy) golla (round dumpling/balls)! Soft spongy cheeseballs soaked in syrup, Rasgulla/Rosogolla is a famous Eastern India dessert. It needs just 5 ingredients (milk, sugar, vinegar/lemon juice, water, cardamoms for flavor). While the recipe of Roshogolla sounds very easy, it's definitely one of the trickiest Indian dessert to perfect. I have explained everything in detail along with a VIDEO with all the key tips.
The list doesn't exactly end here, and there are many more dishes you can add to the Bengali New Year Feast. As I make those special dishes, I will keep adding to this page for future reference.
Wishing you a Fantastic New Year Ahead!