Bengali Basanti Pulao also refer to as Mishti Pulao (Sweet Pilaf/ yellow rice) is a festive pleasure. It tastes pretty amazing on its own, but you should try it with Kosha Mangsho (Bengali Style Mutton Stew). We typically prepare it with an aromatic short grain rice called "gobindo bhog chaal" but you can use any non-sticky short grain rice.
Basanti Pulao is fluffy, aromatic, sweetened with sugar, studded with cashew, raisins and cooked with ghee. It's a special occasion rice dish and the mild sweetness pairs perfectly alongside a spicy curry. Bansanti Pulao is often referred to as mishti pulao.
Gobindo Bhog for Basanti Pulao
In Bengali cuisine, typically all special rice dishes are prepared using Gobindo Bhog Rice Grain. It's a special variety of short grain rice that a perfumy aroma even when you sniff it raw.
I haven't seen it being used outside Bengali culture. Out here in the Bay Area, I get lucky to have access to this variety of rice grain from a Bangladeshi store. You can also find it on Amazon! 
If you cannot find Gobindo Bhog rice, go ahead any use any short grain rice for this Basanti Pulao or Misti Pulao. You can use kalijeera rice too.
Ingredients for Basanti Pulao/ Sweet Yellow Rice
Non-sticky short grain rice
Ghee - Key to a flavor packed aromatic Misti Pulao is ghee. Avoid with oil
Cashew
Raisins
Turmeric - Turmeric is used to prepare Basanti Pulao and not saffron. The flavor blend of ghee with gobindo bhog rice works beautifully and saffron get a little overpower! You can however definitely use saffron if you want.
Sugar – We don't like Basanti Pulao overly sweet. But you can feel free to add more.
Salt
Green chili – Fresh green chili are added at the end just for flavor.
Spices - Bay leaves, cloves, green cardamoms and Bengali Bhaja Moshla. Recipe link for Bengali Bhaja Moshla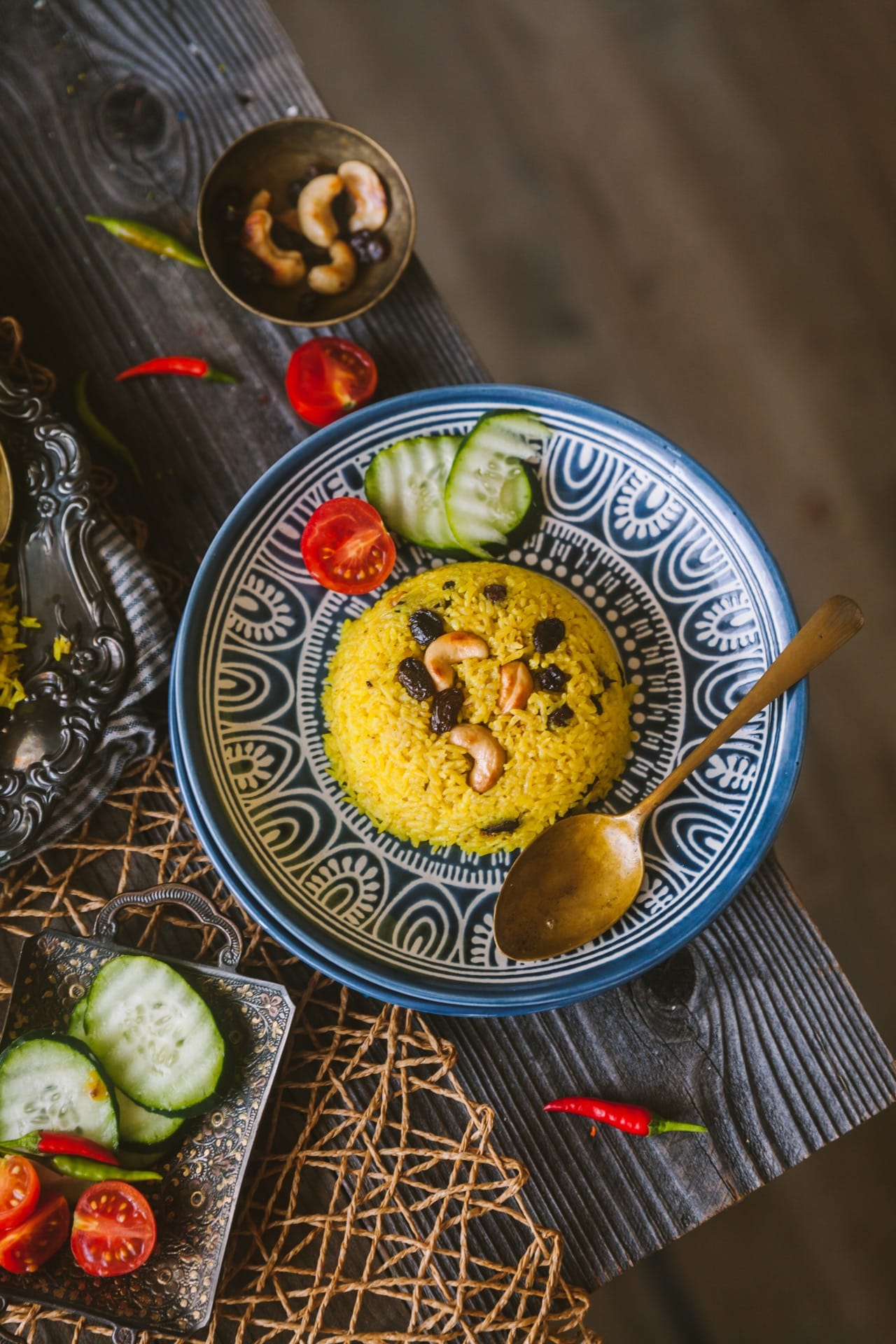 Key Points to remember
Wash the rice several times to remove all the excess starch.
Let the washed rice air dry for a while before you marinate it.
Once the rice it cooked, use a fork to fluff to avoid it from getting mushy.
Add sugar ONLY AFTER the rice is cooked completely.
How to serve Basanti Pulao/ Mishti Pulao
Because the rice is sweet pilaf, it is best served with a spicy curry on the side.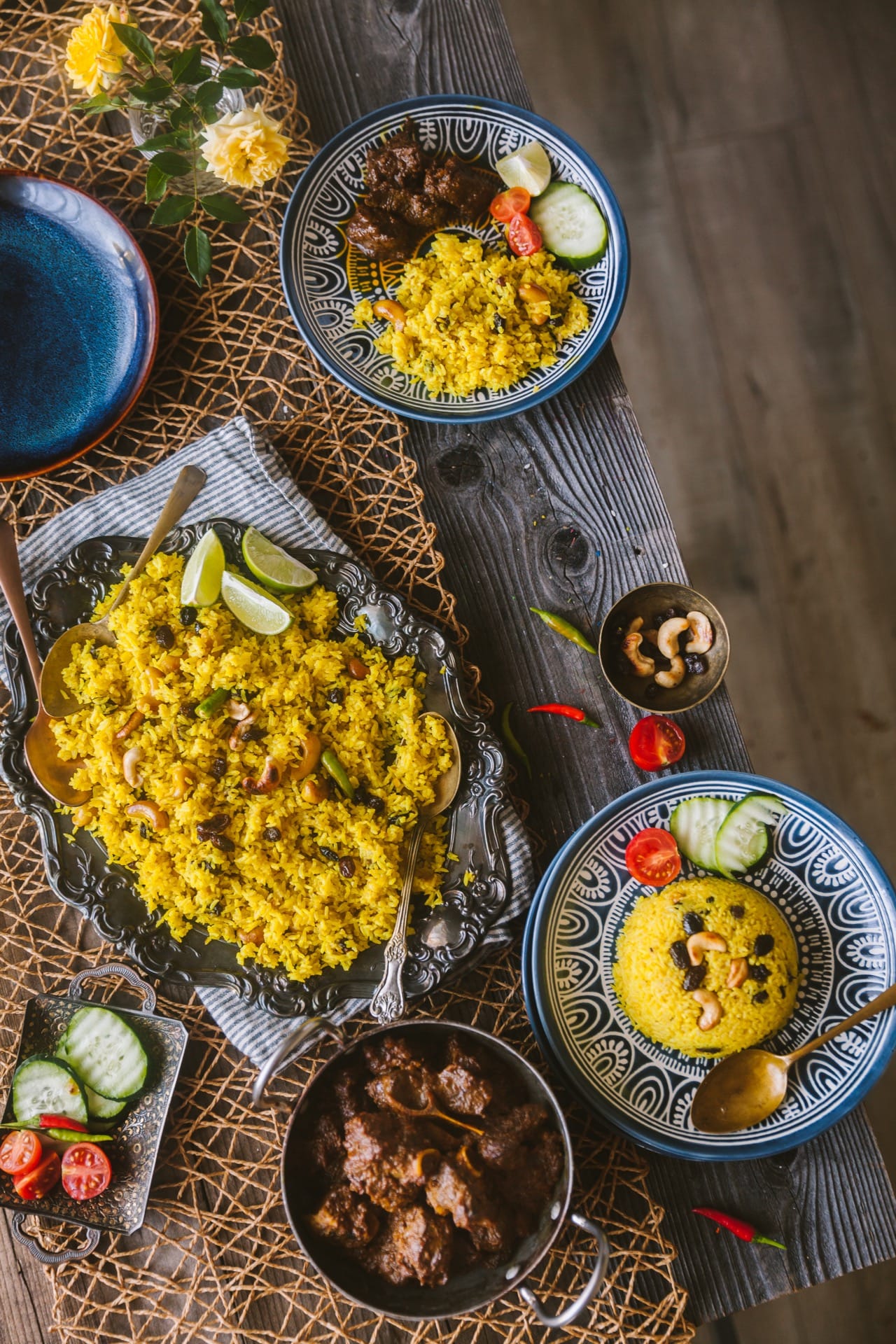 Preparing in Instapot:
You can definitely prepare Basanti Pulao in Instapot. Just follow the exact same step and depending on your electric pressure cooker, cook at rice mode. Then switch off the pot, release the steam and fluff before adding the sugar.
Having said that, the rice is amazing on its own too. It is comforting, with beautiful fluffy texture laden with the aroma of ghee.
Basanti Pulao
Bengali Basanti Pulao also refer to as MishtiPulao (Sweet Pilaf) is a festive pleasure. It taste pretty amazing on its own, but is often paired with a Kosha Mangsho (Bengali Style Mutton Stew). It is typically prepared with an aromatic short grain rice called "gobindo bhog chaal" but you can use any non-sticky short grain rice.
Ingredients
1

cup

non sticky short grain rice

(preferably gonindo bhog rice or kalijeera rice)

3

tablespoons

ghee

½

teaspoon

turmeric powder

1

tablespoon

bhaja moshla - recipe link given in notes below

3

small bay leaves

6

cloves

4

green cardamoms

1

inch

fresh ginger

2

tablespoon

sugar

1

and ½ teaspoon salt

⅓

cup

cashew

¼

cup

raisins
Instructions
Wash the rice throughly to remove all the cloudy water and excess starch.

Layer the washed rice on a colander or a place to air dry it for 15 minutes.

Transfer the rice to a bowl and to that add the turmeric and 2 tablespoons ghee. Give a mix to incorporate everything. Then cover and leave it aside for 1 hour.

After an hour start preparing the misti pulao. Bring a heavy bottom wok or skillet to medium heat.

Pour the remaining ghee along with cashew and raisins. Stir it around. Then add the bay leaves, clove and cardamoms. Toss it around for few seconds.

Scatter the marinated rice and toast it for 5 minutes.

Pour 1 and ½ cup hot water, mix it around and cover the pan. Let it cook in medium low heat for 10 minutes.

After 10 minutes, remove the lid. The rice should be cooked through and not mushy.

Using a fork fluff the rice.

Then sprinkle the sugar all around. Also add the green chili.

Fluff it one more time using the fork, cover the pan and leave it aside for 5 minutes.

Enjoy Basanti pulao fresh!
Video