Available for order worldwide on
and anywhere where cookbooks are sold!
---
Taste of Eastern India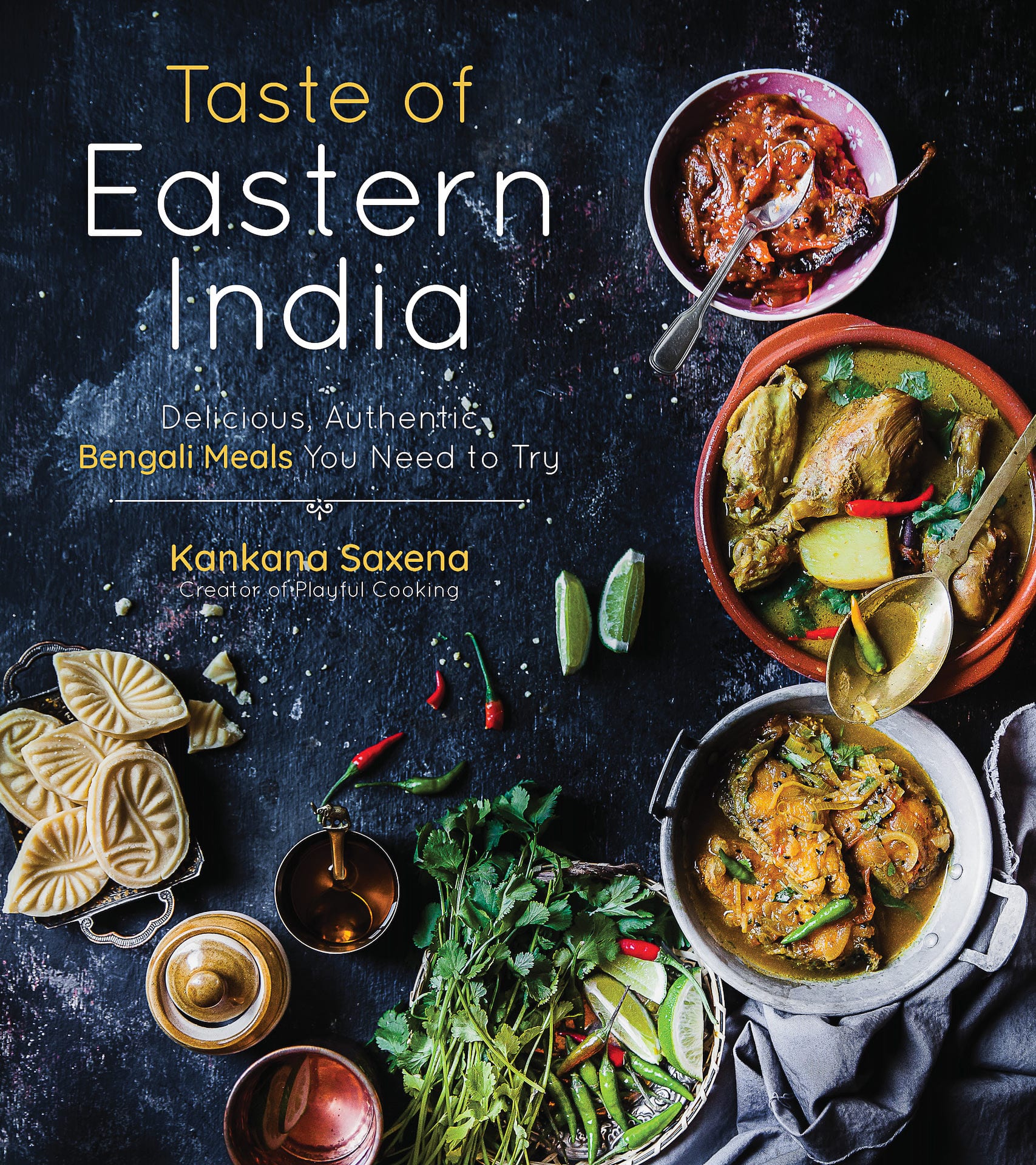 If you have been following my blog, you would know that I share dishes from different kinds of cuisines. However, my cookbook is not an extension of my blog. It's a different journey altogether, where I share recipes from the cuisine that I grew up eating - Bengali Food. I wanted to bring more awareness to the food from Eastern part of India. I always knew that if I ever write a cookbook, it would be a Bengali Cookbook and it's finally here!
Bengali cooking is often symbolized by the pungent aroma of smoky mustard oil, followed by the nutty whiff of paanch phoron (a traditional spice blend) crackling in the hot oil. Most often, it is the only flavor component used in a dish. The dishes don't always involve a lot of spices as most of the dishes have subtle flavor with a hint of heat from fresh green chiles.
Taste of Eastern India has an array of vegetarian and non-vegetarian dishes, street foods, snacks, drinks, comfort hearty food, desserts and some long-lost dishes. I have stayed true to the authenticity of the cuisine. The chapters are aligned as per the courses served. None of these dishes are extremely difficult to prepare. I have added notes, tips and any kind of alternatives that might be applicable.
Through this book, I hope to bring out the essence of Bengal. I hope these dishes will inspire you to cook and that you will enjoy this cuisine as much as I do.
#tasteofeasternindia
I would love to see your creations. So, please use the hash tag #tasteofeasternindia and share on social media. If you want to blog about it, please go ahead and share me the link. I would be more than happy to link back. Also, positive reviews on Amazon really help the author!
CHAPTERS INCLUDED:
Let's Start with the Basics
For the Love of Rice
Deep-Fried Goodness
Feel-Good Food
Plant- Based Main Dishes
Smack Your Palate
Sweet Tooth
Snack and Sip
Playful Cooking
Essential Ingredients Used in Bengali Cooking
Where to buy?
The book is now available worldwide at any place that sells cookbooks or you could purchase it from the links below:
---
FOODIE LOVE
"So having a look at the teaser i can see that you are onto something really good . The Book is at once attractive and eye catching. The recipes are well laid out and structured. The personal attachment to it with a family portrait at once makes it a family cookbook which is what i like very much. And then we chance upon a bit of knowledge for all of us Indians first who know so little of our sub continents diverse cuisines and culinary nuances. To be given a opportunity to delve into the heart of a Eastern India Home ranging from typically Bengali day to day cooking and taking in other regions too.
I for one would very much like to get my hands on this book when it is released so as to widen my own knowledge of food across India.Thank you for widening the scope for novices. And those of us that know so little about India to widen our appreciation of this amazing land of food and culture that no one person can claim to be an expert of."
"Kankana Saxena has brought the world of Bengali flavors, spices, and dishes into the home of the everyman with this new classic cookbook. When you open Taste of Eastern India, you're immediately transported to a world rich with texture, teeming with color, and full of vibrant beautiful food. At the turn of every page, the desire to cook, eat, and share food kept building. Kankana has truly created a masterpiece of cultural cuisine."
-Eva Kosmas Flores, Author of First We Eat and Creator of

AdventuresInCooking.com
"Taste of Eastern India is a beautiful introduction to Bengali cuisine through a fresh and modern lens. Thanks to Kankana Saxena. The photography and recipes are truly mouthwatering and provide a window in to this very special yet relatively undiscovered cuisine of the region."
"There's as much texture, depth and life in Kankana's photography as there is in her food. The dishes spring from the page with a vibrant medley of colors, a riot yet harmony of spices, each one is layered with an intensity of flavor that is synonymous with India. Every photograph speaks soulfulness, authenticity and mouth-watering brilliance."
"In Italian cooking terms, there is a saying that there is lot of smoke, but no roast.It applies to many cookbooks on the market. But this book by Kankana is all roast and no smoke. Bengali cuisine is flavorful cuisine and it has something for everybody. But not enough justice is done to the dishes and ingredients.
This amazing book has got a bit of everything from sweet foods, authentic Bengali dishes, some Classics. And of course a subtle fusion for the experimentative food lovers. The recipes are simple, sublime and authentic suited for today s audience without compromising on the output and authenticity. This book exudes the same honesty, intelligence and poetic look Kankana brings on her blogs and website. A gastronomic journey not worth missing out on. Three cheers .."
- Ashok Nageshwar, Food Raconteur/ Chef/ Food Critic
"Kankana's gorgeous recipes and mouthwatering food images have long leaped out at me. What a thrill to have them packaged into this beautiful and thoroughly modern Bengali cookbook. It will make you want to savor the joy mustard oil, green chillies and panch phoron can bring to your life both now and forever more."