In this virtual world of food blogging, one doesn't get to touch, smell or eat the food they see in your blog but if it is presented beautifully, it can surely make one drool and ask for more. One can set the mood, tell a story and create a connection with good photography. I wished to do the same and I wished to learn more, that's how the journey with my camera started. And the first step was to Understand and Play with Light
I am not a professional but a self taught amateur and a wannabe freelance photographer who loves every aspect of photography, much more than her shoes or earrings! At least, that's how it's been these days.
It all started almost a year back when my blog was born and eventually made me realize the importance of good food photography. All photography starts with one basic thing - Understand and Play with Light
What makes a good photos?
There was a time when I used to think that only an expensive DSLR could click good photo. The fact is – yes, a DSLR can click good photos but one can MAKE great photos with whatever basic camera one has in hand. All you need to do is guide your camera to make the photo and don't let it click as it wants.
You know what I mean -- click in Manual Mode or at least start with Aperture Priority Mode! Just get away from the Auto Mode.
After receiving many emails and requests, I finally decided to start a series on Photography. It will be difficult to cover all the aspects in just one post. Therefore, a series made more sense. The posts may not come back to back but I promise not to make you wait for long. I would talk about whatever I have learned so far and try to explain in my best possible way.
Before we move to the technicalities like camera modes, setting, composition, RAW, post processing and other different terminology, let's start with basic --- Understand and Play with Light! Since I only use natural lighting without any flash, that's all I can discuss here. Probably, later I would invite someone to talk about studio lighting.
How do you Understand and Play with Light?
There are different types of lighting! To understand and play with light, you have to figure out what suits best but first you have to know what they are.
Hard Light
Hard Light is direct sunlight that falls on a subject creating a strong shadow and a high contrast. It can help creating a dramatic mood where the texture and shape of the object gets highlighted. I feel that shadow gives life to a subject and removing it completely can make a photo look flat.
In the below photos, I prefer the hard light as the high contrast enhances the texture, the water droplets and the shadow to give a summer-y feeling. This is one of the many way you can play with lights.
Soft Light
When the incoming light is diffused or reflected, which in turn helps to illuminate the entire area and thereby creating a softer tone, is known as soft light. It creates a very airy feeling. On an overcast day, the cloud acts as a natural diffuser and all you need to do is use a reflector to avoid the shadows (if you want to). I personally enjoy photo shooting on a cloudy day, inside or outside.
Diffuser
Helps softening the incoming light and gives a more pleasing effect. Place it in between the subject and the source of light. Depending on how harsh the raw light is, you might have to use a thicker or thinner diffuser.
Reflector
Bounces the incoming light, thereby reducing the shadow and creating a nice well-lit area. You have to place it next to your subject and opposite to the incoming light for reflection; it's pure science.
I use a thin white cloth as my diffuser, which I clip on the window blinds using wooden pinchers. A cheap white foam board will work as a great reflector and jumper cables (worth couple of bucks in any hardware stores) works great to hold the board straight.
Here is an example of same set up with different diffusers (black and white) and no diffuser.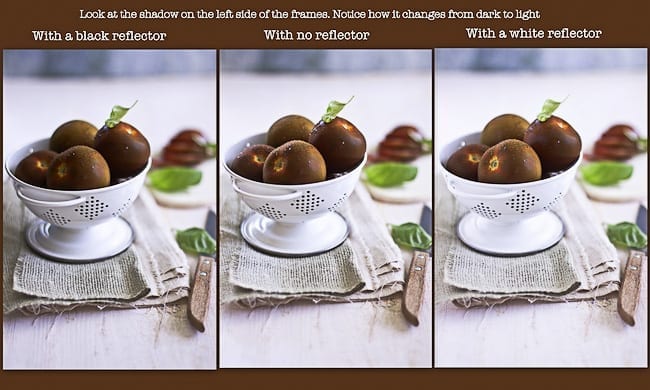 I usually diffuse the incoming light on a sunny day and ignore it on a cloudy day. Depending on how I wish to set the mood, I at times use a reflector and at times I don't. I personally like a little shadow here and there.
Whether using hard light or soft light, it's important to understand the direction of the lighting. My favorite would be side light and once in a while, i prefer back light.
Side Lighting:
This is the kind of lighting that you would see in most of my photos. I shoot by the window and I make the light fall either from left or right, which makes it side lighting. It's said to be the most dependable choice of lighting as it's easy to work with and creates a lovely dimension to your subject. Depending on what you are shooting and what mood you want to set, you could either use a reflector and minimize the shadow or let it stay there! Moving the object too close to the window will create reflection and hard light. Moving it little far away will create a softer tone.
Back Lighting:
When the source of light (e.g.: window) is right in front of you and the light is falling on the subject from behind, it's called back lighting. For me, this is the most challenging kind of lighting and yet, it can work wonders with certain subjects. With back lighting, the background will be more washed out as compared to side lighting.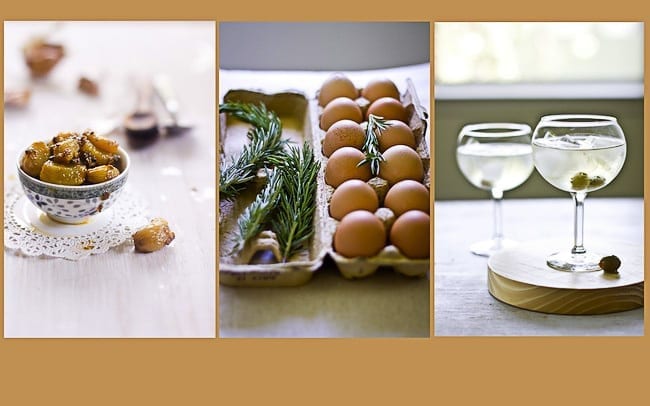 At times, I like to use both back and sidelight. And depending upon how strong the light is, I either diffuse both sources of light or none.
Front Lighting and Top Lighting
Apart from these, there is also Front Lighting and Top Lighting where as the name suggests; the light would fall on the subject from top or front. I don't use either of these lightings for food photography and don't have much to say on it. I have read in couple of places that both these lightings are not a right option for food photography as they can create distracting shadows. Then again, may be you can create a dramatic one too!
Whether to use hard or soft light, which direction of light to choose from and should you diffuse, reflect or do nothing would completely depend on what kind of subject you are photographing and what mood or story you want to convey. I would say try all the different lightings to understand them better. Find something from your kitchen, grab a bowl or a plate or whatever you prefer and start experimenting with lights!
As I mentioned before, I am still learning and if you think I have missed out any important points on Indoor natural lighting, please email me using the contact form and I would be glad to update it on the post. I would be publishing the next part of series in a couple of weeks and it would be about Camera Modes. We will see how the Aperture, Shutter Speed and ISO can play a vital role in photography.
RELATED POST -