Sometimes comfort food can be a little challenging to style and photograph. Especially if a dish doesn't call for garnish or doesn't have a lot of element in it. It can come across flat and boring. Today, I am sharing with you How To Style Curries - 5 different ways! It's all about styling, irrespective of you use your phone camera or DSLR.
With this tutorial I am also annoncing my One to One Online Coaching Session on Food Styling and Photography. At the bottom of the post, you can find more information.
I have often heard people saying that desserts are easier to style than curries.
The colorful frosting on the cake, rainbow sprinkles, caramel drizzle, sugar dusting, cookie crumbs are few of the things that are always appealing to our eyes.
Desserts are often a food stylist and photographer's best friend.
How To Style Curries?
Curries, on the other hand, can come across as a daunting subject. In terms of colors, most curries are often brown or yellow or some shade of red or orange.
There are only limited things you can use as garnish to make a curry attractive.
How to Style Curries and make it stand out so it catches everyone's attention?
Let's dig in and see How To Style Curries - 5 Different Ways, which are sure to come handy and make your curry photoshoot fun and stress free!
1.

TEXTURE

OF THE DISH
We all know that curries have big bold flavors and melt-in-mouth texture. In the process of preparing the dish, these textures go away and gets blended with the gravy.
As a food photographer, we have to dig out those textures and style the curries in such a way that it portrays a clear picture to the viewer.
To protograph brown food, contrasting color backdrop also helps in bringing out the color and texture of the curry.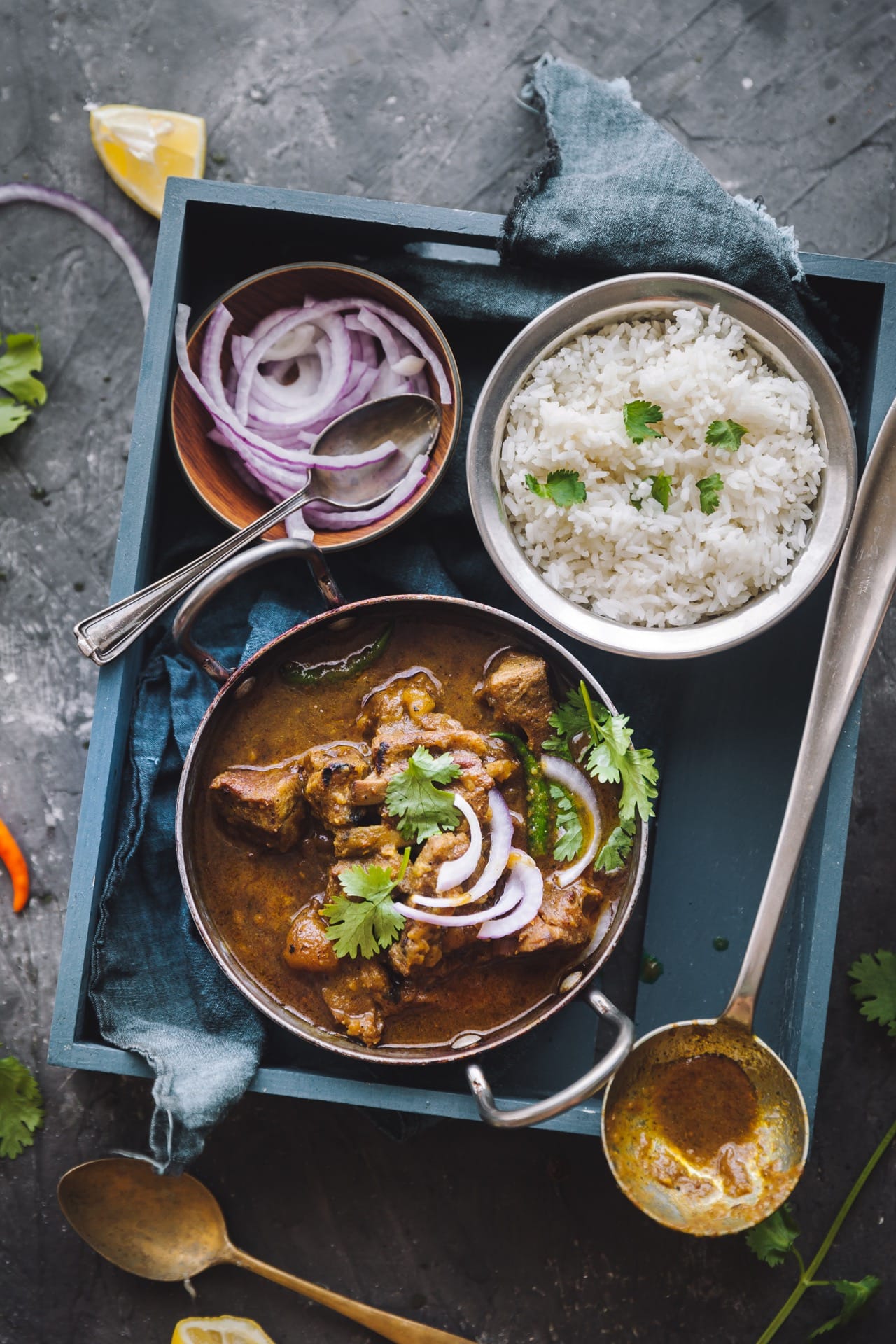 FOR EXAMPLE:
When you are styling Chicken or Paneer or Veggie Curries, add the gravy first and then top it with the chunky pieces.
PRO TIPS on How to Style Curries :
If the gravy is too watery and you feel that the meat or the veggie would sunk in, then place a tiny bowl at the center of the big bowl. Cover it with the gravy and then place the chicken or the veggie pieces on top of the bowl bowl. You have to place the pieces in such a way so it doesn't look too obvious that there is something underneith it.
For dishes like rajma and chola, keep 7 to 8 boiled beans aside and don't cook it along with the gravy. While photographing the dish, brush a little bit of the sauce on those boiled beans and arrange them casually right on top.
2. LAYERING THE FRAME
One of the best way to style curries and brown food is by creating depth, and multi dimension, which elevates your frame from boring to amazing.
Some curries can look very flat and to make it interesting, you have to add extra layers while styling.
Garnish always makes dull colored food pop out and makes it looks alluring. Now, what if you can't add any garnish because the dish doesn't call for it at all?
That's when you have to think of layering by adding additional props. Think of an out of the box composition for adding depth.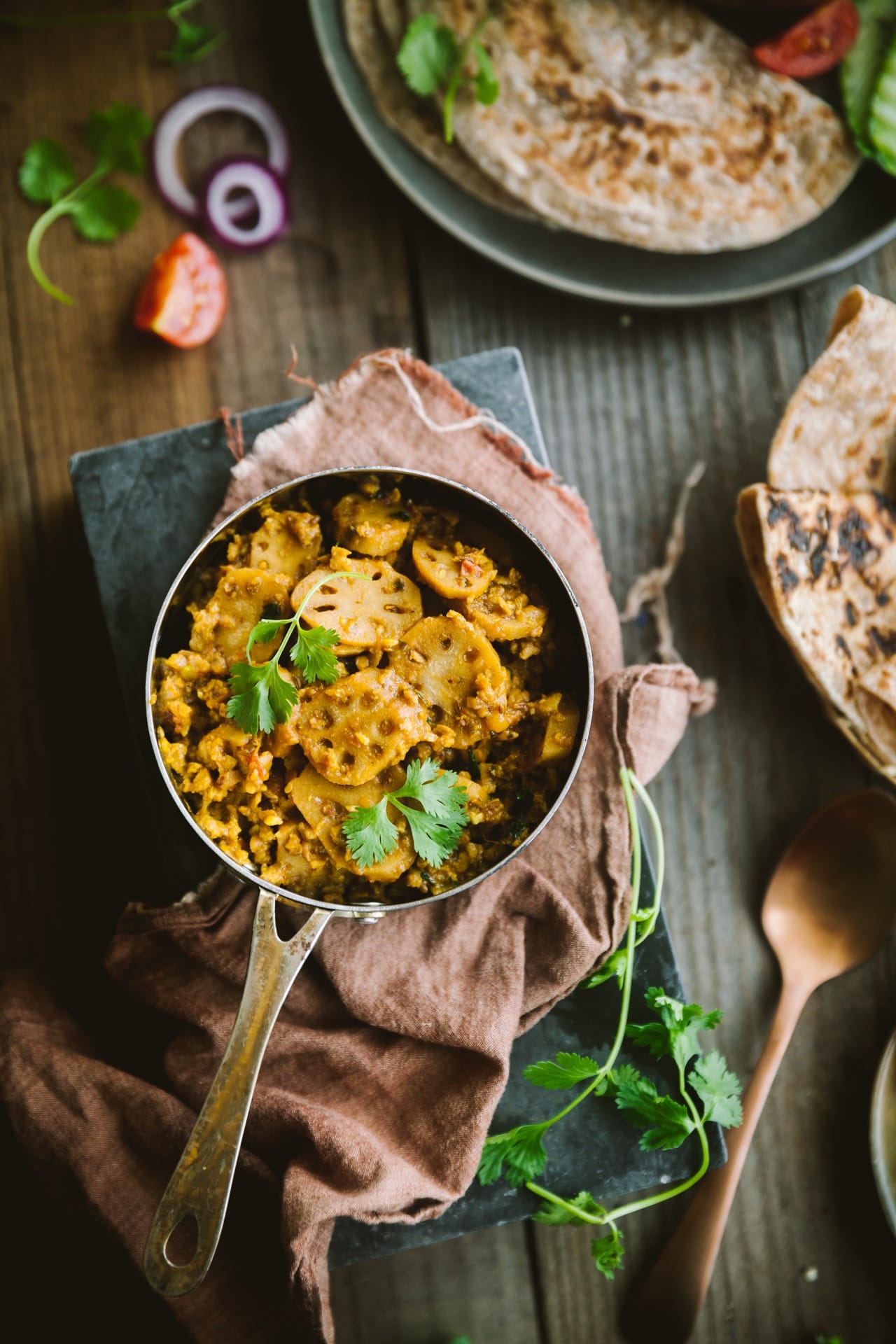 FOR EXAMPLE: In this curry, I added a box below the bowl of curry and then also placed a piece of cloth in between to creat a multi layer. You don't want the the cloth to have design or too bright color, or else it will take away the attension from the food.
Also I made sure some of the lotus roots are clearly visible on top. I layered a few pieces seperately on top to make it more prominent.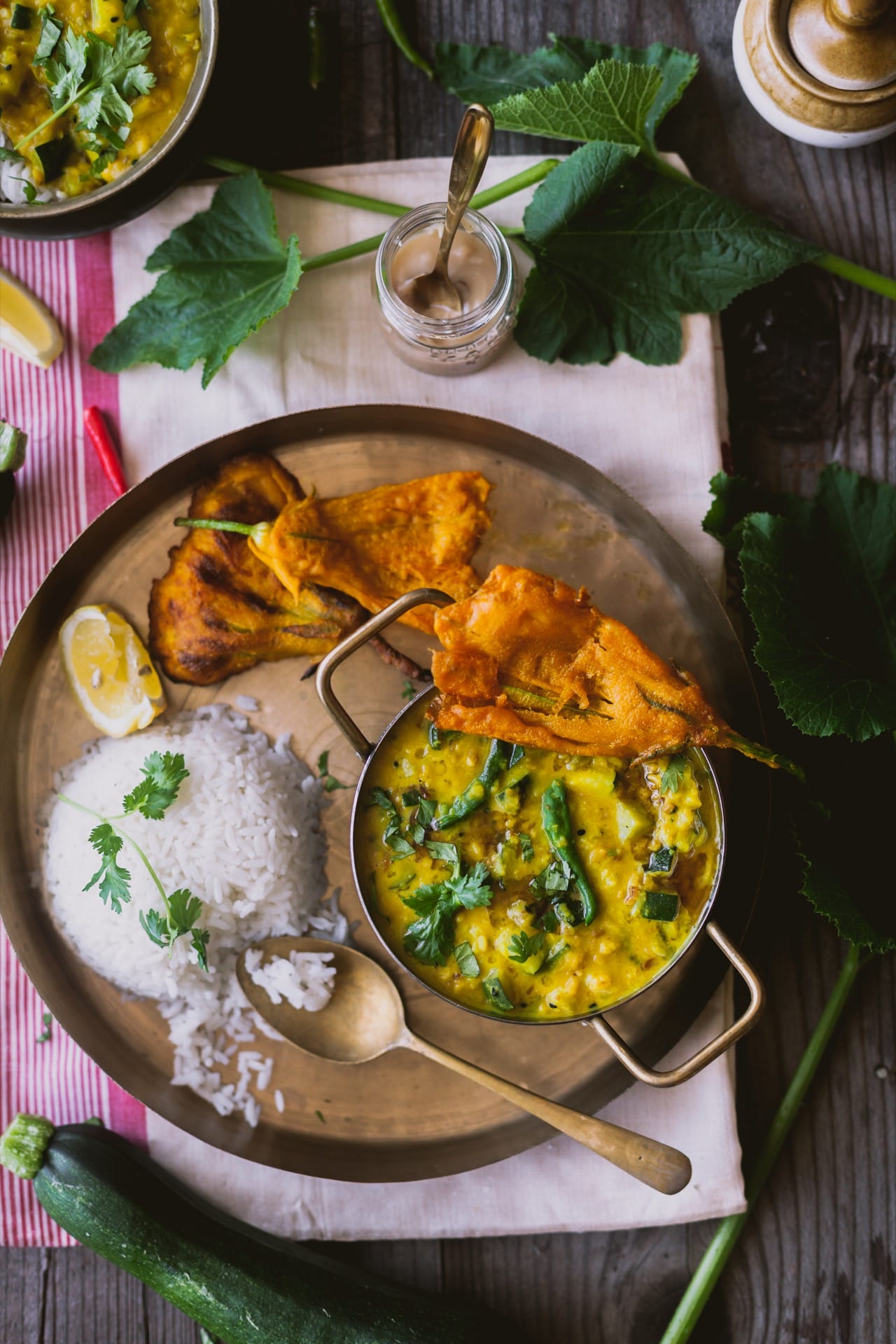 Think of props that go well together when you are creating your scene. Adding a linen or a plate below creates a second dimension. Place some of the ingredients or spices that were used in the curry around the dish.
Even a spoon on the plate, creates a third dimension.
By doing all these steps, you create layers that are always more appealing to the eye.
3. NEGATIVE SPACE
Often, we tend to crowd the frame with props and garnish without leaving any negative space.
If you compare one of those photos with a photo that has a good amount of negative space, you will realize the difference in beauty.
I am not against crowding a frame with object but occasionally a minimal frame with a negative space gives the viewers room to breathe.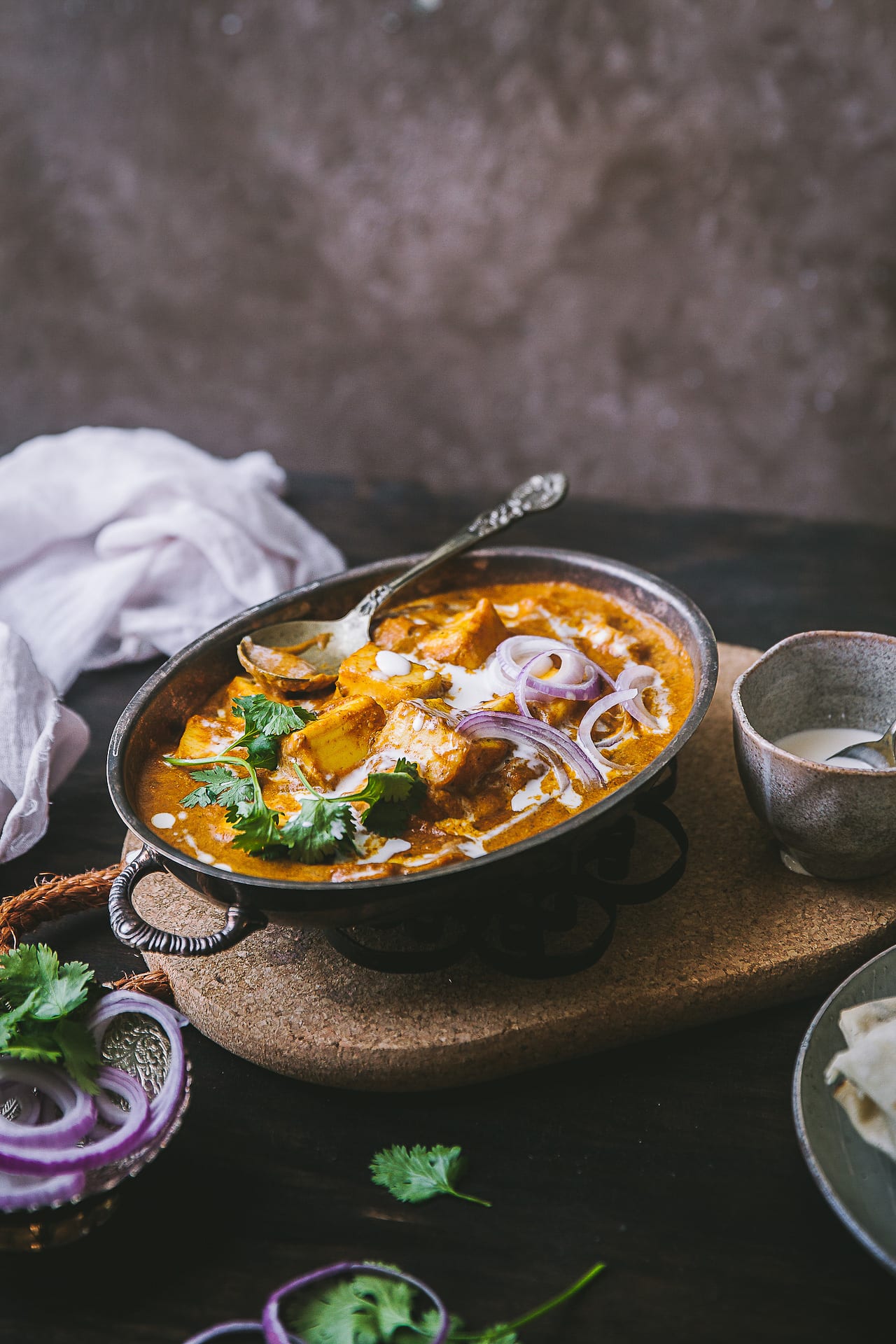 So, when you have absolutely no idea how to style and photo-shoot a curry, try a minimal styling by giving ample negative space.
Of course, don't forget to dig the texture out and create some layers.
4. USE MULTIPLE ELEMENTS
This works best for dishes like daal! A big bowl of food, at times, can look boring in a frame. Instead, divide it into multiple small bowls and spread it in the frame along with rice or bread, few garnishes and you have a beautiful frame of drool worthy curry.
Usually for this kind of styling, an over the top shot looks the best!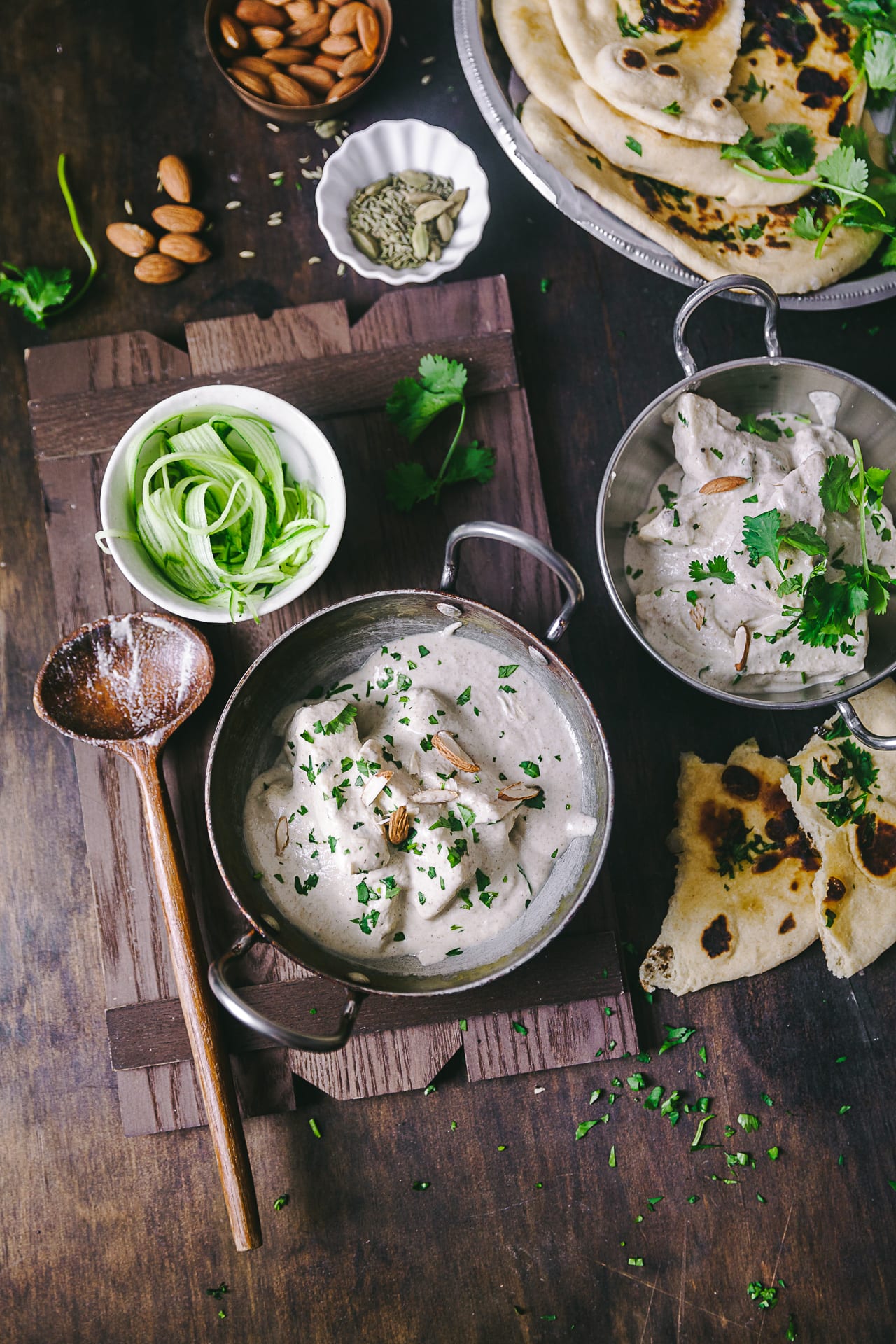 Sometimes, you can change it up by adding rice in one of the bowl, keeping couple of roti next to the second bowl and keep the third bowl with just a spoon dipped in the curry.
5. HUMAN ELEMENT
Adding a hand in the frame always bring the entire scene to life. Whether you are squeezing lemon juice or sprinkling garnish or just holding a bowl of food, there is something about it that makes it special.
It gives you a vision, makes you want to grab the food or be a part of that setting.
So, try and see how you can incorporate some kind of human element or some form of movements while photographing your next curry.
In these cases, I have to think a little more carefully about the angle that I use for shooting. While taking a photo with drizzling/sprinkling movements or for a dish with not much texture, I go to ¾ angle.
For a fully covered frame, lots of texture and color, go over the top to give a completely view of the dish.
FINAL KEY NOTES to STYLE CURRIES
Remember all these 5 key notes will work only when the food looks fresh. Curry tends to looks flat and not so glistening when it has been sitting for hours. So plan, prep and shoot as soon as you are done preparing the dish.
Pick your props based on the color of the dish.
Think about texture and layering. Also, decide if you want to minimalistic shoot and leave a lot of negative space or if you want use multiple elements to create a scene
If there garnishes that will be added, keep them ready right at the end of dish preparation, just before the shoot.
Decide if you are you planning to show some action or movement in the frame
As you prepare the curry, start thinking of the props to use and start arranging your scene. This way, you can shoot the curry immediately when it's done.
Keep in mind that it's only practise that will make it better. So try to photograph as often as you can. Study other's photo style but do not copy. Hope you will find these tips helpful.
Don't hesiate to drop a comment below or reach out to me if you have any questions.
Now you can Learn With Me on a One to One Session on this Topic more in details.

We will discuss your areas of improvement, you will learn all the tips and tricks and we will style a dish together during our online session!