Sometimes I wonder who names these dishes? Labra may sound a little funny. But I can assure you it's like no other vegetable curry or stew that you have tried before. Labra (Mix Vegetable Medley) is a quintessential festive food. It is best paired with Khichuri/Khichdi. The vegetables are slow cooked to release their juices that blends together to form a perfectly tasty dish. It's very mildly spiced side dish. You definitely need to try, if you haven't already.
The festive season has begun! And so has our craving for dishes that we grew up eating this time of the year. Durga Pujo is round the corner and no words can truly explain how much I miss being in India right now. We can't make a trip at this time of the year. So, all I can do is re-live some food memories.
Durga Puja to us Bengalis is just not about praying to Goddess Durga, it's also about family gathering. It's about buying new attire (one for each day of those 4 special days) and exchanging gifts. It's about laughter, joy and indulging on lots of delicious treats. Out of all the favorite foods, Durga Pujo Bhog, that is offered in several pujo communities during lunch hour holds a very high point. We all look forward to it. Bhog is food offered to God and Goddess during prayers. It typically includes khichuri, labra, tomato chutney, some fried veggies, fruits and payesh. People are seated on long tables (often not sturdy), waiting to relish the bhog that are served piping hot on banana leaves.
Last weekend, I did my third Bengali Pop-Up. The theme was Durga Pujo Bhog. I served the meal on banana leaves. Seeing my dinners going for multiple servings and truly enjoying our traditional bhog made me so happy. The Labra was a hit and everybody loved it. So, I thought of sharing the recipe here.
Labra –Mixed Vegetable Medley
It's a pure vegetarian side dish that includes assorted vegetables of your choice. It's  slow cooked in mustard oil and Indian five spice – paanch phoron. Most of the times, that's the only spice that goes in but I like to add a mix of aromatic roasted ground spice called bhaja moshla. It's added right at the end of the cooking for the perfumy aroma in the dish. Although any variety of vegetables can go in, three key vegetables that must be included are pumpkin for sweetness, eggplant for creaminess and potato/sweet potato for starch. Apart from that, you can pick whatever other vegetables or greens you want to add. I have chosen these 5 vegetables only because that's how my Mom makes it most often.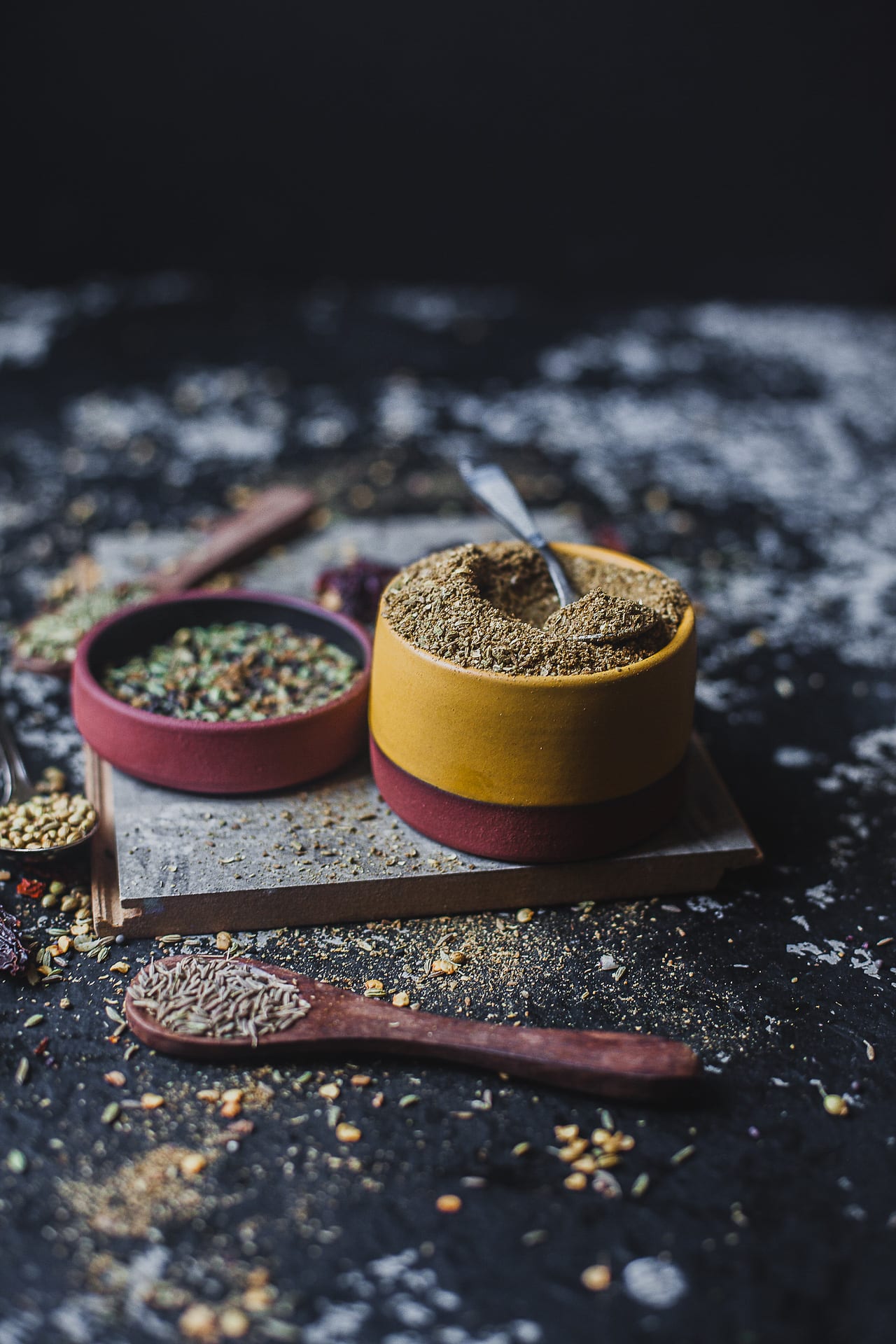 This is one of a kind vegetarian side dish that will surprise you with its mellow flavor. My husband, who is not a big fan of some of the vegetables that goes in this making, happens to actually enjoy the dish.
So, give it a try if you haven't already and let me know what you think of it.
Labra (Mix Vegetable Medley)
Ingredients
Pumpkin 11.45 oz

(324 g)

Eggplant 8.75 oz

(248 g)

Cabbage 11.7 oz

(330 g)

Sweet Potato 4.85 oz 137 g

Flat green beans 5.45 oz

(154 g)

1

tablespoon

cumin seeds

1

tablespoon

coriander seeds

1

tablespoon

fennel seeds

2

tablespoons

mustard oil

1

tablespoon

Paanch Phoron

2

dry red chili

1

teaspoon

salt

½

teaspoon

sugar

½

teaspoon

turmeric
Instructions
Peel the pumpkin and sweet potato. Trim the edges of the beans. Cut all the vegetables into little bigger than bite size chunks.

In a medium hot pan, dry roast the cumin seeds, coriander seeds and fennel seeds for a few seconds. Grind it using a mortar pestle or a spice grinder. Keep it aside to be used later.

Paanch Phoron is available in most Indian stores but if you have to make it at home, just mix equal portion of fenugreek seeds, cumin seeds, nigella seeds, black mustard seeds and fennel seeds.

Place a big heavy bottom pan on medium heat and pour the oil. Once the oil heats up, drop the paanch phoron and dry red chili. Let it sizzle for a few seconds. Drop the pumpkin and sweet potato chunks (the idea is to cook the vegetables in intervals, starting with the ones that will take more amount of time to soften). Add the salt, sugar and turmeric. Stir around, cover the pan and cook for 10 minutes, stirring once in between.

After 10 minutes, add rest of the vegetables and stir around. Cover the pan and cook for 5 minutes.

By now, the vegetables should have released juices and softened. Sprinkle the spice powder that was kept aside. Toss around to mix everything and cook for 2 more minutes.

Check for salt and add any, if needed.
Nutrition