Koraishuti Kochuri is a classic Bengali stuffed deep fried bread recipe. It is stuffed with mildly spiced green peas, rolled and then deep fried in hot oil. It puffs up and makes light crispy on the outside. Served with aloo dum, Koraishuti Kochuri could be a fancy weekend breakfast or lunch.
What is Koraishuti Kochuri?
To break down the words – Koraishuti refers to green peas, which is also referred to as motorshuti. This dish is also sometimes referes to as Motorshuti Kochuri.
Kochuri means deep fried puffed bread, often prepared with just all-purpose flour. But you can definitely use wheat flour too or a mix of both the flours.
Koraishuti Kochuri is also similar to North Indian Matar ki Puri / Poori. The difference between these two would be on the spices that goes while cooking the green pea filling.
WATCH THE VIDEO
Fresh peas or Frozen Peas for Koraishuti Kochuri?
Back in India my parents always buy the fresh peas irrespective of what dishes they are preparing.
Out here in US, I don't always find fresh peas, so frozen peas are stocked up in my freezer. I prepared this Koraishuti Kochuri using frozen peas.
How to make perfect Kochuri or puri/poori
There are few tips that are key and if you follow, you will always get perfectly puffed crispy kochuri. And it will stay puffed for a long time.
Make sure you add oil or ghee to the flour and mix it nicely. You should have just enough fat so as you grab little amount of the dough in your fist, it should retain the shape. Important note here: If you add less fat than it will puff but won't stay puffed for long. If you add too much fat than the end result will be crispy cracker instead of light and airy kochuri/poori
The dough should be soft, and you have to let it rest for 30 minutes, before you fill, roll and fry. (watch the video to understand the reason behind it)
Fry the Kochuri or puri/poori in very hot oil. I keep it to 350 F minimum. If you drop in medium hot oil, it will keep soaking oil instead of getting puffed.
I always keep Kochuri or puri/poori or any fried food on a cookie wire rack to cool down. The hot steam escapes keeping it crunchy for long time.
Steps to prepare the green peas filling
The green peas are cooked in mild spices. All you need is
Nigella seeds
Fresh ginger
Green chili
Asafetida (hing)
Green peas (frozen or fresh) - Koraishuti / Motorshuti / Matar
You can prepare the filing couple days in advance if you want. Store it in the refrigerator and use it to prepare fresh kachori.

The filling is very tasty and goes well even with stuffed paratha.
Koraishuti Kochuri pairs best with aloo dum, and a cup of piping hot masala chai! I don't even mind munching the kochuri with some pickle and tea on the side. It's delicious and so easy to make. Just follow the steps as I showed in the video and you will get perfectly puffed crispy Koraishuti kochuri.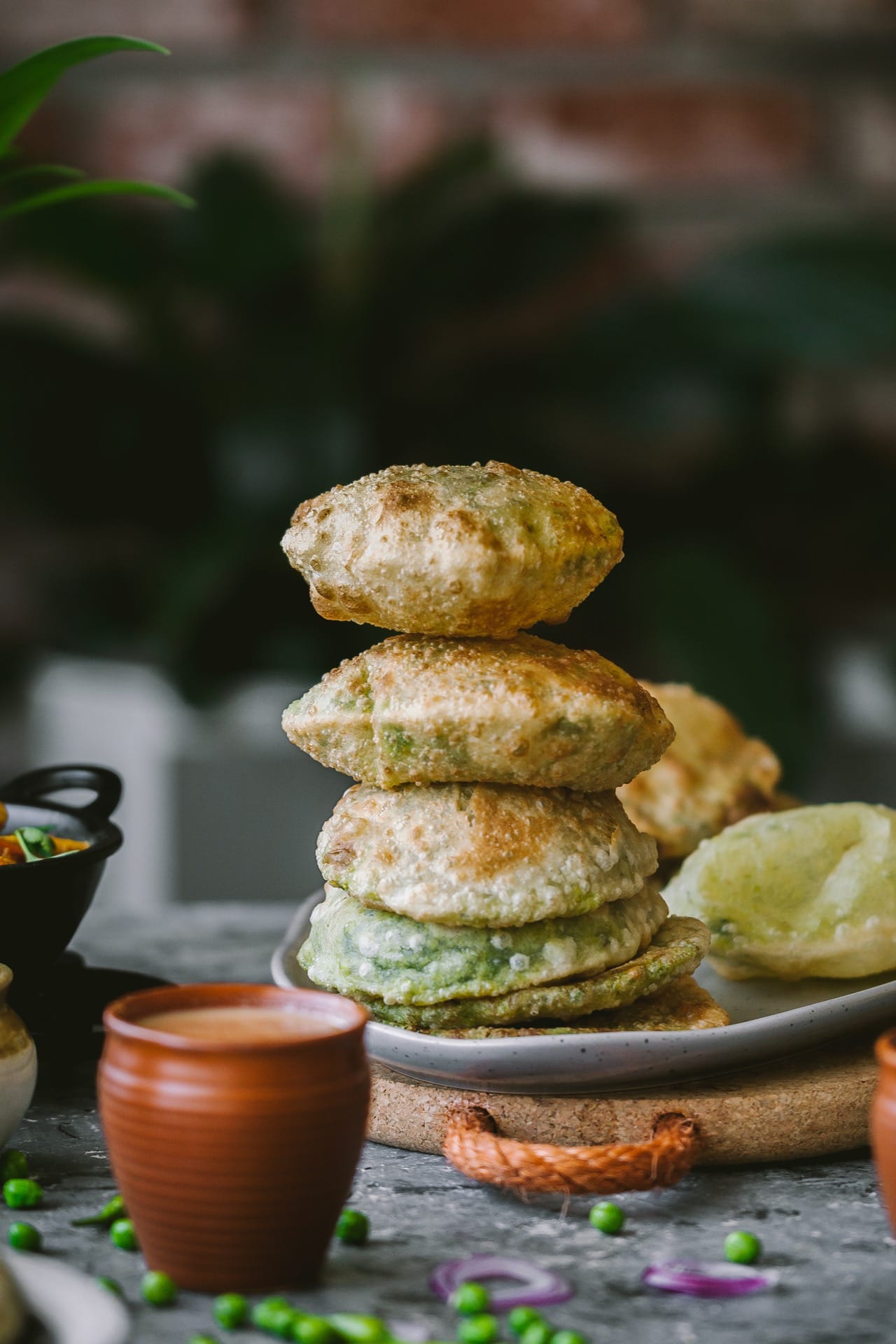 Koraishuti Kochuri
Koraishuti Kochuri is a classic Bengali stuffed deep fried bread recipe. It is stuffed with mildly spiced green peas, rolled and then deep fried in hot oil. It puffs up and makes light crispy on the outside. Served with aloo dum, Koraishuti Kochuri could be a fancy weekend breakfast or lunch.
Ingredients
for the green peas filling
Frozen or fresh peas - 1 cup

Fresh ginger - 1 inch

(grated)

Green chili based on how spicy you like -1 or 2

(finely chopped)

Mustard oil

(optional: vegetable oil - 1 tablespoon)

Nigella seeds - 1 teaspoon

Asafetida

(hing - 1 teaspoon)

salt to taste
for the dough
1

cup

all purpose flour

½

teaspoo. salt

½

teaspoon

sugar

2

tablespoons

ghee or oil

½

cup

water

(you will need more or less so add little by little to prepare the dough)

Enough oil to deep fry the kochuri
Instructions
Prepare the filling firstSoak the green peas in hot boiling water for 5 minutes. Then drain it off and puree it.

In a skillet pour the oil. Once the oil heats up, add the nigella seeds followed by grated ginger and green chili. Give it a stir and then add the asafetida (hing).

Stir it aorund for few seocnds then add the pea puree.

Add salr to taste and keep cooking the mixture in medium heat for 5 minutes or until the moisture is gone and the pea filling come together as a dough.

Take it off the pan to a bowl ro plate and spread it it to cool it completely. You can prepare the filling in advance, even couple days in advance and store in th refrigerator.

Prepare the doughAdd the flour to a big mixing bowl followed by salt, sugar and ghee/oil. Mix it with your hand until it looks crumply. Take a little flour and hold it in your hand. If it retails shape it's ready for water to be added.

Add water little by little as you knead and make a soft dough.

Once done, drizzle little on the dough, cover it and let it rest for 30 minutes. (watch the video to understand better why this step is so important.

When you ready to prepare the poori, divide the dough into 10 portions, about 25 gram each portion.

Take one small portion of the dugh and flatten it out with your hand, make sure to keep the edges thin.

Place 1 teaspoon quantity of the pea filling in the center and grab the edges to seal tight. Then roll the filled dumplin making sure no filling is leaking out. Place it on a bowl or plate and stuff rest of portions. Keep the dough covered as you stuff and seal.

Once you stuffed all, rub the rolling board and pin with little oil and then gently flatten the stuffed dumpling on the board. As you roll from center to out ward, be gently or else the filling will burst out. Roll it evenly thin even if you can't get perfect circles.

I prefer to roll all and place on a tray covered with a kitchen towel. If you have someone to help you fry the kochuri, then you can roll and fry simultaneously.

To fry the kahori place a heavy bottom wok on high heat and pour enough oil.

While the oil heats up and reaches almost 350 F. To test if the oil is ready place a wooden spoon in the hot oil. Bubbles should show up instantly around the spoon.

Very gently slide one rolled kochuri to the hot oil, and using a slotted spoon, splatter oil on top. This will puff the kochuri perfectly. It will take less than 2 minutes to fry each kochuri in hot oil.

Once done, place it on a cookie wire rack. This helps the steam t escape keeping the kochuri crispy and puffed for long time.

Enjoy Koraishuti Kochuri warm with your choice of curry on the side.
Video