We try to avoid deep-fried food as much as possible but on weekends, I get the craving for these deep-fried flaky luchi (Deep Fried Mini Breads) . I am pretty sure most Bengalis like me would consider it their guilty pleasure too. Soft, flaky and almost melting in your mouth, when paired with dishes like Ghugni or Kosha Mangsho, it is a comforting and hearty treat. We could even call it a close cousin of North Indian Poori, which of course, pairs best with Aalu Tamatar Sabzi.
Difference between Poori and Luchi?
The difference between poori and luchi is that poori uses whole wheat flour and luchi uses all-purpose flour.
But, the preparation technique is exactly the same. Growing up, luchi was common on special occasions like birthday celebration or weekend breakfast.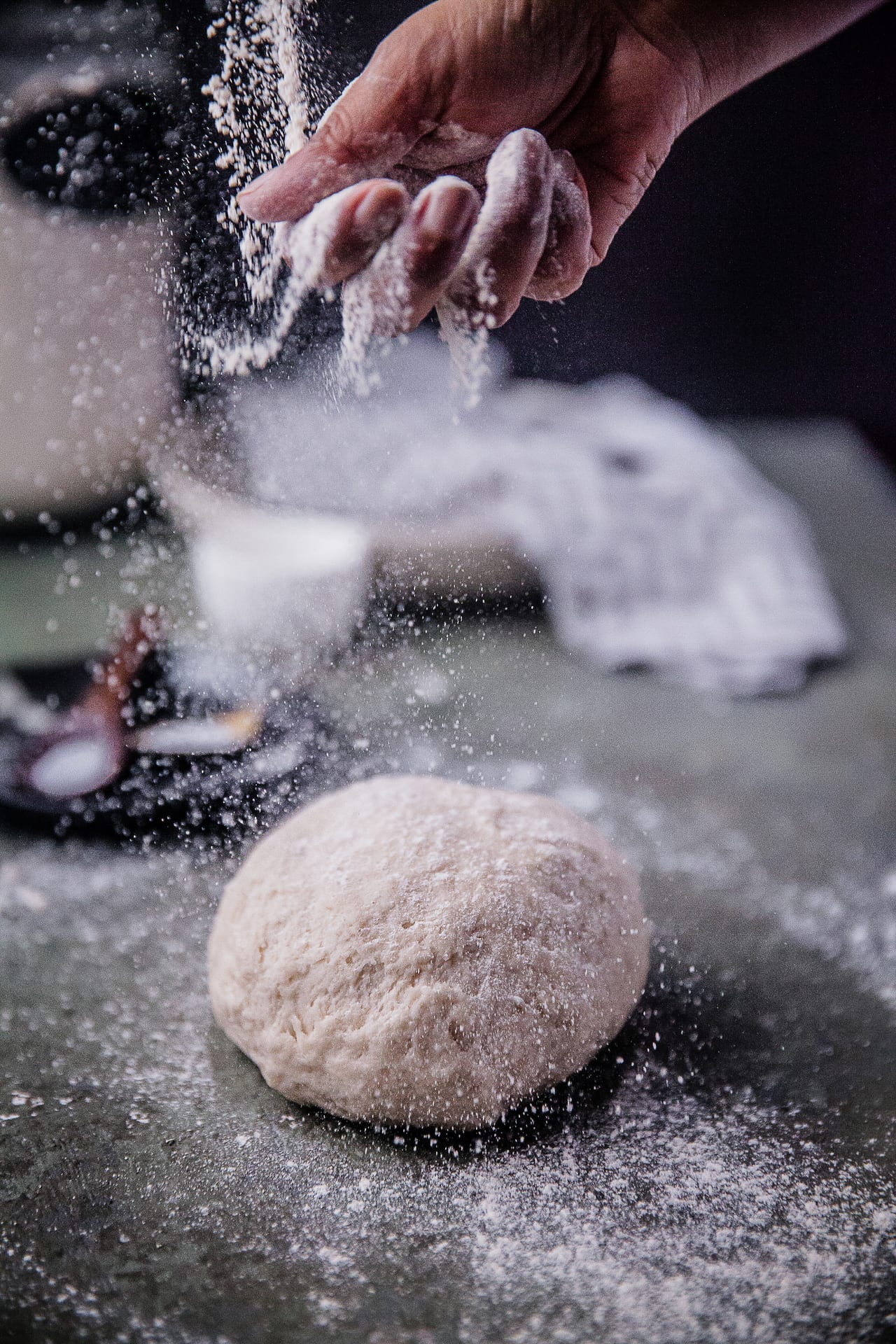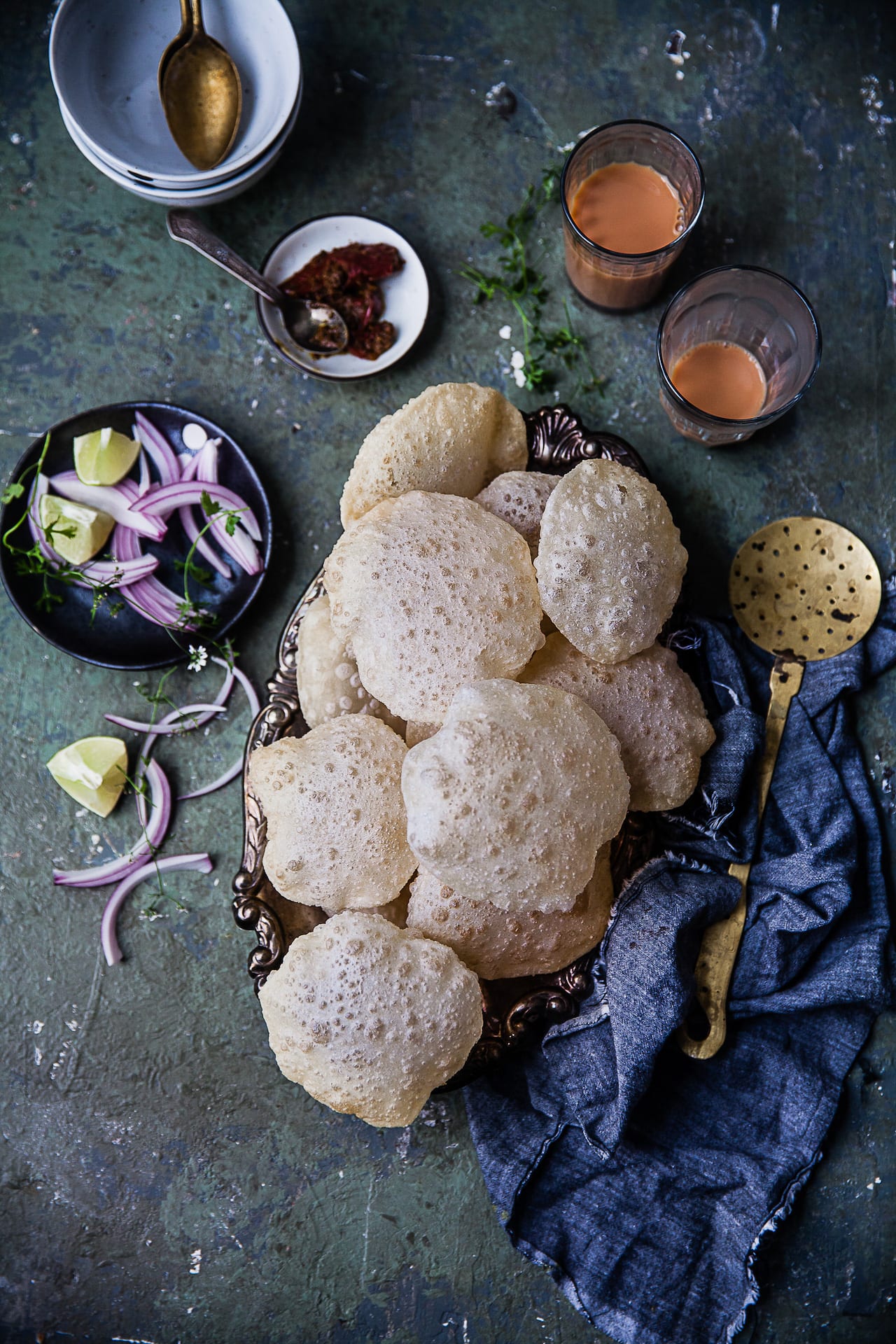 Key Notes:
LUCHI DOUGH
The tricky part is the foundation of the dough. Mix the flour with salt, sugar and oil until it's crumbly and a little bit of the mixture holds shape. If it doesn't hold the shape, pour a little bit more oil and mix again.
After that, you have to add water to form a supple, soft dough, but make sure you add water in intervals as you might need more or less.
Letting the dough rest allows the gluten to relax and that makes it easy to roll out.
ROLLING LUCHI
Now, I am no expert in rolling dough to perfect circles. I just keep in mind to roll it evenly so that the air circulates and the luchi puffs up evenly when dropped in the hot oil.
Keep it mind rolling from center to outward, rotate and repeat. Rubbing a little oil on the dumpling helps to roll it out. I personally prefer dusting just a little bit of flour instead of oil.
FRYING LUCHI
When you are frying, make sure the oil is very hot but not smoky hot. If it's not hot enough, the end result will be an oily, not evenly puffed luchi. I just dip the end of a wooden spoon or a tiny pinch of the dough to test the oil. If I see bubbles, the oil is ready.
If you have someone to help you fry while you roll, it will be quick. If not, roll all the dumplings and layer on a parchment paper before you start frying.
Once you slide the luchi in hot oil, gently press it with the back of the slotted spoon. It helps the air to pass through evenly.
If you follow all these key points, chances are that your luchi will puff up beautifully and taste flaky. But don't feel bad if a few of them don't puff evenly, it will still taste amazing.
You can pair luchi with several dishes, but my favorites are Ghugni or Kosha Mangsho along with a cup of tea!
Luchi | Deep Fried Mini Breads
Ingredients
1

cup

all-purpose flour

½

teaspoon

salt

½

teaspoon

sugar

2

teaspoons

oil

½

cup

warm water

(you might need more or less)

enough oil to deep fry the breads

(about 2 inches deep from the bottom of the pan)
Instructions
Take a big mixing bowl and add the flour, salt, sugar and oil. Mix it around until it looks crumbly and you can hold a little bit of the mixture to form a shape.

Make a well in the center and pour the water little by little until you form a smooth supple dough. Cover the dough and let it rest for 30 minutes.

After 30 minutes, divide the dough into 20 small dumplings. Roll each dumpling in your hand to form a disc like shape.

To roll the dumplings into circular shape, you could either rub little oil on the dumpling or dust a little bit of flour. While rolling, apply gentle but firm pressure from center to outward. Rotate and repeat, until you roll it into a thin even circular shape. Layer it on a parchment paper and continue rolling the rest.

Place a heavy bottom saucepan on medium high heat and pour enough oil to deep fry the rolled dough.

Prepare a plate with kitchen towel to place the hot fried luchi.

Once the oil is hot enough (about 350F), slide one rolled dough and apply gentle pressure with the back of the slotted spoon. It should start to puff up in few seconds. Flip and let it fry for a few more seconds. Then, using the slotted spoon, lift the puffed luchi and hold it against the edge of the pan to drain off excess oil. Place it on the prepared plate with kitchen towel.

Luchi should be served right away. Once it's cold, it loses the flaky soft texture.
Video
Notes
Make sure to read all the key notes mentioned in the post!
Nutrition