Mushroom pizza is a great option for Vegetarian pizza. It is very easy to make, and not loaded with cheese. With no extra sauce, this mushroom pizza is light on the tummy.
If you have the pizza dough ready in the fridge, you can even make this pizza on a busy weeknight.
I started making mushroom pizza very recently after my husband suddenly started requesting for it. I wasn't sure how it would turn out with just mushroom as the topping. It actually turned out delicious, and we had it two weeks in a row.
What I love the most is that it is effortless and needs to extra sauce to make the pizza.
Ingredients for Mushroom Pizza
Pizza Dough - You can buy store bought pizza dough or try my easy no knead pizza dough
Mushroom - I used only brown mushroom, but you can make it loaded with variety of mushroom of your choice.
Garlic - I like to use fresh garlic as it adds a lot of flavor as compared to garlic powder.
Thyme - Thyme goes very well with mushroom, especially fresh thyme. If you don't have fresh thyme, you can use dried too.
Semolina - I don't use semolina in the dough. I use a little bit while shaping the pizza and at the bottom of the pan. It creates an extra crunch to the crust.
Oil - You can use vegetable or olive oil. A little amount is needed to make the dough and then again to drizzle on the dough while baking the pizza.
Steps to prepare
1- Prepare the pizza dough
2- Divide the dough into 4 portions. Shape each portions into round balls and let it rest for 30 minutes.
3- Slice the mushroom into thin slices. Don't wash the mushroom. Just clean it dry using a kitchen towel. If the mushrooms are very dirty, then after washing with water, make sure to dry it completely before you cook the mushrooms.
4- Fry the mushroom in a heavy bottom pan with little oil. Do not add any salt when cooking the mushroom.
5- Add the thyme leaves (if using) and cook the mushroom until it's mild brown.
6- Once the mushroom is cooked, add grated garlic and season with salt.
7- Preheat the oven and shape the pizza dough by spreading it with hand instead of using a rolling pin.
8-Add some semolina in a cast iron skillet and layer the pizza dough on it. Gently pull the dough around to shape it.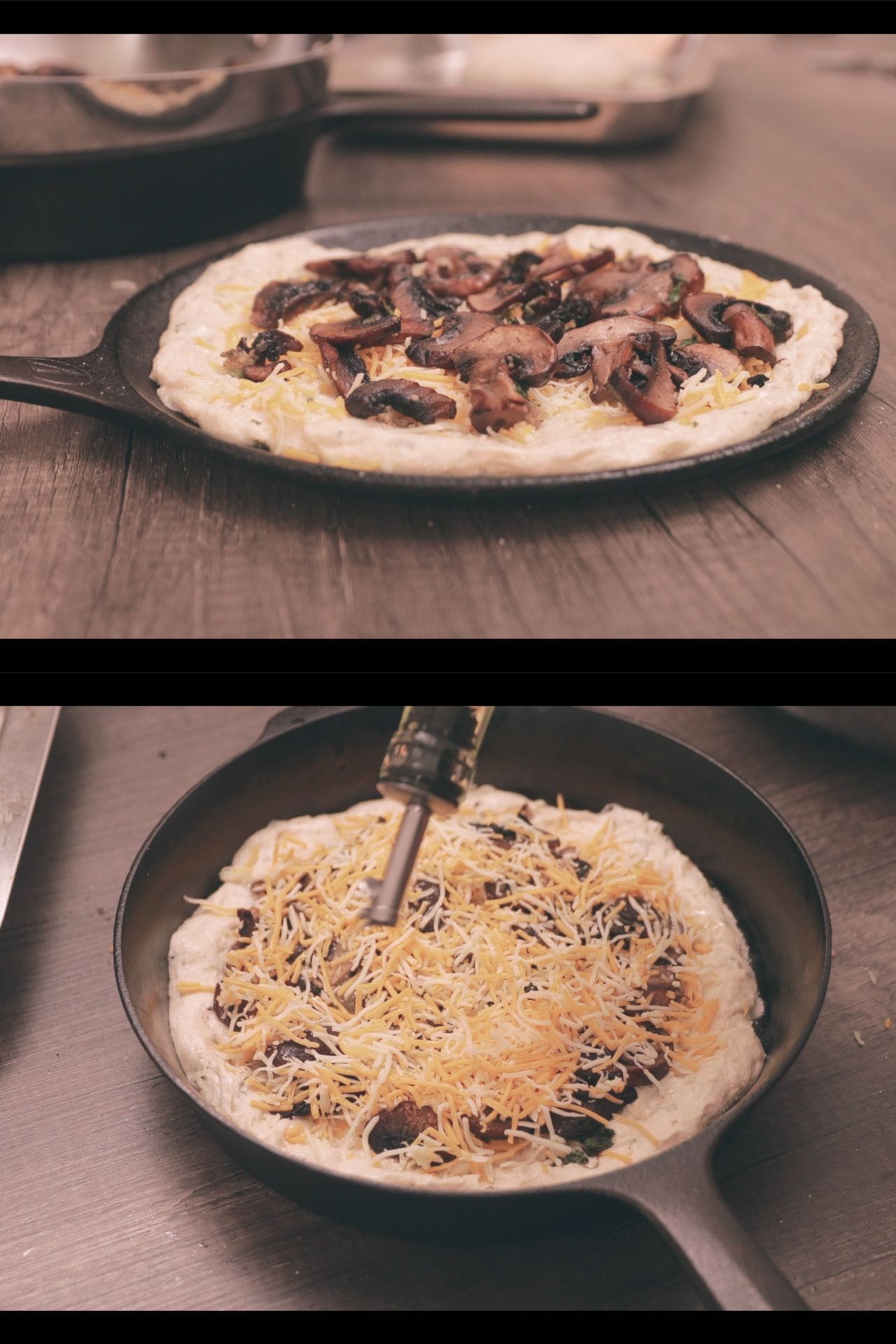 9 - Add a thin layer of cheese, top it with cooked mushroom and add more cheese on top.
10- Drizzle a little oil and bake the pizza.
I prefer cooking pizza either on a preheated pizza stone or on a cast iron skillet, and both helps to create a crispy crust of the pizza.
FAQs
Can you use raw mushroom?
Raw mushroom will release a lot of water as it bakes on the pizza dough, which will make a very soggy base and the mushroom will also not taste good.
What is the best cheese option for this pizza
I used a blend cheese mixed of cheddar and mozzarella. Using just mozzarella will give a fantastic taste too.
What other things can I add along with mushroom?
I kept it very simple with just mushroom, but you can definitely add some onion and bell peppers too in the mix along with olives.
Mushroom Pizza
Mushroom pizza is a great option for Vegetarian pizza. It is very easy to make, and not loaded with cheese. With no extra sauce, this mushroom pizza is very light on the tummy.
Ingredients
2

portions

Pizza Dough

10

oz

Mushroom

(You can use a mix of different varieties of mushroom. )

½

cup

Grated cheese for each pizza

Few sprigs of fresh thyme leaves

2

cloves

garlic

½

tsp

salt

2

tsp

Olive oil

¼

cup

Semolina
Instructions
If you are using premade pizza dough that was kept in the fridge, make sure to bring the dough to room temperature.

In the meantime, slice the mushroom and cook it with little oil and fresh thyme leaves. Don't add salt or garlic in the beginning stage of cooking the mushroom.

Once the mushroom is golden brown, sprinkle a little salt and grated garlic. Toss it around and switch off the heat.

In a cast iron skillet, layer some of the semolina and then spread the pizza dough to an even thin layer.

Drizzle a little oil, spread the grated cheese followed by the mushroom and then add some more cheese.

Bake for 15 minutes. Let it rest for 2 to 3 minutes. Slice and enjoy!
Nutrition
Calories:
149
kcal
Carbohydrates:
21
g
Protein:
7
g
Fat:
5
g
Saturated Fat:
1
g
Polyunsaturated Fat:
1
g
Monounsaturated Fat:
3
g
Sodium:
596
mg
Potassium:
502
mg
Fiber:
2
g
Sugar:
3
g
Vitamin A:
0.3
IU
Vitamin C:
4
mg
Calcium:
14
mg
Iron:
2
mg