Gur Makhana is the Indian version of caramelized popcorn, but it is healthier and a special winter treat! Ready in less than 20 minutes and needs only 4 ingredients.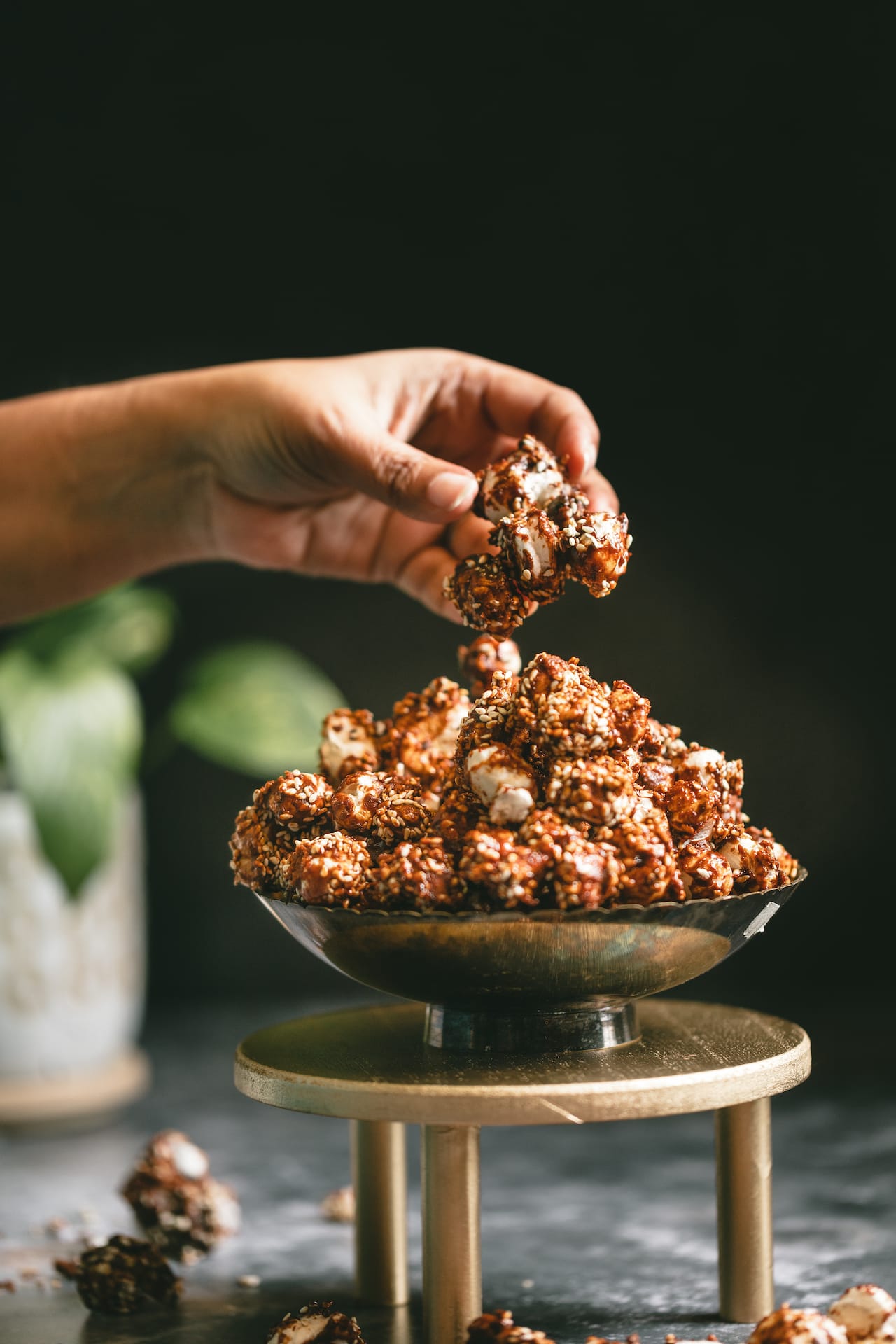 What is Gur Makhana?
To break down the name, Gur is Jaggery and Makhana also known as Phool Makhana is Lotus Stem seeds. Phool Makhana is also known as Fox Nuts.
It looks like popcorn and when toasted it also tastes like popcorn. You can add any flavor you like and turn it into a healthy snack for kids and grown ups.
Gur Makhana tastes very similar to caramelized popcorn, and kids absolutely love these.
You can use these seeds to prepare healthy snack like Chivda and also add in sweets to make Makhane ki Kheer.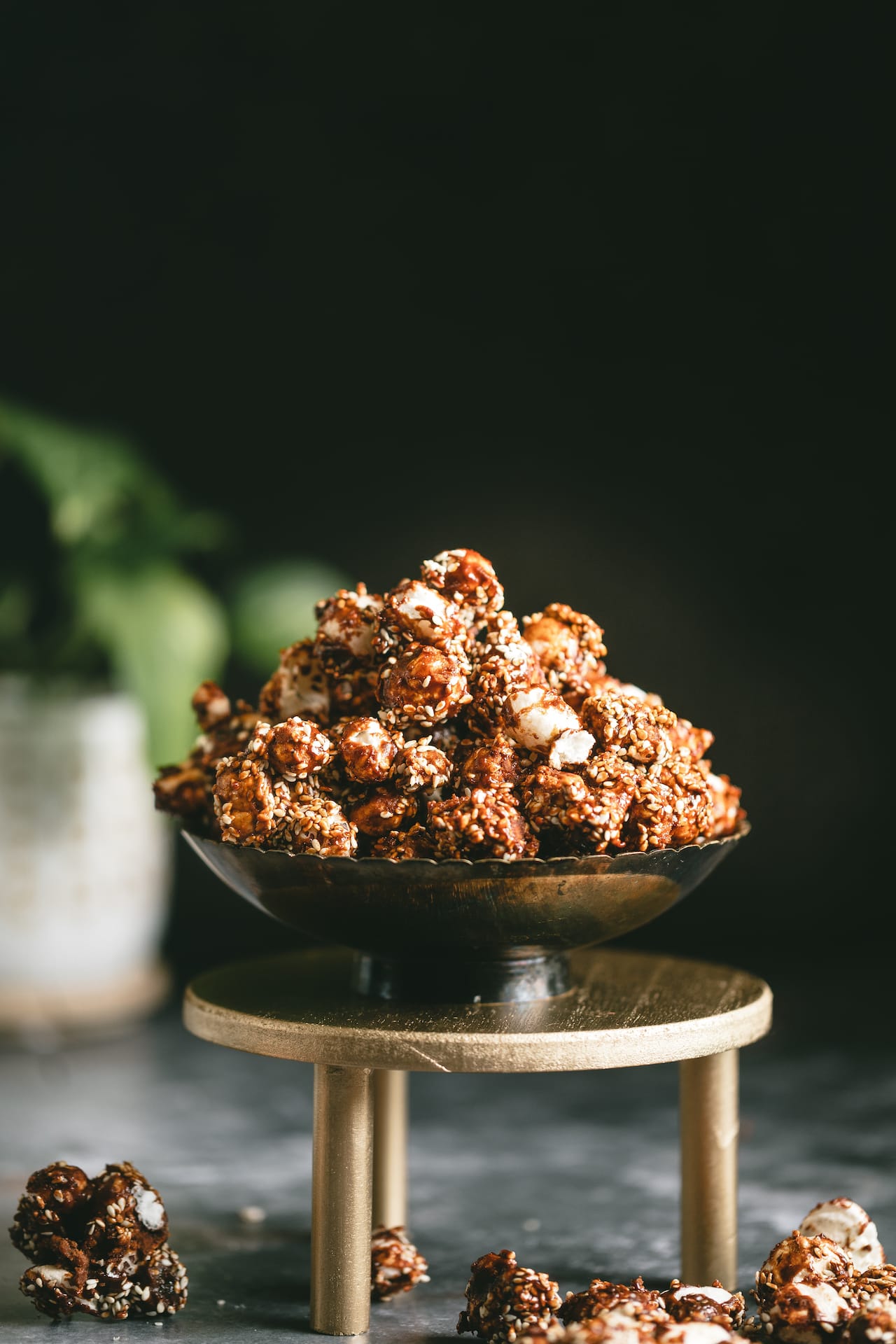 Ingredients needed:
Phool Makhana - These fox nuts or lotus stem seeds are easily available in Indian store. These days, you can even find it in online stores. Link to shop!
Jaggery - Jaggery is used a lot in Indian food, and we often use it as a sweetener, as jaggery is more nutritious than refined sugar. You can use sugar, white or brown as a substitute here, but the flavor you get from jaggery is what makes this gur makhana so delicious.
I like to use jaggery block and then grate with a knife. For this particular dish, I tried the jaggery powder I started seeing a lot in Indian store. I am not a big fan, but it makes work easy.

I do have to say that the jaggery powder gave a very dark caramel color as compared to what I get from using a regular block of jaggery.
Sesame seeds - Sesame seeds are optional here, but often a tad bit is added along with makhana for extra flavorful bite in between.
Ghee - You need a very tiny amount of ghee to make this snack. It helps to add that shine to the melted jaggery. If it not a mandate and you can discard. Homemade ghee is always better to use.
The exact measurement is mentioned in recipe card below.
Steps to prepare Gur Makhana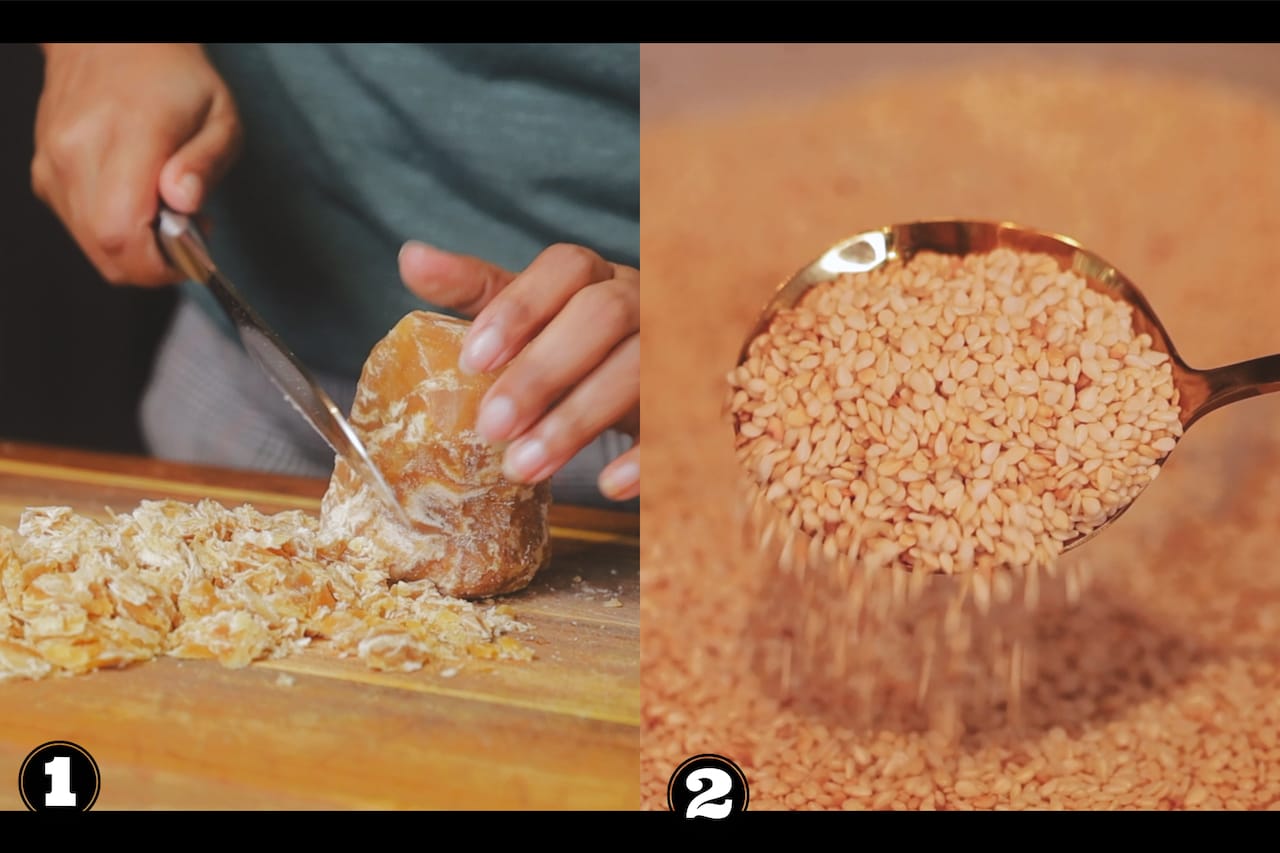 If you are using jaggery block, then keep start by grating the jaggery using a knife. You can also use a grater box. You can also just use premade jaggery powder.
Roast the sesame seeds in low heat for 2 minutes. Don't leave unattended as it can get burnt easily.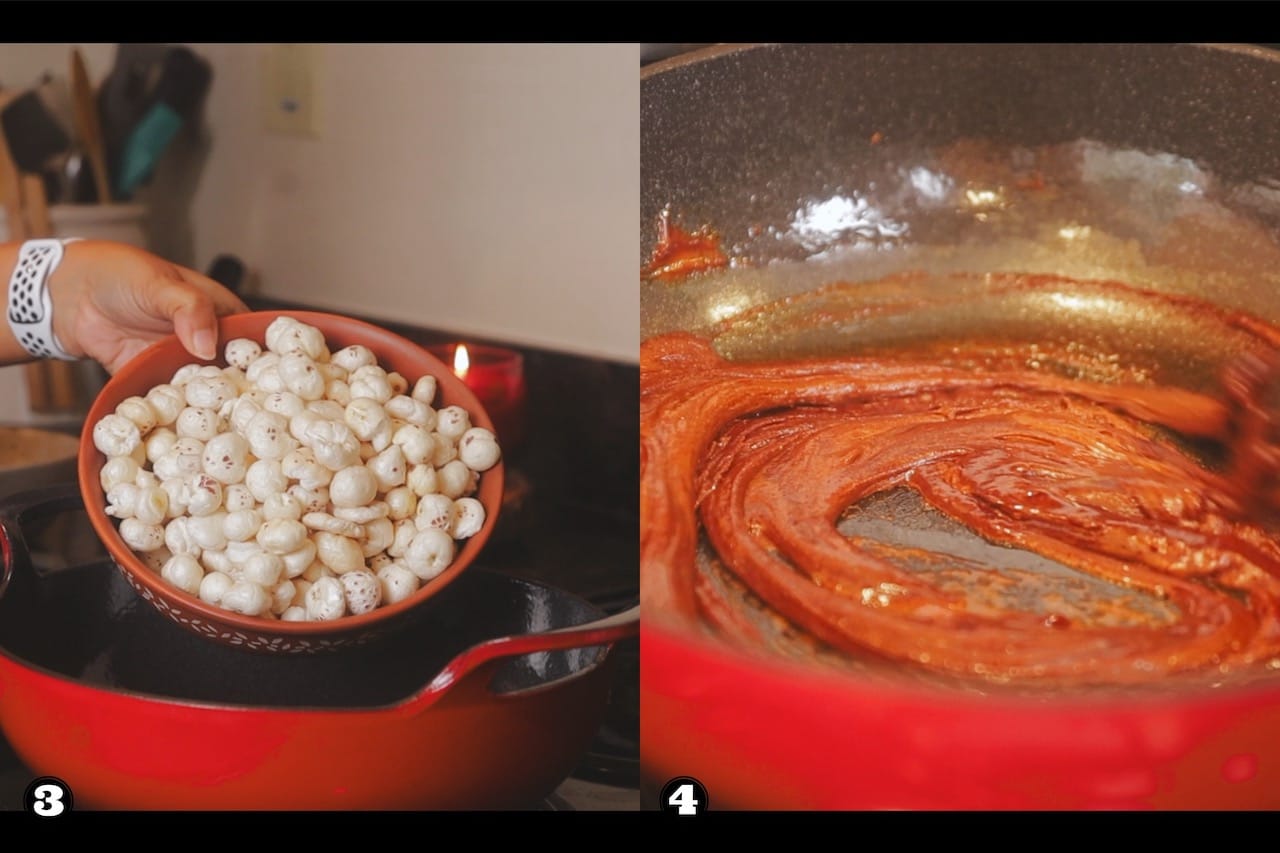 3. In a non stick pan, dry roast the makhana in medium low heat for about 5 minutes. You will know it's ready, when it tastes crunchy, and you can crush the seeds with snap and it should crumble easily.
4. Next, you melt the jaggery again in low heat by stirring constantly for about 5 minutes.
To test if the jaggery is ready or not, you can use a thermometer, make sure it reaches 300F. Or try the second method by first switching off the heat, and then add a drop of jaggery to a bowl of cold water. Give it a few seconds to cool down and then take it out and try to break. If the jaggery breaks with a snap, it is ready. If it's still soft, then cook for a few more minutes.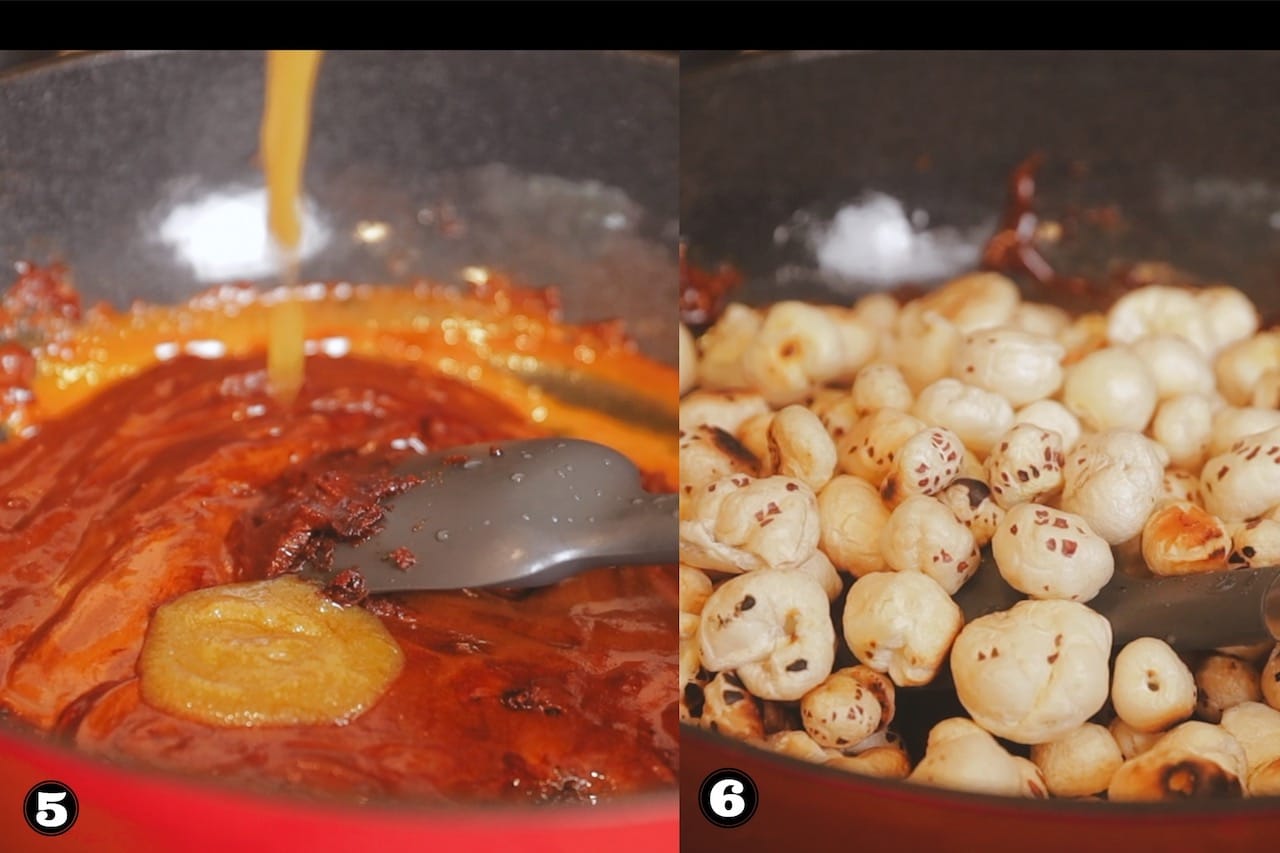 5. Add 2 tablespoons ghee and mix it around. It will make the melted jaggery look shiny.
6. Switch off the heat and add the roasted makhana along with the roasted the sesame seeds. Toss it around and make sure all the seeds are coated in the jaggery.
7. It will look like a lump and it's fine. Just drop everything on a greased plate or a baking mat or parchment paper. Leave aside for it to cool down.
8. Once it cools down completely, you can snap it easily and take the seeds apart.
Recipe Video
How to store these Gur Makhana
Once it's cooled completely to room temperature, store in an airtight jar, and you can keep the jar at room temperature away from direct sunlight. It stays fresh and crunchy for several weeks.
If the weather in your area is humid, then I would suggest you store the airtight jar in the fridge.
Points to keep in mind
Although the treat is very easy to prepare with just three ingredients, you have to remember few key points while preparing Gur Makhana.
Make sure you dry roast the lotus seeds before mixing with the melted jaggery. Roasting will make it crunchy. Remember to roast in low heat, so it doesn't get burnt, and keep stirring constantly as you roast.
Cooking the jaggery to perfect temperature is key to that snap we all like in brittle. It should be cooked to 300F or do the test that I mentioned in the steps above.
Do not overcook the jaggery either, as that will make the texture very hard to bite.
Just like all other Indian treats made with jaggery a special Sankranti treat, so is Gur Makhana.
FAQs
Is Gur Makhana good for health?
It is! The high nutrition of Makhana/fox nuts along with Jaggery which is not refined sugar, makes it a healthy snack when consumed in moderation.
How does Makhana Taste?
It tastes very bland on its own. But once you roast with some spices or jaggery it turns into a delicious snack.
Is Makhana better than Popcorn
Popcorn is also a healthy snack and Makhana is said to have lesser calories, lesser fats and more fiber than popcorn.
Here are few more dishes you can try this Sankranti:
Chanar sondesh/ Chenar sondesh
Gur Makhana
Gur Makhana is the Indian version of caramelized popcorn, but it is healthier and a special winter treat! Ready in less than 20 minutes and needs only 4 ingredients.
Ingredients
1

cup

grated jaggery

2

cups

fox nuts/phool makhana

¼

cup

white sesame seeds

2

tablespoon

ghee
Instructions
In a pan, dry roast the sesame seeds for 5 minutes by constantly stirring, so it doesn't get burnt. Take it off the pan once done.

To the same pan roast the phool makhana/fox nuts for 5 minutes or so, by stirring constantly, until it's crunchy and snaps easily. Take it off the pan once done.

Now to the same pan add the grated jaggery and keep stirring to melt it. Continue cooking the jaggery until the color darkens a little and temperature reaches to 300F.

If you don't have a thermometer, then test it by adding a tiny drop of the jaggery to a bowl of cold water. It should set in a few seconds, and you should be able to break it with a crisp snap.

Remember to remove the pan from the gas when you test the jaggery in cold water.

Once the jaggery is cooked, switch off the heat and add the ghee. Stir it around and it will add a lovely shine.

Add the roasted makhana and sesame seeds and mix it around to coat everything.

Drop the Gur Makhana on a greased plate or baking mat to cool down completely.

Once cooled down, you can break apart the makhana with your hand into individual bites.
Nutrition
Calories:
239
kcal
Carbohydrates:
4
g
Protein:
3
g
Fat:
24
g
Saturated Fat:
11
g
Polyunsaturated Fat:
5
g
Monounsaturated Fat:
8
g
Cholesterol:
38
mg
Sodium:
2
mg
Potassium:
88
mg
Fiber:
2
g
Sugar:
0.1
g
Vitamin A:
2
IU
Calcium:
183
mg
Iron:
3
mg