Chitoi Pitha is a bengali rice based steamed pancake that is eggless, need no oil or butter. It is served with freshly grated coconut and some jaggery, preferably date palm jaggery - Patali gur/Nolen Gur.
My Mom is one of those very simple women who didn't change much with time. I have never seen her wearing anything other than saree; her hair is always casually tied into a bun with a red bindi on her forehead and no make up whatsoever.
Her fashion sense could be old fashioned but I adore how quickly she got herself accustomed to smart phones.
For someone who never cared to have a mobile phone, she very proficiently chats with me on WhatsApp and even learnt video calling on Skype. Well, she does explain that its only because she wants to watch Avyan grow, even if virtually.
I am just glad that we can get on Skype and cook together. She taught me to prepare these Chitoi Pitha exactly that way.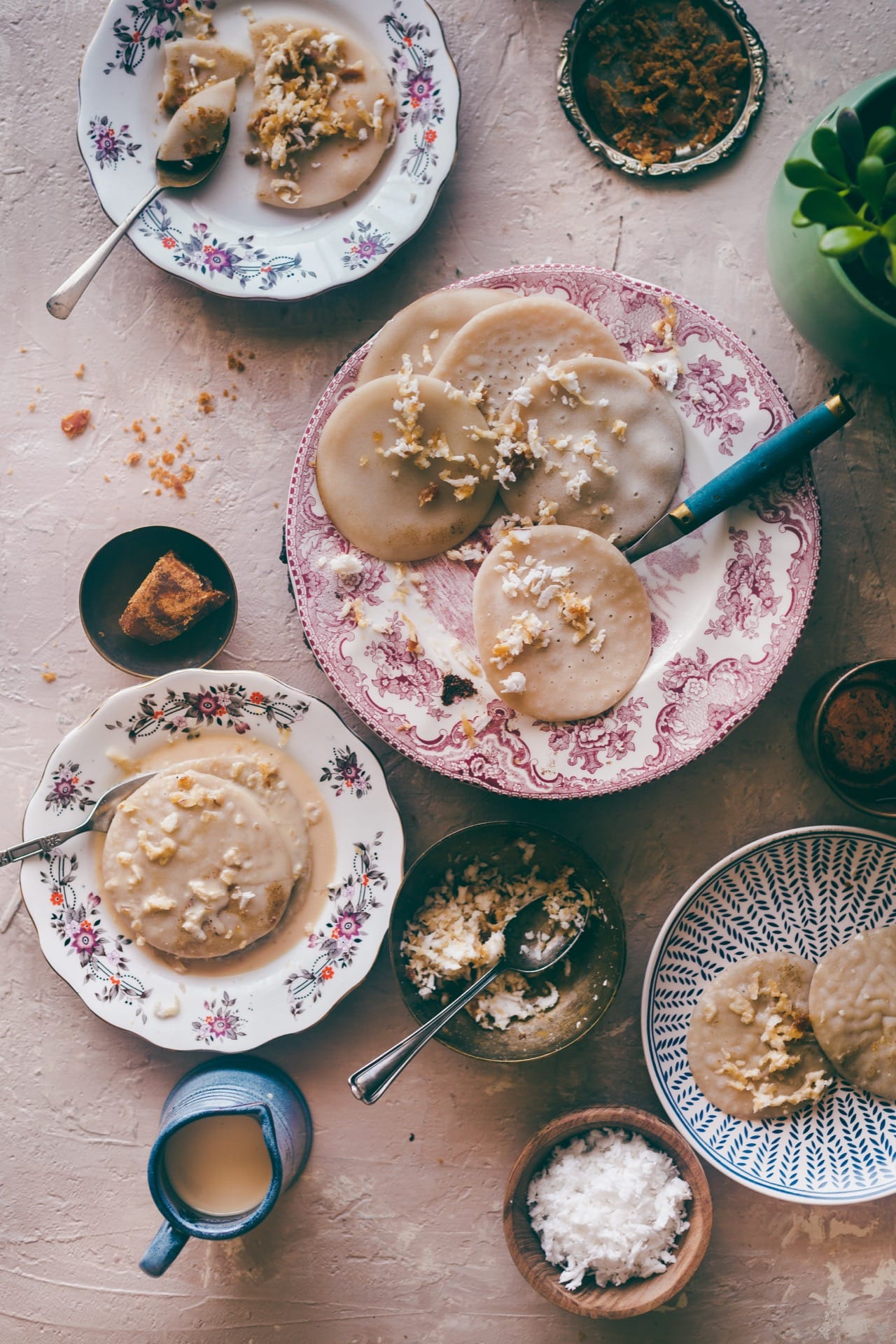 What is Pitha or Pithe ?
Pitha or Pithe are sweet treats, which are typically prepared with rice flour mixed with wheat or all-purpose flour. Mostly popular in eastern region of India, and Bangaladesh, Pitha/Pithe could be dumplings, tiny cakes or pancakes (like the one I am sharing today).
What is Chitoi Pitha
Chitoi Pitha or Steamed Pancakes are a little tricky to prepare. It's a traditional food from Bangladesh.
The batter needs to be of perfect consistency, not runny but thin enough so you can ladle it on the hot pan. Then, it's steamed after covering with a lid and sprinkling just enough water all around.
Too much water and it gets mushy, too less water and it gets dry. Unlike typical pancakes, these are dense and chewy because they're prepared with a mix of rice flour and wheat flour.
Every time we meet, Mom prepares Chitoi Pitha for me, several times. We love to have it for breakfast with some freshly grated coconut and shaved jaggery, preferably date palm jaggery.
I do love to prepare the jaggery milk and enjoy few dudh chitoi pitha literary translating to milk chitoi pitha.
Dunked in the creamy sweet jaggery milk, it turns into a comforting winter treat. A perfect Sankranti special to celebrate winter harvest of rice, wheat and jaggery.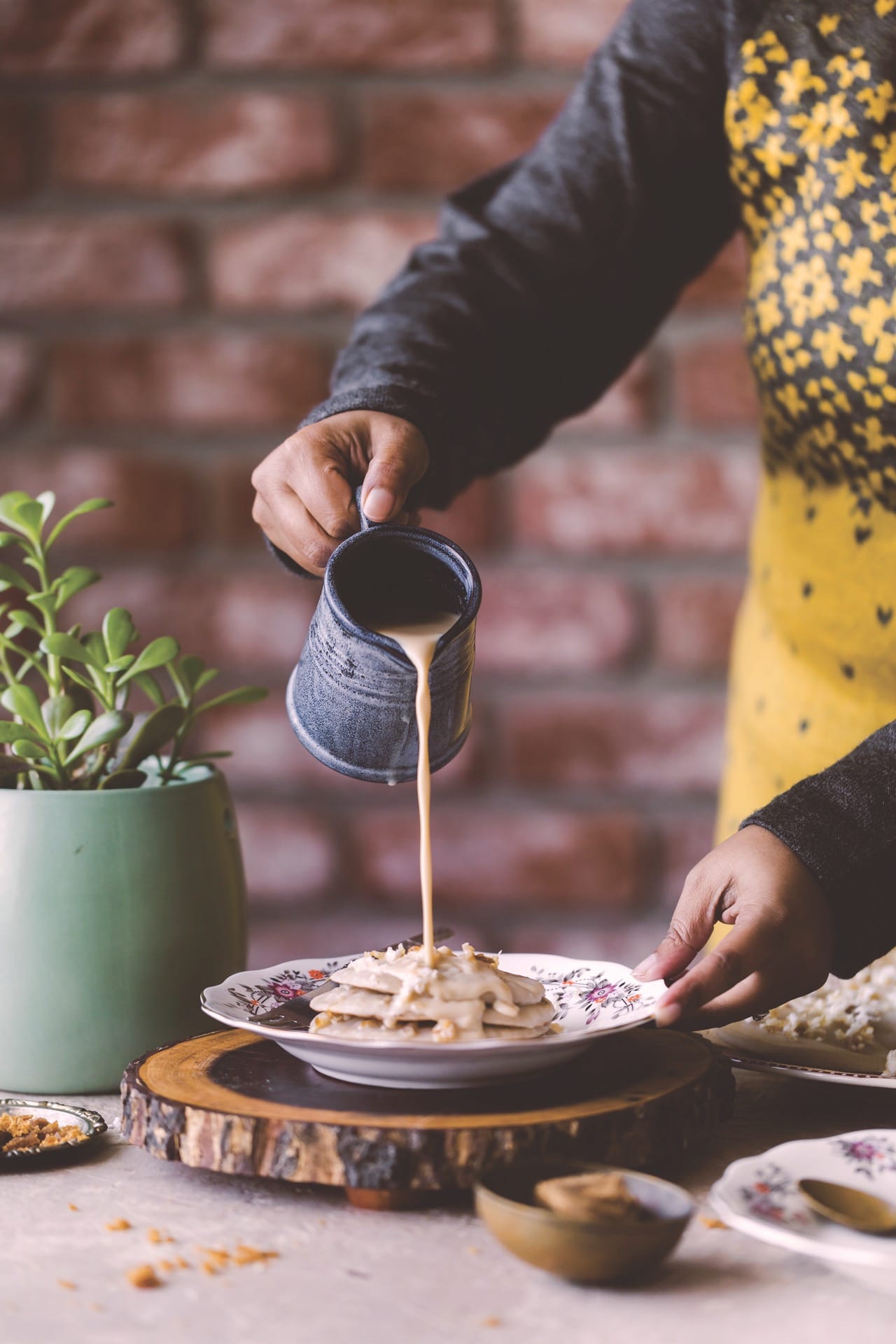 Preparing Chitoi Pitha with out the mold!
Typically Chitoi Pitha is preared in a special cast iron or earthen ware pan with holes in it. The batter is poured in those holes and then steamed until cooked.
I don't have that special cookware and so I have always prepared it using a cast iron skillet.
You can also use a non stick pan.
The authentic look might be missing but the taste is spot on. Give this easy Chitoi Pitha recipe a try and watch the video to understand the steps better.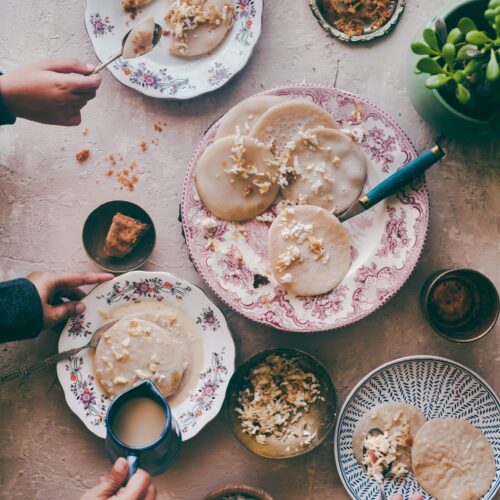 Chitoi Pitha (Steamed Pancakes)
Chitoi Pitha is a bengali rice based steamed pancake that is eggless, need no oil or butter. It is served with freshly grated coconut and some jaggery, preferably date palm jaggery – Patali gur/Nolen Gur. 
Ingredients
for Chitoi Pitha/Steamed Pancakes
1

cup

rice flour

¼

cup

whole wheat flour

pinch

of salt

water to make the batter
for jaggery cream sauce
¼

cup

grated jaggery

200

ml

fresh cream
other ingredients
grated jaggery

freshly grated coconut
Instructions
Whisk rice flour, wheat flour and salt in a mixing bowl. Then, pour water little by little to get the right consistency. If the batter gets too runny, add a little but of rice flour or wheat flour. Allow the batter to rest for about 10 minutes and in the meantime, prepare the jaggery cream sauce.

Scatter the grated jaggery in a saucepan and turn on the heat. Allow it to simmer until the jaggery starts meting. Now, very carefully, taking your face away from the pan pour cream and give it a stir. Don't cook for too long or else it will curdle. Just mix everything and switch it off.

To prepare Chitoi Pitha, heat a flat pan and make sure the heat is medium low. Ladle a little bit of the batter right in the center. Immediate cover the pan and sprinkle 1 tablespoon of water all around the lid. It will start steaming the pancakes and in about 2 to 3 minutes, it will be done. Take off the lid and remove the Chitoi Pitha to a serving plate. Continue making rest of the Chitoi Pitha.

Once done, pour the jaggery cream sauce on top and allow the Chitoi Pitha to soak up some of the sauce before serving. You could also serve it dry with some grated coconut and grated jaggery.
Notes
Chitoi pitha (steamed pancakes) cooks best in iron pan instead of nonstick pans.
Nutrition
Serving:
1
Makes mini 10 pancackes