Creamy and fudgy prepared with just three ingredients, chanar sondesh/ chenar sondesh is a favorite to many Bengalis. We Bengalis are known for our sweet tooth, and there are countless varieties of milk sweets in Bengali food culture. But sondesh is the dearest of all, and we do consider it as auspicious.
Mahalaya is a very auspicious day in Bengali Calendar, marks the beginning of Durga Puja, which is just 7 days away! Growing up, we had to wake up at wee hours on this special day and listen to Durga Ma hymns playing in radio.
My Dad had a cassette (still has it, I think) and would play that later in the daytime, while Ma would prepare a festive Vegetarian meal.
I am not a very religious person but spiritual at heart, so while I don't listen to the hymn at wee hours, I do my little prayer and celebrate with all things delicious.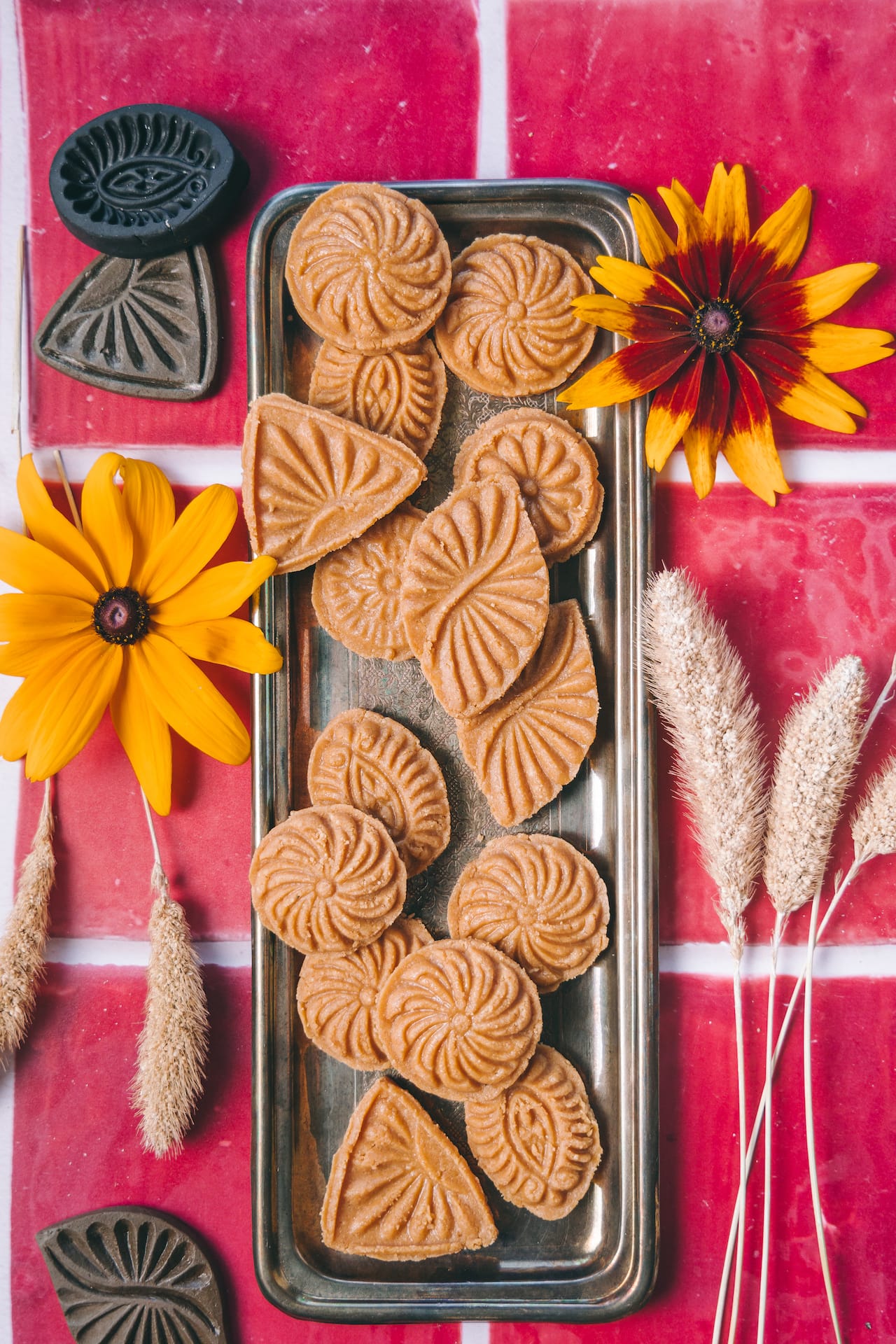 What is Chanar Sondesh / Chenar Sondesh?
Chena or Chana (as we call it in Bengali) is fresh, unripened cheese. You will prepare it by curdling milk with something acidic, like lemon juice or white vinegar.
It is used widely in India to prepare different varieties of sweets. Chanar Sondesh is a variety of individual sized sweet fudge prepared with fresh Chena or Chana in different shapes and form.
It's very popular on Kolkata.
You can also sweeten the sondesh with white sugar, but try to see if you can find this variety of jaggery because it's unlike any you used before.
I used date palm jaggery and so you can call it nolen gurer (or patali gur) sondesh too
Date palm jaggery not only gives a robust earthy aromatic flavor but also gives that gorgeous rich dark amber color.
What ingredients will you to need to prepare the Chanar Sondesh?
Fresh Chhena/Chhana – Make it at home, as all it needs is whole milk and lemon juice/vinegar. Watch this video to learn how to make softest chhena.
Khoya/Khowa/Mawa – My Mom always made khoya at home, but it's way too much work. The process is extremely tedious where you simmer whole milk for hours, by stirring occasionally, until it reduces and thickens enough to form dough.
I use store bought, and it's easily available in any Indian or Middle Eastern stores. Check in frozen aisle. You can also look for solid milk.
Date Palm Jaggery – Date Palm Jaggery (Nolen Gur or Patali Gur) is a special variety of jaggery. You can find it mainly in Kolkata. In US, it is occasionally available in Indian stored or Bangladeshi stores.
The jaggery has a full-bodied perfume aroma and gives the dark amber shade. You can definitely use brown sugar instead or plain white sugar, you could use date syrup too if you like.
The taste will differ based on the sweeter you use.
Is Chana / Chena same as Paneer?
It sure is, however, Chena is the soft fresh cheese, which still has some moisture and perfect to prepare sweets.
Paneer is the next step where you will strain the fresh cheese for much longer time to drain out as much moisture. It can turn into a block that you can slice into bite size.
Can you use store bought paneer to make Chanar Sondesh?
No! Any Bengali sweets that call for chena or Chana needs fresh cheese.
If you try to grate a block of paneer to make the sondesh, it will not work out.
WATCH THE VIDEO
Shaping the Bengali Sondesh?
Traditionally, you should use sondesh molds. These are typically available only in eastern part of India and comes in varies different size and design.
You could create the design by pressing the bottom of a pretty glass that might have some design in it (watch the video to understand better)
You could also use some cookie molds if you like.
The simplest method you can use is to level the sondesh dough in a container, let it set. Then slice it like how you would slice a brownie.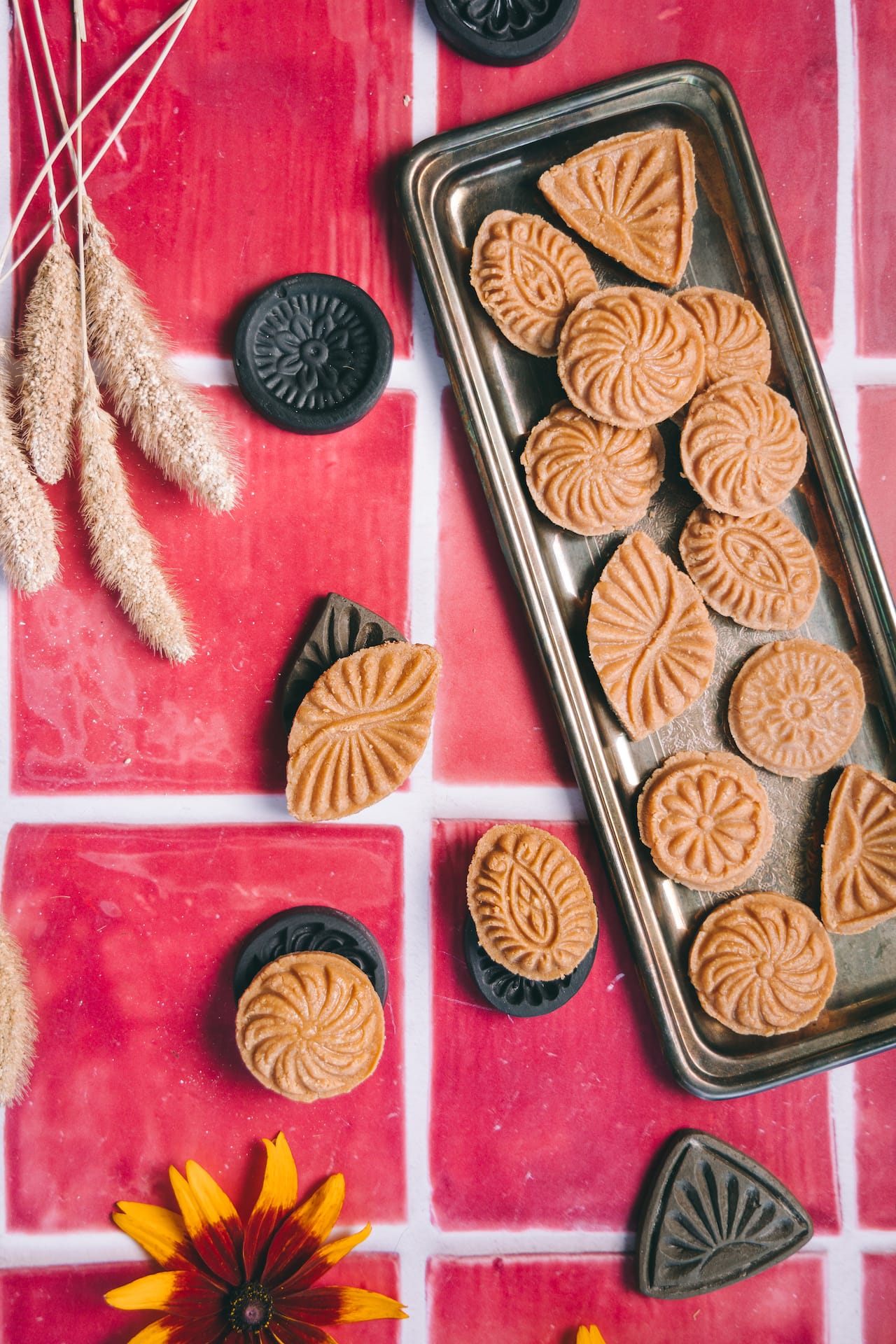 Storing the sondesh
The sondesh contains milk, and thereby it's better to store in an airtight container in the refrigerator.
This festive season, make this delicious chanar sondesh and wow your guests. Either your design it pretty or just cut in bite size squares, chances are your guests will leave no leftovers.
Here are links to a few other Durga Puja special dishes:
Chanar Sondesh
Creamy and fudgy prepared with just three ingredients, chanar sondesh/ chenar sondesh is a favorite to many Bengalis. We Bengalis are known for our sweet tooth, and there are countless varieties of milk sweets in Bengali food culture. But sondesh is the dearest of all, and we do consider it as auspicious.
Ingredients
1

lt milk

few ice cubes

2

tablespoons

white vinegar

2

tablespoon

water

4.85

oz/ 137 g date palm jaggery

(nolen gur/ patali gur)

3.7

oz

/ 105 g khoya/mawa

(solid milk)

little ghee to grease the mold and rub in your hand
Instructions
Before you start preparing the chena, make sure you keep the ice cubes and vinegar mixed with water ready. Also keep a muslin cloth or a nut bag ready to strain the chena.

Place the milk in a heavy bottom pan and bring it to boil by stirring occasionally. Once it comes to boil, switch off the stove and drop the ice cubes. Give a stir and then add the vinegar water mixture. Stir and you will see the soft chena is ready. Strain the chena using a nut bag or muslin cloth and the pour cold water to wash off any acidic taste.

Squeeze off excess water and tie the edges of the nut bag or muslin cloth and leave asixe for 30 minutes.

After 30 minutes, place the chena in a plate.

Knead the strained chena for 7 to 10 minutes. It will turn from crumbly to a smooth consistency. Once done, put it in a bowl to be used later. (PLEASE WATCH THE VIDEO TO UNDERSTAND HOW TO KNEAD CHENA)

Grate the jaggery in a heavy bottom pan.

Grate the solid milk and add it to the same pan.

Place the pan at medium low heat and keep stirring constantly and in 2 minutes the solid milk and jaggery would melt into a loose consistency.

Add the chena and start mixing.

Keep stirring constantly for 5 minutes, and you will see that the texture of the mixture turned into a dough. It will no longer stick to the pan.

Transfer it to a plate and leave it aside to cool down for a while. You need to make the sondesh while the dough is still warm.

If you are using the sondesh mold, then rub a little ghee on the mold. Now take a little about of the dough and press it gently on the mold. Keep spread around and keep pressing at the end for a neat finish (watch the video to understand better).

Very carefully remove the sondesh from the mold. It's still fragile, so you need to handle gently. Place it on a board and give it a couple of hours or more for it to set at room temperature.

To create a design using the bottom of a glass, roll the dough into a smooth dumpling shape. Then gently press with the bottom of the glass. Carefully take it off and let the sondesh set.

Once the sondesh are set, store it in an airtight container. Because it includes milk, it would be best to store it in the refrigerator.
Video
Nutrition