Makhane Ki Kheer/Phool Makhane Kheer is a creamy Indian pudding prepared with fox nuts. It is a traditional dessert prepared during festive season, especially Navratri. You can enjoy it cold or at room temperature, and some people even like it a little warm! The Makhana Ki Kheer is a delight to the palate, and it comes together very easily.
What is Makhana?
Makhana are lotus seeds and considered as a very healthy food choice. It is used in both savory and sweet dishes and makes for a great healthy teatime snack bite. It resembles popcorn and when lightly toasted, it even tastes similar. Here is a lovely article I read about Makhana and how it's harvested.

What ingredients are needed in Makhane Ki Kheer?
Fox Nuts /Makhana
Whole Milk
Jaggery ( I used Patali Gur, date palm jaggery)
Ghee
Assorted Nuts and Raisins
To make the pudding creamier you can also add a little amount of khoya/mawa/solid milk to the whole milk, but that is also optional.
How to prepare Makhane Ki Kheer?
The steps are so easy and effortless:
You toast the makhana/fox nuts and cashew with a little ghee. Take out the cashew and also separate a little amount of the makhana. Coarsely grind the rest of the makhana.
Then, boil the milk and simmer it down for 15 to 20 minutes.
Add the ground and whole makhana to the simmered milk and cook for another 10 minutes. Add the nuts, raisins and jaggery. Stir around and cook for a couple more minutes. You can serve it warm or cold.
Quick tip to make the kheer creamy and richer:
Add a little amount of khoya/mawa to the milk, and it will thicken the milk while making the kheer taste richer
Key steps to remember:
Don't forget to roast the makhana.
Don't add the sugar/jaggery in the beginning. Add it at the end. Also, keep in mind that after adding sugar or jaggery, it will thin out the consistency of the kheer/pudding.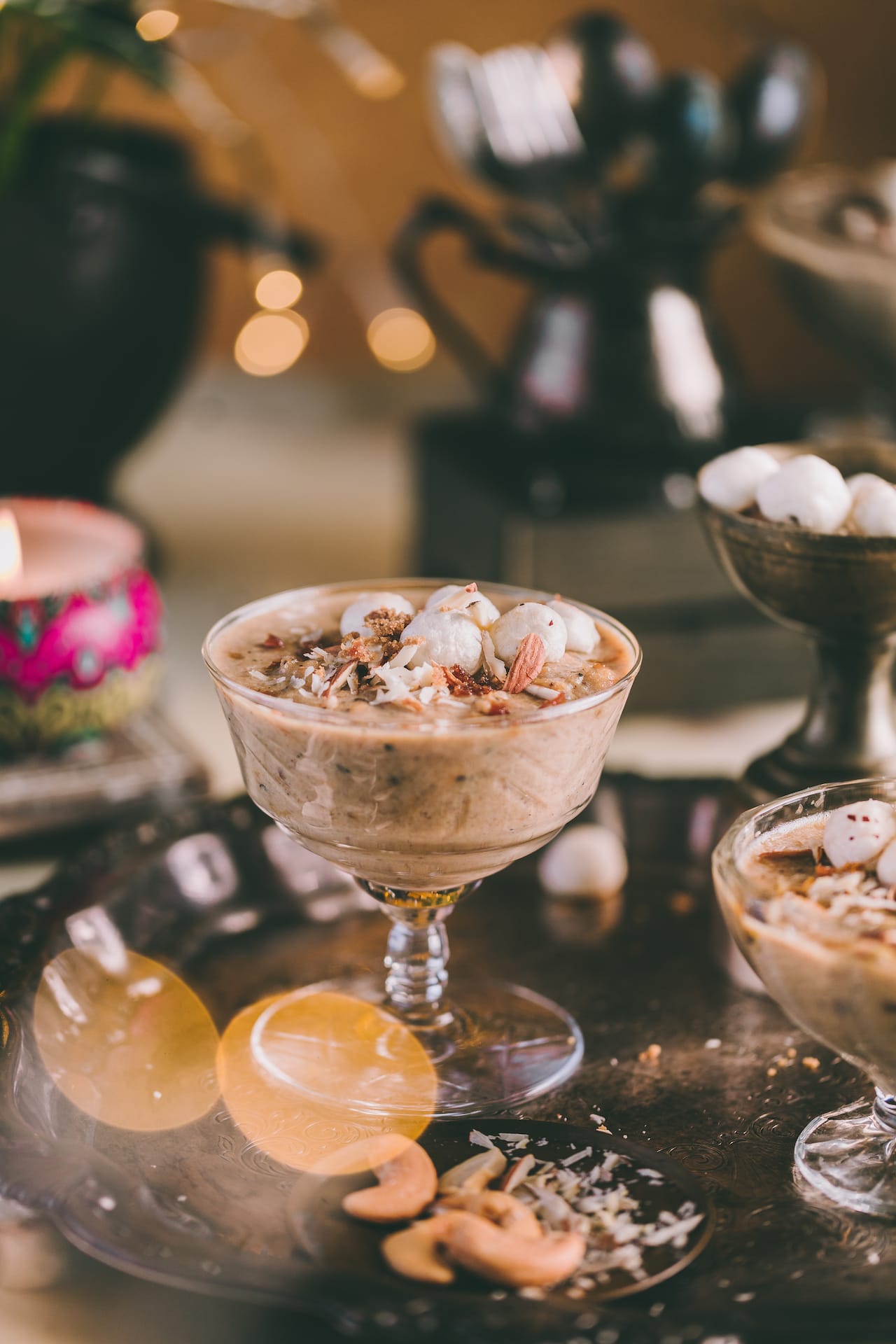 The first time I had Makhana was after my marriage at my in-laws. My mother-in-law was adding a few makhana to the rice pudding. It's not a very common food item in Bengali household, and I was had no idea what that was.
Later, Arvind toasted some makhana in oil, salt and chili powder, and it became one of my favorite teatime snacks.
It's incredible how versatile makhana/foxnut can be. You can use it in so many ways and now with the cold days coming ahead, this Makhana Ki Kheer will be happening quite often.
---
Here are other festive desserts to try:
Makhana Ki Kheer
Makhana Ki Kheer/PhoolMakhane Kheer is a creamy Indian pudding prepared with fox nuts. It is a traditional dessert prepared during festive season, especially Navratri.
Ingredients
3

cups

makhana/fox nuts

1

tablespoon

ghee

2

cups

milk

¼

cup

assorted nuts

(I used cashew and almond)

tiny handful of raisins

⅓

cup

date palm jaggery
Instructions
In a saucepan, add the milk and place it at medium heat. Keep
a wooden spoon inserted in the pan and let the milk simmer for 15 minutes. Make sure to stir in between, every now and then.

Simultaneously, add the ghee in a skillet at medium heat. Once the ghee melts, scatter the makhana and cashew. Stir and roast for 10 minutes.

Then, layer it on a plate and let it cool down a bit. Remove
the roasted cashew and ¼ cup of the makhana. Once cooled down, coarsely grind the rest of the makhana.

After 15 minutes of simmering the milk, add the whole makhana, ground makhana, half of the cashew and raisins. Keep stirring and simmering for 10 minutes and then, add the jaggery. Give it a stir and simmer for 2 minutes.

Check for sweetness at this point and add more if you want it sweeter.

You could either serve it warm garnished with more nuts on top or let it cool down in the refrigerator and enjoy it cold.