Every weekend, we like to start our day with a full plate of breakfast which has a lot of eggs, bread and may be, a little cheese 🙂 Last weekend was special and it called for a special breakfast. And I wanted it to be something sweet! I don't have a sweet tooth but Arvind really loves sweet and so, starting the day with some dessert would be the perfect 1st Anniversary gift for my hubby 🙂

I was introduced to Tiramisu by one of my close friend and ex-colleague, Nam. We were in China for some training and after a whole day of training, we were too tired to eat out. So, we decided to order for room service. When she ordered for Tiramisu, I was like ehh! what is that?! She smiled and then told me 'you will like it, trust me'. Well, I didn't like it... I actually loved it, just couldn't get enough of it!
Arvind is not a big fan of Tiramisu because of the espresso flavor and so, I thought of making it with strawberry! I was worried all the time. If it will work out well or not.. If the flavors will go well or not.. But, it turned out to be tasty.. really tasty. I was so proud of myself! He loved it and finished it with a big smile 🙂
Sharing this recipe with Hearth and Soul by Alex, What's Cooking Wednesday by Cristi, Sweets For Saturday by Lisa, Link Up Lounge by Holly

Strawberry Tiramisu
Ingredients
10 to 12

strawberries

16

ladyfingers

2

eggs yolks

1

cup

sugar

6

tbs

mascarpone cheese
Instructions
Blend the strawberries to a fine paste. Do not add any water to it.

Transfer the strawberry paste in a bowl and add 1 teaspoon vanilla extract to the paste. Keep it aside.

In a separate bowl, whip yolks and sugar until thick and pale in color.

Now add the mascarpone cheese to bowl and whip till the batter is smooth and well incorporated. In the following steps, I'll refer to this mix as egg-mascarpone mix.

Dip 4 ladyfingers in the strawberry paste for about 3 seconds and line them in the wine glass. Do not dip them for too long or else they might break apart.

Next, pour a layer of the egg-mascarpone mix above the ladyfingers in the wine glass.

Add another layer of 4 ladyfingers after dipping them in the strawberry paste.

Again, pour some generous amount of the egg-mascarpone mix in the glass.

Cover the glass and let it chill for a minimum of 8 hours.

Garnish with some fresh strawberry before serving.
Nutrition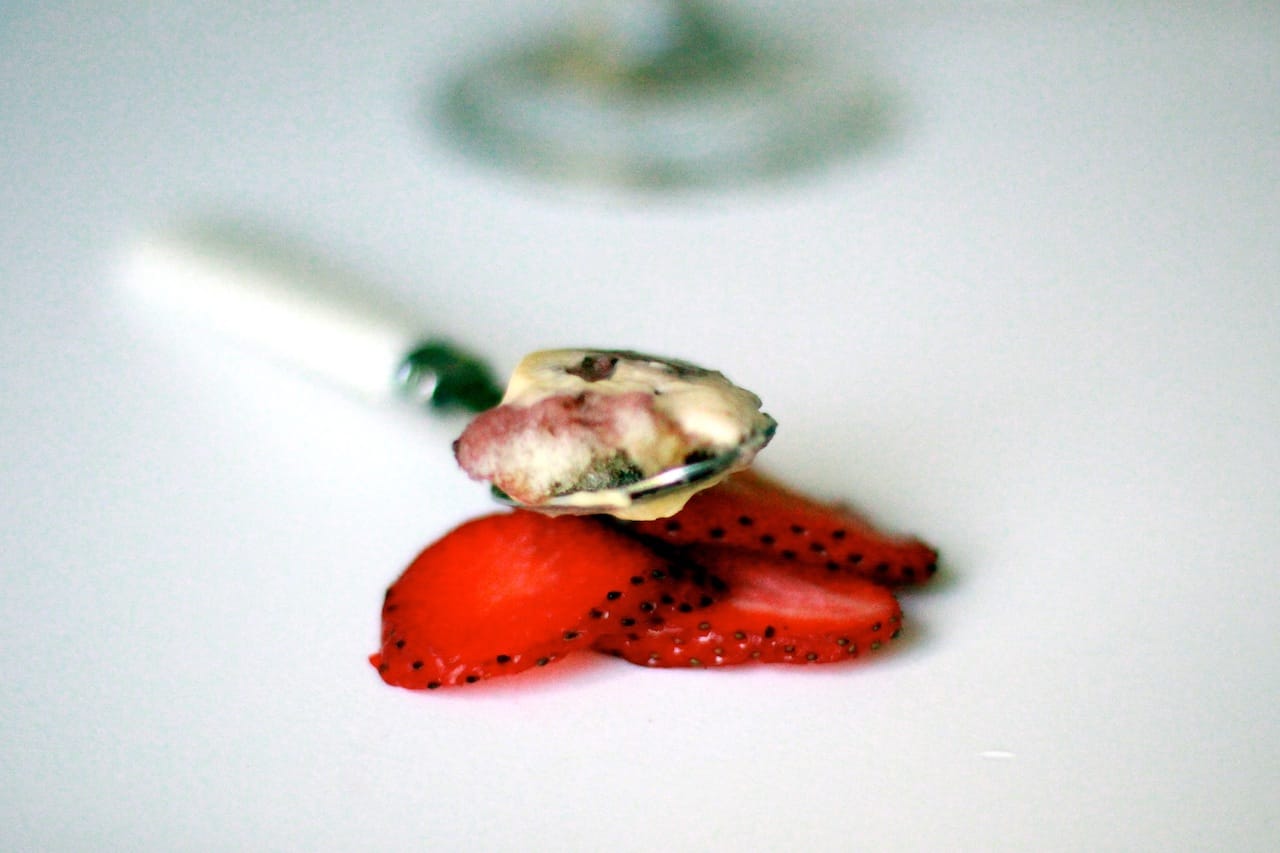 Something tells me that I am going to make it again sometime soon and this time I will go traditional 🙂