We were at the peak of a mountain in Hong Kong, more commonly known as the Victoria peak. Temperature was freezing cold and the wind was blowing us away. As we waited in the queue to board the tram that would take us back to world, everyone started craving for ice cream. It was the middle of cold winter and clearly, a bowl of soup would have been soothing but ice cream sounded more exciting to everyone and a better way to kill the time. They chose their choice of flavor and I, as usual, decided to share whatever Arvind took for him. And he knew just what to scoop. It was there, in that bitter cold windy December night in Hong Kong, where I tasted tiramisu ice cream for the very first time. It was absolutely ah-mazing!
Instantly, I made a mental note to recreate the same flavor at home.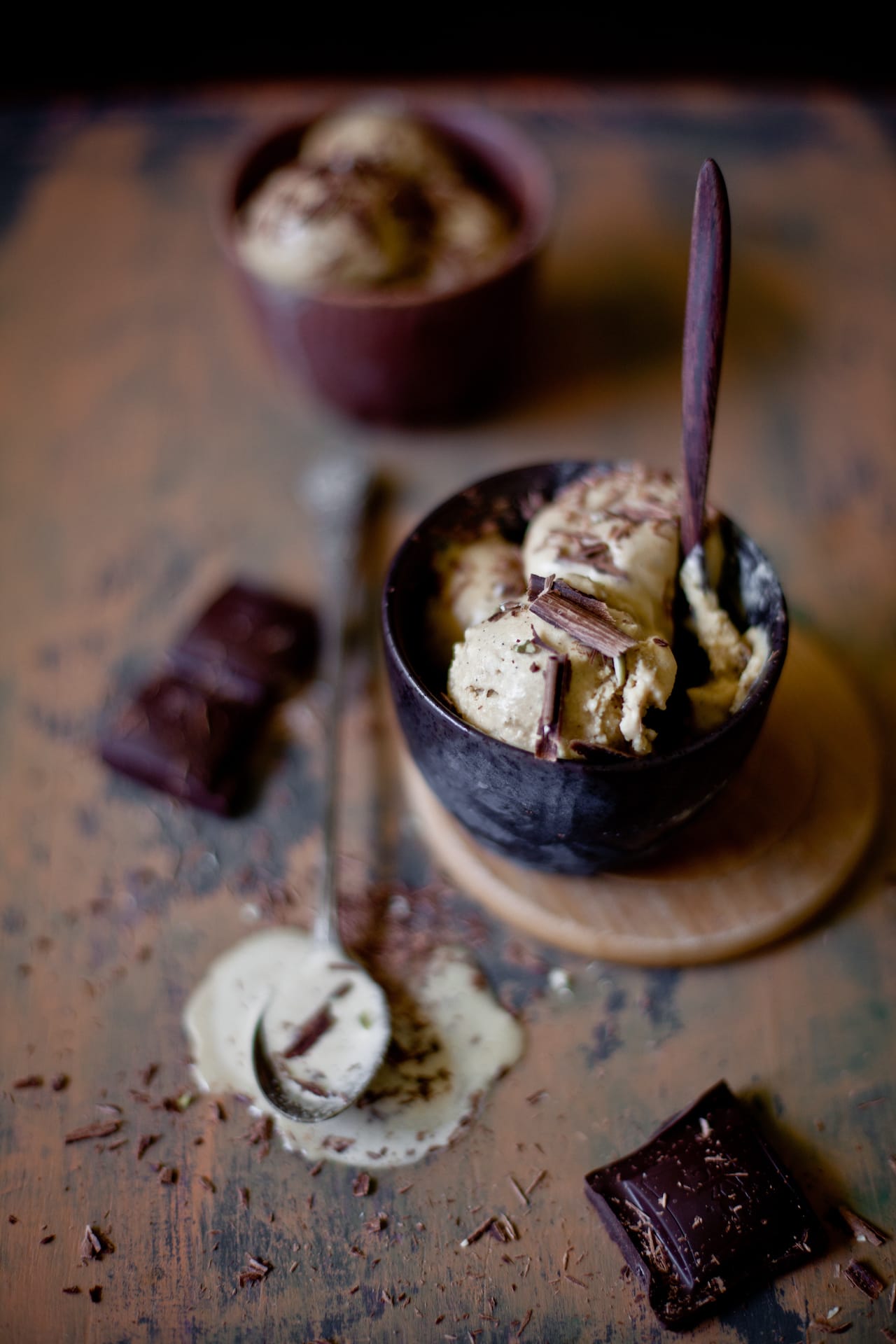 That was more than two years back and since I am not much of an ice cream lover, that specific reminder faded away with time until few weeks back, when we purchased a shiny red ice cream machine. I have no space left in my tiny kitchen and here comes another appliance! In the past, several ice creams were whipped up in my kitchen without any distinct equipment but when I used the ice cream maker this time, I realized its importance. It was exciting for me to watch the creamy custard freeze to a perfect consistency. Now, whether I can find a permanent spot for the appliance in my kitchen counter or not, it will definitely be used a lot this summer.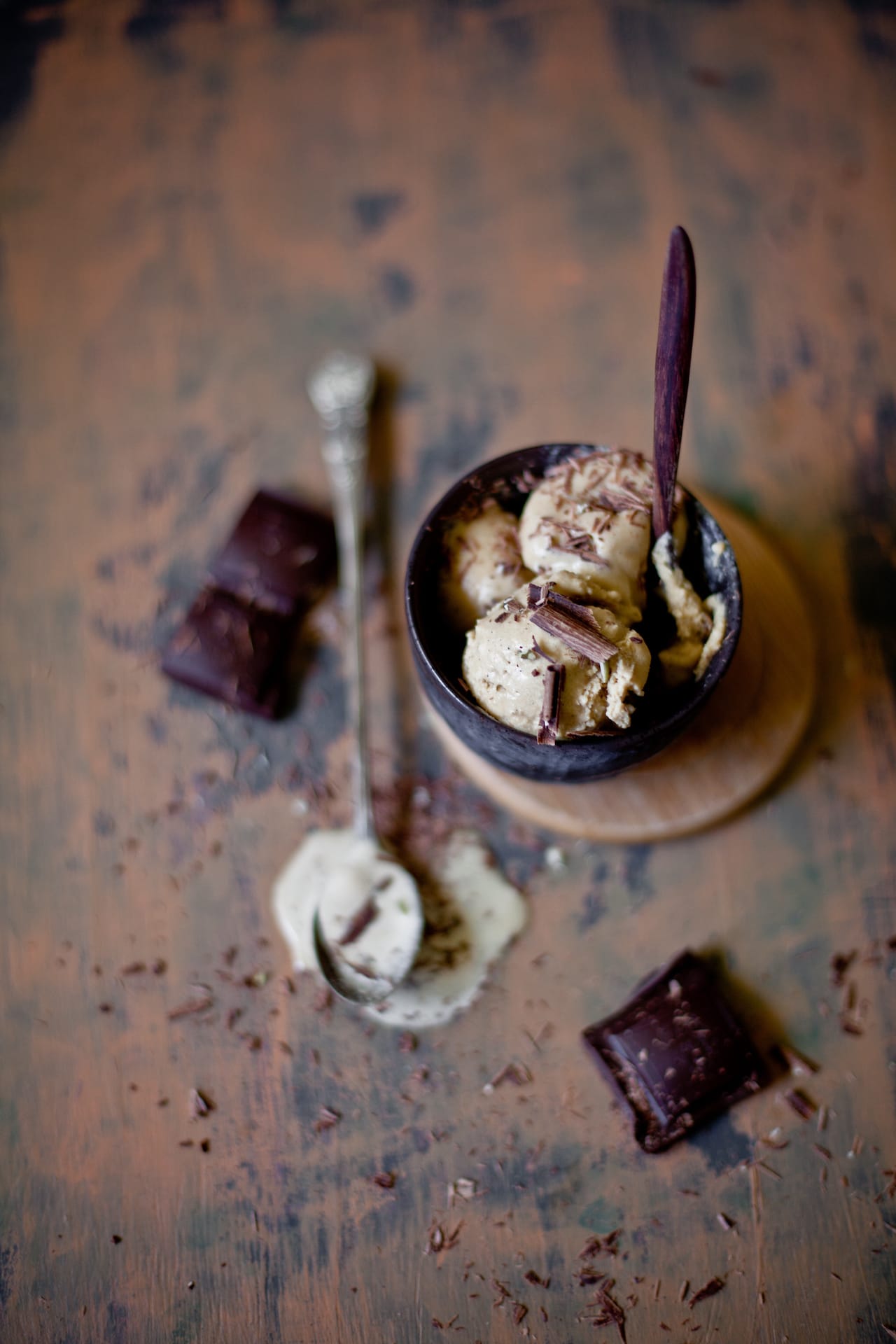 This is my third tiramisu post on the blog, which I think enlightens my love for this flavor, loud and clear. The velvety mascarpone with the coffee always works for me. Even when my tummy is full, there is always a tiny secret space for a bite or two of this Italian deliciousness.
Talking of Italian treats, not sure if you guys ever tried 'Affogato'. It's basically a shot of hot espresso topped with ice cream. I read about it long back but tried it for the first time with this ice cream. For my taste buds, which happen to often reject ice cream, it couldn't get enough of Affogato. It was divine! The espresso cuts down the sweetness of the ice cream and the combination of cold with hot is absolutely heavenly. I just found my preferred way to enjoy ice cream.
Pour hot espresso, drizzle cocoa powder or shaved chocolate, either way tiramisu ice cream is an incredible treat, whether it brutal summer or cold winter.
Tiramisu Ice Cream
Ingredients
1-½

cups

milk

½

cup

cream

1

vanilla bean

3

egg yolks

½

cup

sugar

1

cup

mascarpone

1

tablespoon

coffee powder

¼

cup

espresso
Instructions
Pour milk and cream in a deep pan and turn on the heat. Slit vanilla in half, scrap the beans using a small spoon and drop it in the pan along with the vanilla pod. Heat it, stirring occasionally.

In the mean time, whisk egg yolk and sugar to a creamy consistency. Add mascarpone cheese to it and whisk again.

Pour ¼ cup of hot milk slowly to the egg yolk mixture while whisking simultaneously. Pour egg yolk mixture back to the hot milk pan and give a mix. Cook the mixture on a medium heat, stirring constantly, for about 5 minutes or until the custard looks thick and coats the back of your spoon.

Pour the mixture in a container and put the container on an ice bath for about an hour or allow it to rest in the refrigerator overnight.

Finally, add coffee powder and espresso to the custard mixture and freeze it in your ice cream maker according to the manufacture's instruction.
Nutrition
Serving:
1
approximately 4 cups