If you enjoy the taste of Sesame/Tahini, you will absolutely love this Tahini Ice Cream. It's dairy free, sugar free and has no eggs. There are just 4 key ingredients and needs no cooking at all. You could choose to use an ice cream machine or not. Either way, you are going to love this delicious Tahini Ice Cream!
I would have never known of this incredible Ice Cream if not for my friend Tanvi (@sinfullyspicy). She once shared this exact same recipe in her feed and in her story. The steps looked so simple that I had to try it. Plus, I love sesame and the idea of using it in ice cream was too interesting to pass.
No cooking needed, just a quick blend and then freeze. That's all you have to do. However, I did use my ice cream machine to churn the mixture before freezing.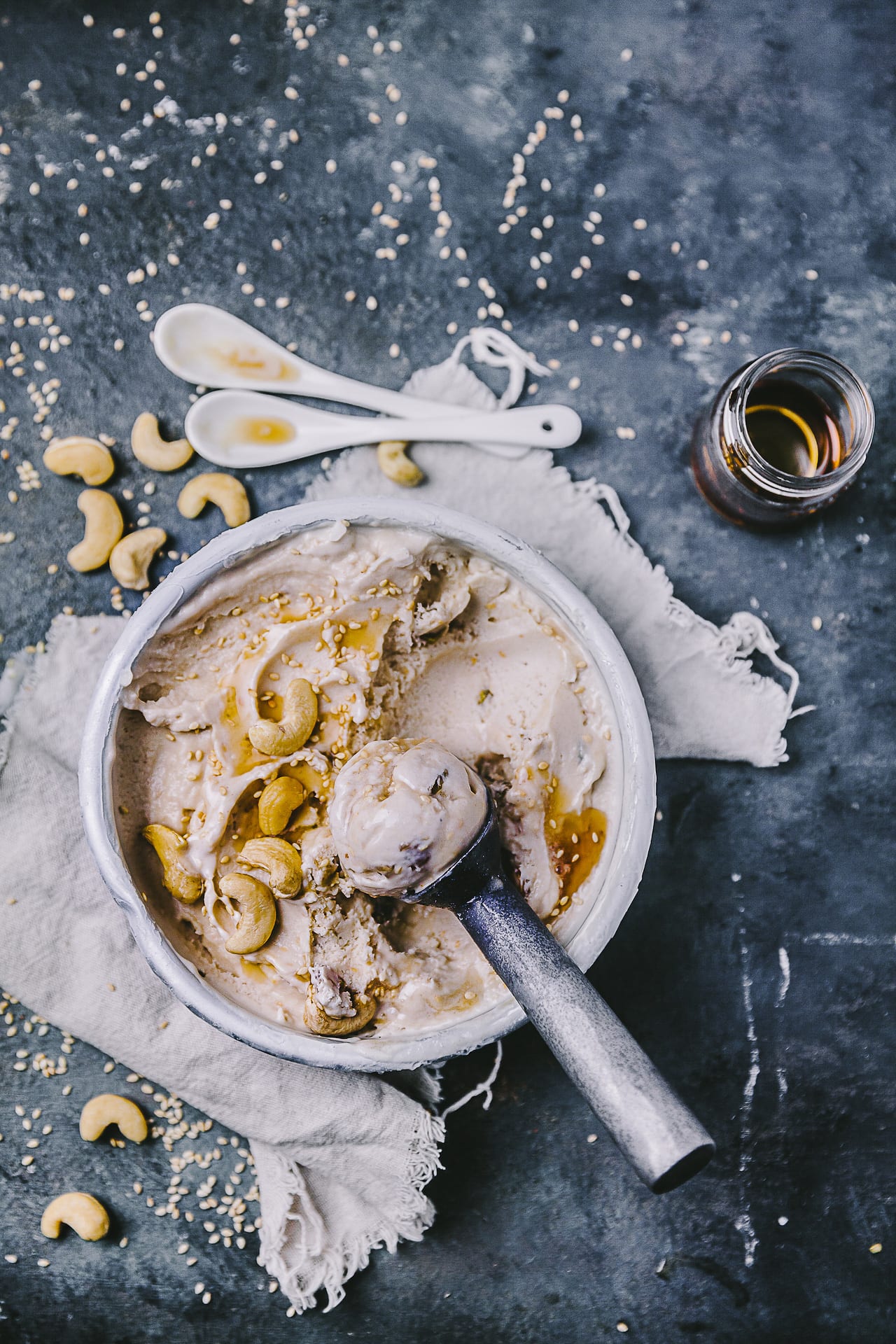 The 4 Key Ingredients for this Tahini Ice Cream
Cashew
Coconut milk
Maple Syrup
Tahini
I added a few golden raisins too while churning the mixture. These raisins were like hidden gems in between that would only make you happier. It's definitely optional but if you have raisins at home, try adding some.
No Cooking needed to make the Ice Cream
I often make Ice Cream using a custard base because I do like the richness that the egg yolks add to the ice cream. But this time, I followed her recipe to the T.
There is no cooking needed. All you have to do is add everything in the blender and blend until it's smooth.
Pour the mixture in a container and freeze it. I did churn it using an ice cream machine but it's absolutely optional.
The taste is just divine, intensely rich, not overly sweet and smooth to the palate.
An important note on how to use Tahini
When you buy Tahini from the store you will realize that it's settled and the oil floats on top. Before you measure, make sure you shake the bottle and mix it up evenly.
I made a very tiny batch of this ice cream and it got over way too fast. I am definitely going to make another batch very soon. Because of no egg, sugar or heavy cream, I do feel this is one of those guilt-free Ice Cream or Nice Cream, perhaps! So, go and get a jar of Tahini if you don't have one already and give this Tahini Ice Cream a try.
Here is a link to 10 Amazing Ice Cream you want to try!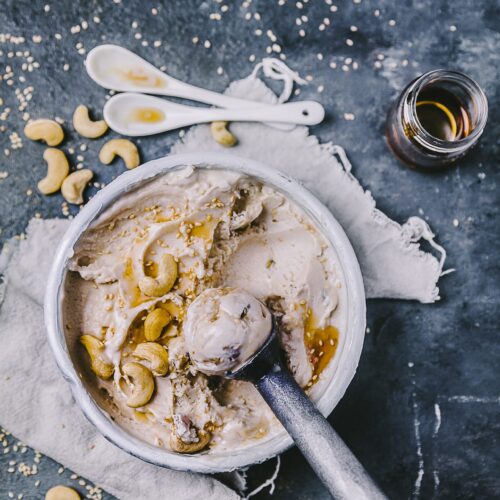 Tahini Ice Cream
This Tahini Ice Cream is dairy free, sugar free and has no eggs. There are just 4 key ingredients and needs no cooking at all.
Ingredients
¼

cup

cashew

1

can unsweetened coconut milk

⅓

cup

tahini

⅓

cup

maple syrup

2

tablespoons

raisins

(optional)
Instructions
Blend the cashew and coconut milk until it's smooth.

Add the tahini, maple syrup and blend it again.

Pour the mixture in an ice cream machine and start churning. Add raisins in between so that it spreads all around evenly.

Let it set in the freezer and enjoy with a little maple syrup drizzled on top.
Nutrition