This is the time of the year when every state in India celebrates customs, rituals and culinary delights. New clothes, traditional colorful attire, gathering with friends and families along with lots of food outline this festive season. This year, after a long time, I am celebrating it with my parents. I don't even remember when was the last time I spent Durga Puja with them. It's a 5-day celebration for which we Bengalis wait for all year long. My Mom has been cooking all my favorite dishes and needless to say, I am gaining more pounds. Yesterday she made these delicious Gulab Jamun with Sweet Potatoes! I am learning new dishes from her, going back to my roots and gobbling Bengali dishes. Mom and Dad make a feast for my every meal – carb, fish and sweets, overloaded.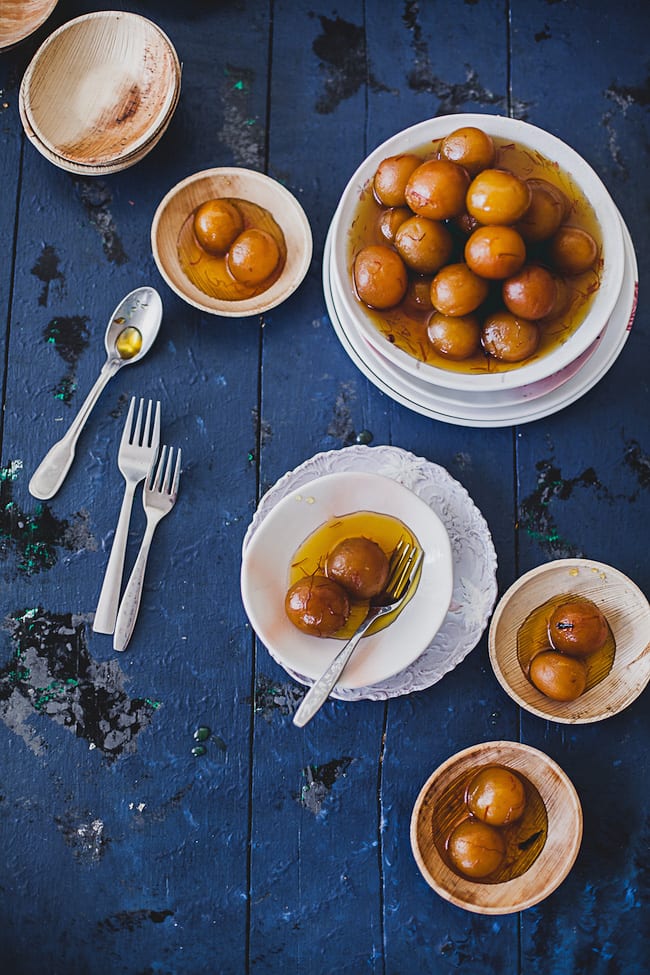 Mom has always been about homemade food! She never liked buying sweets; instead she would prepare it from scratch. As a kid, it was one of my favorite parts of the season. I used to help her in whatever little way I could and taste all the delights much before anyone else did.
This time, I asked her to teach me the method of preparing perfectly soft gulab jamuns, a treat loved by every Indian. Gulab Jamuns are fried dumplings that are prepared with solid milk and flour and then dropped in sugar syrup for it to soak up all the sweetness. It gets fluffy, juicy and melts in your mouth. It was my biggest pregnancy craving and it turned me into a sweet tooth. Arvind not only took the trouble to get some every other week, but he also learned to prepare it at home using the store bought instant mix. Preparing gulab jamuns with instant mix is quite easy but doing it from scratch is a little tricky. I failed several times until mom showed me this technique of preparing gulab jamuns with sweet potatoes!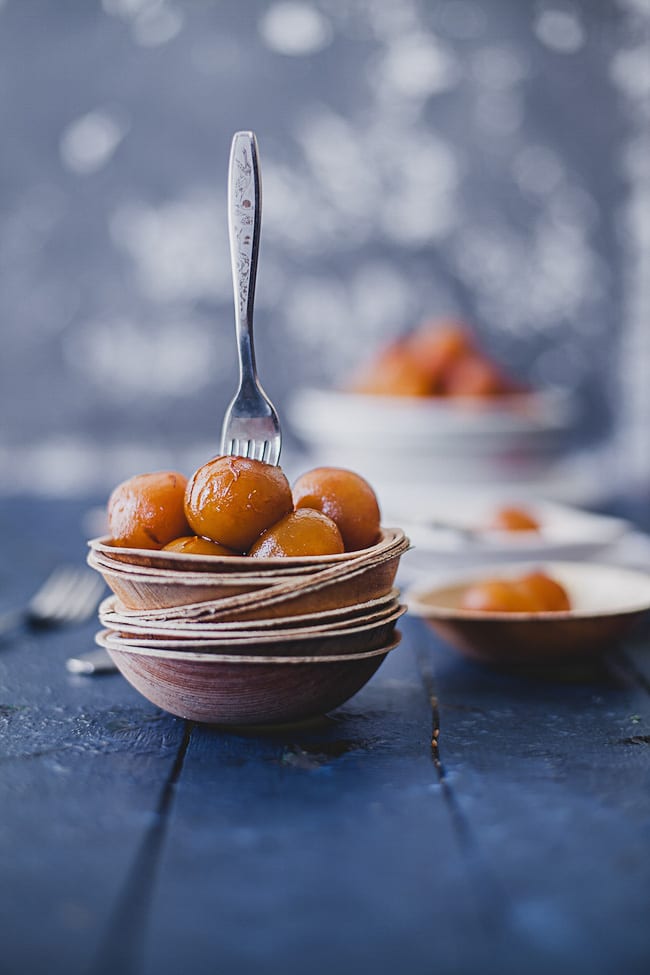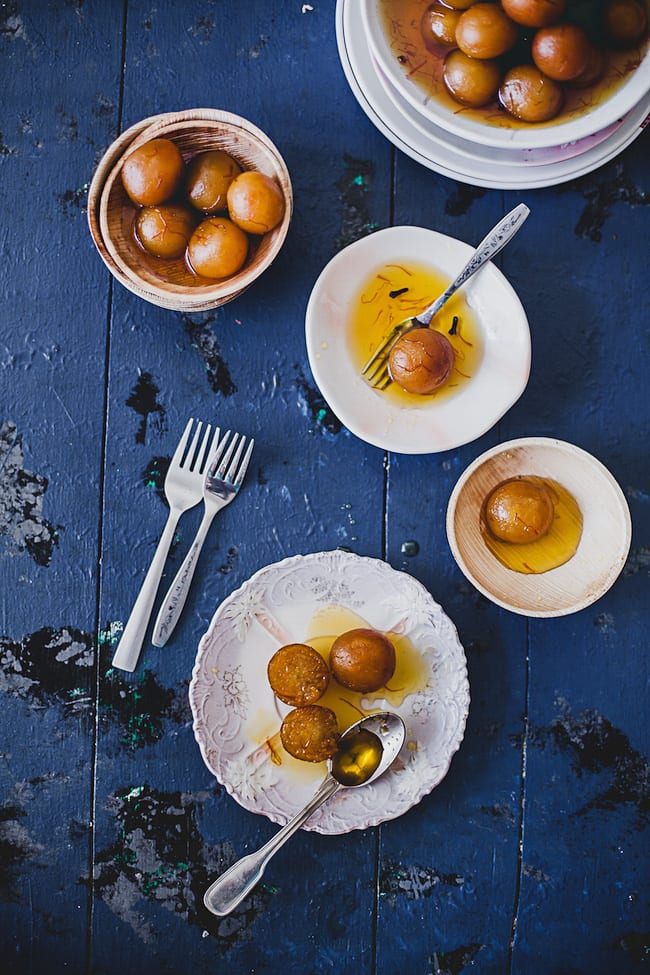 The concept of using sweet potatoes to prepare sweet indulgences is very common in Bengali culture. Mom took the same idea and prepared these gulab jamuns, which were not only was easy to prepare but also turned out super soft and moist!
Gulab Jamun With Sweet Potatoes
Yield:
30 to 35 mini gulab jamuns
Ingredients
2 large sweet potatoes, boiled and mashed
3/4 cup all purpose flour
1 teaspoon baking soda
2 tablespoons milk
for sugar syrup
2 cups sugar
2 cups water
few cloves
a pinch of saffron thread
Instructions
To make the sugar syrup, add sugar, water, cloves along with saffron thread in a saucepan and bring it to a boil. Continue cooking in high heat until the syrup thickens. It should take about 5 to 7 minutes. Once done, switch off the heat and let it rest in the saucepan.
In a bowl, mix mashed sweet potatoes using a ricer or hand masher. Avoid having any lumps. Now add sprinkle baking soda, add few tablespoon flour, milk and start kneading. Add more flour as per requirement. Knead with light hand to form smooth dough. Do not over mix it. If the dough gets too sticky, add more flour and if it's too dry, add more milk. The dough should feel soft.
To form the round dumplings, rub a little bit of vegetable oil or ghee in your hand. Take little bit of the dough and roll it in your palm to form round dumplings. It shouldn't have any cracks. Also, avoid making it too big as it will soak the syrup and grow in size.
To fry the gulab jamuns, heat enough oil in a saucepan. The oil shouldn't be too hot or too cold. The temperature should be just enough so the gulab jamuns don't get burnt and cooks through evenly. Once you drop the dumplings, it should pop up on the surface and sizzle. Fry until golden brown. Do not overcrowd the pan while frying the dumplings.
Drop the dumplings in warm sugar syrup and allow it to soak for a few hours.
Notes
The sweet potato variety differs from place to place. I don't have a weighing scale so can't really define the size of the potatoes I used. But approximately after mashing 2 sweet potatoes, I got almost 4 cups quantity. The mashed sweet potatoes shouldn't have any lumps. Make it as smooth as possible.
When you are making the dough, knead it lightly. Add flour to the dough as per requirement. Always test by frying 1 dumpling in hot oil. If it gets unevenly browed or cracks up, then you have to rework the dough by add little bit more milk or flour.
Make sure you drop the fried dumplings in warm syrup. If you made the syrup in advance, warm it just before plunging the dumplings in the syrup.
The gulab jamuns stays good for several days in an airtight jar in the refrigerator.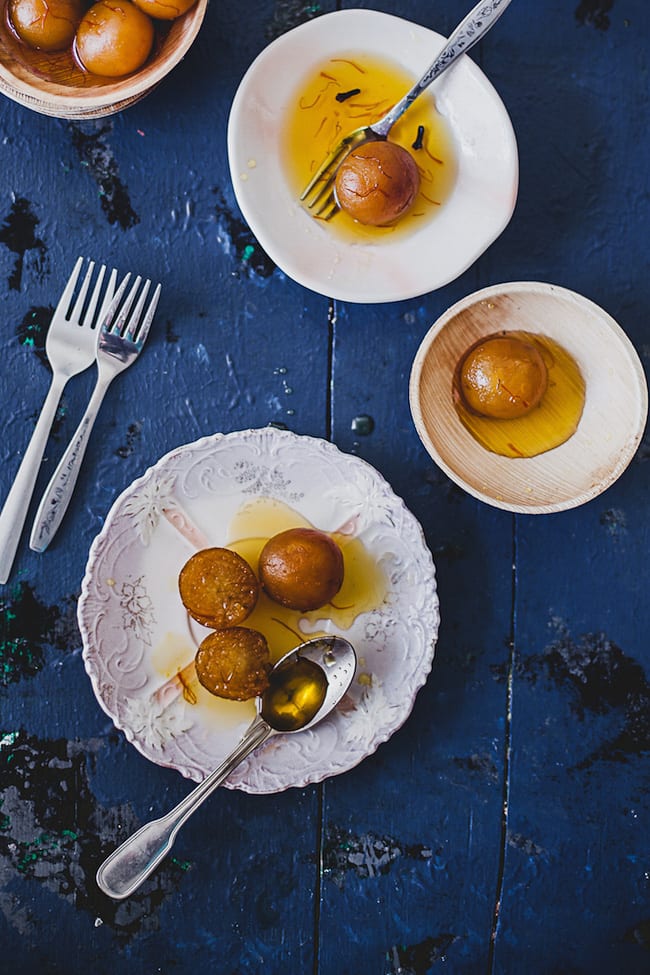 Did you enjoy this Gulab Jamuns With Sweet Potatoes? Share your creation by tagging
@playfulcooking
on Instagram with the #playfulcooking and I will re-share in my story!