Tetor Daal is a light lentil stew with a hint of bitter taste from using bitter gourd/ Karela/ Tita Korola. It is a quintessential Bengali dish, most commonly prepared during summer months. Bitter gourd is known to cleanse your palate and soothe your tummy, which makes this stew ideal for a detox diet.
Typically, bottle gourd is also cooked along with the lentil to make the stew more filling. Also, the sweet taste of bottle gourd balances the bitterness of the stew.
But, I wanted to keep tetor daal light and so, I used just yellow mung and kept it very mildly spiced.
If you don't like bitter gourd, try this Lau Diye Bhaja Munger Dal
Tetor Daal is a quintessential Bengali Daal
The first course of a Bengali meal often starts with something bitter. It cleans your taste buds and prepares you for the elaborate meal that follows.
This ritual is followed strictly, especially in summer, because adding a little bitter in your daily menu also relaxes your belly.
Two common bitter elements that are used a lot are the leaves of neem tree and bitter gourd. None of them were my favorite as a kid, but we had to eat it. Ma was very strict with the rule.
So, mostly I used to just make a rice ball, hide a couple pieces of fried bitter gourd in it and gulp it down in a rush.
Ingredients you need:
Yellow Mung Beans - This dal is typically prepared with yellow mung beans, but you can also try any other variety of lentils you like.
Bitter Gourd - Bitter gourds are easily available in Indian store. Look for the tender ones with bright green skin.
Spices - Nigella seeds, Dry red chili and turmeric powder are the only spices that are added in making the dal.
Fresh ginger - Freshly grated ginger adds a lovely flavor and mild heat to the dish.
Fresh green chili - Fresh green chili not only adds a subtle heat, but also a refreshing aroma. I leave it whole, but if you want the heat add chopped or slit green chili.
Mustard Oil - Most Bengali dishes are prepared in mustard oil for the pungent flavor and while it's not a mandate, I would highly recommend to use mustard oil.
Steps to prepare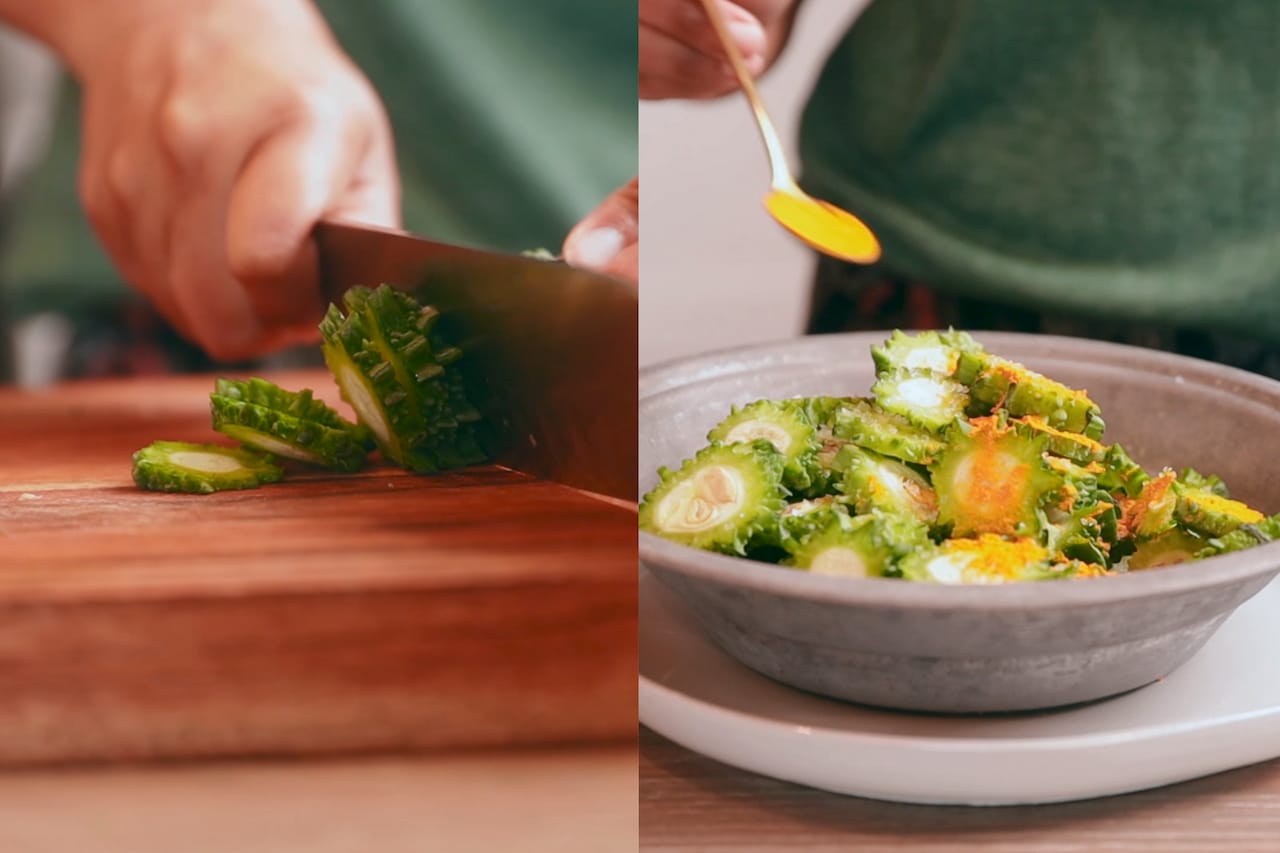 Remove the edges of the bitter gourd and then slice the bitter gourd into thin circles. You can choose to scrape some of the skin off and discard the seeds too. The bitter gourd I used here are very tender, and so I don't do any other prep.
Place the sliced bitter gourd in a colander and sprinkle with salt plus turmeric. Mix it all around and leave it aside for 20 to 30 minutes. It helps to soften the bitter gourd.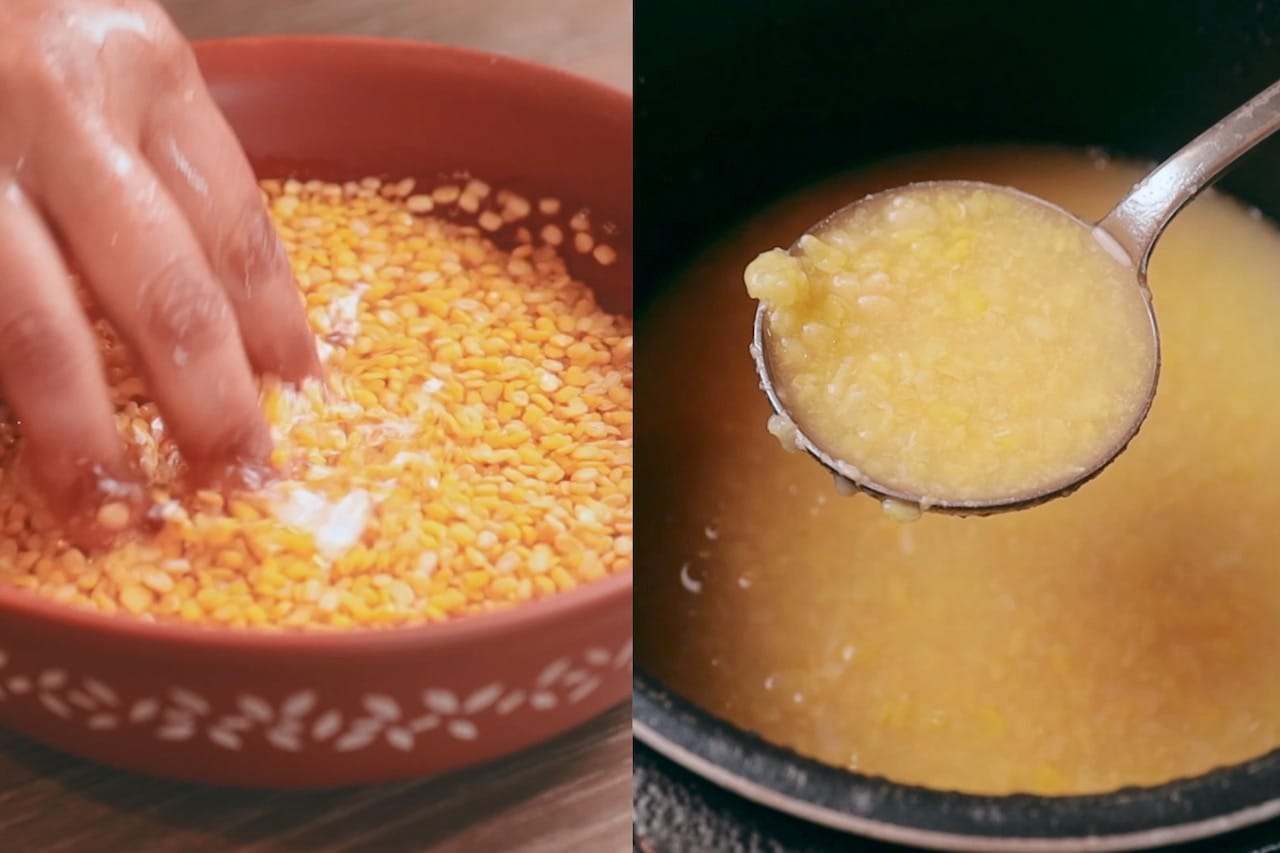 3. Wash the mung dal by changing water a few times.
4. Then cook the dal with little salt. After pressure cooking, if the dal looks too thick, then add water to thin out the consistency.
5. The dal is prepared in mustard oil. Use a heavy bottom pan and allow the mustard oil to heat enough until you see smoke coming out.
6. Scatter the nigella seeds, and dry red chili. Give a stir as it will start to sizzle soon.
7. Add the bitter gourd (tita korola) and stir around to cook the bitter gourd until it's slightly charred.
8. In the meantime, grate a small amount of fresh ginger.
9. Once the bitter gourd is fried, add the boiled dal and stir it around.
10. Add turmeric powder, grated ginger and stir it around.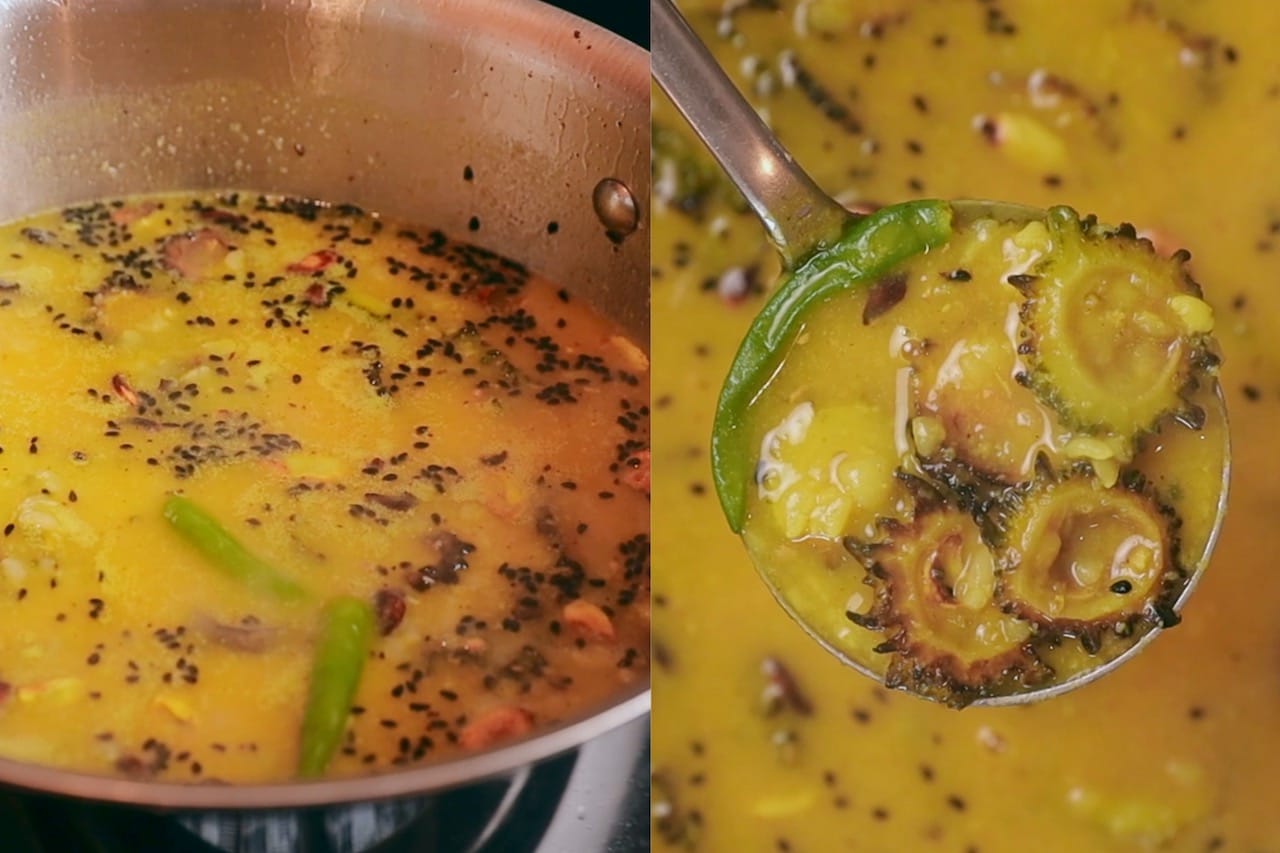 11. Add the fresh green chili. I leave it whole as I like the aroma. If you want it to be spicy, slit the green chili in half or chopped.
12. Simmer the dal for 5 minutes and it is ready to serve.
Funny how your taste bud changes along with the body changes. When I was pregnant with Avyan, I started to crave bitter gourd. I couldn't believe myself when I was packing a few bitter gourds from the market.
Crispy fried with warm steamed rice, it felt like candy to me. I ate it on repeat for several months. Of course, the craving is no longer there but now, I don't dislike it anymore. Rather, I enjoy eating it.
Tetor Daal tastes best with warm steamed white rice, paired with some crispy fried fritters. But because I kept the consistency of daal so light, it was great as a soup too.
Here are few popular Bengali Summer dish: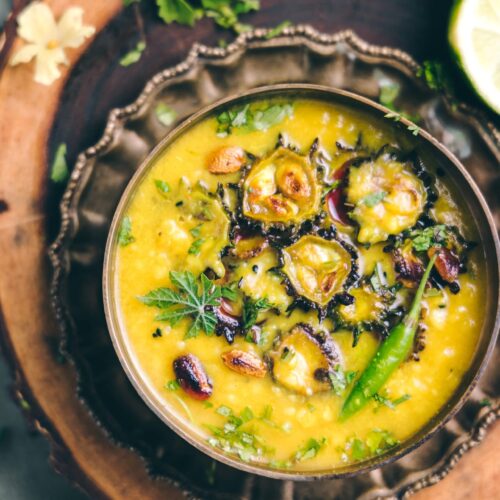 Tetor Daal (Bitter Gourd Yellow Mung Stew)
Tetor Daal – daal is a light lentil stew with a hint of bitter taste from using bitter gours. It is a quintessential Bengali dish, most commonly prepared during summer months. Bitter gourd is known to cleanse your palate and soothe your tummy, which makes this stew ideal for a detox diet.
Ingredients
2

bitter gourds

(I used more as I had very small size gourds.)

¾

teaspoon

turmeric powder

1¼

teaspoon

salt

½

cup

yellow mung beans

2

cups

water

3

tablespoons

mustard oil

1

teaspoon

nigella seeds

1

tablespoon

grated ginger

2

dry red chilies

Fresh lemon juice
Instructions
Trim the end of the bitter gourds and slice it very thin. Place the slices in a bowl and sprinkle ¼ teaspoon of turmeric powder and ¼ teaspoon of salt. Mix it all together and keep aside for 30 minutes.

Warm the mung beans in several changes of water

Cook the lentil with salt and after cooking, if it requires, thin out the consistency of the lentil with water.

Place a skillet or a saucepan on medium high heat and pour the oil. When the oil heats up, scatter the nigella seeds and the dry red chili. Let it cook for a few seconds and then, scatter the sliced bitter gourd. Stir fry the bitter gourd, until it lightly charred.

Pour the boiled lentil, add turmeric powder and grated ginger and stir it around. Add the green chili and simmer for 5 minutes.

Check salt and add any, if required. If you want the daal consistency to be thinner, add more water and cook for 2 more minutes.

Squeeze fresh lemon juice, garnish with cilantro leaves and serve warm.
Nutrition
Serving:
1
Serves 2
Calories:
136
kcal
Carbohydrates:
3
g
Protein:
1
g
Fat:
14
g
Saturated Fat:
2
g
Polyunsaturated Fat:
3
g
Monounsaturated Fat:
8
g
Sodium:
980
mg
Potassium:
196
mg
Fiber:
2
g
Sugar:
0.02
g
Vitamin A:
292
IU
Vitamin C:
52
mg
Calcium:
18
mg
Iron:
0.5
mg