Lau Diye Bhaja Munger Dal is a classic Bengali Daal Recipe. It is light on the tummy and makes an amazing meal during warm summer days. I grew up eating this combination of bottle gourd with roasted mung beans and with steamed rice, it's utterly comforting!
What is Lau Diye Bhaja Munger Dal ?
To break it down, Lau is Bottle Gourd and Bhaja Munger Dal is Roasted Mung Bean Lentil Stew
Out of all the different varieties of Indian Dal, split Yellow Mung Bean is the lightest on the tummy and easy to digest. It is consumed very commonly during warm summer months and is very widely used in Bengali Cuisine.
You can make the same daal with assorted veggies, keep it simple by just drizzling a little ghee on top.
Bottle Gourd is low in calorie, rich in fiber, and is believed to help aid in healthy digestion. Which makes lau Diye Bhaja Munger Dal a great choice during brutal summer months in India.
WATCH THE DETAILED VIDEO
Ingredients for Lau Diye Bhaja Munger Dal
Bottle Gourd: Try to get the small tender ones, as they don't have a lot of big seeds inside, cook faster and tastes excellent.
Bhaja Mung Dal: Mung Dal is Yellow Split Mung Beans. The lentil cooks to a lovely creamy texture, and it digests quite easily. We are dry roasting the Mung Beans before boiling. The roasting adds a very interesting smoky flavor to the dal which is the key flavor note in this dish. So definitely don't skip this step.
Ginger: Ginger gives a lovely pungent kick to this light lentil stew.
Bay leaves: Almost all Bengali dal uses Bay Leaves. Try to use the dried ones and not the fresh bay leaf.
Panch Phoron: Panch Phoron is a quintessential Indian Five Spice which is used in tempering with mustard oil. Here is a recipe link of Panch Phoron which you can easily make at home.
Cumin and Coriander Powder: Just a bit of both the spice powder is added while preparing the dal.
Ghee and Cilantro Leaves: Both are key factor in this dish to add that refreshing flavor. Y0u add it right at the end.
Steps to prepare this Raosted Mung Bean with Bottle Gourd
Start by dry roasting the lentils until the color changes to a mild, darker shade. Then give it a quick wash.
Next, boil the lentil in a pan. I would say avoid pressure cooker or InstaPot. You want the lentils to have an al dente bite, and so I prefer boiling in a pan, so we can see the texture.
Once done, prepare the dal in a heavy bottom pan. Start by heating oil and then add the Bengali five spice followed by the bay leaves.
Add the diced bottle gourd and cook until it's softened down a little. NOT MUSHY.
Add the spices, boiled dal, season with salt, don't forget turmeric. Stir around, cover and let it simmer for the flavors to blend it.
Finish it with ghee and cilantro leaves.
Enjoy warm with rice.
I prepare this dal on repeat, and it is utterly comforting when enjoying pipping hot with steamed white rice and ghee drizzled on top.
MAKE HOMEMADE GHEE – It's easy and will taste way better than the store bought bottle of ghee
Try these dishes with Bottle Gourd: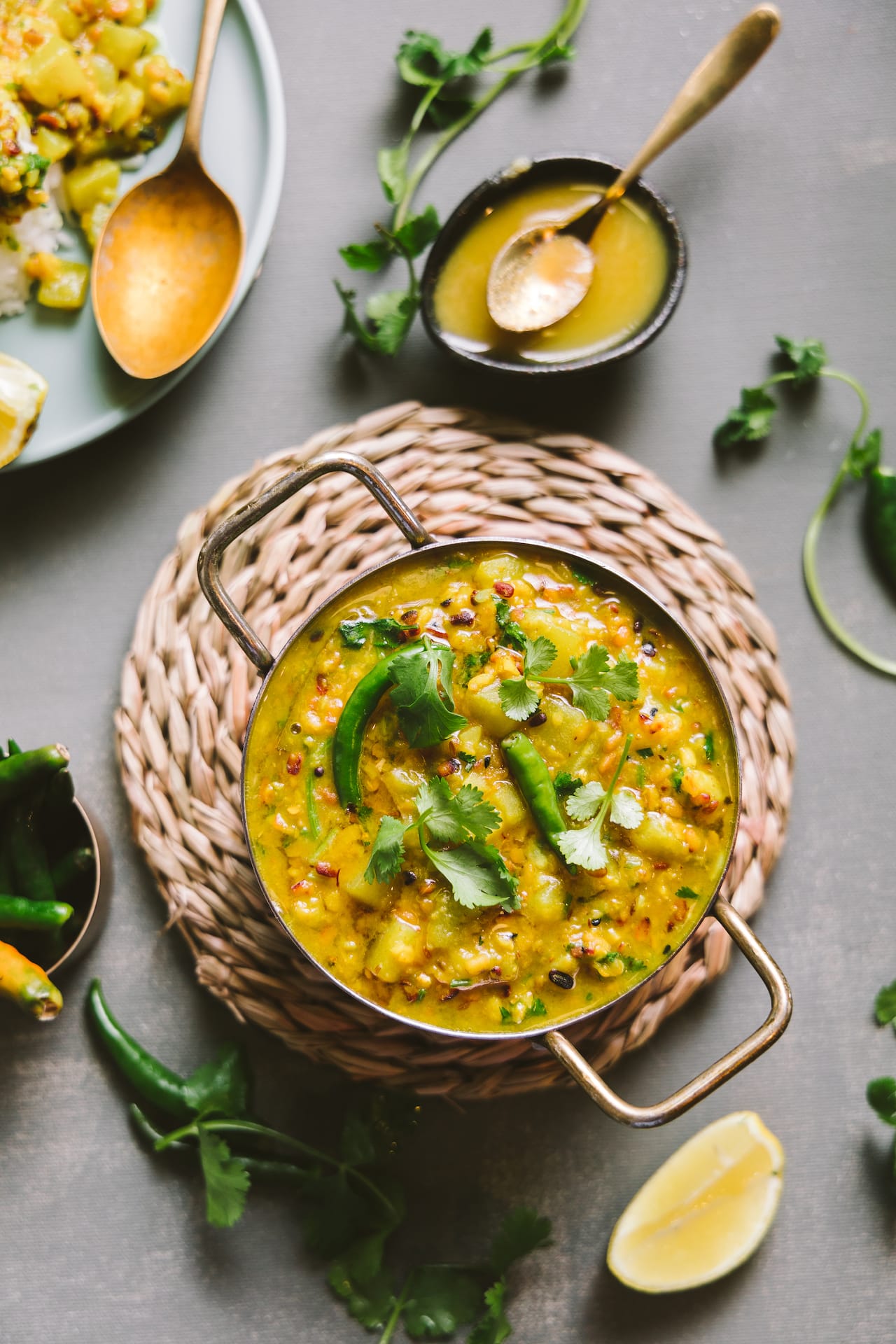 Lau Diye Bhaja Munger Dal
ja Munger Dal is a classic Bengali Daal Recipe. It is light on the tummy and makes an amazing meal during warm summer days. I grew up eating this combination of bottle gourd with roasted mung beans and with steamed rice, it's utterly comforting!
Ingredients
1/2 cup yellow split mung beans/ moong Dal
2 teaspoons salt
1/2 teaspoon turmeric powder
1 small tender bottle gourd
1 inch fresh ginger
2 small bay leaves
1 tablespoon Indian five spice (panache phoron)
1/2 teaspoon cumin powder
1/2 teaspoon coriander powder
2 green chili (slit or whole)
1/2 teaspoon sugar
1/4 cup finely chopped cilantro leaves
1 tablespoon ghee
Instructions
In a dry pan, add the dal and roast it by stirring constantly, so you get an even color change of the roasted mung beans.
Then give the mung dal a gentle wash and boil it in a heavy bottom pan with 1 teaspoon salt. Don't overcook the dal. Keep the shape of mung beans whole, but it should break easily. Watch the video to understand the texture better.
Once the dal is boiled, keep it aside.
Peel and dice the bottle gourd into tiny 1 cm bite size.
In a heavy bottom wok or skillet, add the oil followed by Indian five spice and a bay leaf.
Once the spice starts to sizzle, add the bottle gourd. Season with salt, add the turmeric powder. Stir it around and cook for 2 minutes.
Add the cumin and coriander powder, green chili and let it cook for 5 minutes.
Pour the roasted mung beans and stir it around.
Grate the ginger and add it to the wok.
Sprinkle the sugar and 1 cup water. Stir and cover the wok. Let it simmer for 10 minutes in medium low heat.
Finally, add the cilantro leaves, ghee and give a mix. Taste for salt and add more if needed.
Enjoy warm with steamed white rice.
Notes
The key flavor of this dish comes from roasting the mung bean/ moong dal. Don't skip that step.
Did you enjoy this Lau Diye Bhaja Munger Dal? Share your creation by tagging
@playfulcooking
on Instagram with the #playfulcooking and I will re-share in my story!