Tel Potol is a popular pointed gourd curry prepared in Bengali style with nigella seeds, pungent mustard oil and fresh green chilies. There are no other spices apart from turmeric for color, salt and sugar for seasoning. Tel Potol is a very light curry, which makes it smooth on the tummy too. A perfect summer meal!
What ingredients goes in Tel Potol?
Tel refers to oil in Bengali. Tel Potol is prepared with mustard oil and at the end of the cooking you add mustard oil once again for the pungent aroma.
In term of spices you only need nigella seeds. Little salt and sugar for taste and turmeric powder for color. You do want to add fresh green chili at the end mainly for mild heat and flavor of green chili.
Tel Potol is a pure vegetarian Bengali dish that doesn't include any garlic or onion.
What is Pointed Gourd?
Pointed Gourd is a vine plant similar to that of cucumber and squash. It's native to India subcontinents and extremely popular in Bengali cuisine. When buying look for dark green ones, and it should feel firm to touch. Tender ones are more flavorful than the matured light green ones.
One key point: Please don't confuse Pointed gourd with

Ivy gourd

, a common mistake made by those who are not familiar with this vegetable.
I live in Bay Area, California and that gives me access to several fresh produces. We are lucky to find few typical, authentic ones that you can find only in India. Having that said, Potol (Pointed Gourd) is something you will hardly come across. There are numerous Indian stores and yet, none of them sell good quality pointed gourd. Pointed Gourd is called parval in Hindi and potol in Bengali). I have always loved this vegetable and miss it so much out here. I see a glimpse of them in the stores very rarely and mostly, they are either sad yellow looking or very tiny.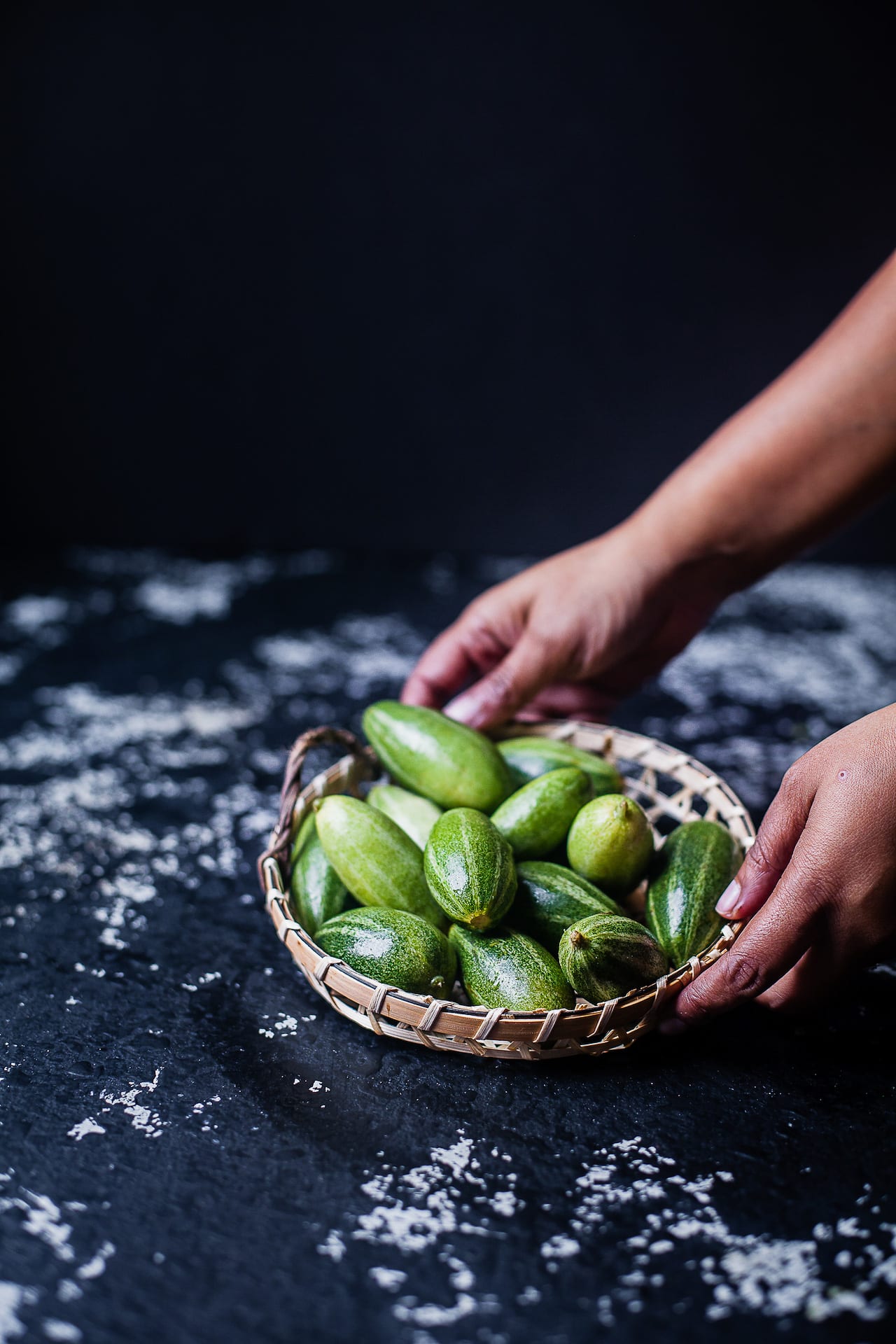 Recently, I came across some fairly good-looking small size potol and couldn't hold my excitement. There are several different ways that we cook this vegetable and what I am sharing today is simple and easy version. Also, Tel Potol often asks for small size pointed gourds instead of the larger ones. Arvind didn't fancy the dish that much and neither did our little fella. I, however, was in a different zone that day and ate more than I should. The aromas took me back home.
If you enjoy such subtle flavors that don't scream spice but just gets you cozy and warm at every bite, give this a try. You will be surprised at how amazing Bengali vegetarian meals can be.
From a photographer's point of view, such curries are nightmare to style and shoot. The dish doesn't have the most vibrant shade and it doesn't call for any garnish either. So yeah, I had a hard time. But, I had to save this recipe in my list of Bengali dishes. I just had to share it.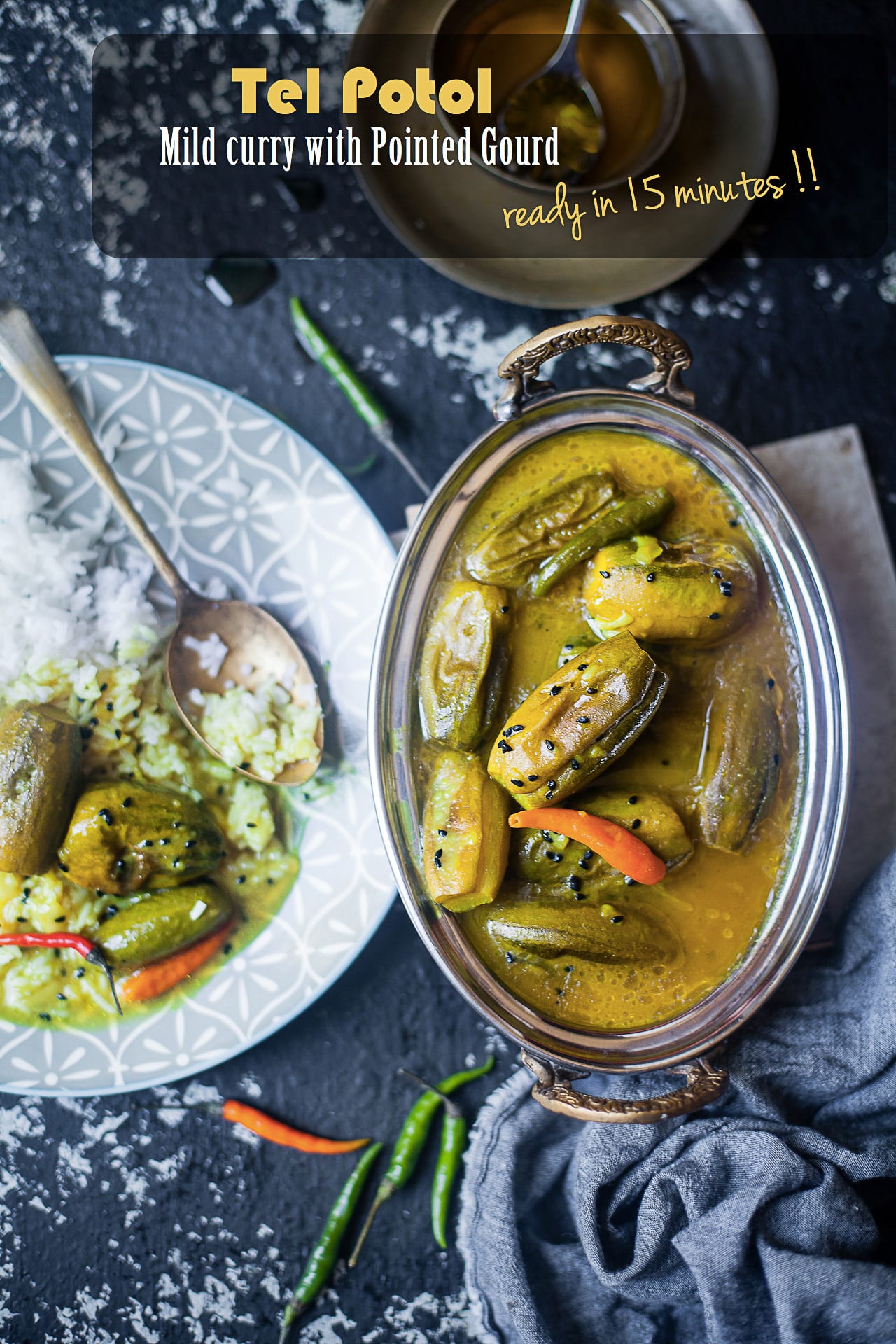 Few other Bengali dishes you would love to try:
Tel Potol | Very Light Parwal / Pointed Gourd Curry
Ingredients
14

small size pointed gourd

2

tablespoons

mustard oil

1

teaspoon

nigella seeds

1

teaspoon

salt

3 to 4

fresh green chili

½

teaspoon

turmeric powder

¼

teaspoon

sugar

1

tablespoon

all purpose flour

2

tablespoons

water
Instructions
Wash the pointed gourd and then, depending on the size, you could either scrape the skin off carefully with a sharp knife or peel the skin off using a vegetable peeler. Whichever method you choose, try to keep alternate dark skins on. (This will maintain a crunch instead to cooking the gourd down to mushy and soggy)

Make a small slit on both the edges.

Place a pan on medium high and pour 1 tablespoon of mustard oil. Scatter the nigella seeds and then, drop the pointed gourds. Sprinkle ½ teaspoon of salt and stir it around. Cover the pan and cook for 7 minutes.

Trim the edges of the fresh chili and drop it into the pan (This will add the flavor of the chili instead of adding the heat from the seeds). Cover and cook for 3 minutes.

Sprinkle the turmeric powder, stir around and pour 1½ cup of water. Add the sugar and rest of the salt. Cover the pan once again and cook for 3 minutes.

Poke the pointed gourd with a fork and it should be tender by now.

Prepare a roux to thicken the sauce by mixing the flour with 2 tablespoons of water. Pour the mixture into the pan along with 1 cup water. Simmer for 1 minute.

Finally, pour rest of the mustard oil into the pan and switch off the heat. The mustard oil at the end adds fresh pungent flavor to the dish.

Serve warm with rice.
Notes
The cooking time may differ if you use bigger size pointed gourd.
Nutrition