Soba Noodles with Salmon in Ginger Sauce, one of those super quick meals that get ready in less than 15 minutes of cooking time. I prepare soba noodles quite often and always keep it simple. Tossed together with some greens or proteins in a zingy sauce.
I have quite a few soba noodles recipes up on the blog. But, it's never enough for me.
The nutty buckwheat flavor, the gorgeous hew of brown and that firm texture makes soba noodles my absolute favorite of all.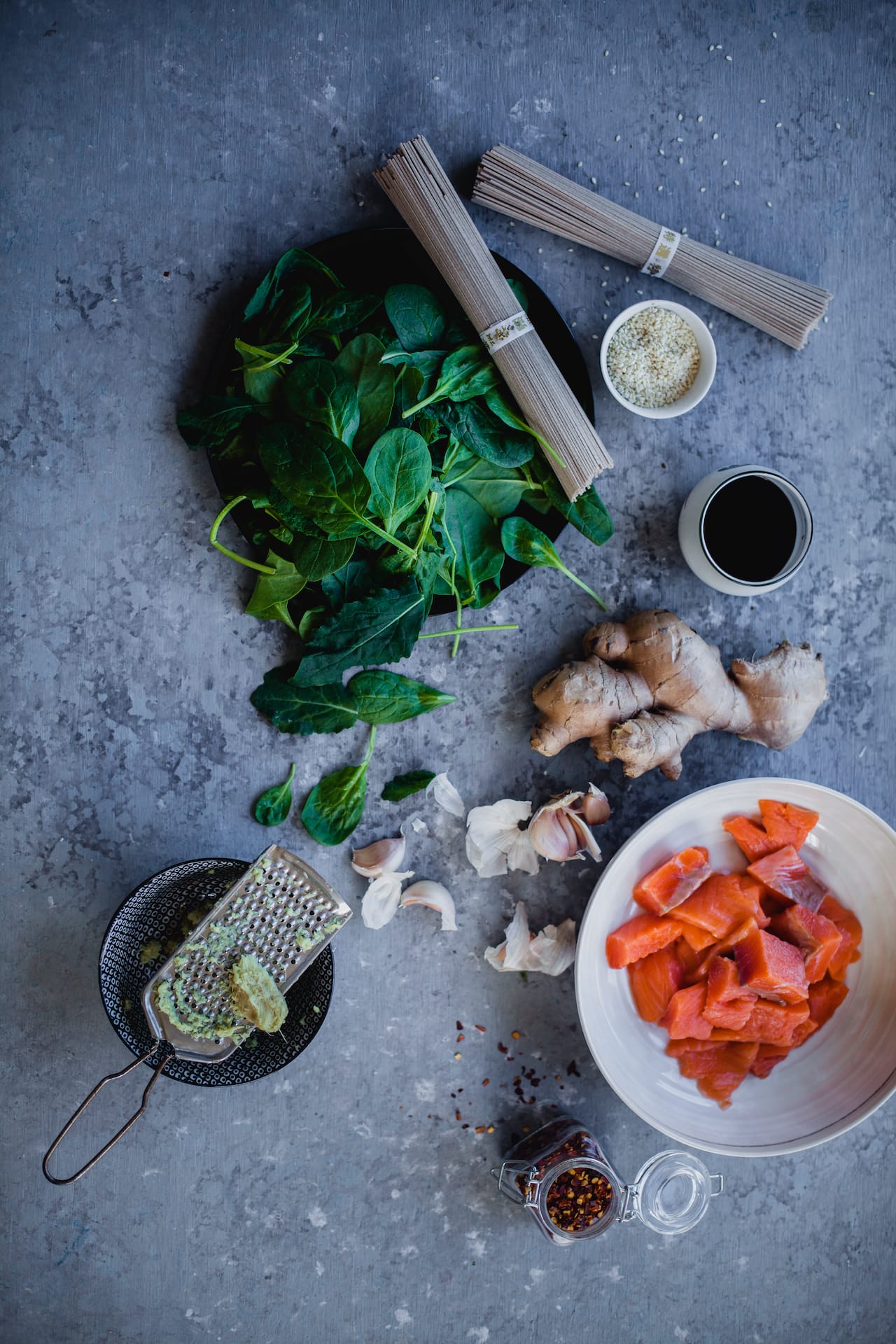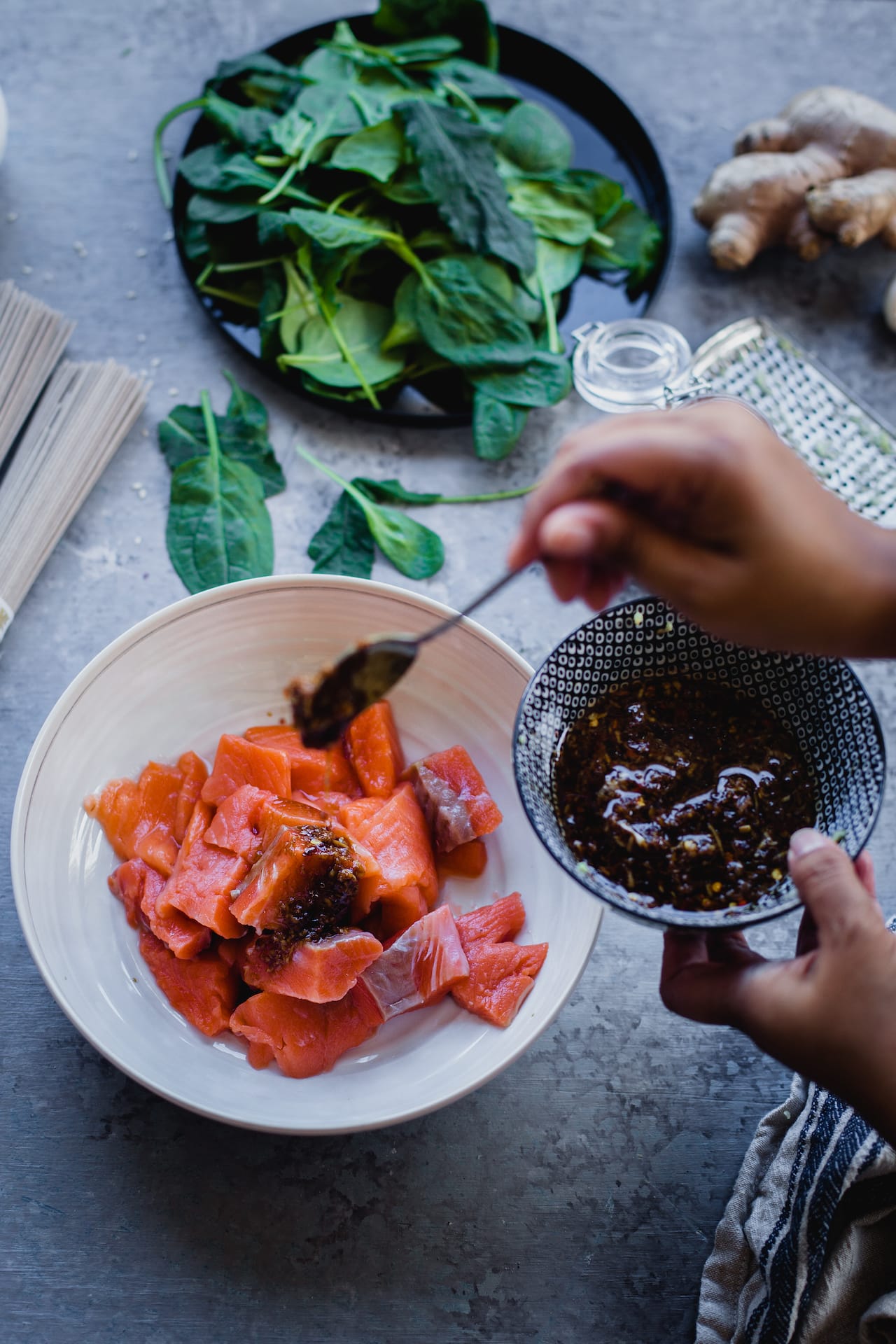 Soba Noodles with Salmon 
This soba noodles with salmon happened without any planning. It was more of a way to finish those little bits from a big salmon fillet that always gets trimmed off when I want perfectly sized tiny fillets.
I save those tiny bits for meals such as this. It takes two minutes to cook soba noodles. And in the same 2 minutes, the salmon bites get perfectly cooked as well.
The Soya Sauce Ginger Dressing
When it comes to soba noodles, I almost always go for a soya sauce gingery dressing.
I love the salty, umami flavor, soya sauce adds to the whole meal and of course, the zest that you get from fresh ginger.
Couple handfuls of baby spinach or any other green just makes it more filling and vibrant in color. After all, we do eat with our eyes first!
If you are looking for a quick and flavorful meal for busy days, this is definitely one to consider.
Vegetarian Version 
If you are a vegetarian, you can switch salmon with tofu or some cauliflowers perhaps.
When cooking Soba Noodles, just be careful to not over cook it. It rarely takes 2 minutes. If you overcook, it will turn into soggy and the dish will be ruined.
I like this dish warm but cold soba noodle is just as much delicious!
TRY MORE SOBA NOODLE DISHES 
Soba Noodles with Scallops in Wine Sauce
Soba Noodle With Chimichurri and Paneer
Soba Noodles With Salmon
Ingredients
6-

oz

180 gm soba noodles

11-

oz

300 gm salmon

(diced into ½-inch cubes)

5-

oz

150 gm mix of baby kale and baby spinach

1

inch

fresh ginger

2

garlic cloves

½

teaspoon

chili flakes

2

tablespoons

soya sauce

1

teaspoon

sesame

zest of 1 lime

juice of half lime

2

tablespoons

extra-virgin olive oil
Instructions
To prepare the salad dressing, grate the ginger and garlic. Put it in a big salad bowl along with the chili flakes, zest of lime, lime juice, soya sauce, ½ teaspoon sesame seeds and oil. Whisk to combine it and keep the bowl aside.

In a separate bowl, put the diced salmon and pour 2 tablespoons of the salad dressing. Give it a mix and allow it to rest for about 30 minutes.

After 30 minutes, place a big pot of water on high heat. Once the water comes to a boil, drop the soba noodles, give it a stir and allow it to cook for 2 minutes.

After 2 minutes, drain the noodles using a colander and run cold water on it to stop them for cooking any further. Drop the soba noodles into the big bowl with salad dressing. Give it a toss.

Next, place a medium size non stick pan on medium high heat. Once the pan is hot, drop the marinated salmon and spread it out in one layer. Cook for few 30 seconds, and flip the salmon bites. Drop the spinach, give a stir, and cook for 1 minute.

Take it off the pan and drop it the big mixing bowl where soba noodle was kept along with the dressing. Toss everything together and place it on a serving dish.

Sprinkle the remaining ½ teaspoon sesame seed on top and it's ready to eat.
Nutrition