Every time I enter the noodle aisle in ranch market, I get blown away with the different varieties that are available. It's a Chinese market. That should explain it all and yet, it leaves me gawking and wondering if I dedicate a whole month to just noodles, will I be able to cover it all? Truth is, I seriously doubt it! From thick to thin, from flat to round, from straight to curly, you name it and it might just be there, sitting silently to be relished.
At times, it's not always easy to locate the thing you want. We walked back and forth the aisle, looking left, right and left again. And finally, there it was, color matching to my nail polish, thin, straight, three bundles tightly packed in a transparent cover that read organic Soba - authentic Japanese buckwheat noodle.
You are famous I know, but all this effort! You better be worth it, I thought.
It took me a while, few failed attempts before I started to consider it as a must-have-in-my-pantry item. I find it similar to spaghetti, barely takes any time to boil and can be blended effortlessly with any kind of sauce. An always-easy choice is my favorite garlic lemon sauce but this time, I took the gourmet route and served soba noodle with mini scallops in tomato wine sauce. Let's ignore how long the name is and consider how yum it sounds!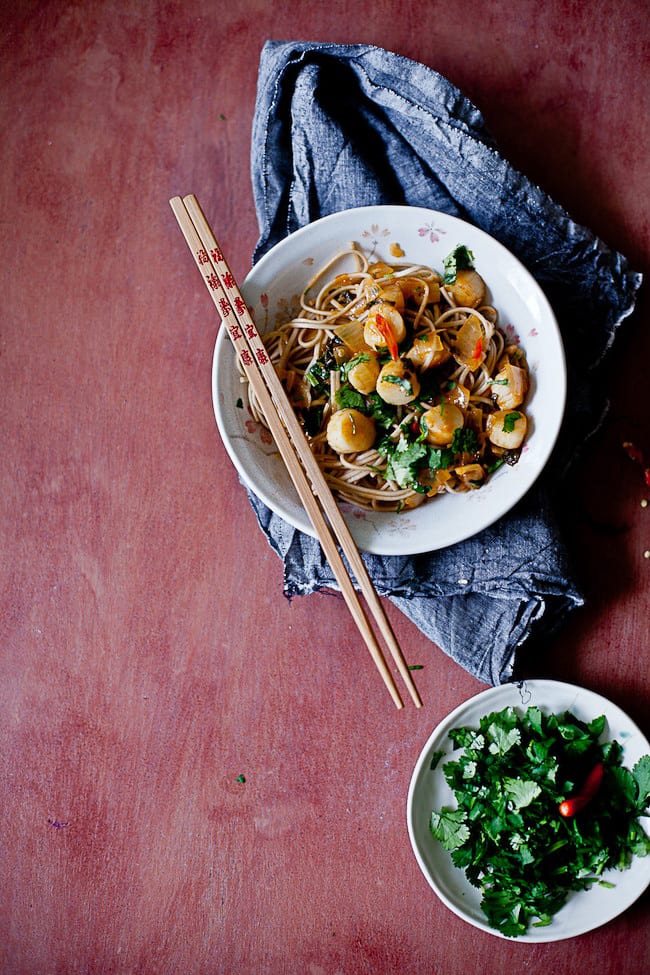 The sauce takes a while to get ready. Simmering tomato puree with onion, spices and red or white wine allows the flavor to mix while making the sauce rich. Once that is done, frying the scallops and boiling the noodle takes about four to five minutes. Sprinkle some chopped cilantro, drizzle little bit on lemon juice on top and it's ready.
The scallop in wine sauce is incredible with bread as well. I would say, make some extra for next day. We topped it on crusty bread and it made a great bruschetta recipe. If you are not a seafood person, I guess you could use some firm pan-fried tofu in its place and if you don't like wine, leave that aside and just make a tangy tomato sauce with vinegar. But if you like a boozy sauce and enjoy scallop, give this dish a shot. The nutty flavored noodle with the spicy rich sauce and soft scallop bite in between makes it a delightful meal.
Soba Noodle with Scallop in Wine Sauce
A gourmet noodle dish. The nutty flavored soba noodle with the tomato wine sauce and soft scallop bite in between makes it a delightful meal.
Ingredients
for the sauce
½

medium onion

(finely chopped)

2

cloves

of garlic

2

cups

tomato puree

¼

cup

white or red wine of your choice

1

teaspoon

chili flakes

1

teaspoon

freshly cracked black pepper

1

tablespoon

oil

salt to taste
rest of the ingredients
6

ounce

soba noodle

½

pound

mini scallops

2

red chilies

(thinly sliced (optional))

fresh cilantro

(chopped for garnish)

1

tablespoon

oil

salt to taste
Instructions
In a saucepan, heat some oil and sauté chopped onion along with garlic. Don't let it turn brown. Add tomato puree, chili flakes, salt, freshly cracked black pepper and give it a mix. Add wine, bring the heat to medium low and let it simmer for about 15 minutes, until the sauce has reduced and the flavor has infused.

In the mean time, heat a pan with one tablespoon oil and fry the scallops, about 2 minutes one ach side.

Once done, add fried scallop to the saucepan with tomato wine sauce along with diced red chilies and give it a mix.

Cover the saucepan and cook for one more minute. Switch off the heat and keep it aside.

Once you are ready to serve, boil the noodle as per the instructions mentioned in the package.

Pour the mini scallops with wine sauce in a big salad bowl. Once the noodles are done which should take about 4 minutes, drain the noodles and add it to the same salad bowl. Give it a toss to mix everything.

Sprinkle chopped cilantro, drizzle a little bit of lemon juice and serve warm.
Notes
Make a vegetarian version by substituting scallops with pan fried tofu.
Wine makes the sauce taste rich but if you don't like wine, you can avoid it and add vinegar instead.
The mini scallops in tomato wine sauce can be made in advance and they taste even better the next day. It works great with crusty bread on the side.
Nutrition