Soba noodles, tossed with thin strips of mango and cucumber, dressed in savory soy sauce! This Soba noodles Mango Salad makes for a great summer meal because it takes only a few minutes to prepare while giving you all the time to enjoy the season. And the best part is that it tastes delicious, warm or cold.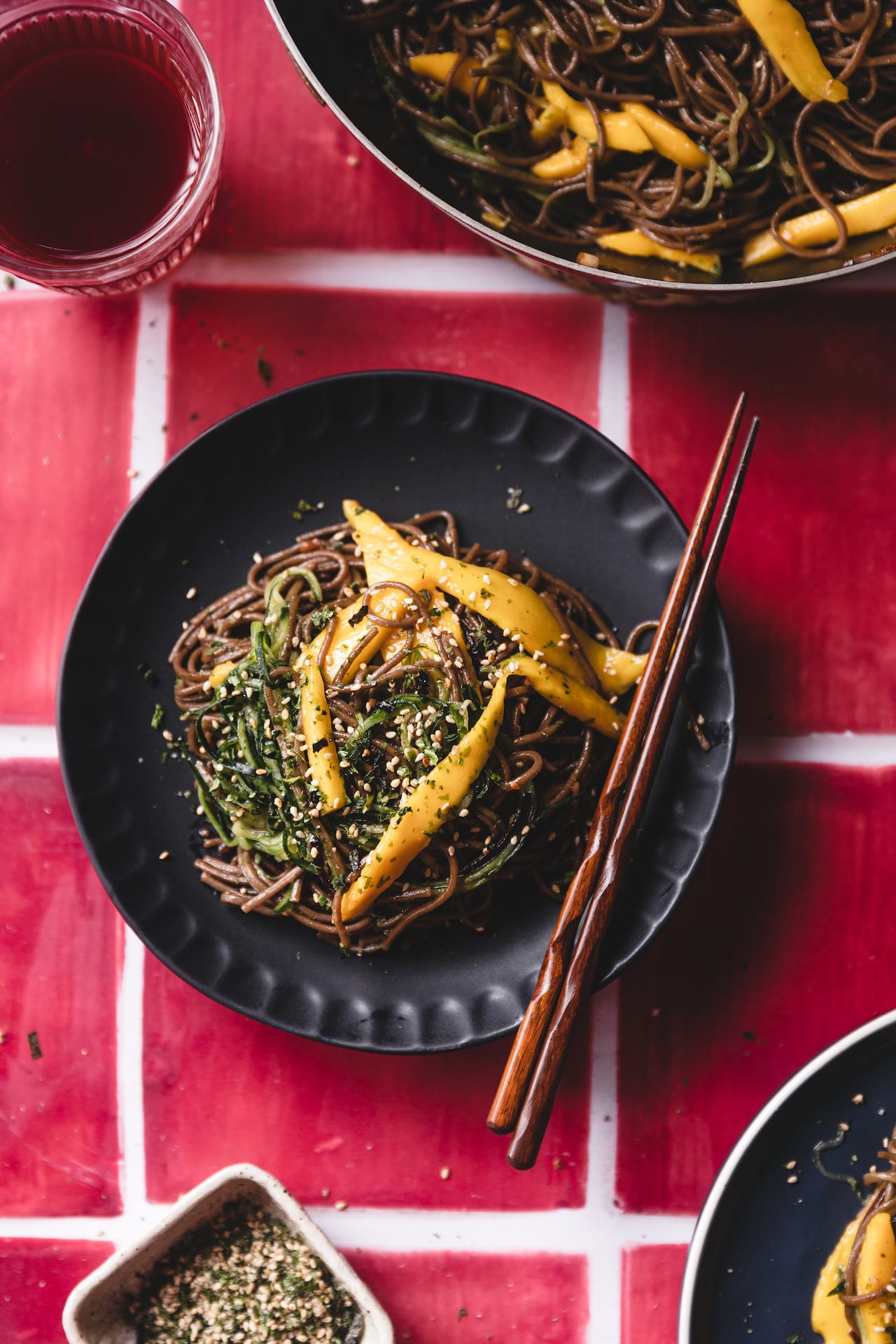 In our house, we love mangoes so much that ever since it arrived in the market, it's become our almost everyday treat. And by treat, I mean that we just cut into bite sizes and eat it plain.
This Soba noodle dish is so good for lunchbox too as it doesn't get mushy and feels fresh even the next day. I like it room temperature, but you can warm it too, a little!
What is Soba Noodles
Soba Noodles are thin Japanese noodle made from buckwheat. They may or may not be gluten free, so look at the package ingredients when you're buying. If Soba Noodle is prepared with just buckwheat, it will be gluten free.
It tastes nutty and has a lovely aroma. And is light on the tummy too.
Cooking Soba Noodles to perfect texture
Soba Noodle takes just 4 minutes to boil. Keep a colander ready on the side while the noodle boils. Once done, drain the cooked noodles and then wash it immediately in cold water.
If you cook soba noodles for too long, it will turn mushy. So look at the package and follow the instruction it says.
Ingredients you need
Soba Noodles - I used 100% buckwheat soba noodles. If you are not a fan of soba noodles, you can definitely try this dish with any other variety of noodles too.
Cucumber and Mango - The combination is full proof in so many dishes, and it works great here too. You could either finely slice the cucumber and mangoes or use a vegetable julienne peeler
Sauces Used - Soya Sauce, Marin and Worcestershire sauce. It's a simple combination of sauces to bring out the savory umami taste at every bite.
Onion and Garlic - Thinly sliced red or white onion along with a few cloves of finely chopped fresh garlic. The onion and garlic can be totally skipped, but I like it to add as it adds a mild sweetness and garlic flavor.
Furikake - Furikake is a dry Japanese condiment sprinkled on top of cooked rice. I love furikake on my Asian rice bowls and noodles. Furikake seasoning totally optional, but if you can get some, do use it.
Steps to prepare
1- Slice the cucumber into thin strips using a knife or use a vegetable peeler.
2- Slice the Mango into thin strips too.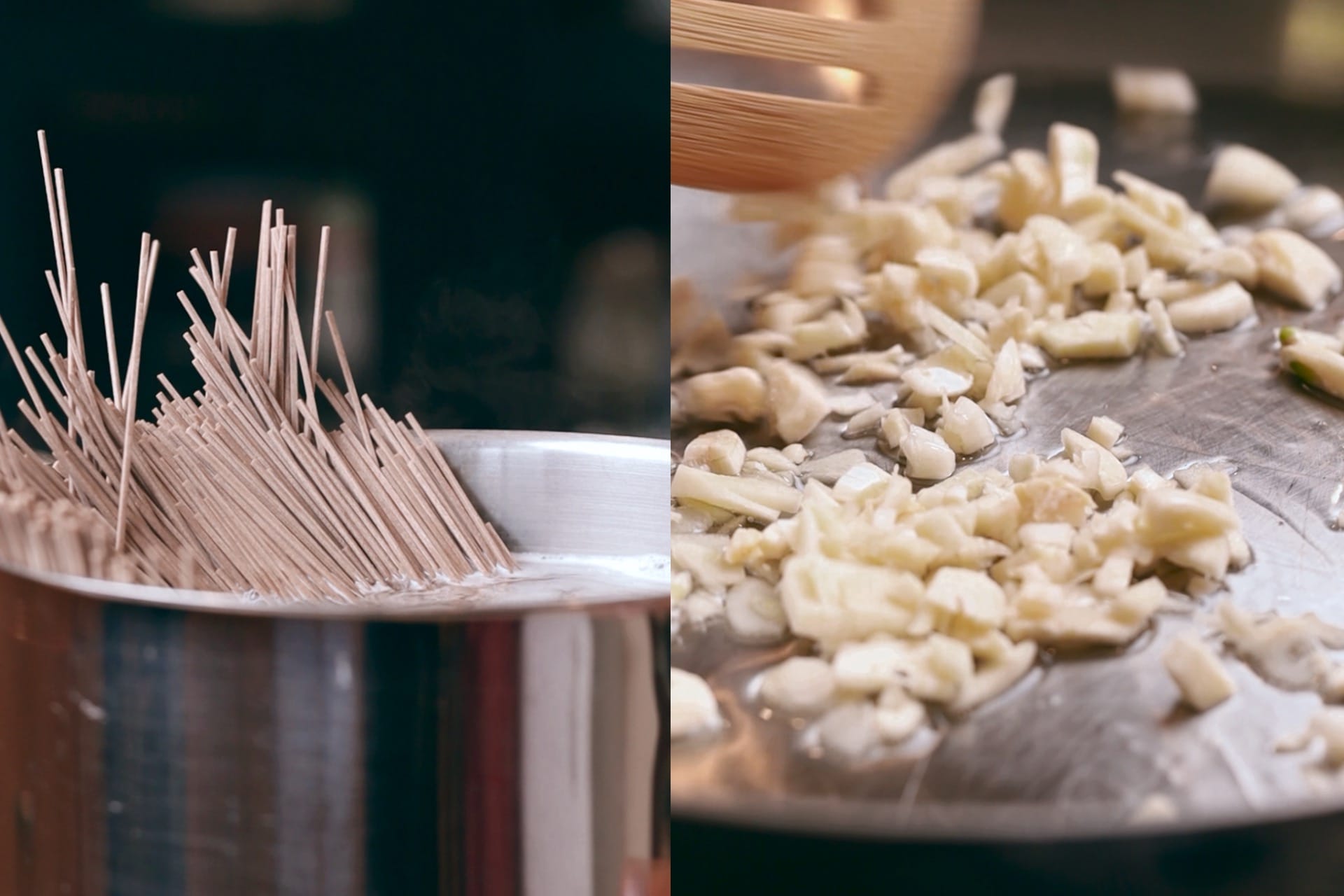 3- Boil enough water in a pot and boil the noodles for 4 minutes. Once done, strain the cooked noodles and then wash it with cold water.
4- In a heavy bottom skillet, heat oil and then sauté the chopped garlic for a few seconds.
5- Scatter the sliced onion and cook it for few minutes to soften the texture.
6- Add the sauces and stir it for a minute.
7- Add the cooked soba noodles and toss it around to mix everything.
8- Add the noodles to the bowl with sliced cucumber and mangoes.
9- Toss everything nicely. If it feels too dry, add a little bit of olive oil to the mix.
10- Finally, garnish with furikake or just sesame seeds or some finely chopped cilantro leaves.
The Soba Noodle dish comes together in 15 minutes from prep to finish. It is a great weeknight dinner, and you can make it more filling by add some protein to it.
The nutty flavor of soba noodles, paired with crunchy cucumber and sweet mango, blends quite beautifully with the salty spicy tangy dressing. Every spoonful gives you a fusion of texture and a balance of smack.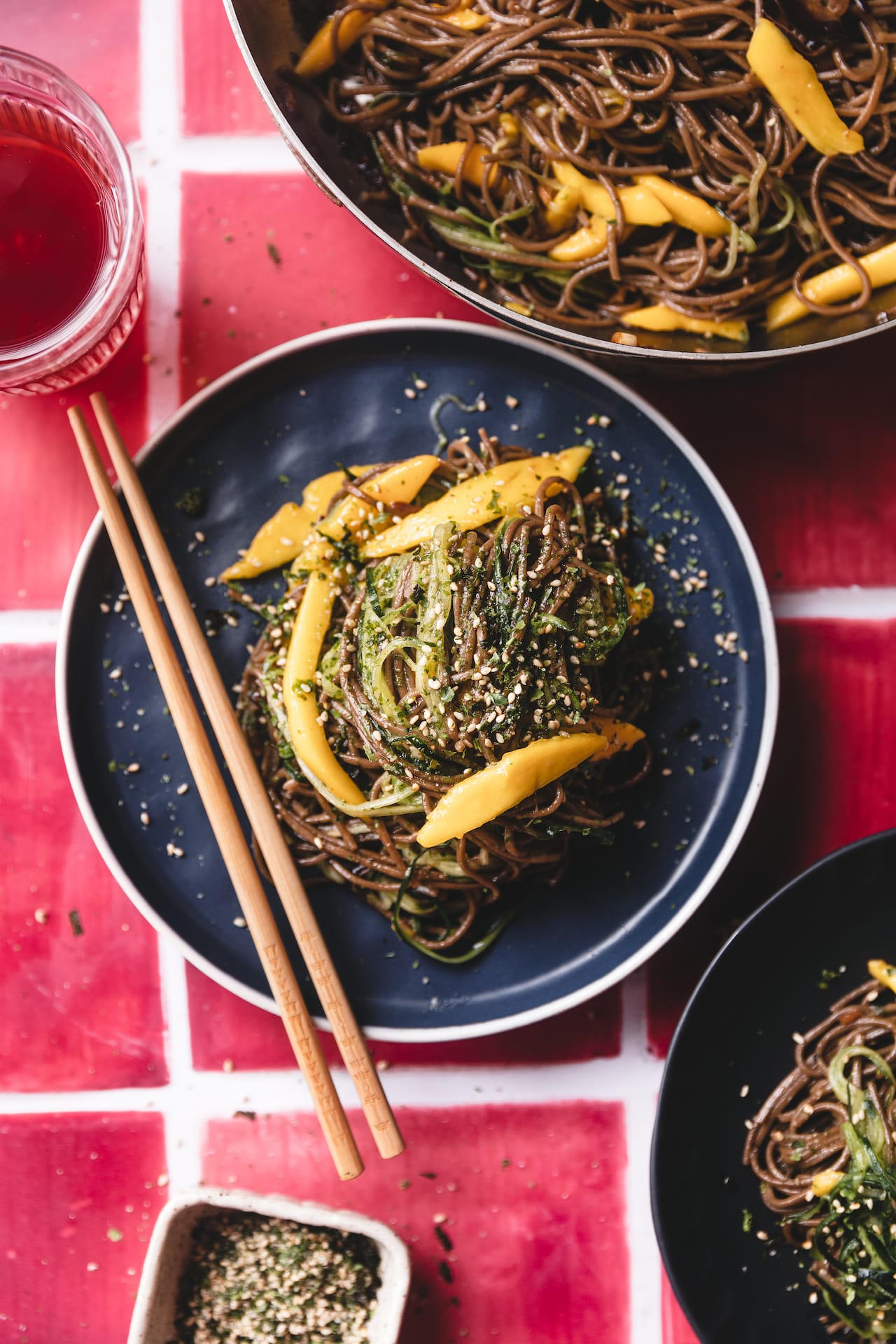 If you enjoy green mangoes, try these recipes
Aam Daal - It is a quintessential Bengali daal (lentil stew).
Kacha Aamer Tok - It is a Bengali summer dish, served at the end of the meal.
Kacha Aam Er Chutney - It's a quintessential Bengali chutney, that you serve as a condiment to pair with spicy dishes
Summer is for Mango dessert, try these delicious easy desserts!
This Soba Noddle salad is tried and tasted multiple times since 2013!
I had prepared a similar soba noodle salad several years back in 2013, and had put it up on Instagram. And then I finally shared it here in 2016. Today, I decided to give it an uplift with better photos. Same recipe, same taste!
You can try the same salad using green mangoes too and that is what I use when I have shared a photo in my Instagram account several years back.
Served hot or cold
Like most soba noodle dishes, this too can be enjoyed warm or cold. It makes a great meal to pack for a lunch box too or cook in advance and enjoy later.
FAQs
Are Soba Noodles healthy?
Yes! Soba Noodles are healthier than pasta or other variety of noodles as it is made from buckwheat, which is high in fiber. It also has a hypo-glycemic Index (GI) level, making it a suitable dish for dieters.
Can I prepare this dish with any other variety of noodles?
Absolutely! You can use your choice of noodles to make this dish.
How can I avoid soba noodles from getting mushy?
You have to cook the noodles in boiling water for the exact amount of time mentioned in the package, which is typically 4 hours. After boiling, remember to immediate wash the noodles in cold water. This will make sure the noodle stays crunchy and not mushy.
Soba Noodles with Mango, Cucumber and Chili Soy Dressing
Soba noodles, tossed with thin strips of mango and cucumber, dressed in spicy chili soy vinaigrette! This Soba noodles Mango Salad  makes for a great summer meal because it takes only a few minutes to prepare while giving you all the time to enjoy the season. And the best part is that it tastes delicious, warm or cold.
Ingredients
9.5

oz/ 269 gram soba noodles

1

cucumber

(peeled into thin strips)

2

ripe mango

(Peeled and sliced into thin strips)

2

teaspoon

Soy sauce

1

teaspoon

Mirin

½

teaspoon

Worcestershire sauce 

1

small red onion

(finely chopped)

4

Garlic cloves thinly sliced or chopped

1

tablespoon

Oil

salt

Furikake seasoning to garnish at the end
Instructions
In a deep saucepan, heat enough water to boil the soba noodles.

Once the water is boiling, drop the soba noodles, give it a stir and allow it to cook for 4 minutes.

Strain the boiled soba noodles, and wash it with cold water a few times. Keep aside. Drop it to the pan and give a stir.

In a mixing bowl, add the sliced cucumber and mango.

In the meantime, place a skillet on the stove, add oil along with garlic and bring it to medium high heat. Then, scatter the onion, and cook for a minute. Add soy sauce, mirin and Worcestershire sauce. Cook for 1 minute.

Add the cooked soba noodle and toss it around to mix everything.

Add the noodles to the bowl of cucumber and mango. Toss it around to mix.

Sprinkle Furikake seasoning and serve the noodle warm or room temperature
Nutrition