I almost burnt my tongue while making the sauce. The whiff of the chili sauce managed to bypass my stuffy nose and hit the sinus. I just couldn't resist and instantly dipped a spoon in the simmering sauce to lick it clean. It tasted crazy good and as it reached the back of my tongue, I got a kick of heat. This Spiced Sticky Baked Chicken Meatballs are just what I needed to wake up my dead taste buds!
The Sticky Sweet Spicy Sauce
The sauce is what makes these chicken meatballs so tasty! It's easy to make and YES, it stays good for a few days in the fridge. You could also freeze it to keep it longer. I add this sauce on my bland soup, toss it with noodles and drizzle on anything that needs a little flavor elevation.
There is a reason why the food tastes bland when we have cold. We don't get to smell the food and hence, we don't get the taste of it. Currently, that's my situation and the medicine is further killing my palate. It feels like for a past few days, all I am talking about is how I have been either taking care of my sick baby or how I am dealing with my sickness. Everyone I talk to tells the same story. It's the horrible flu season! Apart from comfy food to soothe my throat, I needed something zingy to uplift my mood.
The Baked Chicken Meatballs
I choose chicken thigh only because it's easy to retain the juicy tenderness as compared to chicken breast.
You can definitely fry these chicken meatballs and that would definitely add more color. But, I decided to go for baking instead. Less usage of oil equals less guilt!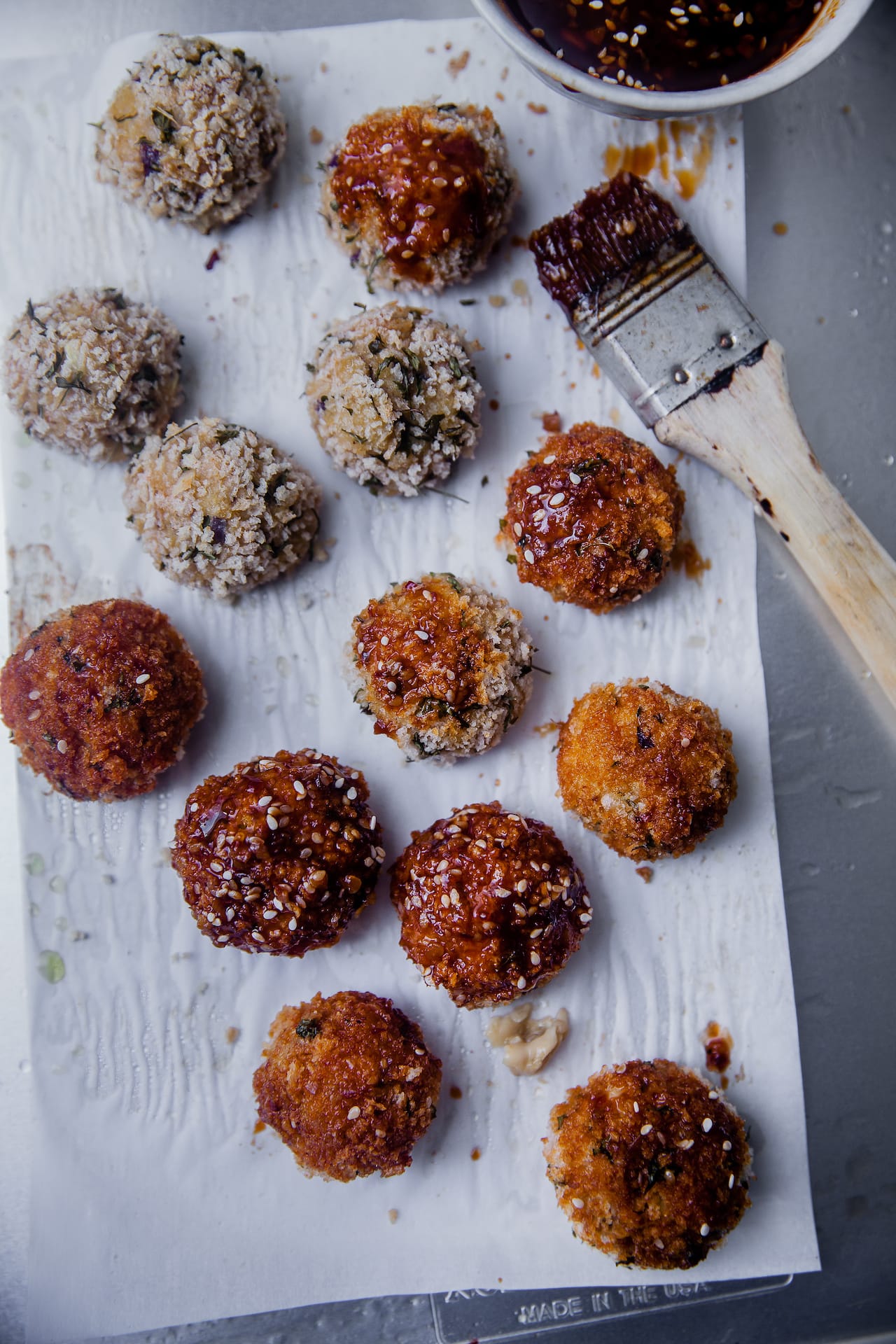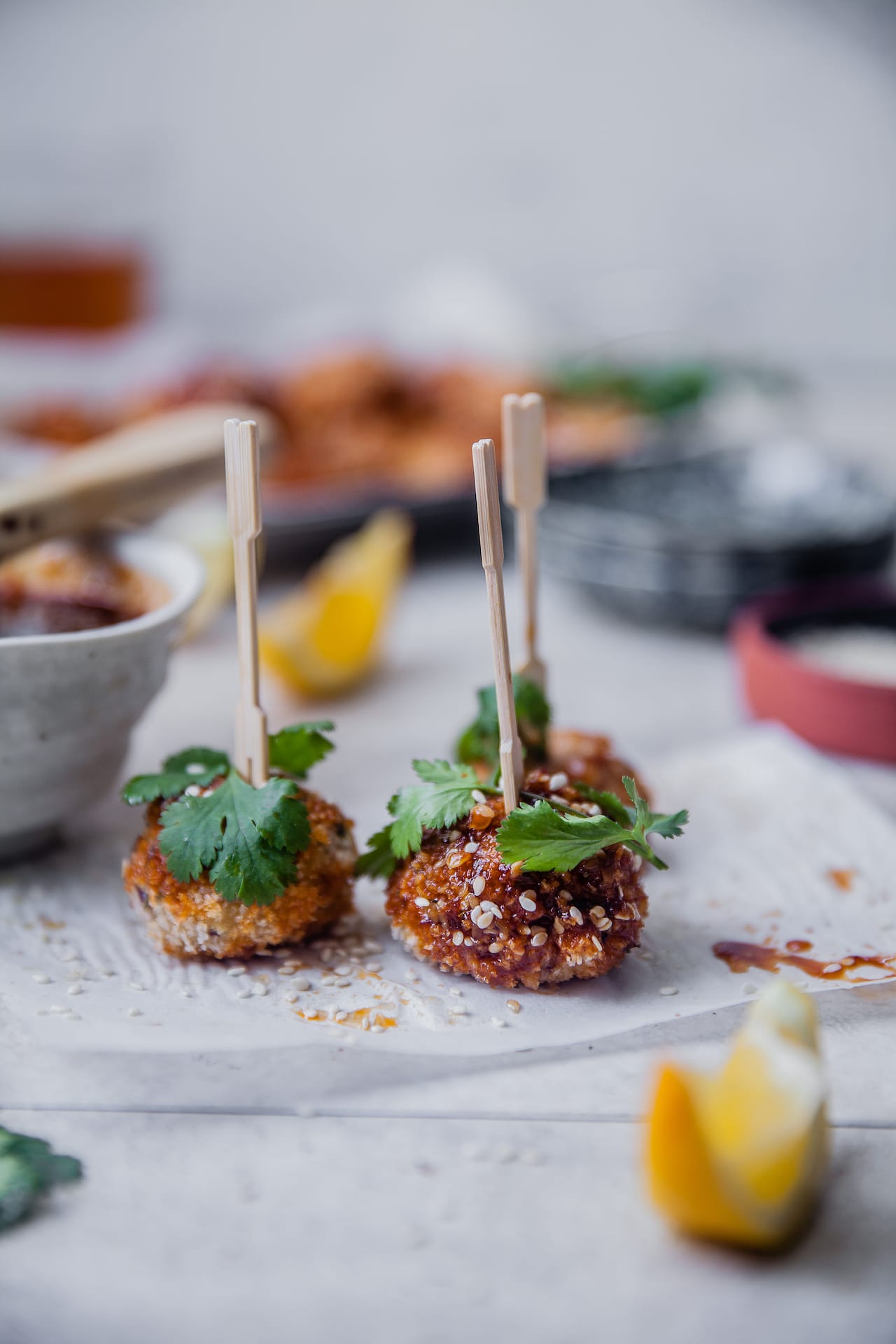 You will realize that the texture of the chicken mixture is very loose and you cannot make the perfect round shape. It is this loose texture which keeps the chicken meatballs very moist and tender.
The Spiced Sticky Baked Chicken Meatballs makes a great party bite. You can also convert it into a meal by tossing some noodles with it or add in your wrap with some salad on top.
---
Link to few other appetizers:
Spiced Sticky Baked Chicken Meatballs
Ingredients
1

lb

ground chicken thigh

½

red onion

(finely chopped)

6

garlic cloves

(finely chopped)

1

inch

fresh ginger

(finely chopped)

1

teaspoon

freshly cracked black pepper

¼

cup

plus 1 tablespoon dark soy sauce

1

tablespoon

honey dijon mustard

1

teaspoon

salt

2

eggs

1

cup

panko crust

juice of half a lemon

2

teaspoons

oil

¼

cup

sambal oelek chili sauce

¼

cup

sriracha hot chili sauce

1

tablespoon

brown sugar

1

teaspoon

white sesame seeds plus more for garnish

1

teaspoon

dried parsley

1

teaspoon

paprika
Instructions
Preheat the oven to 400 F.

In a mixing bowl, add the ground chicken, chopped red onion, half of the chopped garlic, half of the chopped ginger, 1 tablespoon soy sauce, mustard, salt, eggs, lemon juice, 1 teaspoon oil and ½ cup panko crust. Mix it all together.

Layer a cookie sheet with parchment paper and brush very little oil on it.

In a plate, mix rest of the panko crust with dried parsley and paprika.

To prepare the chicken meatballs, use a cookie scooper or a spoon. Grease a little oil on your hand and gently shape the meatballs. I coated a few in the panko crust and left a few as is. Place the chicken meatballs on the cookie sheet.

Bake in the middle rack for 20 minutes.

While the chicken meatballs are baking, prepare the sauce! Place a heavy bottom skillet or saucepan at medium heat. Pour 1 teaspoon of oil followed by rest of the chopped garlic and chopped ginger. I prefer to add the garlic and ginger in cold oil and let it heat up slowly. This process enhances the flavor.

Once the garlic and ginger start to brown up, pour ¼ cup of soy sauce, sambal oelek chili sauce and sriracha hot chili sauce. Give it a stir and let it bubble for 3 minutes. Add the brown sugar followed by ½ cup of water and let it sizzle for 5 minutes in medium low heat. Add 1 teaspoon sesame seeds and mix it around. Switch off the heat once done.

After the chicken meatballs are baked, heat the sauce and drop the baked chicken meatballs (only the ones that are not coated with panko crust). Toss it around in the sauce for 1 minute. Take it off and put it in a serving plate.

Once you are done tossing around the chicken meatballs that are not coated with panko crust, let the sauce simmer for 1 minute or until it coats the back of a spoon (keep in mind the sauce will thicken up as it sits in room temperature). Pour the sauce in a serving bowl.

For the panko crusted chicken meatballs, I gently brushed the sauce on it just before serving so that the crunch is retained.

Drizzle some sauce, sprinkle some sesame seeds and serve immediately. These chicken meatballs taste best when served fresh and hot.
Nutrition
Serving:
1
About 34 meatballs