Whether you want to enjoy it with a cup of hot tea or a chilled glass of beer, these Crispy Cabbage and Carrot Fritters are a great munch for any season. It is super easy to make and has no eggs. Just a little bit of vegetables, spices and flour.  These are crunchy, crispy, moreish and can be a great party bite too.
Key Ingredients that goes in Crispy Cabbage and Carrot Fritters
Vegetables: Of course Cabbage and Carrot is the main ingredient. Slice the vegetables very thinly for the perfect crunchy texture
Spices:  The combination of Nigella seed and fennel seeds  makes these fritters unique on it's own.
Flours:  There is the all purpose flour, the rice flour and the corn flour which mixes together in perfect ratio for the crispy texture.
Nuts: I add a little bit of coarsely ground peanut to the mixture only because of the taste but you can absolutely avoid it if you want to. You could also add your choice of nuts, if you like.
Cabbage fritters are one of the very common fritters that are prepared in Bengali household. It's often fried crispy and served alongside rice and daal. The other day, when my Mom mentioned about it (yeah, we talk everyday a lot about food menu), I instantly had the craving for it. At first, I went with just cabbage but then I saw one lovely carrot sitting at the back of the veggie box. I had to use it. The combination worked wonderfully by adding a mild sweetness from the carrot.
NO EGGS NEEDED FOR BINDING!
Typically, when we make fritters, we always add eggs to bind it together but, in this recipe, you don't need eggs. Also, you don't add any water to make the mixture. You let the veggie marinate in salt and sugar for 30 minutes, which allows the cabbage and carrot to release its natural moisture. That binds it all together along with the flour that goes in. At first, you may feel that it needs water but as you keep mixing, you will be surprised to see how nicely it all comes together to form a perfect consistency.
Can you bake these Crispy Cabbage and Carrot Fritters ?
Yes, you can! You have to add a little bit of oil to the mixture. These can be baked at 350F for about 30 minutes. I have tried both the versions and somehow, I do prefer the fried ones. It's crispier when you fry instead of bake.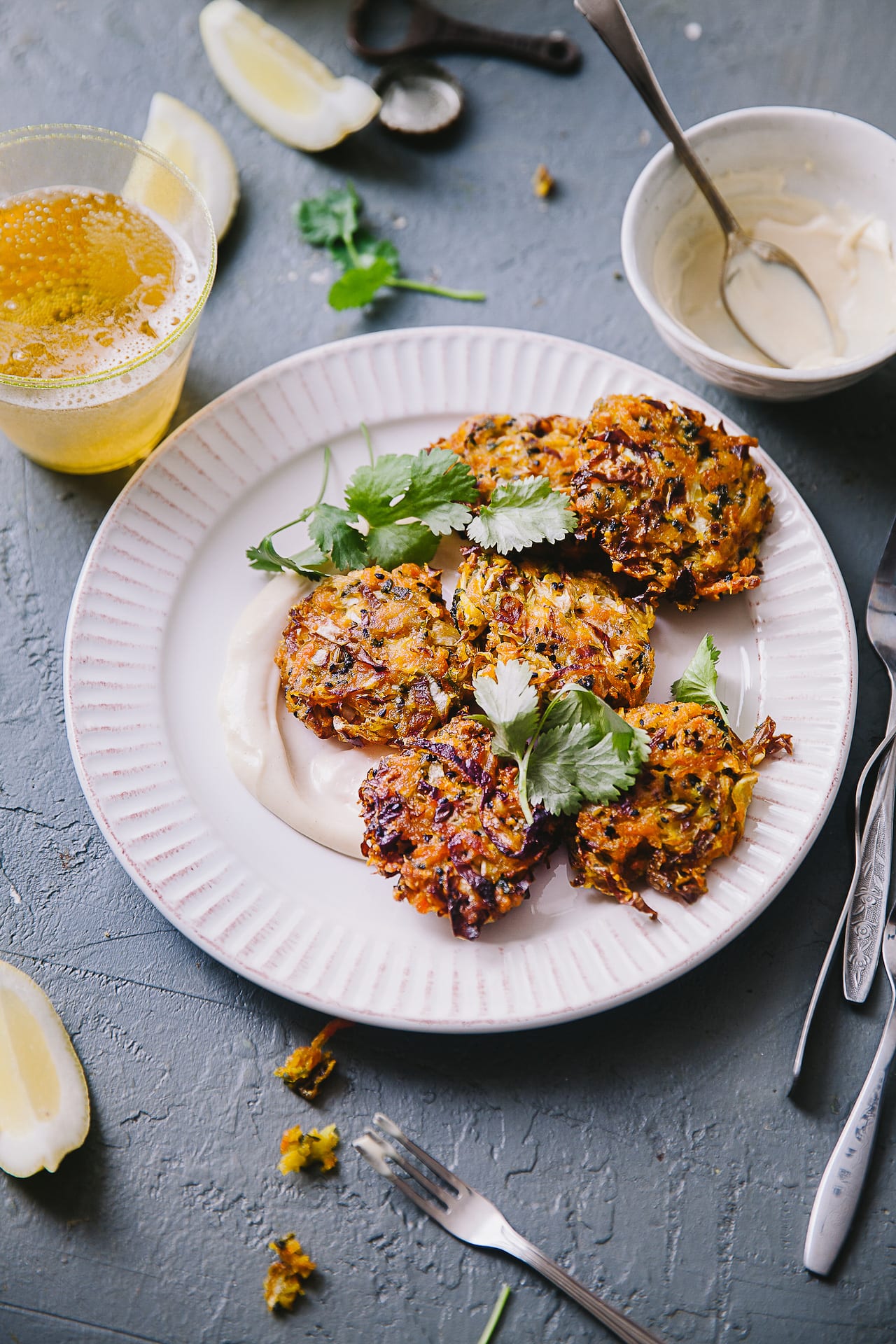 These fritters taste best when they are fresh and should be served right away. Enjoy it while it's still crispy and crunchy!
Here are few other fritters recipe that you might like:
Crispy Cabbage and Carrot Fritters
Ingredients
half cabbage head

(10.35 oz/ 294 g)

1

large carrot

(3.70 oz/ 105 g)

¼

cup

finely chopped or thinly sliced red onion

¼

cup

finely chopped fresh cilantro leaves

2

green chili

(finely chopped)

1

teaspoon

salt

1

teaspoon

sugar

1

teaspoon

nigella seeds

1

teaspoon

fennel seeds

1

teaspoon

turmeric powder

¼

cup

rice flour

¼

cup

all purpose flour

¼

cup

corn flour

2

tablespoons

coarse ground peanuts

(optional)
Instructions
Very finely slice the cabbage head and grate the carrot.

In a mixing bowl, add the cabbage, carrot, onion, cilantro, chili, salt, sugar, nigella seeds, fennel seeds and turmeric. Mix it together and cover the bowl. Leave it aside for 30 minutes (this process will soften the veggies as the veggie releases its natural moisture).

After 30 minutes, add the rice flour, all-purpose flour, corn flour and ground peanuts to the same bowl. DO NOT ADD WATER. Start mixing it together by crushing the veggies with your hand and slowly the mixture will come together into a perfect sticky consistency.

Place a wide flat skillet at medium heat and pour enough oil to shallow fry the fritters. Once the oil heats up, make tiny flat disc of the mixture and carefully slide it into the hot oil. Let it fry at medium heat for 4 minutes on one side or until golden brown. Flip and fry for 3 more minutes on the other side or until golden brown.

Once done, place the fried fritters on a cookie wire rack (it stays crispy longer when kept on a wire rack instead of a kitchen towel).

Enjoy right away!
Nutrition