It was a beautiful bright day with tiny fluffy clouds floating around in the blue sky. I sat by the window with a book, covered the feet with my purple throw and enjoyed the sunlight as it warmed my cheeks. I was reading Jamie's Italy and was lost in his words. He spoke about his experiences in Italy and how he adored the Italian's love for food. I scribbled notes as I flipped the pages and regretted a little for not trying out certain dishes during our short stay in Rome. But thanks to all these amazing books, which always help home cooks like me create any dish any time we want and even if it might not be perfect, it can still be savored with pleasure. This Frittelle di Spaghetti (Spaghetti Fritters) is from the Jamie's Italy book and I am so glad I tried it. Now, I always a little pasta left over so I can make this again and again.
After gawking at so many Italian dishes for the whole afternoon, I decided to prepare pasta for dinner until I reached the page that read Frittelle di Spaghetti or in plain English, Spaghetti Fritters. My prior intention to avoid oily food for the day was gone for a toss as I rolled up my sleeves and fried some of these golden swirly crispy bites. We gobbled it with hot ginger tea. Loved it. Over the weekend, we made it again and washed it down with some Pinot Noir. Total yum!
Next time, I plan to serve it on top of a flavorful broth, just how Jamie had it in Sicily, and I am sure it will make a fantastic dinner.
Got leftover spaghetti?
If you enjoy spaghetti as much as we do, these Frittelle di Spaghetti would make you very happy! It's not deep-fried and is extremely easy to create with very minimal prep time. You know those days when you are looking for an easy, quick appetizer so you can concentrate more on the main course? Well, this could be the one!
All you need is spaghetti and some fresh herbs for the flavor. If you don't have any pasta at home, try any kind of thin noodle of your choice and smack it up with the spices or herbs you like. Do not deep fry it; just two minutes on each side should be enough.
Just like any other fritters, serve it hot immediately after you fry it.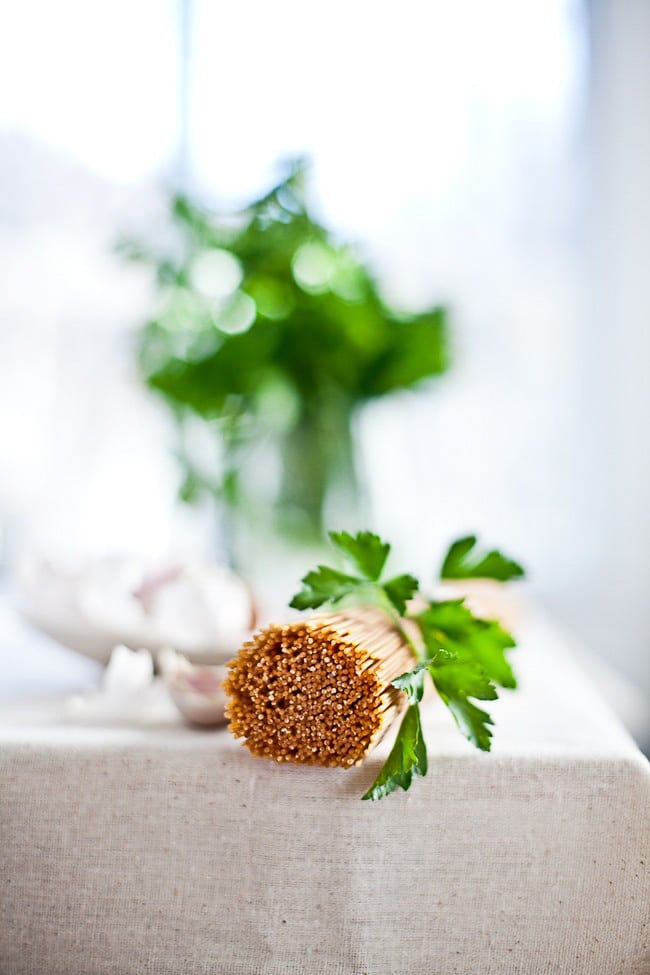 How I made the Frittelle di Spaghetti (Spaghetti Fritters)
Either use left over spaghetti or make some fresh but just boiling in salted water. Using a kitchen knife, cut the long stands to half so it is easy to handle. Add eggs to bind and dried herbs for flavors. Then carefully place in a hot pan using a tong. Take little attention so you can place the noodles in a beautiful swirly fashion.
Spaghetti Fritters
Ingredients
3

oz

whole-wheat spaghetti

(broken in half)

1

egg

2

cloves

garlic

(grated)

1

cup

finely chopped fresh parsley

½

tablespoon

oregano

1

teaspoon

chili flakes

⅓

cup

freshly grated parmesan cheese

zest of half lemon

(optional)

1

tablespoon

fresh lemon juice

(optional)

½

tablespoon

freshly cracked pepper

oil for pan frying

salt
Instructions
Boil pasta for about 8 minutes in salted water.

While the pasta is boiling, crack egg in a bowl and whisk. Then, add garlic, chopped parsley, oregano, chili flakes, parmesan cheese, lemon zest and lemon juice and mix.

Add boiled pasta to the bowl and give it a mix using a fork or a tong.

Pour two tablespoons of oil in a pan and heat it.

Using a fork or a tong, take little bit of the spaghetti mixture and drop it to the hot pan. Fry it at a medium high heat for about 2 minutes on each side.

Once done, sprinkle some salt and lemon pepper(optional) on top. Serve hot.
Nutrition
Serving:
1
approximately 20 fritters