If you are looking for quick party bites, these Broken Wheat Dukkah Fritters With Labneh should do the trick. When served with lemony Labneh, you can turn it into a perfect snack. It is crunchy on the outside and soft inside. Packed with the Middle Eastern spice mix dukkah, these fritters are not only easy to prepare but also super delicious.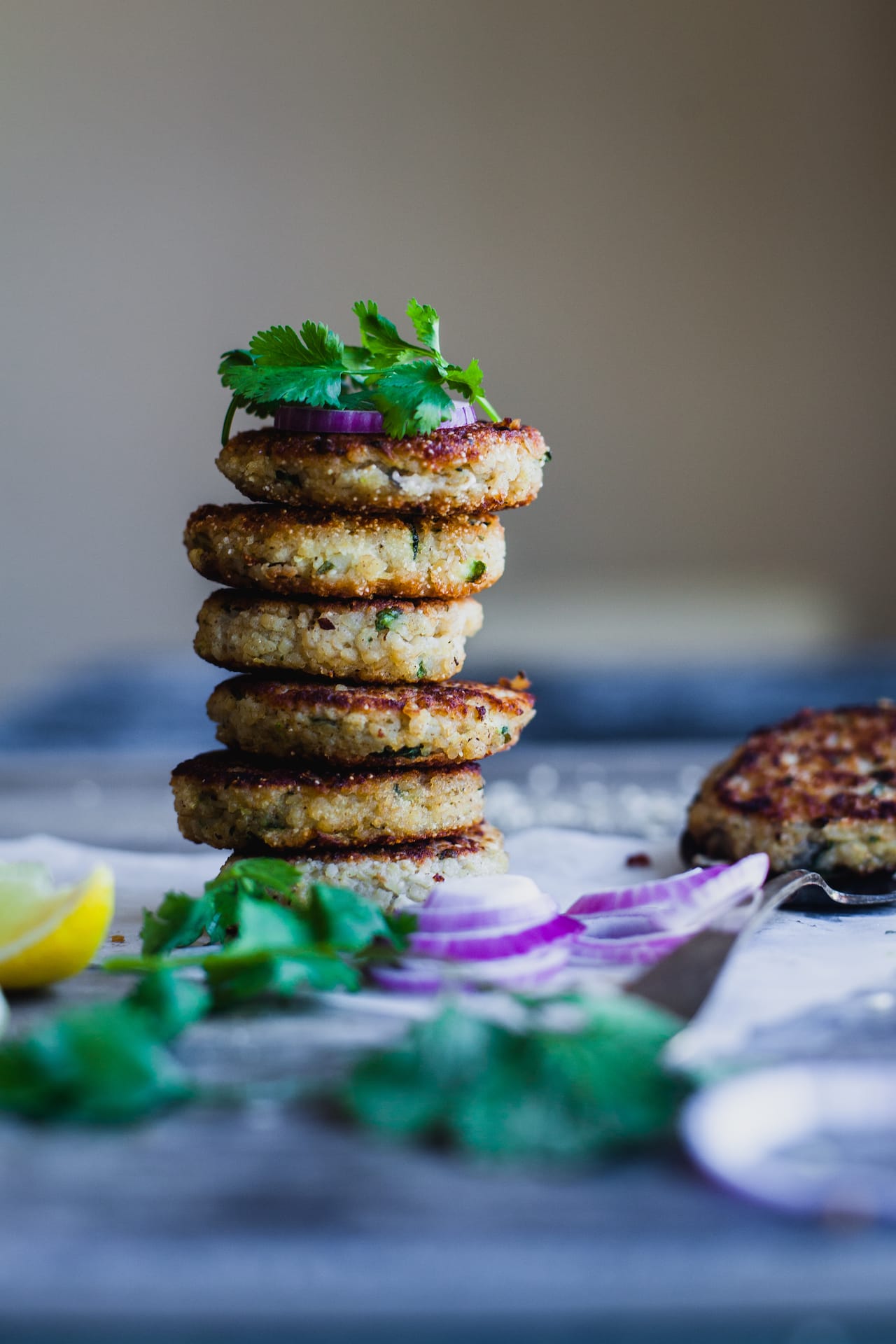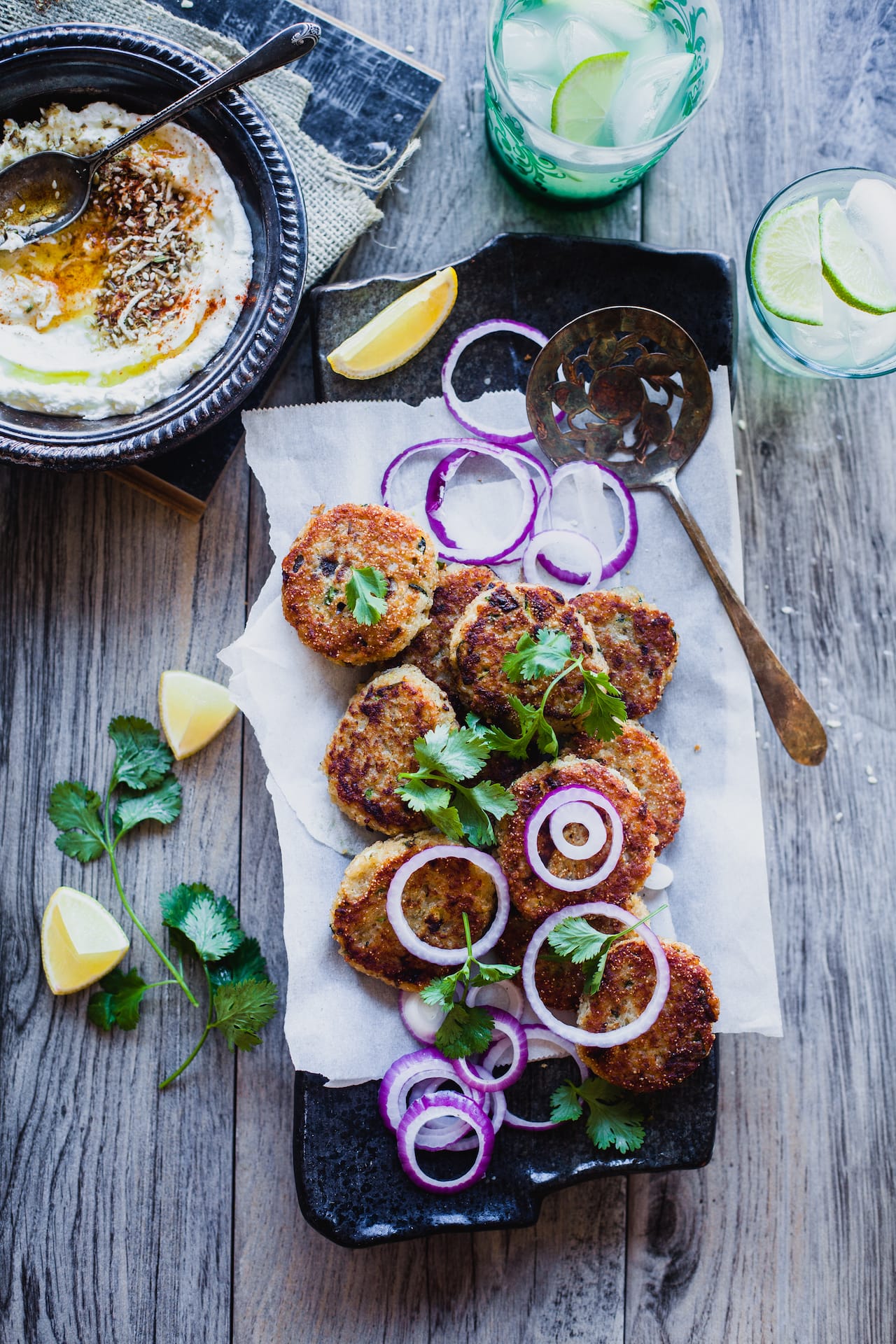 When Avyan was a baby, I used to prepare broken wheat porridge quite a lot. I always mixed it with lots of veggie, hint of cumin and cooked to comforting creamy consistency. The boy really loved it. Until one day, he figured that Mumma is having it too easy and just like that he started not liking it any more. Since then, this grain happens to stay right at the corner of the shelf, often ignored. I really don't know why I ignored it for so long but I will change it soon. Starting with these fritters.
What is Broken Wheat?
Broken Wheat or Cracked Wheat is made by milling whole raw wheat grains coarsely. It may be ground into coarse, medium or fine kernels. Make sure to clean broken wheat throughly before cooking with it. This highly nutritional and fibrous grain is often cooked with vegetables to form a semi solid porridge or with lentils to form a creamy porridge In India, it is more popularly as dalia and is a very common grain used in everyday cooking.
How to prepare the Broken Wheat Dukkah Fritters
You can prepare these fritters or cutlets using freshly prepared left over broken wheat porridge or dalia khicdri. 
For flavor purpose I used the middle eastern spice mix called Dukkah. Here is a link to the recipe of Dukkah which is extremely easy to make.
One egg went in for binding purpose and breadcrumbs for the crunch.
Instead of deep frying, I shallow fried these cutlets or fritters.
The Labneh
Labneh is just hung yogurt! Letting the yogurt hung in a cheese cloth will drain out excess water making the yogurt thick and creamy. There are various different ways you can flavor labneh. I flavored it with fresh lemon juice and drizzle some extra virgin olive oil on top. Also dusted some dukkah spice mix for the crunch.
Labneh makes a great dip or spread. Try it if you haven't already.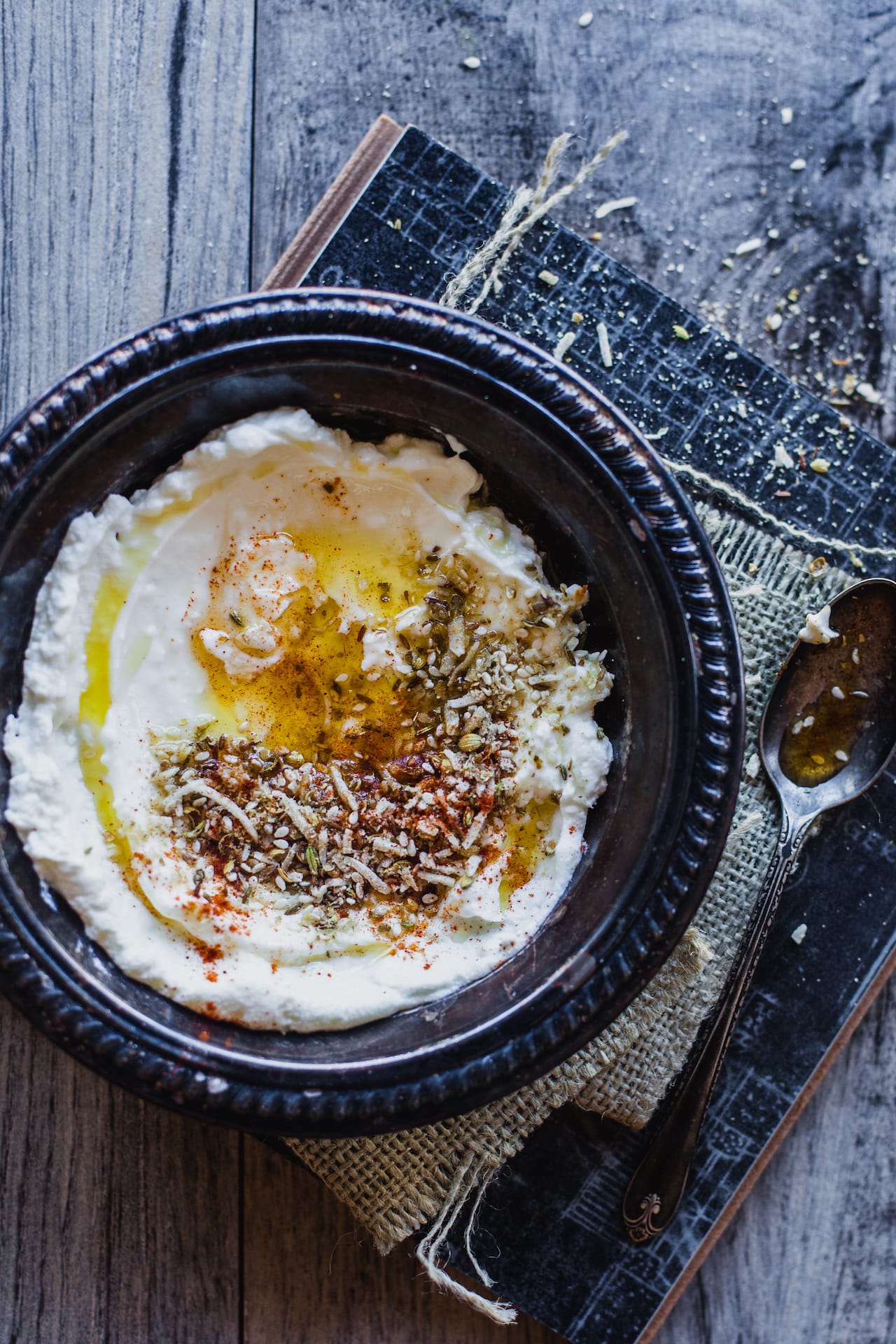 Adding dukkah spice mix to the mixture made these fritters extremely flavorful. Dukkah is a Middle Eastern Spice mix that has roasted nuts, earthy spice and sweet coconut, making it one of a kind spice mix. Here is a recipe of the spice mix that I had shared several years back. It is one of my favorite spice mix to add in fritters, on yogurt, on soup, boiled eggs or salad. The list can go on and on. For me, it's a great way to add a depth of flavors. Although these fritters are great with just some ketchup on the side but with lemony labneh, it really makes the dish extra special.
Broken Wheat Dukkah Fritters With Labneh
Ingredients
For Labneh

12

oz.

thick plain yogurt

½

teaspoon

salt

1

teaspoon

lemon juice

1

tablespoon

dukkah spice mix

3

tablespoons

extra virgin olive oil

pinch

of paprika
for Broken Wheat Dukkah Fritters
½

cup

broken wheat

1

cup

water

½

cup

boiled potatoes

¾

cup

finely chopped cilantro

¼

cup

finely chopped red onion

1

teaspoon

salt

1

tablespoon

all-purpose flour

1

tablespoon

dukkah spice mix

1

egg

4

tablespoons

oil
Instructions
Layer a colander with cheesecloth folded in half. Mix the yogurt with lemon juice and salt. Pour the yogurt mixture on the cheesecloth. Place the colander on a plate and keep it in the refrigerator for 12 hours.

After 12 hours, the water will drain out completely and the yogurt mixture will turn thick.

Take it off the cheesecloth into a bowl. Create a swirl using the back of your spoon. Sprinkle dukkah spice mix, pinch of paprika and pour extra virgin olive oil. Serve on the side with the broken wheat fritters.

Place a heavy bottom pan on medium high heat and pour the water. Once the water comes to a boil, drop the broken wheat and reduce the heat to medium. Let it simmer for 5 minutes or until the water is almost absorbed. Switch off the heat and cover the pan with a tight lid for 3 minutes. Then, use a fork to fluff the cooked broken wheat.

Place the cooked broken wheat in a mixing bowl along with mashed potatoes and rest of the ingredients (chopped cilantro, red onion, salt egg, breadcrumbs and dukkah spice mix).

Mix everything together and then divide it into 12 dumplings. Each dumpling should be of the same size as a Ping-Pong ball. Shape the dumpling into 1 ½ inch diameter disc. Leave the disc in the refrigerator for an hour to set.

These fritters need to be shallow fried. Place a pan on medium heat and depending on how big your skillet is, you might want to pour all or just enough of the oil for frying the fritters. Once the oil heats up, layers the fritters carefully without overcrowding the pan. Continue frying in medium heat for 5 minutes on one side, flip and fry for 4 more minutes. Or until it's golden brown on both the sides.

Serve warm with labneh!
Nutrition