There are some meat dishes that need hours of marinating, followed by long hours of slow cooking for the flavors to enhance. Then, there are dishes like this Mangalorean chicken stir-fried dish called Chicken Sukka. It has a boatload of flavors and comes together in less than an hour. Chicken Sukka is spicy, it's aromatic and uplifts your tastebuds instantly.
I am all about marinating chicken overnight with the spices. For me, it is a very important step to juicy flavorful chicken curry. This dish doesn't need that preparation at all but I still let the chicken marinate in salt and lemon juice for just 15 minutes while I prepare the spice mixture.
The Spice Mixture for the Chicken Sukka
This is the key to this dish. This dish has a lot of earthy spices and all these together create a beautiful balance. It's not a hot curry where you will start sweating after a couple of bites. It has a warm rich aroma that hits the right note in your taste buds. If you have a high tolerance for heat, add spicier dry red chili. I used only Kashmiri dry red chili as it's very mild and gives a gorgeous red color.
Spices used:
coriander seeds
cumin seeds
black mustard seeds
black peppercorn
cloves
cinnamon bark
kashmiri dry red chili
tablespoon oil
cup freshly grated/ frozen coconut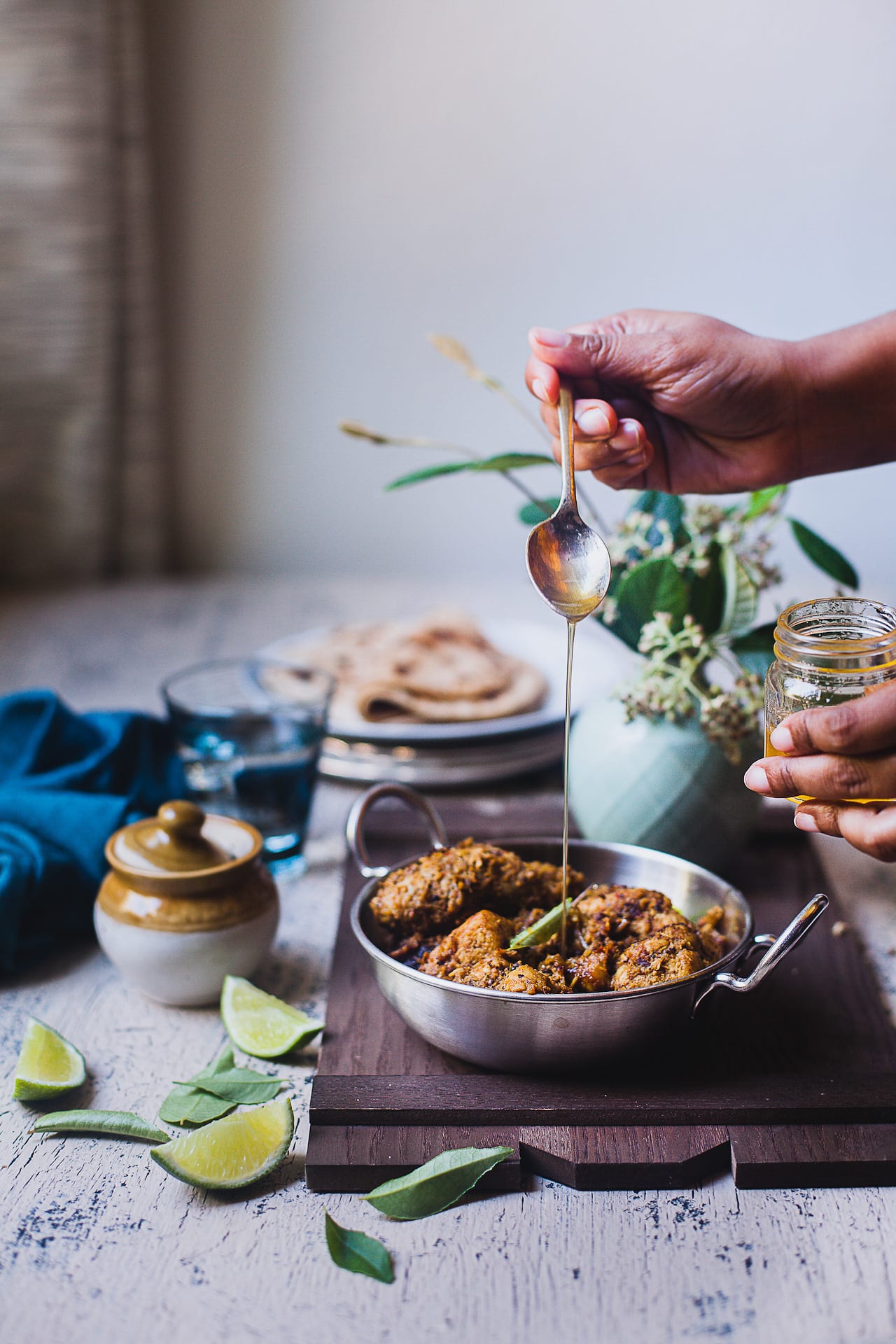 A couple key notes on the Chicken Sukka
Use small bite-size chicken pieces, with bone or without bone, as they will cook faster. Also, make sure you discard the skin.
If you were to make the dish for a much bigger crowd, it would be a good idea to marinate the chicken with the spice mix and leave it overnight. This will fasten the cooking process on the next day.
I am no expert on this delicious Chicken Sukka and I am sure there are various different ways that you can make it. However, if you try this version, please do let me know how you liked it. You can tag me @playfulcooking in any of the social media platforms.
Chicken Sukka (Mangalorean chicken stir-fried )
Ingredients
1

lb/500g bite size skinless chicken pieces

(bone or boneless)

1

tablespoon

salt

1

tablespoon

garlic and ginger paste

1

red onion

(thinly sliced)

5

green cardamoms

1

teaspoon

turmeric powder

few fresh curry leaves

2

teaspoons

ghee

1

teaspoon

fresh lemon juice
for the spice mix
1

tablespoon

coriander seeds

1

teaspoon

cumin seeds

1

teaspoon

black mustard seeds

1

teaspoon

black peppercorn

5

cloves

2

cinnamon bark

3

kashmiri dry red chili

1

tablespoon

oil

1

cup

freshly grated/ frozen coconut
Instructions
Marinate the chicken pieces with ½ tablespoon of salt and lemon juice for 15 minutes.

Place a pan at medium heat and add all the whole spices that are mentioned under the ingredients list for spice mix. Also, pour the oil and stir around for 1 minute. Add the coconut and sauté for 1 minute. Place everything in a spice grinder and grind everything to a coarse texture. Leave it aside to be used later.

Place the same pan at medium heat. Pour 1 tablespoon of oil and once the oil heats up, drop the green cardamom followed by ginger and garlic paste. Sauté for 1 minute and then, scatter the onion slices. Add rest of the salt and turmeric, cook for 3 minutes or until the onions are softened.

Drop the spice mix and toss around to mix everything. Add the marinated chicken, fresh curry leaves and mix everything. Cover the pan and let it cook for 15 minutes.

Remove the lid and toss everything. The chicken should be cooked by now but depending on how big the pieces were, it might take more time.

Once the chicken is cooked through, check for salt and add any, if needed. Finally, pour the ghee, toss around and it's ready to serve.
Nutrition