Thank God It's Friday.. Time to enjoy the weekend! I know that it's there every week and it's not like I have to go to office every day. Yet, these two days of the week are very special to me. I get to spend the entire day with my husband. I think that is enough of a reason to celebrate the weekends 🙂 Ok, I will give you one more reason.. I am not much of a morning person and the weekend also allows me to wake up late in the morning 😉
Well, I don't have the liberty to wake up late tomorrow. We are re-visiting Napa Valley with few of our friends and it's about 2 hours drive from our home. So.. early to bed and early to rise! Last time, we visited Napa during our anniversary and we took the Wine Train ride, which was really fun! However, we didn't have any energy left to go for a tour or wine tasting after the ride.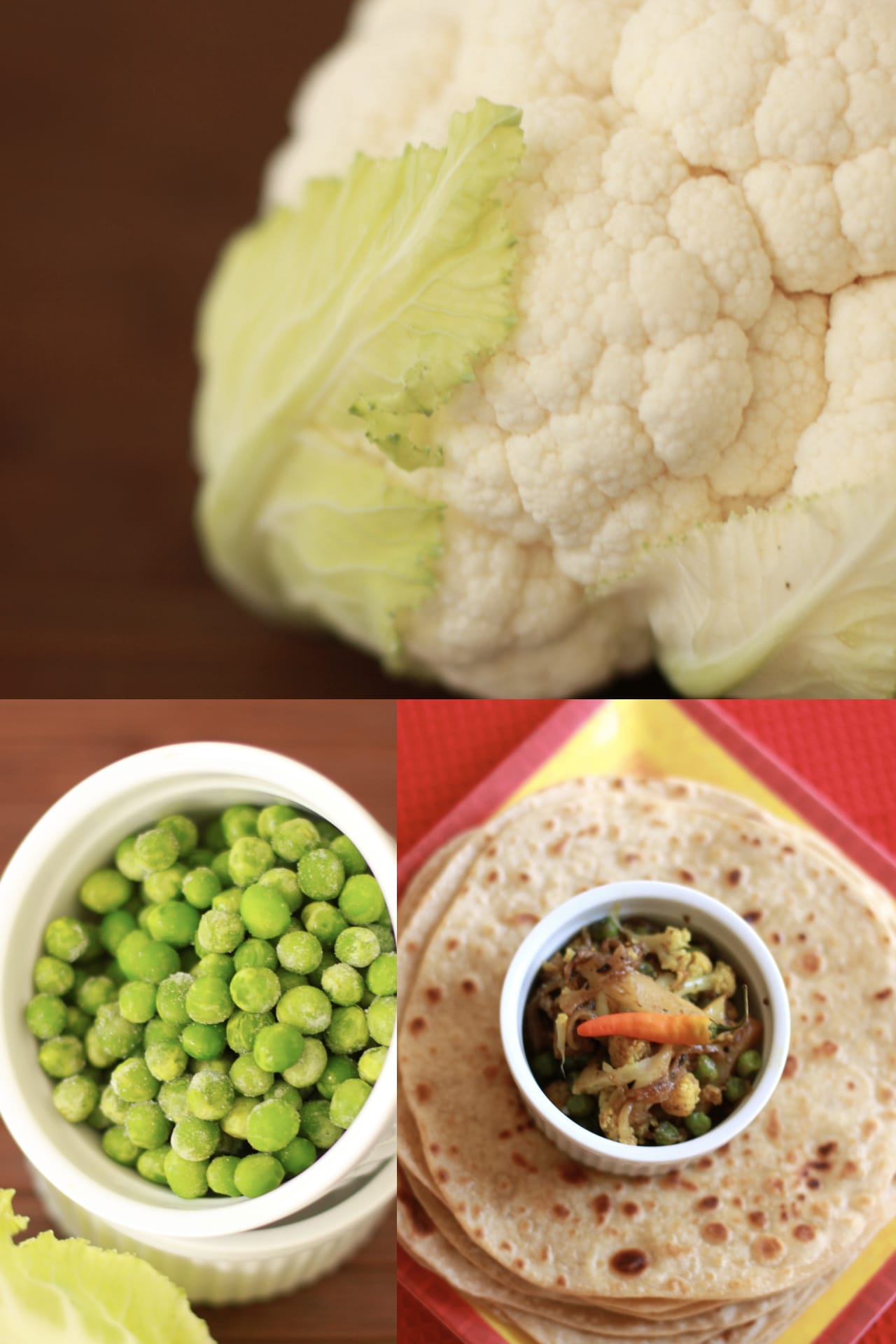 So, tomorrow is going to be all about the winery tours and wine tasting. I am hoping that the weather stays nice and warm and please oh please...it shouldn't rain. I am all set to get tipsy 😉 !!! Now, coming to our recipe for today. It's a really simple dish and commonly prepared in many Indian kitchens. I am not big fan of Cauliflower but this is one such dish which I really enjoy. It's spicy and very flavorful.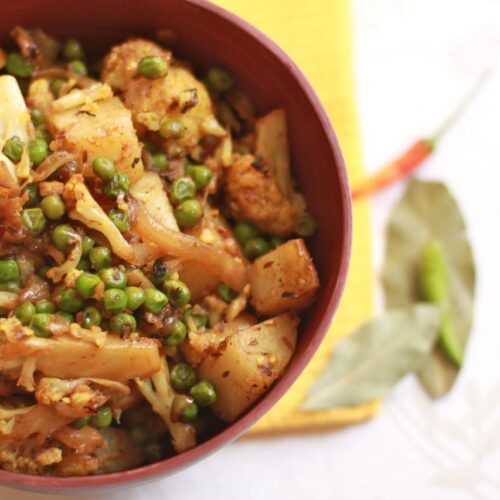 Gobi Matar/Cauliflower cooked with Peas
Ingredients
1

cauliflower

1

medium onion

(thinly sliced)

1

cup

frozen peas

1

potato

(cut in cube size)

2

cloves

garlic

1

tbs

grated ginger

1

teaspoon

whole coriander seeds

1

teaspoon

whole cumin seeds

2

bay leaf

2

green chillies

(finely chopped)

salt

oil
Instructions
Cut the florets of the cauliflower into bite size pieces and put them in hot water. This will soften the florets.

Boil the potatoes and keep them aside.

In a pan, heat 2tbs oil. Add ginger, garlic, coriander seeds and cumin seeds and saute for a while.

Add onion to it, season it with some salt and cook till the onions are golden brown.

Place the contents from the pan in a food processor and grate them to form a thick onion paste. Keep it aside.

In the same pan, heat 1tbs oil and add bay leaves and chopped green chillies.

Next, add the cauliflowers and cook in low heat. Do not add any water. Let the cauliflower get little bit cooked. Keep sauteing it to make sure that it does not get burnt.

Add the onion paste and mix properly.

Add the potatoes and peas and continue cooking for another 5 to 10 mins. If required, add a little water, may be just ½ a cup.

Serve it hot with some Roti/Chapati
Nutrition