A simple yet flavor packed vegetarian meal - Zaatar Roasted Cauliflower Brussels Sprouts, dreamily dressed with Maple Mustard Sauce. The grey skies and gloomy days needed a vibrant plate of food, and it sure did cheer our mood.
This post is done in collaboration with Maille, which has a rich heritage starting from 1747 and honors tradition. They use the highest quality ingredients to create complex, zesty flavors to make your meal extraordinary.
Maille believes that the right condiment can uplift your everyday meal in the most amazing ways without much effort. I am a huge fan of their mustard and use it quite often.
Zaatar Roasted Cauliflower Brussels Sprouts
Roasted vegetables taste better with a little drizzle of sauce on them. This simple dressing with fresh orange juice, maple syrup and Maille Original Mustard comes together with a quick whisk.  
The zing from the mustard is a great touch and balances seamlessly with the spiced roasted cauliflower and Brussels sprouts.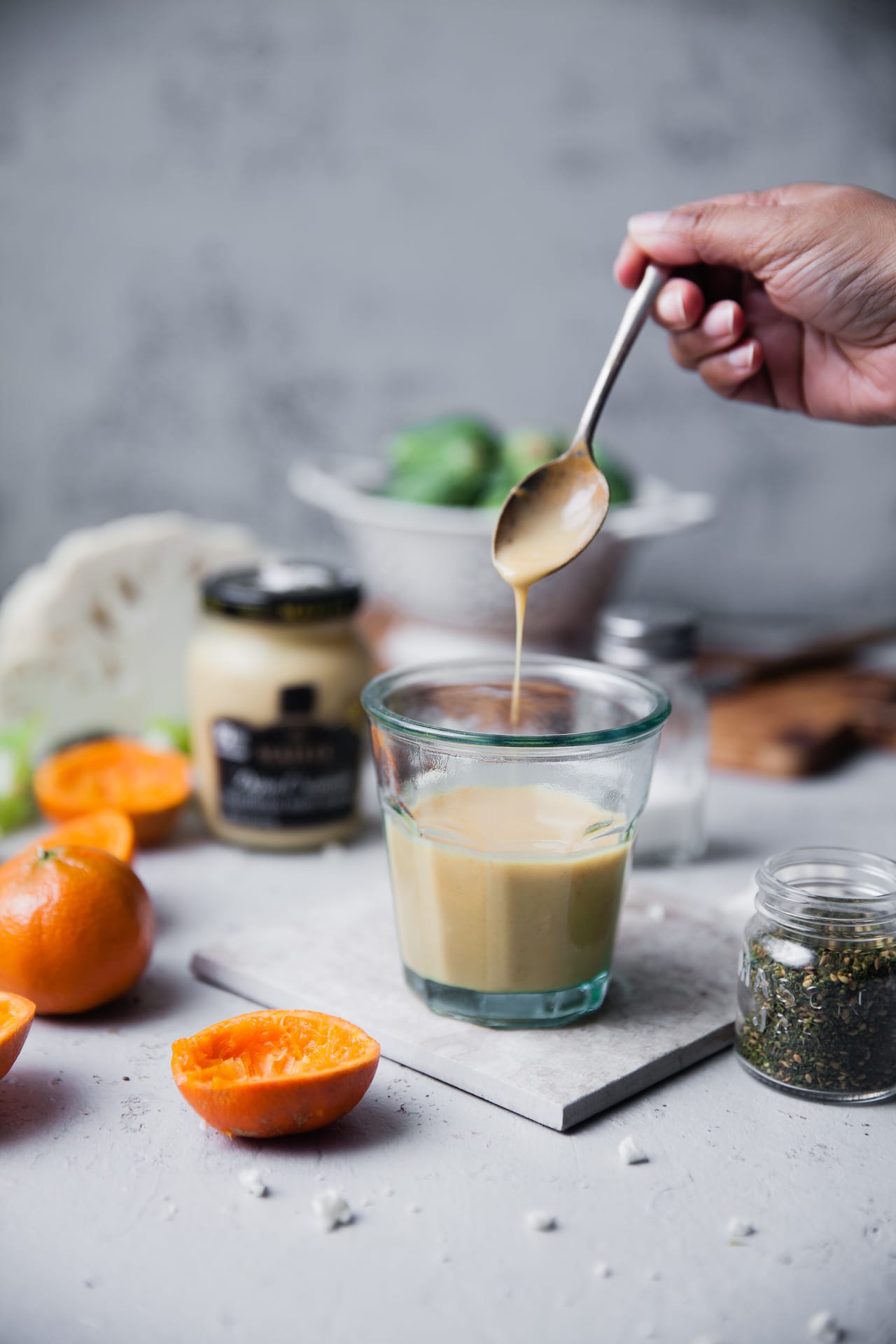 Can you make this Zaatar Roasted Cauliflower Brussels Sprouts without an oven?
YES! All you have to do is boil the cauliflower florets for a while before you start charring it on a stove top. Using a cast iron pan will give it a perfect brown crust that you get from roasting in the oven.
Just keep the heat at medium low and let the vegetables sizzle and get cooked through.
The citrus herbal zaatar spice with the sweet but zingy mustard dressing took the roasted veggie to a new level of deliciousness. Give it a try because I can assure it that you will love it!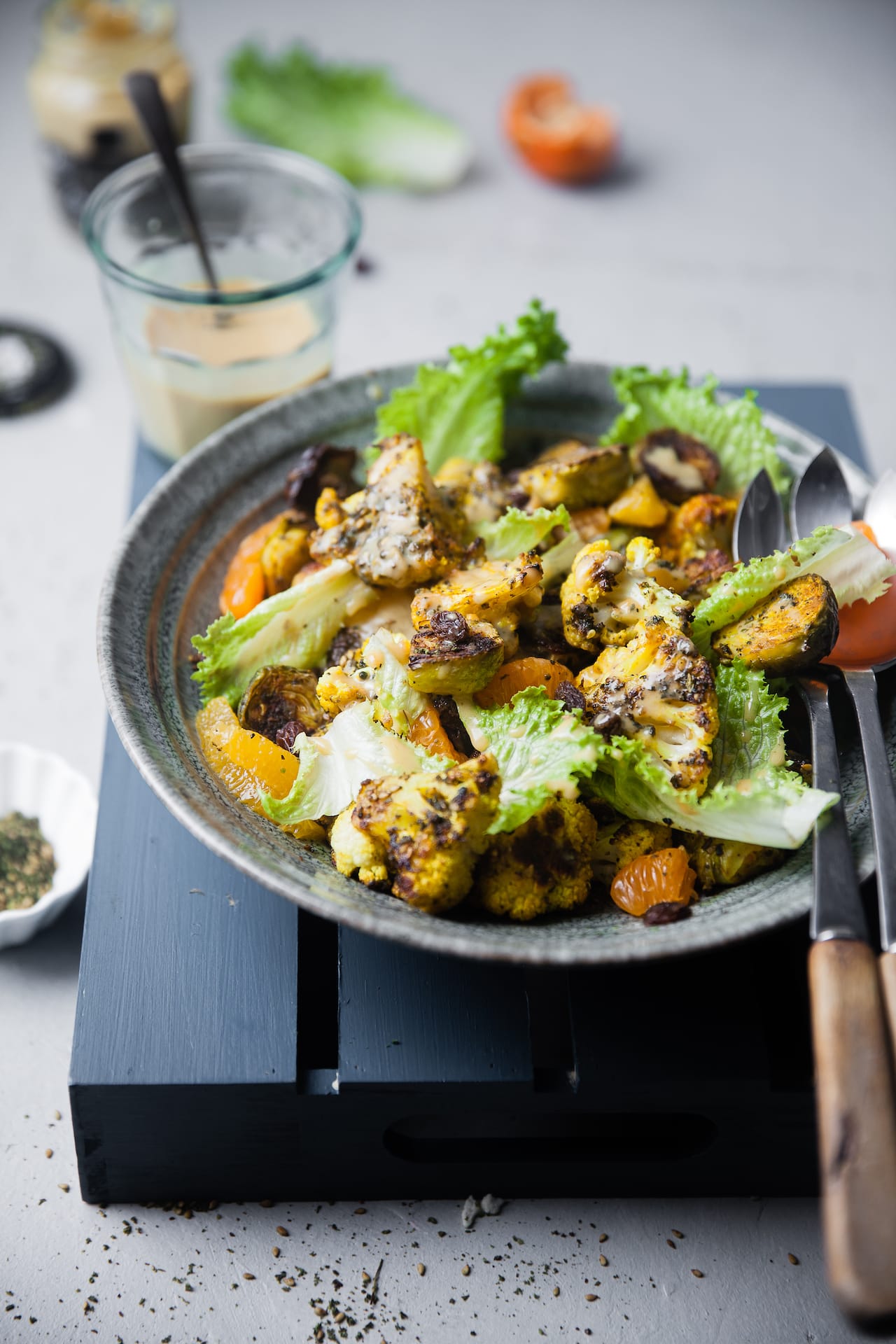 It's a great side dish paired with grilled meat and chicken! I could easily eat an entire plate of the salad for lunch or dinner, but with some grilled meat it's more filling. It's crunchy, with lots of texture, and the flavor is just delicious.
Zaatar Roasted Cauliflower Brussel Sprouts with Maple Mustard Dressing
Ingredients
1

cauliflower head

12

oz

Brussels sprouts

2

tablespoons

oil

2

tablespoons

zaatar spice mix

1

teaspoon

turmeric powder

1

teaspoon

salt

¼

cup

raisins

few lettuce leaves
for the dressing
¼

cup

fresh orange juice

¼

cup

maille original mustard sauce

2

tablespoons

maple syrup

½

teaspoon

salt
Instructions
Preheat the oven to 400 F

Cut the cauliflower florets into bite size pieces. Slice the brussels sprouts in half or quarter. Layer the veggies on a large cookie sheet. Drizzle oil, zaatar spice mix and salt. Give it a massage. Place the cookie sheet in the middle rack of the oven and roast for 35 minutes, tossing once in between.

For the dressing, whisk orange juice, maille original mustard sauce, maple syrup and salt in a glass or a jar.

Once the veggies are roasted, add raisins, lettuce and pour the dressing. Toss it around and serve warm.
Nutrition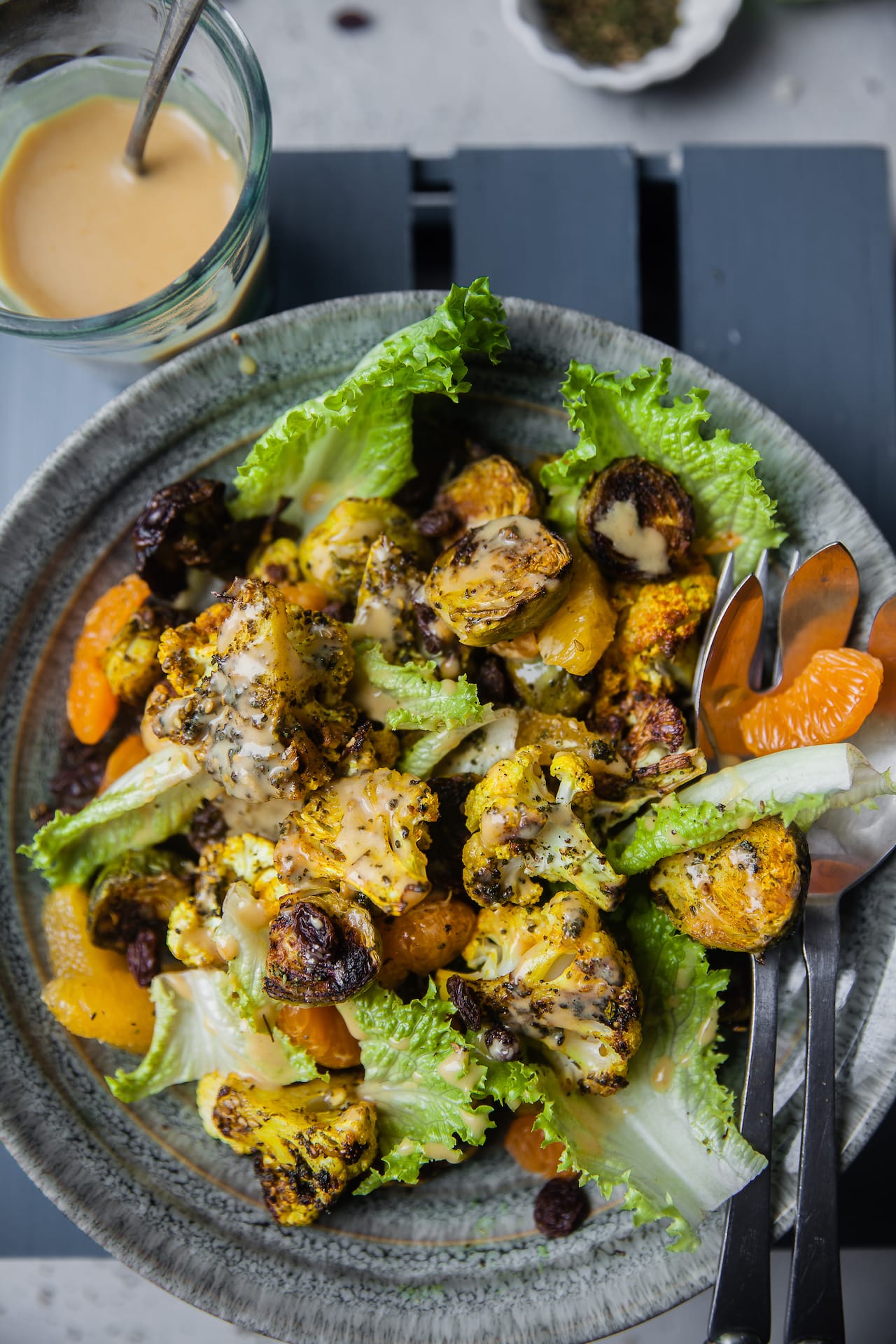 Here are more salad ideas: