A salad such as Panzanella Salad shouldn't resist to norms like day old bread with tomato and vinaigrette. It's a type of salad that can be simple or extravagant with a beautiful medley of fresh seasonal produce. This Fruits and Cold Cut Panzanella Salad is like summer on a bowl with interesting mix of textures from different fruits and red wine vinaigrette. You can adjust the ingredients of the Panzanella Salad based on your taste buds and diet.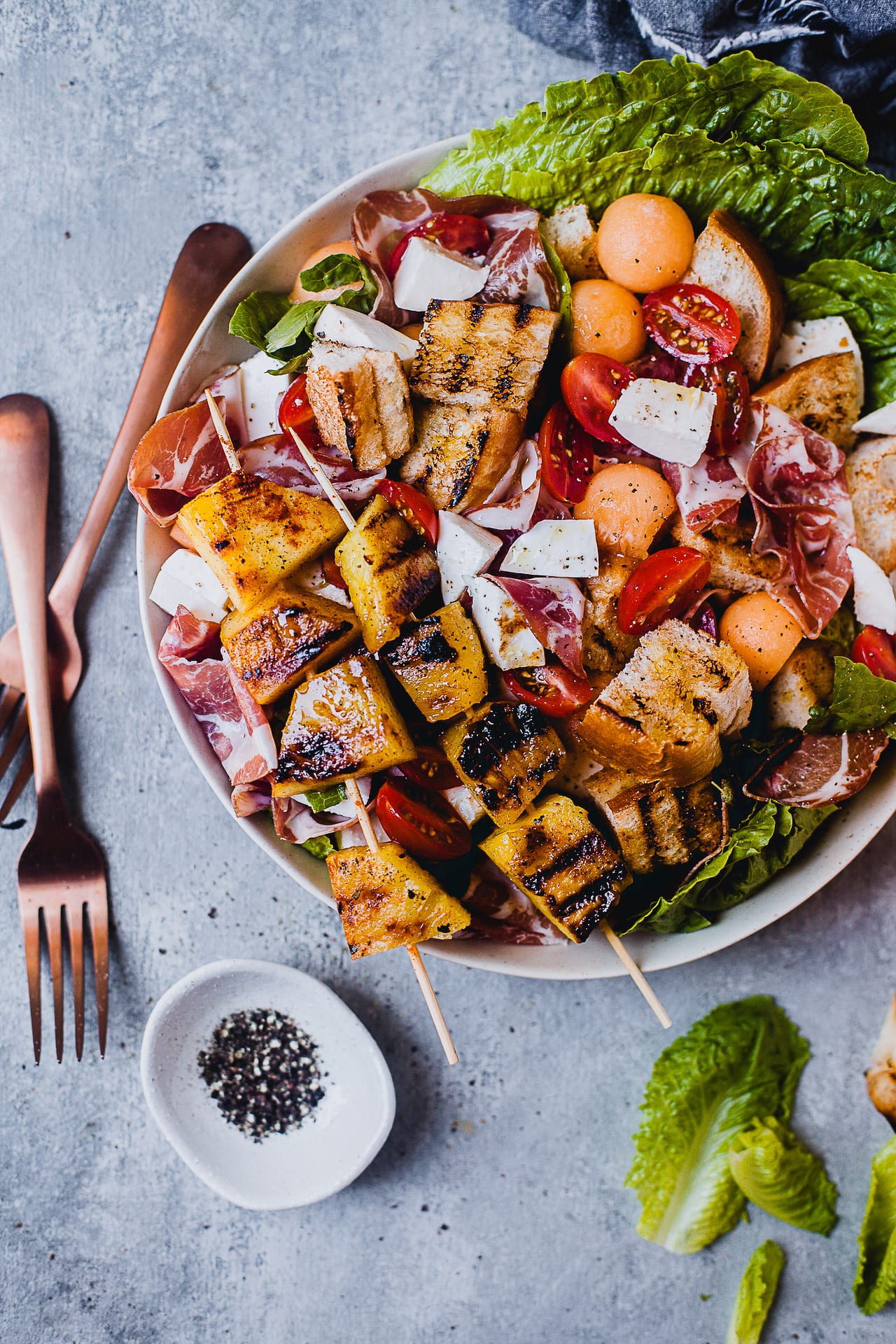 In our house, when bread gets old, we often prepare a quick stir-fried dish with chunks of bread, onion, tomato and few warm spices. We call it bread kachumbar, a dish I am yet to share out here. Panzanella Salad is something that I tried for the first time and I am seriously hooked. It's easy to make and I absolute loved the entire flavor blend that went in.
What Ingredients are added in this Panzanella Salad
Pineapples cut in bite size. I grilled the pineapples because it brings out the sweetness.
Scooped out Muskmelon balls
Cherry tomatoes, sliced in half
romaine lettuce
assorted cold cut meats
fresh mozzarella cheese
thick slices of artisan bread
Red Wine Vinaigrette for the Salad
The dressing is very simple red wine vinaigrette. It's tangy, tad bit savory with a hint of sweetness. It just got the salad together so beautifully that there were no leftovers in the bowl. This summer salad is so good that you will make it on repeat.
A typical Panzanella Salad incorporates juicy tomatoes as the juice helps to break down the crusty bread. In this salad, the majority of the flavorful juice comes from the grilled pineapple and fresh melon. The cherry tomatoes and lettuce add a lovely refreshing crunch and to balance that, there is fresh mozzarella cheese. As for the bread, I had to grill it because seriously, nothing can beat that. It also means that you don't have to wait for the bread to get stale and dried out!
Just go with whatever fruits you have, peaches or nectarines. Add kale instead of lettuce. Go with leftover roast chicken if cold cut is not your thing. I like to leave a few slices of bread as is so that I could dunk them in the juice at the bottom of the bowl.
More salad ideas for you:
Fruit Cold Cut Panzanella Salad
Ingredients
For the vinaigrette

¼

cup

red wine vinegar

¼

cup

extra virgin olive oil

1

tablespoon

honey or maple syrup

¼

teaspoon

salt

¼

teaspoon

pepper
for the salad
½

pineapple cut in bit size chunks

½

muskmelon

(balls scooped out or cut into bite size chunks)

½

cup

halved cherry tomatoes

5

big romaine leaves

(cut in bite size chunks)

5 to 6

thick slices of artisan bread

10 to 12

assorted cold cut meat slices

8

oz

mozzarella cheese

(cut into bite size chunks)
Instructions
Prepare the vinaigrette by whisking everything in a bowl. Taste for salt and sweetness and add more, if needed. Keep it aside.

For the salad, start by grilling the pineapples on a hot grill pan at medium high for about 4 minutes on each side. Grill the bread in the same pan. Roughly chop the grilled bread into bite size chunks. Feel free to leave a few slices whole to dunk into the juice from the bottom of the bowl.

Take a big serving bowl and arrange the grilled pineapples, melon balls, cherry tomatoes, romaine leaves, cold cut meat slices, mozzarella cheese and bread chunks. Drizzle the vinaigrette on top and toss it around. I prefer to let the salad sit for 10 minutes before serving.
Nutrition