Dimer Dalna also commonly referred to as Dim Jhol is a very popular weeknight Bengali egg curry. Boiled eggs are fried and then cooked with onion, potatoes, tomatoes in mustard oil with Bengali five spice. The curry barely takes 30 minutes from start to finish, and it's a hearty, comforting meal you will enjoy any day!
Every part of India has their own version of Egg Curry and West Bengal itself has quite a few different varieties, like Dimer Kalia and Egg Omelete Jhol
This Dimer Dalna will still hold a very special place for its simplicity!
Ingredients you need for this Dimer Dalna
Egg - Egg is hard boiled and then lightly fried in oil before adding it to the curry or jhol.
Potatoes - The addition of potatoes to this Bengali egg curry makes it unique from the rest of the egg curries you will come across in India.
Onion - I like to use finely chopped red onion. Sometimes I have seen my mom making an onion paste in the blender while making the curry. Both works fine.
Tomato - Tomatoes along with onion and spics creates a jammy like texture to the gravy. Just like onion, you can also blend the tomato.
Ginger garlic and Chili paste - Bengali dishes always uses fresh green chili instead of a lot of chili powder. Fresh green chili adds heat but also a very refreshing flavor.
Spices - Bengali five spice along with bay leaf is used in the beginning of the cooking. And then a spice paste is made with cumin powder, coriander powder, chili powder, fennel powder (not common, but I like to use) and turmeric. Mixing the spice powder with water helps the spices to cook better and avoid it from getting burnt.
Mustard oil - Cooking in mustard oil will create a pungent flavor to the dish which is yet again unique when compared to the rest of egg curries you might come across from different regions in India.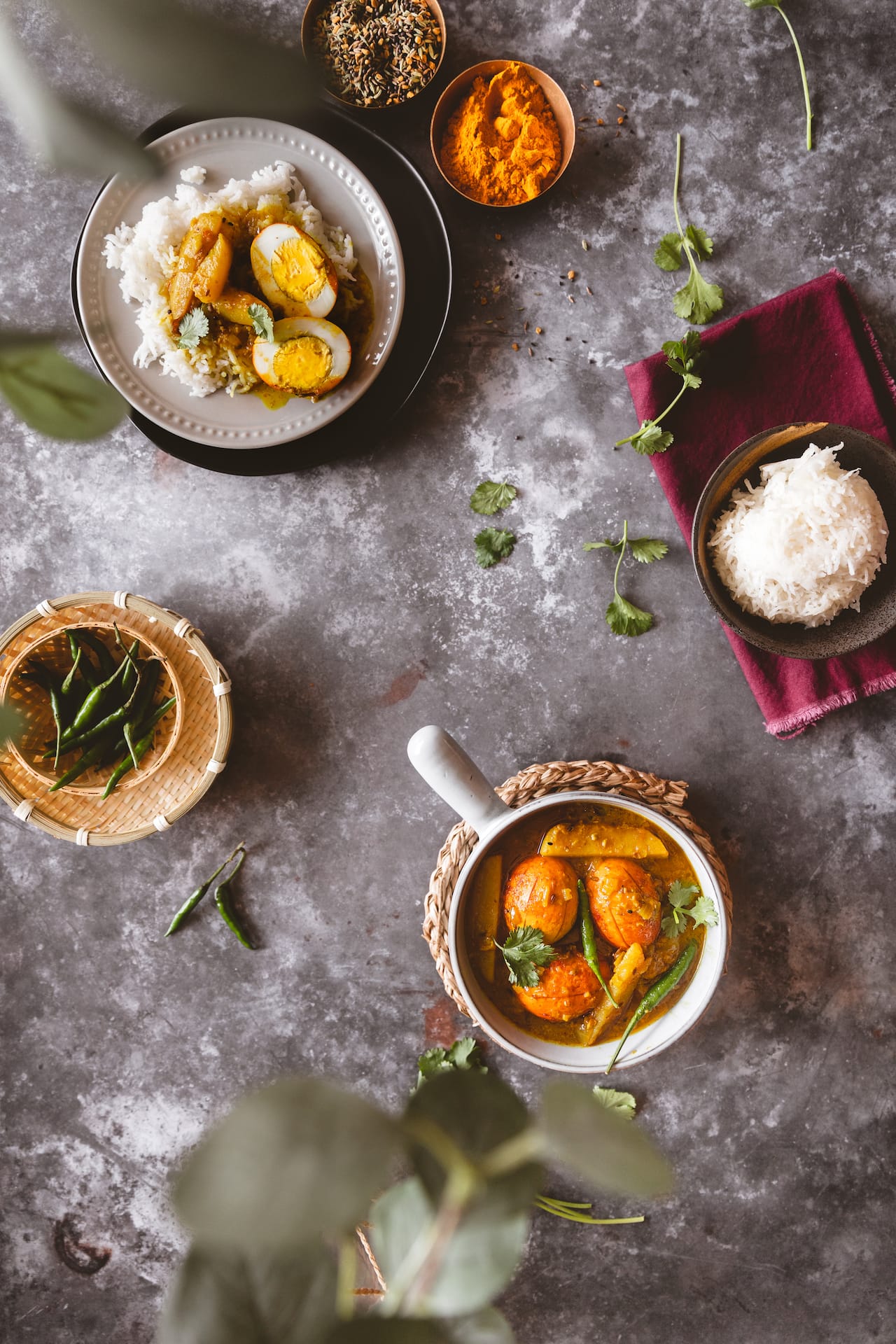 Full Proof method to hard boil eggs and peel perfectly for this Dimer Dalna!
I have been following this method for several years now and it works wonderfully.
Drop the eggs in cold water and bring the water to a full boil. Then, switch off the gas and cover the pan for 12 minutes.
Take ice water or cold tap water in a bowl and drop the boiled eggs. Crack the eggs and place it back in the bowl for a few seconds. The water slips in and releases the shell from the egg, making it very easy to peel.
For Dimer Dalna, boiled eggs are fried before adding to the gravy. Don't fry more than 1 minute, as it would change the texture of the egg, making it hard and rubbery.
Steps to prepare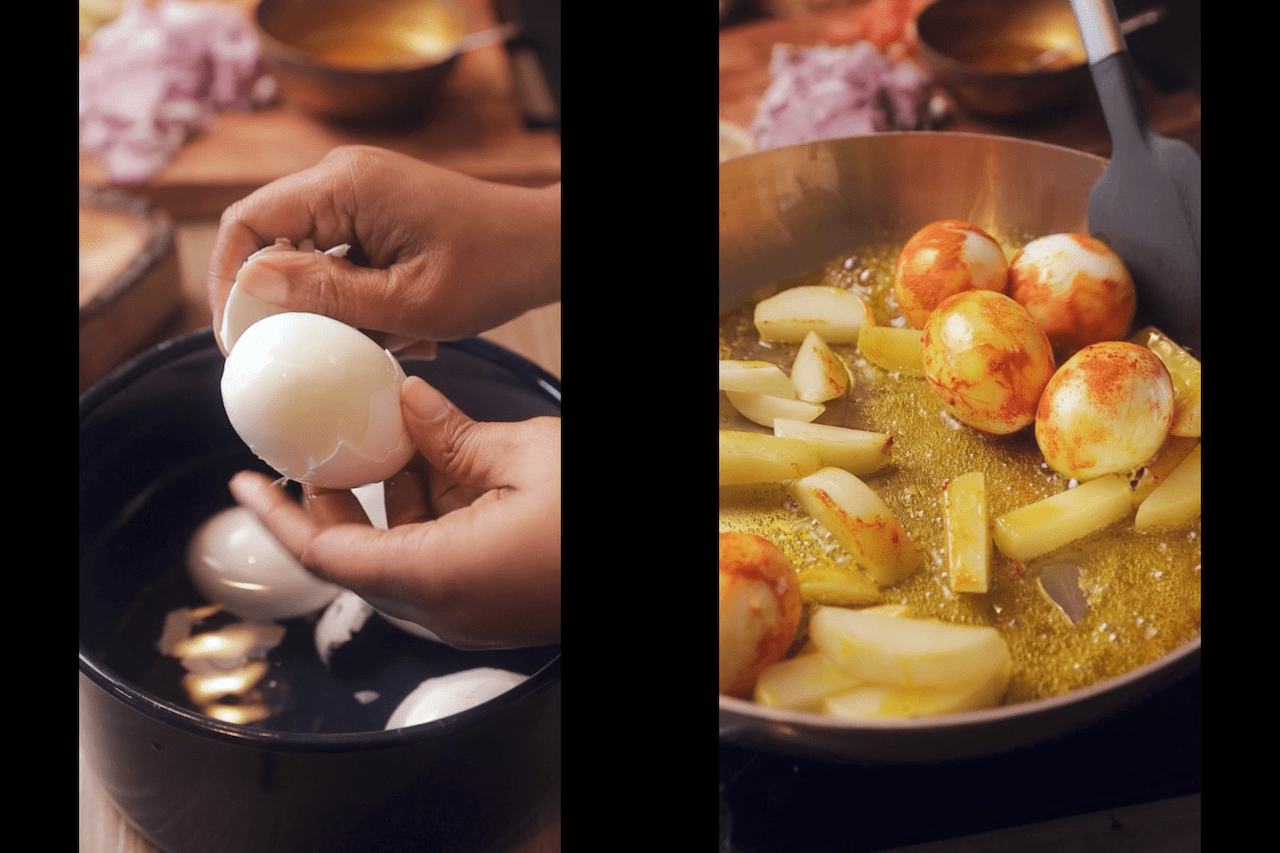 Boil the eggs following the steps I mentioned earlier. Slice the boiled eggs and marinate it slightly with turmeric powder and chili powder.
Heat a heavy bottom pan with mustard oil and then fry the sliced potatoes along with the boiled eggs. Fry for a while and then take it off the pan.
3. To the same pan, add the bay leaves and Bengali five spice. Also add the garlic, ginger and green chili paste. Sauté for a while.
4. Add the onion and season with salt. Cook the onion until softened a little.
5. In a bowl, add the spice powder and some water. Then mix it to make a spice paste.
6. Once the onions are cooked, add the tomato and cook for a while along with the spice paste.
7. Cook the onion, tomato along with the spices until it softens and looks jammy.
8. Add the fried potatoes and egg along with water. Bring the water to boil and then simmer for a while. Add a couple of fresh green chili for extra heat as you simmer the curry.
The Bengali egg curry tastes best with steamed white rice. Enjoy it warm and every bite will feel so satisfying.
Here are a few other Egg Curries you will love to try!
Dimer Kalia – Sweet Savory Bengali Egg Curry
Dim Shorshe (Creamy Mustard Egg Curry)
FAQs
How is this egg curry different from others?
Dim Jhol or Bengali Egg Curry is prepared in mustard oil, with Bengali five spice which adds a lovely pungent aroma to the dish. Also, the dish uses potatoes which are not typically used in other egg curries
The curry sounds tasty, but can I use any vegetables instead?
Absolutely! Try the same curry by using big florets of cauliflower. It will taste very good.
What can be used instead of Bengali five spice?
Bengali five spice is a blend of few common whole spices that you can mix and make at home. But if you absolutely cannot find it, you can use just cumin seeds too.
Bengali Egg Curry (Dimer Dalna)
Dimer Dalna is an easy 30 minutes Bengali Egg Curry prepared with boiled eggs that are fried and then cooked with onion, potatoes, tomatoes in mustard oil and bengali five spice.
Ingredients
1

large potato

1

red onion

1

tomato

6

hard-boiled eggs

½

inch

Fresh ginger

3

garlic cloves

2

Green Chili

1

tablespoon

Bengali Five Spice

salt to taste

3

tablespoon

Mustard oil
Spice Paste
½

teaspoon

Turmeric powder

½

teaspoon

kashmiri chili powder

½

teaspoon

cumin powder

½

teaspoon

coriander powder

½

teaspoon

fennel powder
Instructions
Boil the eggs and peel it. Then make multiple scores all around and leave it in a bowl marinated with very little turmeric, salt and chili powder

Finely dice the onion. Peel and dice the potato into thin wedges. Roughly chop the tomato

Pound the garlic and ginger with green chili.

In a bowl mix cumin powder, chili powder, turmeric powder, coriander powder and fennel powder with 2 tablespoons water.

Place a pan at medium heat and pour the oil. Drop the potatoes along with the eggs and fry for 2 to 3 minutes, tossing it around. Then take it off once done.

To the same pan, add the bay leaves, Bengali five spice and ginger garlic chili paste. Toss it around for 1 minute.

Scatter the onion, season with salt and cook for 2 minutes to soften the onion.

Scatter the tomato and mix it around. Pour the spice paste and cook for 5 minutes by tossing occasionally.

Add the fried potato and egg and pour the water. Bring the water to full boil and then low the heat and let it simmer for 5 minutes. Taste for salt and add more if needed.

Serve Dim Jhol warm with rice or bread.
Nutrition
Serving:
4
people
Calories:
319
kcal
Carbohydrates:
10
g
Protein:
14
g
Fat:
25
g
Saturated Fat:
5
g
Polyunsaturated Fat:
4
g
Monounsaturated Fat:
12
g
Cholesterol:
373
mg
Sodium:
229
mg
Potassium:
318
mg
Fiber:
3
g
Sugar:
5
g
Vitamin A:
867
IU
Vitamin C:
13
mg
Calcium:
78
mg
Iron:
2
mg