I was singing to our baby 'humpty dumpty sat on a wall…' and Arvind goes "papa grabbed it fast enough, so it doesn't fall …" Eh!! I looked at him with an exclamation mark hovering up my head. He as usual smiled, gave few eye gestures and ultimately gave up. 'Egg curry for lunch?" he said, "Ohhh now I get it…" What can I say guys; I can be really dumb at times. We laughed out loud and our baby stared at us in utter shock! His big eyes turned bigger, mouth wide open; two tiny baby teeth in lower jaw are clearly visible now. He threw a big smile. Super cute, I tell ya! Who wants to spend time in the kitchen now? But hungry we were and egg curry is my any day go-to dish. And since papa saved the egg, I better get it in boiling water before it sits on the wall again.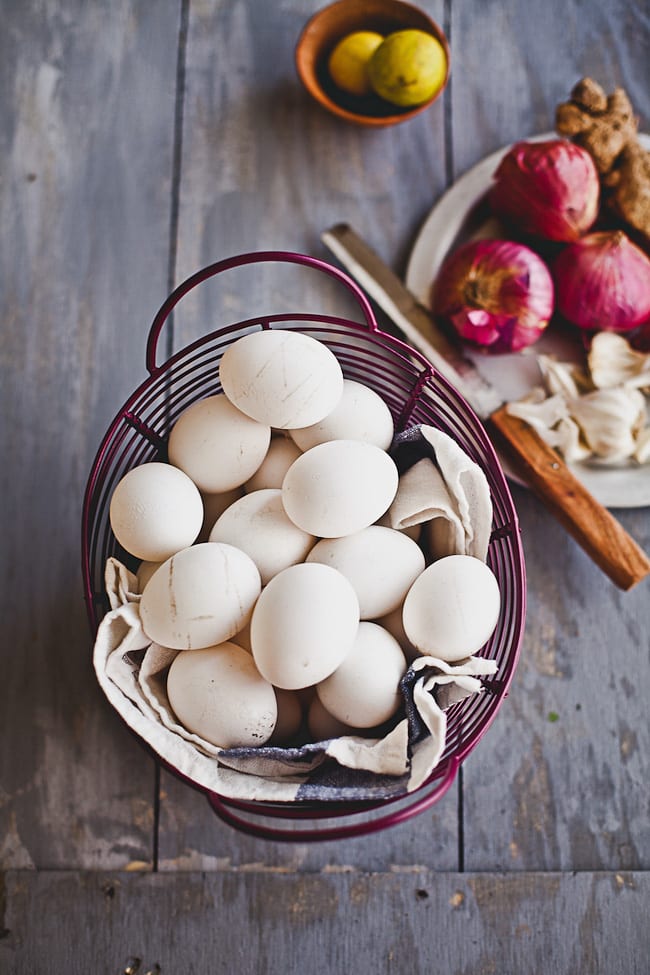 I might have stated this numerous times in the past and here I say it again, Egg is my favorite thing to eat. It's my daily source of protein. Except for absolute raw eggs (yes, some do gulp raw eggs, straight up!), I can gobble it in any other form. As much as I love soft-boiled eggs with a sprinkle of salt and freshly cracked pepper in it, an egg curry with heaps of spices brings the same amount of joy in my mouth.
There are countless versions of Egg curries in India. In fact, I myself don't remember how many different ways I have cooked egg curry. When it comes to curry, there are no rules. Just follow your taste buds. Sometimes I like it little dry and other times, I add more water to make runny gravy and serve it with steamed rice. At times, I like it a little bland and other times, filled with spices. Either way, I love it!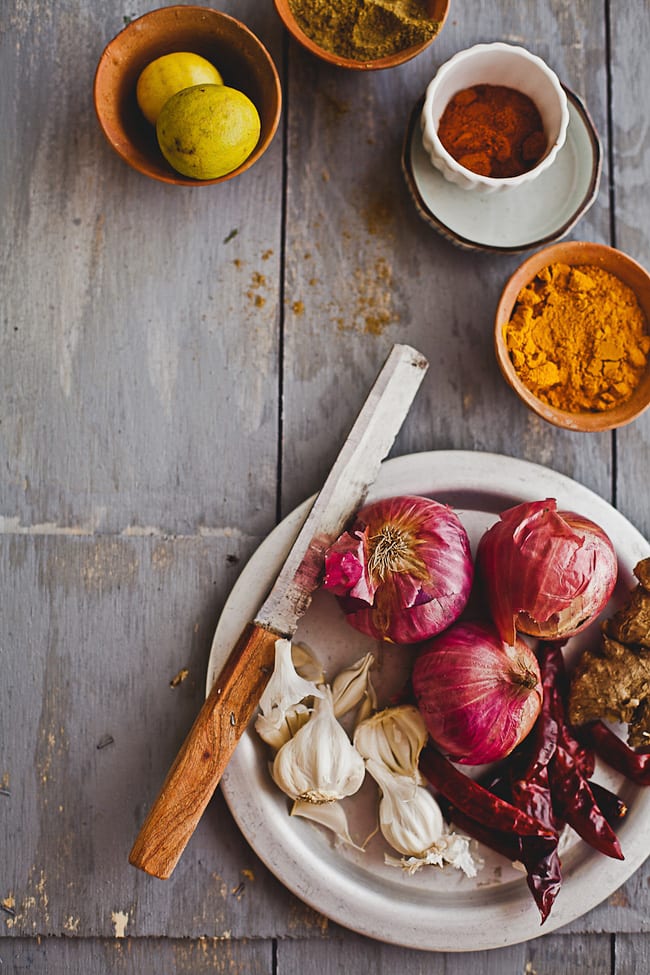 This spicy egg curry is comforting, hearty and so easy to prepare. You can add as much or as little spice you want. Prepared with everyday ingredients, nothing fancy or out of the norm. It's a humble dish.
Spicy Egg Curry
Ingredients
3

boiled eggs

1

medium size potato

(peeled and sliced into bite size)

1

medium size onion

(thinly sliced)

2

medium size tomatoes

(finely chopped)

few cloves of garlic

3 to 4

red chilies

1

green chili

½

inch

fresh ginger

1-

teaspoon

turmeric powder

½

teaspoon

chili powder

1-

teaspoon

cumin powder

½

teaspoon

sugar

1-

teaspoon

coriander powder

1

teaspoon

dry mango powder or 2 teaspoons lemon juice

salt to taste

oil

finely chopped fresh coriander

(for garnish)
Instructions
Use a food processor or mortar-pestle to grind the garlic, ginger, green chili and red chilies to form a rough paste like consistency.

Make around three to four small slits on the boiled eggs using a sharp knife. Rub the eggs with salt, ½ teaspoon of turmeric powder and ½ teaspoon of chili powder.

In a pan, heat 2 tablespoons of oil, drop the eggs and fry it slightly. The skin will mildly crisp up and turn slightly golden in color. This step is optional but by doing so, it adds a nice color to the boiled eggs and the eggs also get seasoned properly. Once done, take them off the pan and keep aside to be used later.

In the same pan, add 1-tablespoon oil and drop the sliced potatoes. Sprinkle little salt and stir. Cover the pan and let the potatoes cook for a few minutes, until the they are tender. Once fried, take it off the pan and keep it aside to be used later.

Now in the same pan, add the garlic, ginger and chili paste. Stir it for a couple of minutes. Add chopped onion, sprinkle salt and cook until it's softened. Then add cumin powder, coriander powder and cook for a few more minutes. Add the chopped tomatoes, sugar and stir. Cook until the tomatoes are softened. Add dry mango powder or lemon juice. Taste for salt and add any, if required. Finally, add ½ cup water, drop the fried potatoes, boiled eggs and let it simmer for about 5 minutes.

Once done, taste for salt and finally, add the freshly chopped coriander. Give it a final stir and serve warm!
Nutrition