Last week was one of those crazy weeks which flew by even before I could realize! And that's good, because it was a happy busy week that I would love to re-live any time. The week, where catching up with friends was more fun than catching up with emails, enjoying the season and getting soaked up in the sun was more exciting than staying cozy at home with a book.
There were long drives, seeing new places, walking in the sun, running on the beach, eating out and of-course shopping. It was exhausting but exhilarating!
When I left Bangalore and came to US, there was one thing I was prepared to miss the most; my girlfriends. Hanging out in the coffee shop, shoe shopping after work, staying up late and talking about things that never mattered to anyone but us and laughing out loud on those silly jokes. I miss those moments, miss all of them!
Girlfriends can never be substituted or replaced but new girlfriends can be made anywhere and anytime. When I met these lovely bloggers(Rose, Vijji and Prerna) for the first time, I was not sure what to expect! I loved their work and admired them but little did I know that someday, they would become my friends. Friends I would love to hang out with, love to cook for and love to visit any day.
Last week, my new girlfriends and I took a trip to San Francisco, visited the ferry building and the farmer's market. The whole day was all about eating, chatting, laughing, walking around with strollers, kids, cameras and capturing moments non-stop. It was a fun day out, one of a kind, which we decided to repeat more often.
On our way back home, I bought these gorgeous baby carrots. Tender, soft and so pretty! Veggies this fresh should be eaten raw or roasted, to bring out the sweetness and flavor and that is exactly what I did. I made some garlic pasta to go along with the roasted carrots which paired beautifully.
It was lovely and light spring meal on a warm night.
Roasted Baby Carrots with Garlic Spaghetti
Ingredients
for the roasted carrots
bunch of baby carrots
salt
pepper
extra virgin olive oil, to drizzle on the carrots
for the garlic sauce
3 cloves garlic
3 tablespoons extra virgin olive oil
juice of half lemon
1 teaspoon chili flakes
salt
pepper
few more ingredients
1/2 pound spaghetti, I used whole wheat
1/4 cup grated parmesan cheese
few cilantro leaves, for garnish
Instructions
for the roasted carrots
Layer the carrots in a baking dish and drizzle EVOO on top. Season with some salt, pepper and give it a mix.
Roast it at 350F for about 15 minutes.
for the pasta
Boil enough water in a big saucepan, season with salt and drop the spaghetti.
Let it cook for about 8 minutes.
In the meantime, prepare the sauce.
In a small pan, heat oil and drop the garlic cloves. Let it cook for about 2 minutes until the garlic is soft enough and the oil gets infused with garlic. Discard the garlic cloves.
Let the oil cool down to room temperature.
Now, add lemon juice, salt, pepper and chili flakes. Give it a mix.
Add 2 tablespoons of the pasta water, parmesan cheese and give it another mix.
Once the pasta is cooked, drain the water and pour it a serving bowl.
Pour the sauce and mix it up nicely. If required, add a little bit more EVOO.
Garnish with cilantro leaves and serve with the roasted carrots.
Notes
If you enjoy garlic like I do, you can mash the garlic cloves after they're soft and add it to the sauce. Roasting time of the carrots will differ depending on the kind and size of carrots that you are using. Any other kind of pasta can also be used in this dish.
Check out what Prerna, Rose and Vijjita had to share about the fun day out!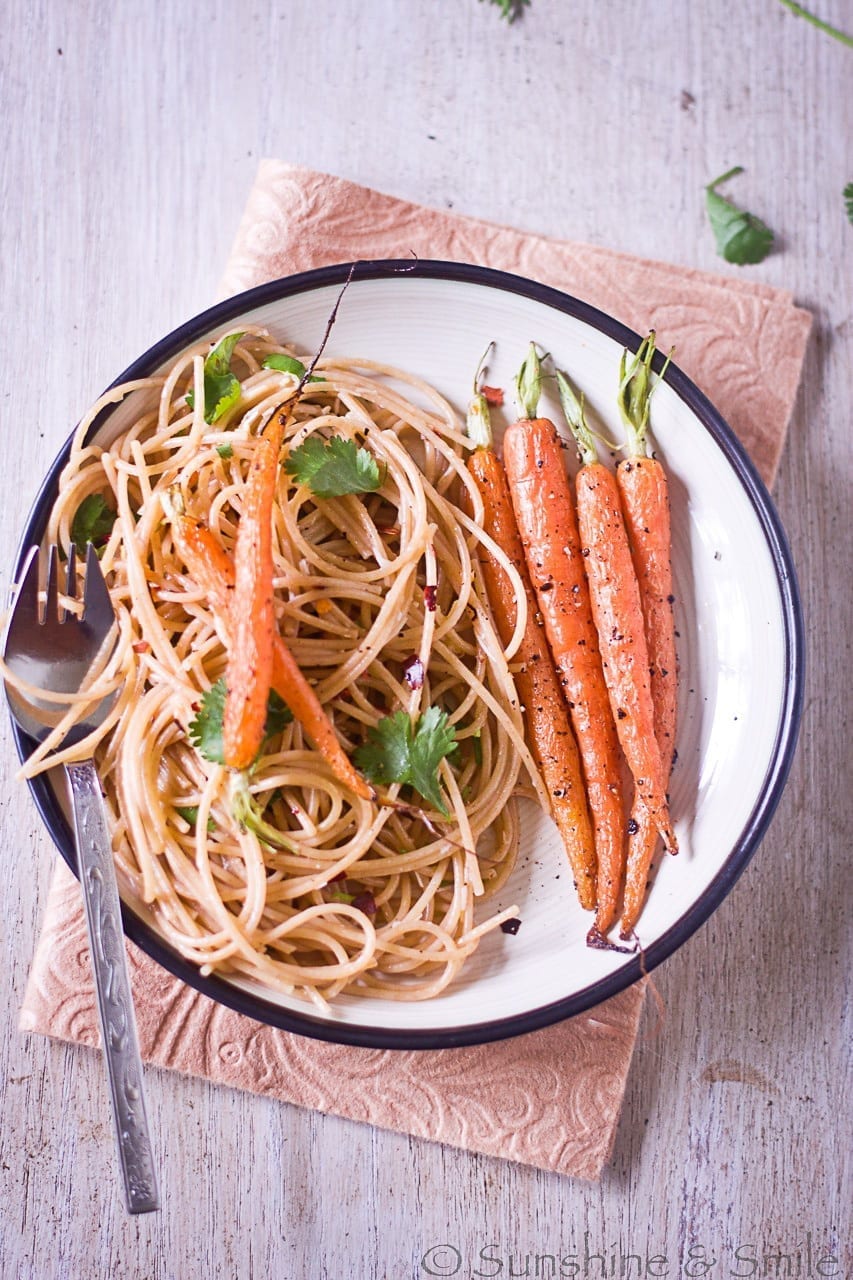 Did you enjoy this Day out in the city and Roasted Carrots with Garlic Spaghetti? Share your creation by tagging
@playfulcooking
on Instagram with the #playfulcooking and I will re-share in my story!