Satisfy your pasta desire with this creamy yet light, guilt-free, Spaghetti With Kale And Ricotta. It's a complete weeknight meal which gets prepared in less than 15 minutes. We eat spaghetti quite often and we mostly prefer it light. So, this kale and ricotta spaghetti left us completely sated, quite effortlessly.
We both have always been fond of greens. I am not talking about salad here. We mostly like it stir fried with bite size potatoes, cooked with lentils, mixed with fried rice, cooked with meat or stuffed paratha. So, as you can see, we relish greens quite a bit. If there was one green that took a long time to settle in our daily diet, it's kale! Don't ask me why but it used to taste a little too bitter to me and I don't like anything bitter. Hence after a couple of attempts, I gave it up and got convinced that this particular super food is not meant for me. That was about three years back.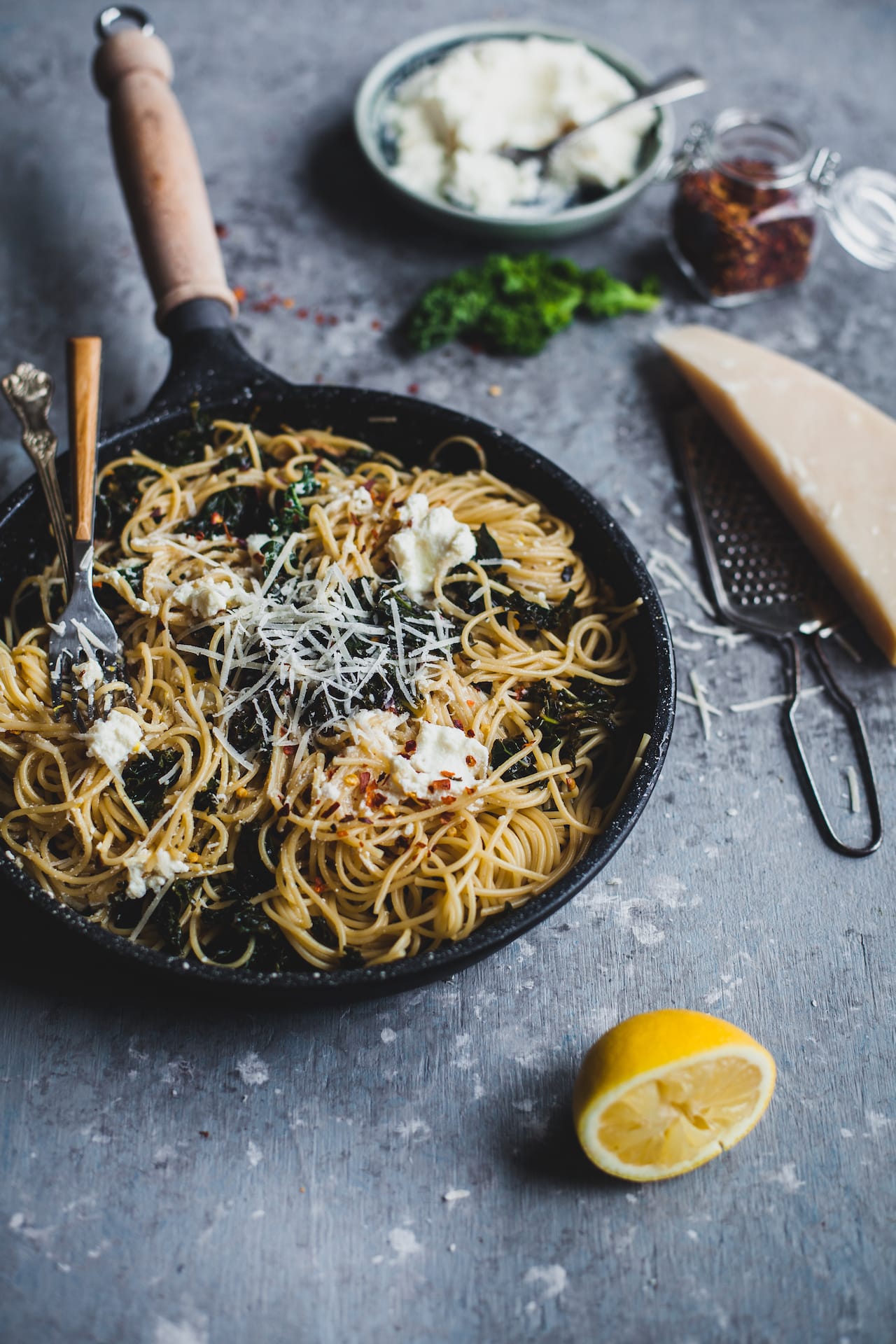 Couple of months back, I gave kale yet another shot. I started with a dip and it tasted super good. Well, the dip had a lot of cheese in it. Then, I thought of adding kale to daal, and it tasted very heartening. I didn't even find it bitter! Finally, I made this spaghetti. You could blend the kale or chop it more finely. I left it chunky and I loved the texture. Few spoonful of ricotta made it creamy without making it too saucy.
So finally, Kale, the super food is settled in our daily diet. And I am even going to add it in smoothies. Yay me!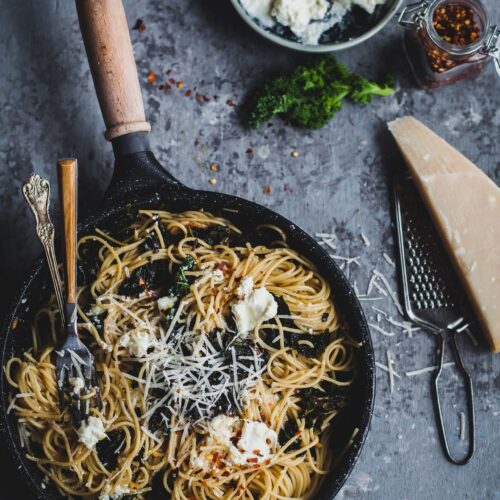 Spaghetti with kale and ricotta
Ingredients
8

oz.

spaghetti

1

bunch

(about ½ pound kale, chopped to bite size)

2

tablespoons

olive oil

4

garlic cloves

(finely chopped)

1

teaspoon

chili flakes

zest and juice on 1 lemon

1

cup

ricotta cheese

parmesan cheese

salt
Instructions
In a big pot, add enough water to boil the spaghetti. While the spaghetti gets boiled, which should take about 8 minutes, prepare rest of the dish.

In a pan, pour oil. Then, drop the garlic and chili flakes. As the oil heats up, it gets infused with garlic and chili.

After the garlic starts to get golden in color, drop the kale and give it a mix. Sprinkle salt and allow it cook for a few minutes. Add ¼ cup of pasta water, lemon zest and juice. Allow it to cook for a couple more minutes.

Once the spaghetti is cooked, save ¼ cup of pasta water and drain the pasta. Drop it into the pan. Give it a mix and switch off the heat. Add ricotta cheese and give it another mix. At this point, if you want it saucy, add the remaining ¼ cup of pasta water.
Nutrition