Ghee to Indians is what Olive Oil is to Italians. Nearly all of us are obsessed over it and always have a jar ready, mostly homemade and occasionally, store bought. We like it with both savory and sweet. Spread it on a roti (Indian flat bread), drizzle on the dal (Indian lentil soup), cook rice or curry with it or add it in the dessert. As a kid, I used to help Mom make ghee and her approach was quite an extensive one. It would take days of preparation by collecting fresh cream after boiling full fat milk every morning. The fresh cream would then be churned to make fresh butter and finally, simmer the fresh butter until the solid separates at the bottom and you have the most beautiful liquid gold. I was always more interested in the brown solid that sits at the bottom of the pan. Several times, I burnt my tongue because I just couldn't wait for it to cool down. The flavor of ghee always makes me hungry and as a kid, when nothing in the menu suited my taste bud, Mom would drizzle a spoon full of hot ghee on my rice and I would happily finish the meal.
After Avyan started with solid food, I started making ghee at home but with a much fuss-free method. Clearly, I am not as patient as my Mom. I just buy enormous amount of good quality unsalted butter and simmer it to make ghee. Even after taking the short cut route, the flavor is always much better than the store bought ones! And Avyan too seems to enjoy ghee. Ayurveda says ghee is healthy fat. I am not debating on that but I can assure you that a tiny spoon of good quality ghee can elevate a dish to a whole new level.
There are a lot of ghee-flavored dishes that I absolutely relish and few months back, I tasted chicken ghee roast for the first time. It was spicy, sizzling red in color, the flavor was robust and the taste was so good! I might have gobbled a little more than I should. As a food enthusiast, it's not easy to forget such flavor or wait for the next trip to the restaurant. Instead, we try to create our own version at home.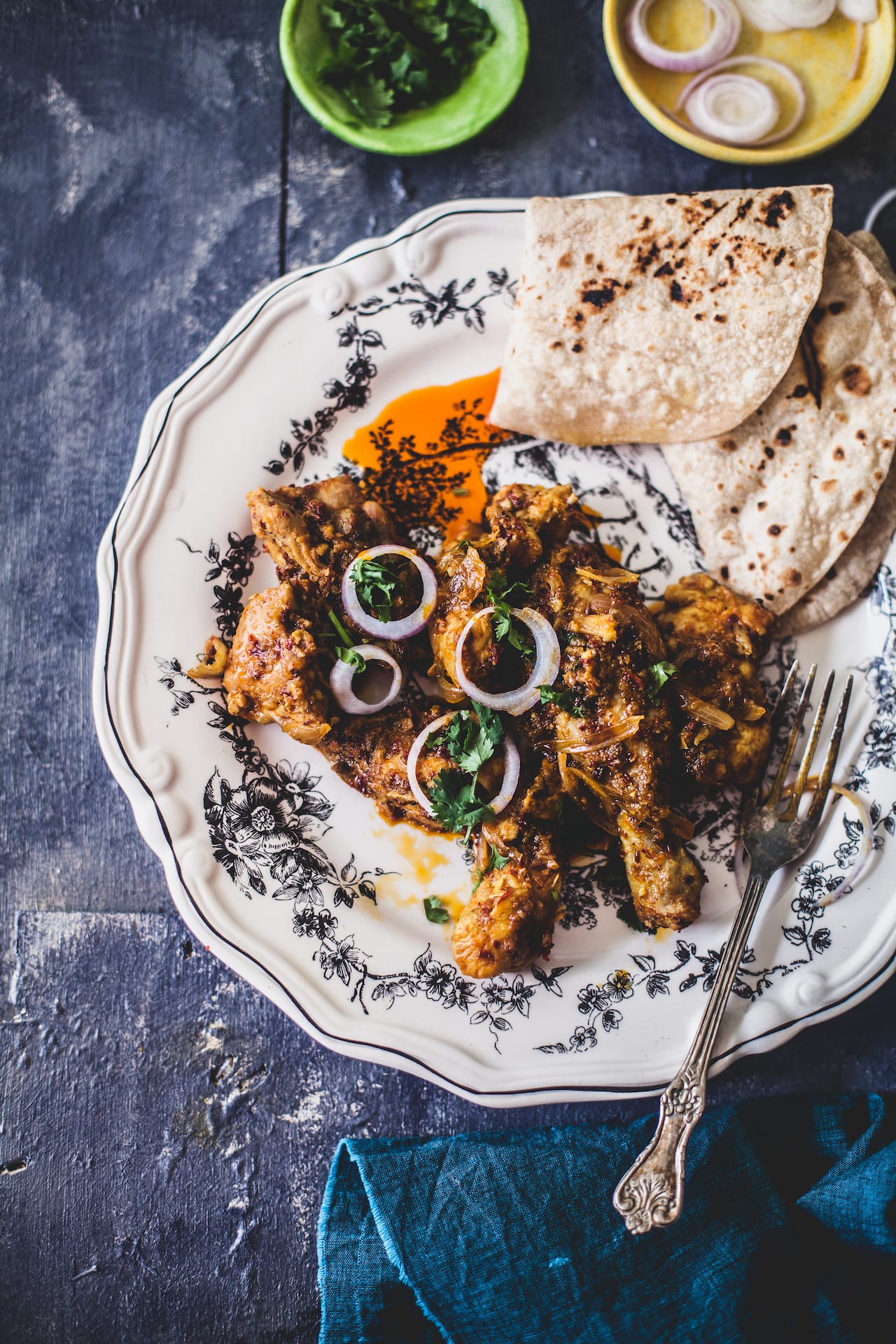 Chicken ghee roast is an excellent aromatic rich dish. It's not typically roasted in the oven instead slow cooked with spices until tender. The key for that amazing flavor is to not go stingy with the amount of ghee you use. No adding oil, just good quality ghee! With some plain chapatti or dosa on the side, you will lick the plate clean. In the restaurant, we had it with appam, which I think was a great combination.
Chicken Ghee Roast
Ingredients
500 gram chicken pieces
2 teaspoons cumin seeds
2 teaspoons coriander seeds
4 Kashmiri dry chilies
4 garlic cloves
1 inch ginger
1/2 cup yogurt
1/2 cup ghee
1 red onion, finely chopped
1 cinnamon stick
3 cloves
1/2 teaspoon turmeric powder
1 teaspoon chili powder
1 teaspoon freshly cracked peppercorn
salt
1 lemon
fresh cilantro leaves, finely chopped for garnish
Instructions
Dry roast half of the whole spices (cumin seeds, coriander seeds and Kashmiri dry chilies). Once cooled, grind it to a powder.
Marinate the chicken with the spice powder, salt, pepper and yogurt. Let it rest for at least 4 hours or overnight, for the best result.
Now grind remaining half of the spices (cumin seeds, coriander and Kashmiri dry red chilies) along with garlic and ginger to a thick paste. Add little water, if required.
In a heavy bottom saucepan, heat ghee. Scatter the cloves along with cinnamon stick. Next, toss the chopped onion; sprinkle salt, turmeric powder and cook until it's softened. Then, pour the spice paste and cook for a couple of minutes. Transfer the marinated chicken to the pan and give a mix. Cover the pan and let it simmer for about 20 minutes. Toss once in between and add chili powder. As there is yogurt in the marinade, you might not need any water but do sprinkle a little, if it gets too dry or starts sticking at the bottom of the pan. Once the chicken is cooked through, check for taste and add extra salt, if required. Squeeze the lemon juice and give it a mix. Scatter the cilantro leaves for garnish and serve warm with your choice of bread.
Notes
Kashmiri dry red chilies mainly add the fiery red color. It doesn't add a lot of heat.
Traditionally, tamarind paste is also used for the tanginess. Since there was yogurt and lemon juice, I didn't felt the need of adding tamarind paste and avoided it.
I like to serve it semi-dry but if you wish to make it like a stew, add more water to it.
Did you enjoy this Chicken Ghee Roast? Share your creation by tagging
@playfulcooking
on Instagram with the #playfulcooking and I will re-share in my story!