Mangalore famous Chicken Ghee Roast, packed with earthy spices and cooked in homemade ghee. It's warm, finger licking good and very easy to make. It is a one-pot chicken curry that you can try even on busy weekdays!
The key flavor of the Chicken Ghee roast comes from spice paste that you make by roasting a few whole spices. Curry leaves adds a very refreshing flavor and cooking in ghee adds that rich aromatic taste to the dish and the beautiful aroma of ghee.
I prefer to make the dish with homemade ghee, but you can definitely use store bought too.
Ingredients you need:
Chicken - I used a mix of bone and boneless chicken. You can also make it vegetarian by making the same dish with cauliflower florets, paneer or tofu.
Onion - You need thinly sliced onion, preferably red onion.
Garlic Ginger and Tamarind - You make a paste with fresh garlic, fresh ginger, tamarind paste and water. Avoid using store bought ginger garlic paste as the best flavor come from fresh ingredients.
Ghee - Well, the dish is called Chicken Ghee Roast, which makes Ghee as one of the key ingredients. I wouldn't recommend using oil as that will definitely change the entire concept of the dish.
Yogurt - Yogurt helps to keep the chicken tender as it slow cooks, and it also creates a lovely balance in taste with the spices. You need a small amount to marinate the chicken.
Spices - You need Coriander Seeds, Fennel Seeds, Cumin Seeds, Black Peppercorn, Cloves, Fenugreek Seeds to make the fresh spice paste for this dish. You want to use whole spices to make the spice paste instead of using the spice powder.
The curry is heavy spiced, but it's not hot, so even kids can enjoy. I personally keep it lighter on heat, as neither I and nor my son can handle too much heat in any dish.
The whole spices used here are earthy and adds a beautiful aroma to the dish.
Kashmiri Red Chili - This chicken dish is known for the gorgeous red hue. Traditionally, South Indians use Byadgi chilli to prepare this dish and if you can find that, definitely go with that. I used Kashmiri red chili as it doesn't add heat, it only adds flavor and the gorgeous red color.
Fresh Curry Leaves - Almost all South Indian dishes has the unique flavor of curry leaves, and without that the dish can feel incomplete. There is no substitute for curry leaves, but if you cannot find, then just discard and add some fresh cilantro leaves at the end.
Steps to prepare Chicken Ghee Roast
The first step is to make the spice paste.
Dry roast Kashmiri red chili for few seconds in medium low heat until you smell the aroma. After dry roasting, the Kashmiri red chili will get crispy. Keep aside once done.
Dry roast rest of the whole spices for few seconds.
3. Blend the roasted Kashmiri Red Chili and the roasted ground spices with little water.
4. Marinate the chicken with the spice paste, yogurt and salt. Leave aside for a minimum of 2 hours. Letting it marinate for overnight in the refrigerator will enhance the flavor.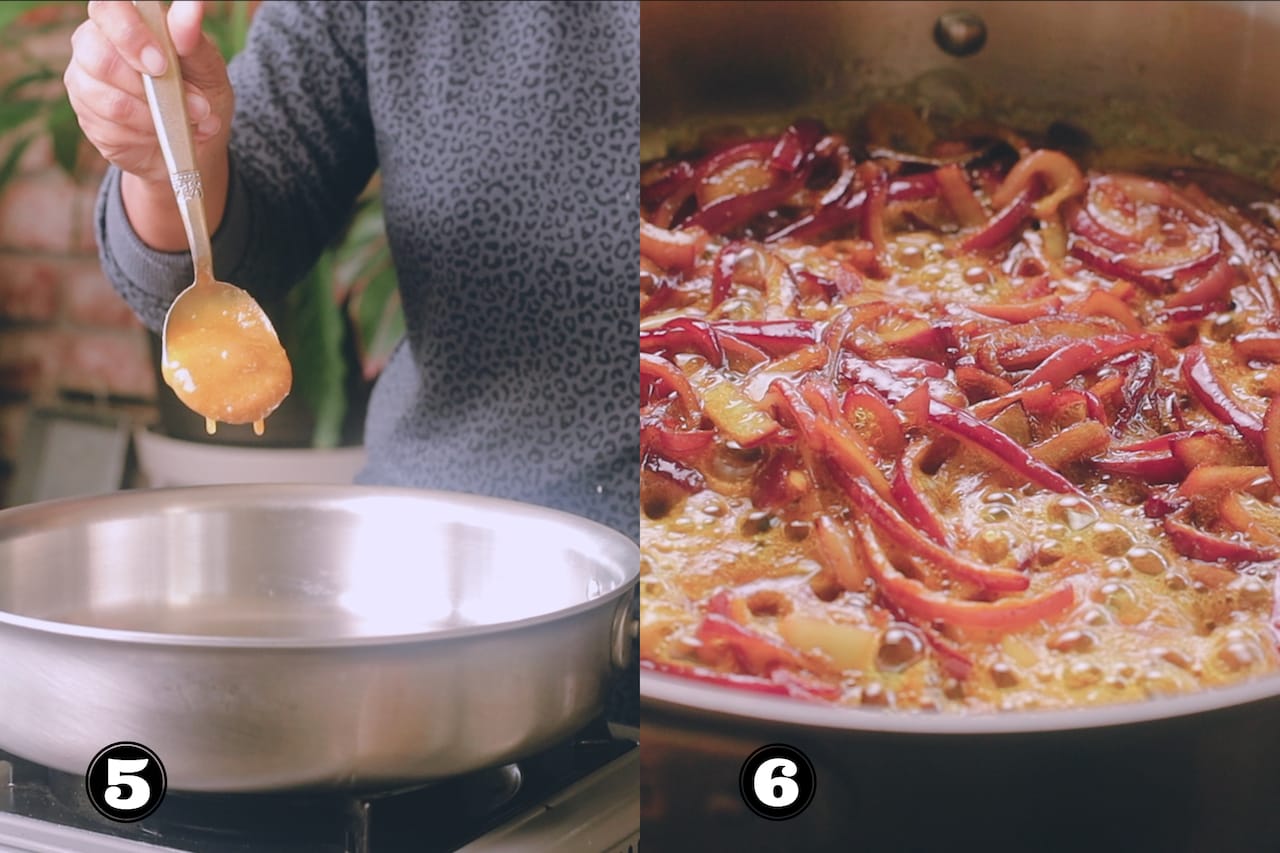 5. Cook the curry in a heavy bottom pan or skillet. Place the pan at medium heat and add ghee.
6. Add sliced onion, season with salt and turmeric, and cook until it's softenes.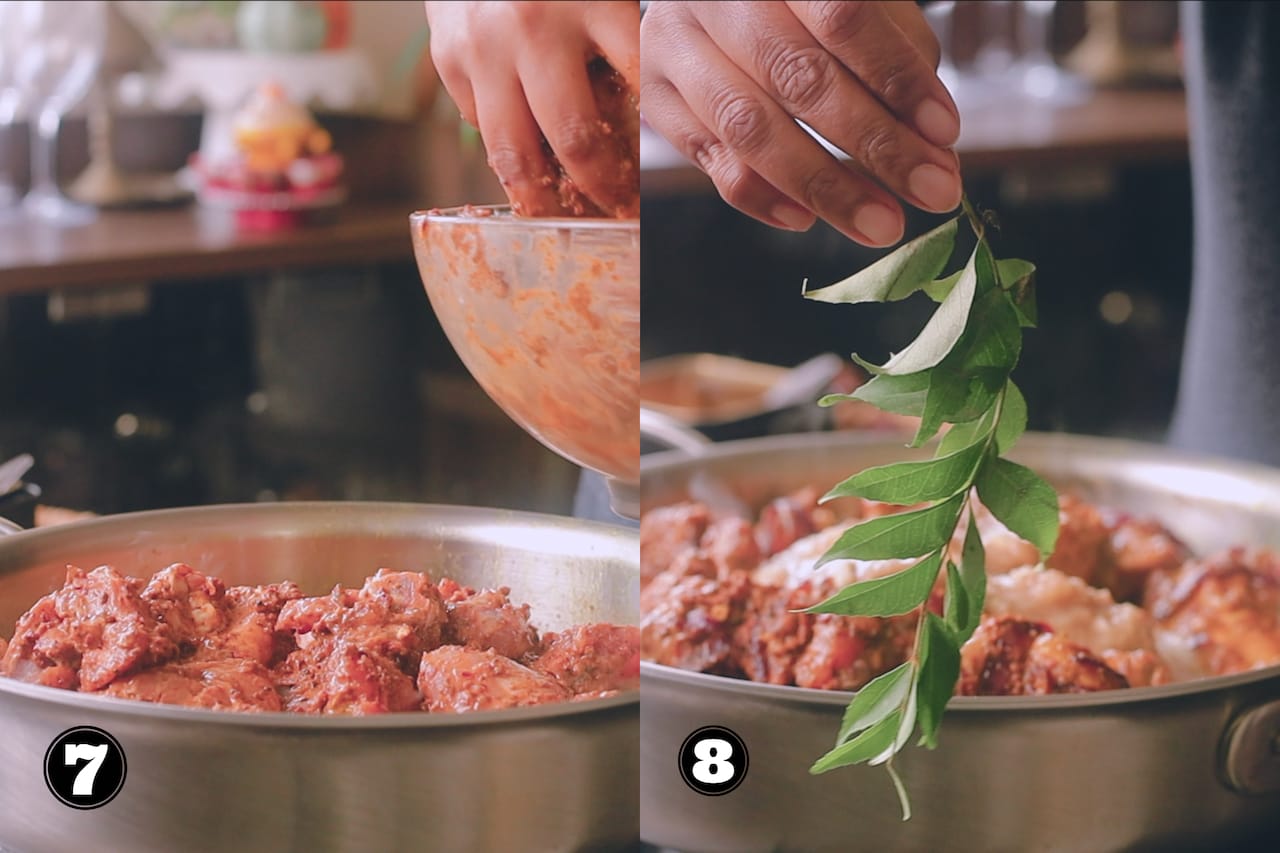 7. Add the marinated chicken and mix it around.
8. Scatter a few fresh curry leaves. I like to add some in the beginning of cooking and a few more at the end.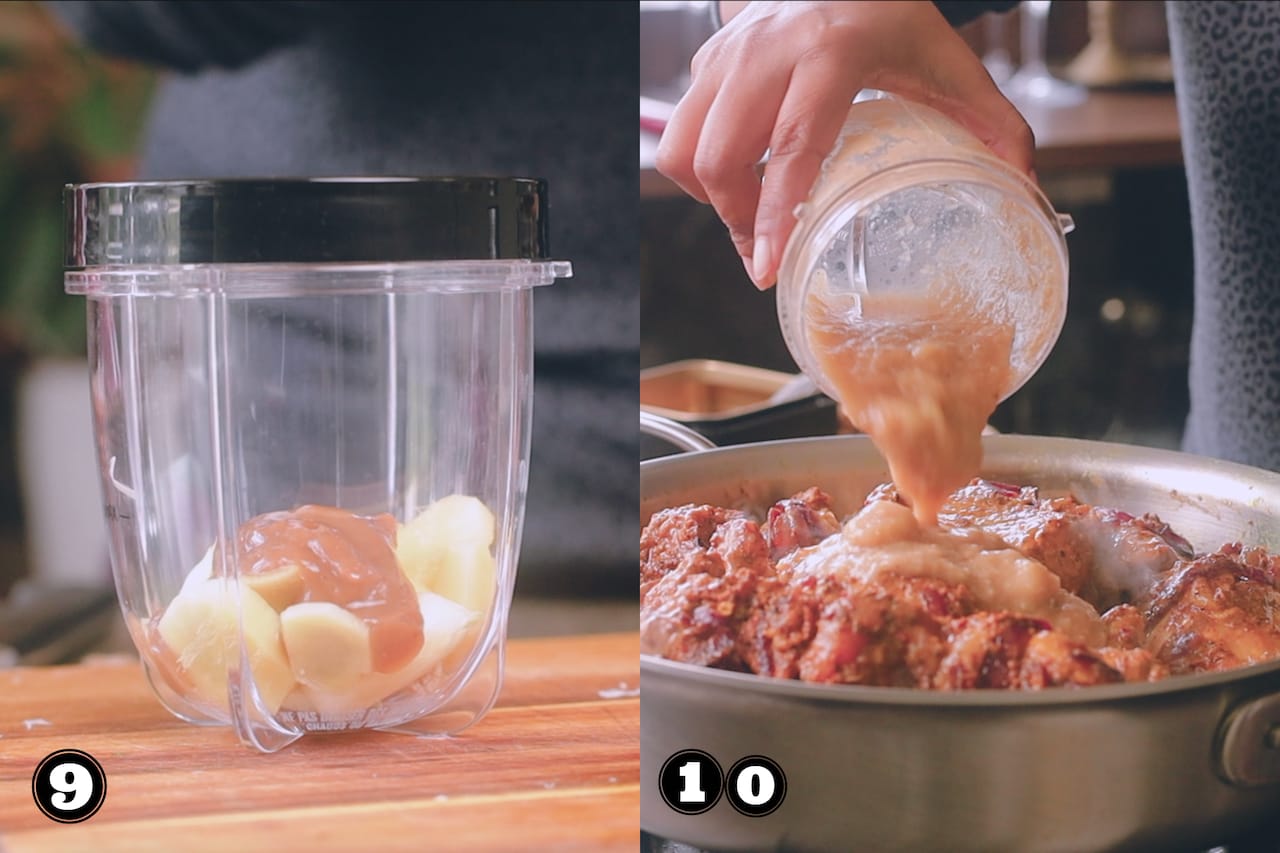 9. Make a paste of fresh ginger, fresh garlic, tamarind paste and little water.
10. Pour that to the chicken and mix it around. Let it cook for a while.
12. Add little water, cover and simmer until the chicken is cooked through.
13. Once done, check for salt, add more if needed. Add a few more fresh curry leaves and serve warm. I like to drizzle a little ghee while serving.
Recipe Video
Variations to try:
You can make this dish using paneer, tofu, cauliflower florets.
This dish tastes amazing with shrimp too. Try to use jumbo shrimp for maximum flavor.
More Chicken Curries to try:
Caramelized Onion Chicken Curry
FAQs
How long it takes to make Chicken Ghee Roast?
This is a one pot chicken curry dish and I used a mix of bone and boneless chicken. It took less than 30 minutes to cook. You will need some time to let the chicken marinate in the spices, so keep that in minf when prepping this dish.
Why my Chicken Ghee Roast doesn't look that gorgeous red?
If you don't use Kashmiri red chili, then the color will not come out. Kashmiri red chili is not hot but adds a lovely aroma and color to the curry.
Did you add any food color?
No, there is no food color added in this dish. I used Kashmiri red chili, which gave that bright red color as it cooked.
Is Ghee more healthy than butter?
Ghee has a long history of medicinal and culinary uses and since it is prepared by burning out the fats from butter, it is considered healthier.
Chicken ghee roast is an excellent, aromatic, rich dish. It's not typically roasted in the oven, instead slow cooked with spices until tender. The key for that amazing flavor is to not go stingy with the amount of ghee you use. Good quality ghee!
With some plain chapatti, layered paratha or Naan, even dosa on the side, you will lick the plate clean. In the restaurant, we had it with appam, which I think was a great combination.
Chicken Ghee Roast
Mangalore famous Chicken Ghee Roast, packed with earthy spices and cooked in homemade ghee. It's warm, finger licking good and very easy to make. It is a one-pot chicken curry that you can try even on busy weekdays!
Ingredients
For the Spice Paste
5

Kashmiri Dry Red Chili

2

tablespoons

coriander seeds

1

tablespoons

fennel seeds

1

& ½ tablespoons cumin seeds

1

teaspoon

black peppercorn

1

teaspoon

clove

1

and ½ teaspoon fenugreek seeds
For Ginger Garlic Paste
1

and ½ inch fresh ginger

5

garlic cloves

1

tablespoon

tamarind paste
Rest of the ingredients
⅓

cup

yogurt

4

tablespoons

ghee

1

red onion

(finely sliced)

2

lb

chicken

(bone and boneless)

½

teaspoon

turmeric powder

Handful of fresh curry leaves

salt to taste

1

teaspoon

sugar
Instructions
Dry roast the Kashmiri red chili for a few seconds and keep it aside to cool down a little before you add it to the blender.

Next, dry roast the rest of the whole spices for 30 seconds, and add it along with the dry red chili. Always dry roast in low heat, so the spices doesn't get burnt.

Pour little water to the blender and blend into a course or smooth paste.

In a mixing bowl, add the chicken pieces. Pour the spice paste, and yogurt along with salt and mix it around evenly. Leave it covered for the chicken to marinate for at least 2 hours. Leaving it overnight in the fridge will enhance the flavor.

When you are ready to prepare the curry, thinly slice the onion.

We also make the ginger, garlic and tamarind paste by adding little water to it.

Place a heavy bottom pan or skillet on medium heat. Pour 3 tablespoons ghee and then scatter the sliced onion. Season with salt, sugar and turmeric powder. Cook the onion for 3 minutes for it to soften.

Now add the marinated chicken and toss it around. Pour the ginger garlic tamarind paste along with few curry leaves and let it sear for 5 minutes.

Pour ⅓ cup water, cover the pan and let it simmer for 20 minutes.

The chicken should be cooked, and it will look beautiful red. Add a few more fresh curry leaves, taste for salt and add more if needed.

Chicken Ghee Roast is ready. I like to drizzle a little more ghee just before serving.
Notes
Kashmiri dry red chilies mainly add the fiery red color. It doesn't add a lot of heat. If you want the curry to be spicier, add a few fresh green chili or spicy red chili powder.
I like to serve it semi-dry, but if you wish to make it like a stew, add more water to it.
Nutrition