Soft and pillowy, melting in mouth Instant Naan, that needs no egg, no yeast and can be prepared in just 30 minutes. It doesn't need a lot of kneading or any resting at all. It's instant and give a beautiful soft texture that you will thoroughly enjoy at every bite. You can prepare it with all-purpose flour or even with whole wheat flour. This Instant Naan recipe is restaurant quality, and you will love it.
What key ingredients goes in this Instant Naan Recipe?
Because this is instant naan, it doesn't require any yeast:
Flour: You can use all-purpose flour or whole wheat flour, both gives equally tasty and soft texture.
Ghee/ Oil or Butter: I would highly recommend ghee for the best authentic flavor, but you can surely use oil or melted butter if you like.
Salt for flavor
Baking Soda and Yogurt: These two are the key ingredients for this Instant Naan recipe. It's the combination of yogurt with baking soda that creates the puffy pillowy naan texture.
A mix of sesame seeds and fresh cilantro leaves on top give a beautiful look to the Instant Naan. The topping is however optional.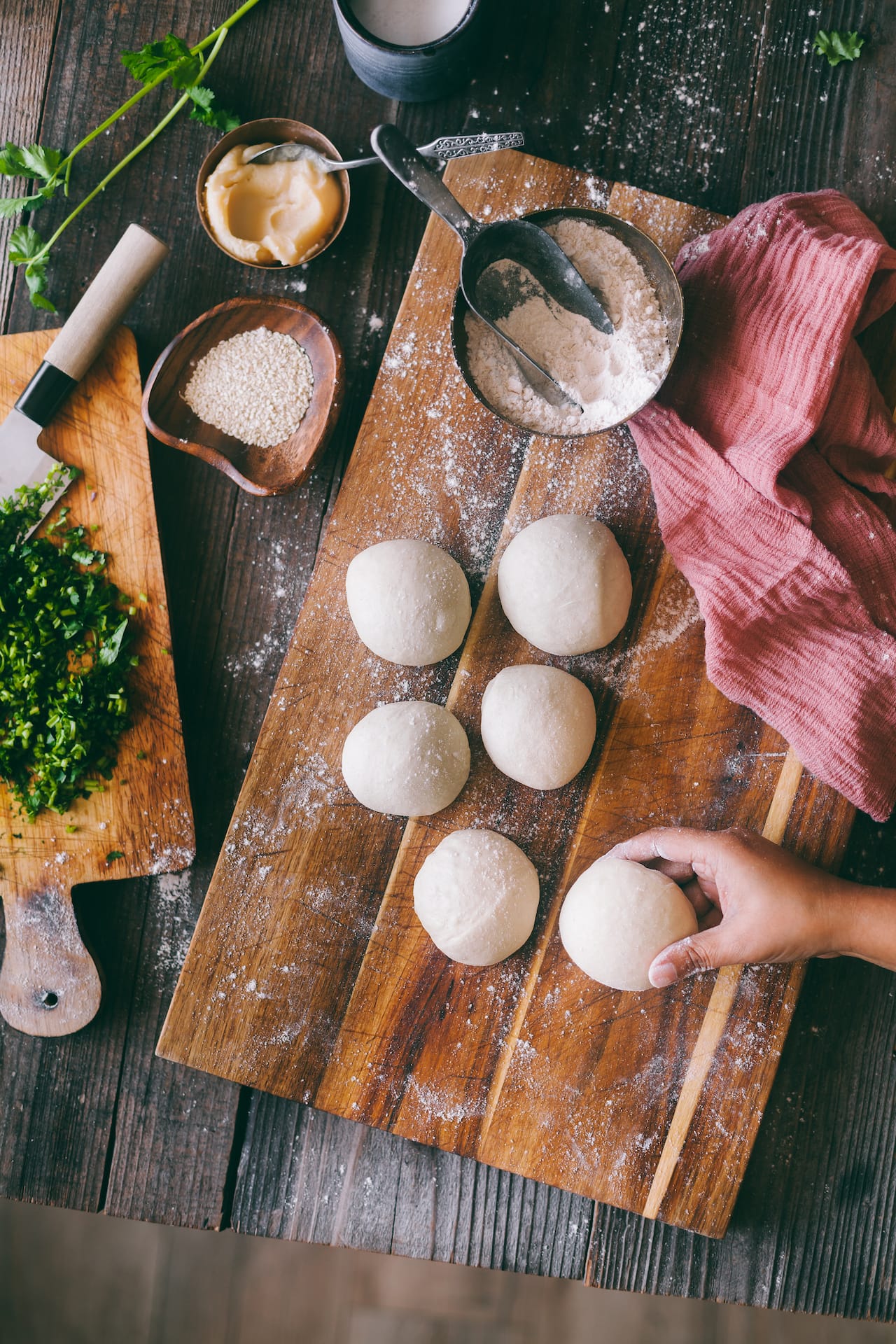 How to prepare these 30 Minutes Naan?
The steps for this Instant Naan are extremely easy and anyone can make it. The flour is kneaded with yogurt and baking soda along with a pinch of salt.
The texture of the dough should  be soft. Although the dough doesn't need any rest time, I would still recommend a quick 15 minutes resting time for the best final texture of the naan.
Making the Instant Naan on a cast iron pan will give a gorgeous char but you can always use any skillet you have. The pan should be on medium high heat when you prepare the naan.
When you roll the dough, don't worry about the shape but roll it evenly thin. Brush, little water on one side, and place the water side on the hot pan.
Cover the pan with a lid, this creates a steam and creates big bubbles on the naan. Takes about 1 minute of cooking on each side.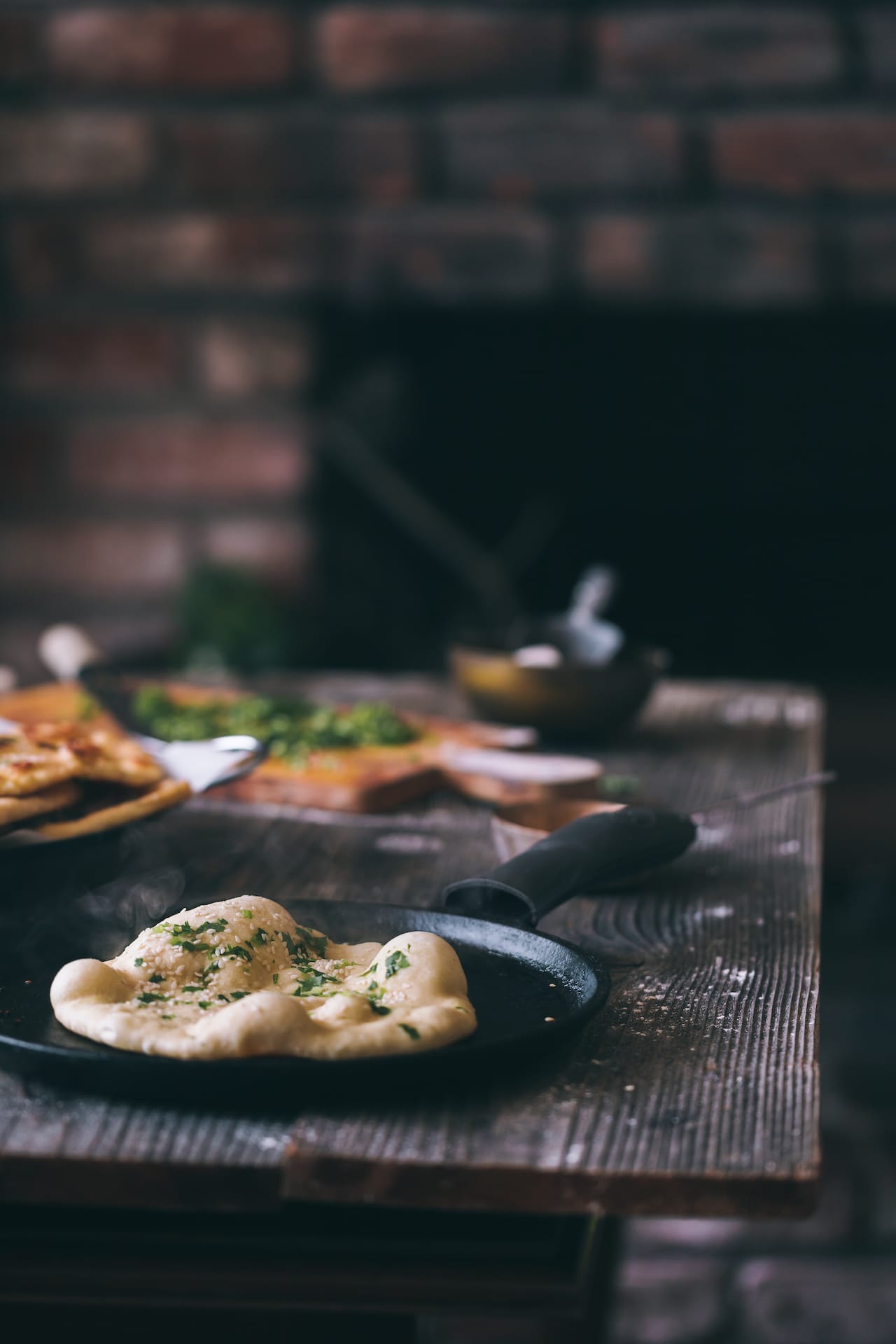 It took a long time for my brother to get convinced that I could cook or even enjoy food for that matter.
Unlike most food bloggers, I didn't learn cooking standing next to mom or granny.
I didn't even bother to enter the kitchen. Boiling eggs used to be a huge task for me.
And I was a picky eater, always looking for an excuse to run away from the dinning table.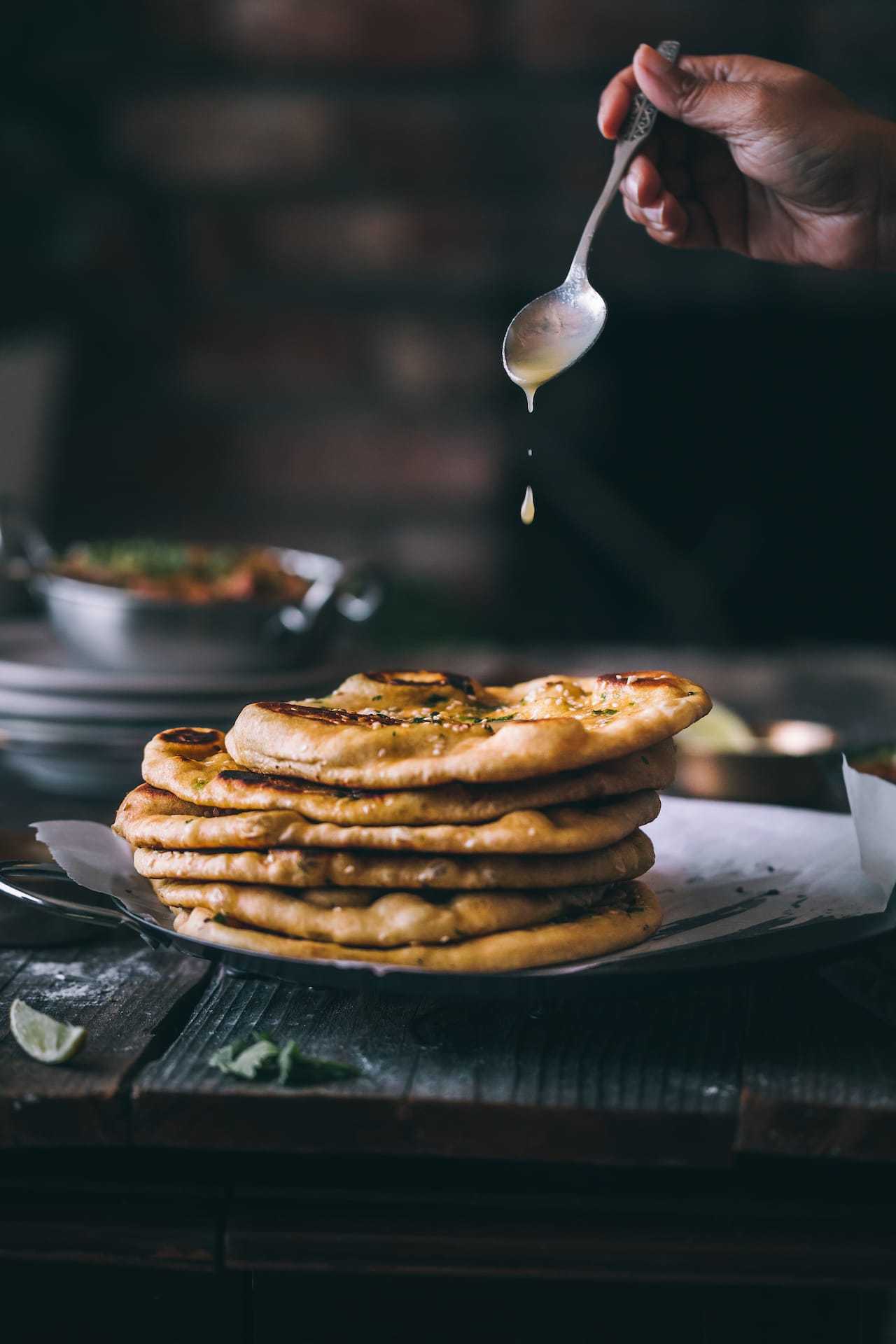 I used to tell my aunts that if ever I marry, it would be with a chef. Well, no disappointments there, even if he is not a chef, I still got the best guy in the world.
And he is one of the biggest reasons I still cook. But, how the heck I began to ponder, dream and talk food non-stop is still a mystery to me.
Though, I am just truly thankful that it happened. And so is my family.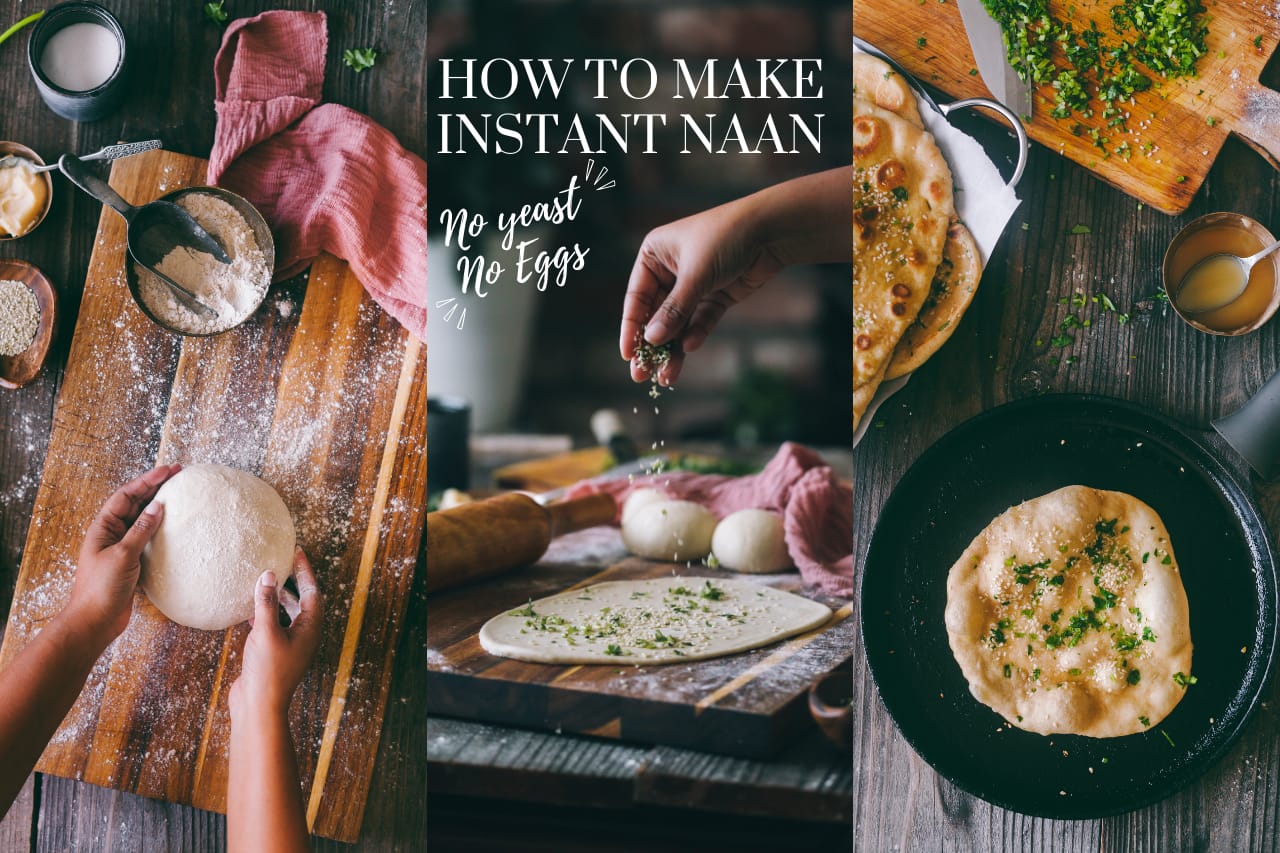 In this span of my culinary journey, I never really got a chance to treat my brother until a few weeks back, when he visited us. We did eat out a lot, but some meals were homemade.
He enjoyed them all, throwing a few critiques here and there. What took him by surprise was my jet speed cooking skill and these soft pillowy Instant Naan that I served with chicken curry.
He even took notes. That was a proud moment for me. You see this guy doesn't just say he likes something until he really likes it.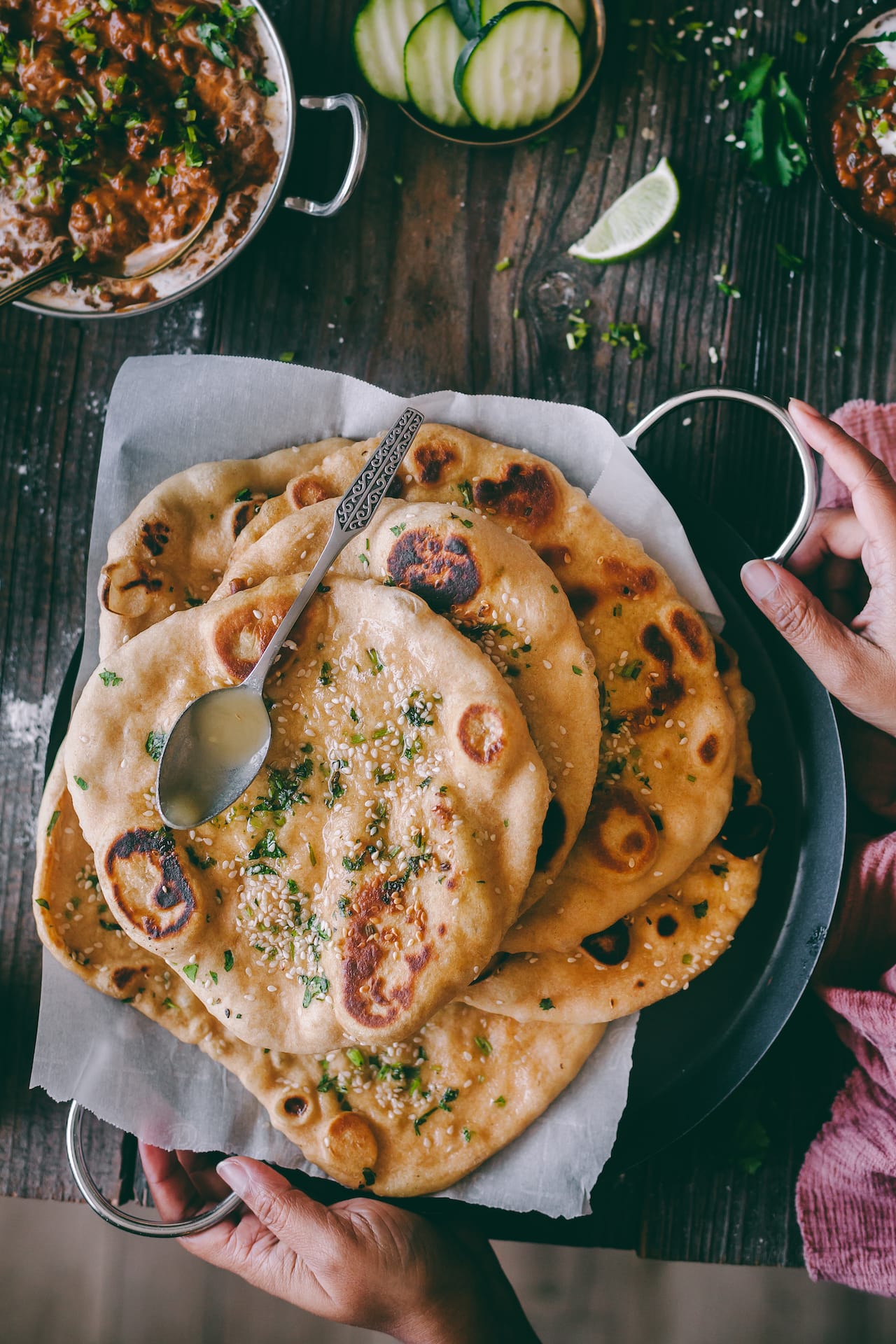 These days I make Naan without any planning, and it has made several guests very happy. Almost all of them asked for the recipe.
They not only listen to me very patiently but also observe as I drizzle ghee before giving the Naan a flip.
I like this version of Instant Naan much better than the yeasty one. It doesn't get too thick, and it still puffs beautifully.
A drizzle of ghee on top, hint of freshly chopped fresh coriander or sesame seeds is purely optional. But they do add a little spark!
Instant Naan
Ingredients
1

cup

all purpose flour

1

cup

whole-wheat flour

1

teaspoon

baking soda

1

tablespoon

oil

1

cup

yogurt

water

(as much required to form a smooth dough)

pinch

of salt

sesame seeds and freshly chopped cilantro

(to scatter on top while rolling the flat bread - optional)

ghee/clarified butter

(to drizzle on top while making the naan - optional)
Instructions
In a bowl, sift the flour and add baking soda plus salt. Give it a mix. Form a well in the center of the flour and pour oil along with yogurt. Start combing together and if it looks too dry, add a little water. As you knead to form the smooth dough, you might have to add more water. If it gets too sticky, add more flour. Once the dough is ready, cover it with a kitchen towel and let it rest for about 15 minutes.

Roll the dough into a log and cut 8 to 9 equal size discs. As you start rolling the disc, make sure to cover the rest or else they will loose their moisture.

Place a flat pan/griddle/tawa on medium heat. Also, keep a lid ready. The lid should fit the pan to cover the flat bread.

While rolling the disc, make sure not to press too hard. Dust a little bit of flour to make it easy. The shape doesn't really matter. Once done, drizzle a pinch of sesame seeds and a pinch of freshly chopped cilantro. Press it with your hand so that it sticks. Now, turn it over and brush water on the other side.

Once your pan/griddle/tawa is hot enough, place the wet side of the flat bread on the pan and cover it with the lid immediately. Within the next few seconds, the bread will start puffing up. Give it about 30 to 40 seconds and then open the lid carefully. Drizzle ghee/clarified butter on top and turn the flat bread. Give it about 30 seconds on the other side as well. Once done, place it on a plate and cover it with aluminum foil.

Serve it hot with some curry on the side.
Nutrition