Cooking for two is easy and tough at the same time. Easy, because I never require too much of any ingredient and tough, because no matter how precise I go, there are always some leftovers. It happens very occasionally when the serving bowl comes out clean from the dining table. And with the hectic schedule over the weekdays, we both never mind leftovers. But some days, I like to create something new out of the leftovers so that it doesn't feel like a repeating meal. This naan calzone was a result of one such situation!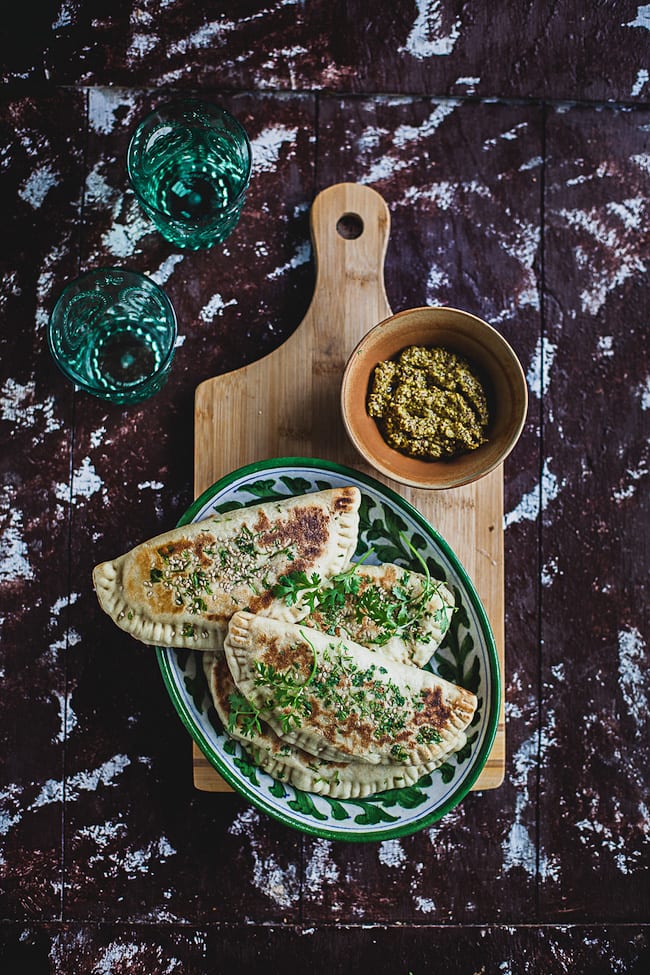 At first, I was not sure if the idea would work. There was sufficient palak paneer, all I had to do was knead some dough for chapatti and dinner would be ready. But I desired to eat something different. It's not the husband who fusses about left overs as much as I do. So, I chatted the idea with Arvind, who thought it might work even on stovetop. His advice was to add some cheese just so it feels like calzone. Recipe testing just before dinner on a rainy weeknight was not a good idea. Yet, I crossed my finger and went with the flow.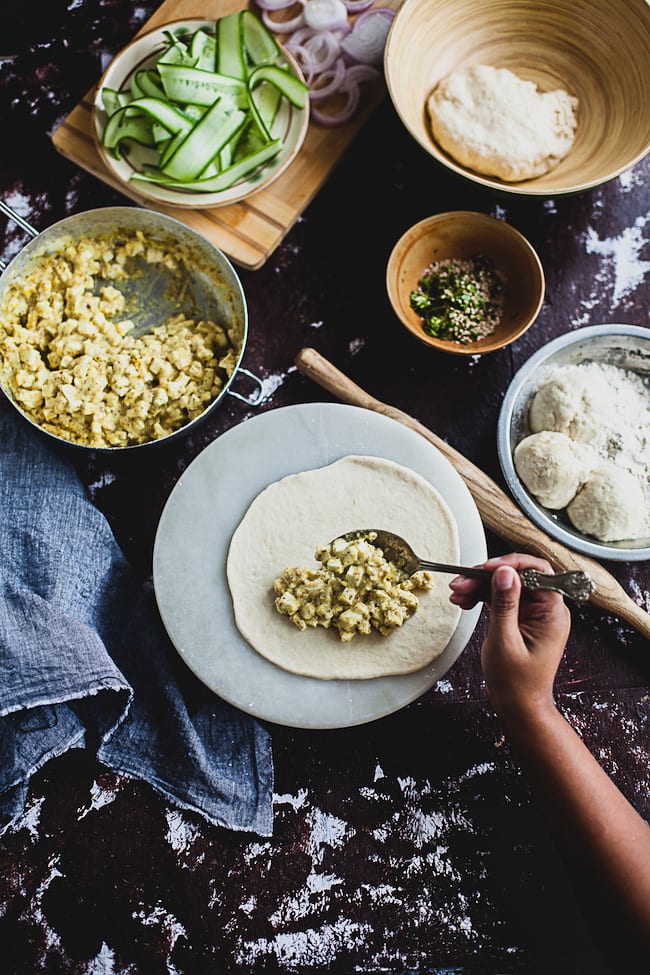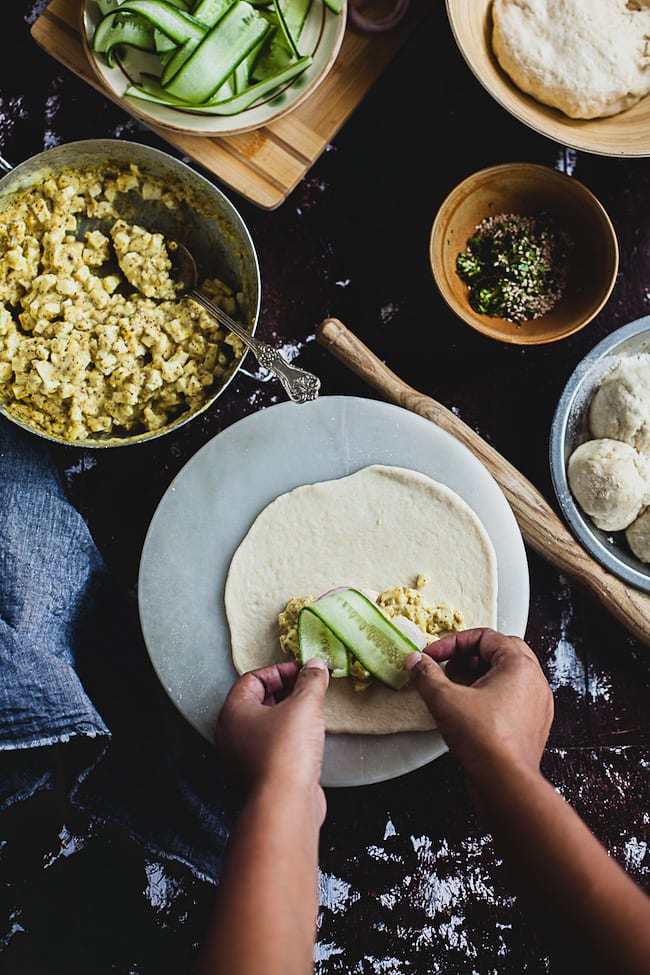 The wrapping needed some precise measurements. I always have a tendency to add more stuffing than it can hold. Arvind kept reminding me to not do that. It didn't turn out picture perfect but the idea worked and we enjoyed it cozying up in the couch with a glass of wine! After that day, I made naan calzones several times but this filling with kashundi paneer is my favorite so far.
Kashundi is a tangy pungent green mango mustard sauce. I had shared a recipe for this sauce several months back. We both love the taste of kashundi and it blends really well along with creamy paneer. Plus it takes less than 15 minutes to prepare it. Of course, you can replace paneer with tofu or chicken or veggie of your choice. And replace kashundi with your favorite mustard sauce. But whatever filling you pick, just make sure you cut them really small or else, it gets little difficult to shape the calzone.
Kashundi Paneer Naan Calzone
Ingredients
for kashundi paneer
500

gram

paneer

(cut into tiny bite sizes)

2

tablespoons

kashundi

(Click here for the recipe)

1

tablespoon

butter

1

tablespoon

flour

1

cup

milk

salt

pepper

2

zucchinis

(thinly sliced using a peeler)

1

red onion

(thinly sliced)
Instructions
for kashundi paneer
Melt butter in a pan, add flour and cook for a minute. Pour milk and stir until the flour blends with milk. Drop the paneer cubes, salt and continue cooking until the sauce thickens. Finally add the kashundi sauce and give it a stir to combine everything.
to make naan calzone
Dust a little bit of flour on the rolling pin and roll a ball of naan dough to roughly round flat bread. On one side of the flat bread, spoon the kashundi paneer filling along with few red onions and sliced zucchini. Keep a gap of about 1 cm all around the circumference.

Pull the other half of the bread to cover the filling and pinch the edges to seal it. You can also use a fork to press the edges firmly.

Heat a flat pan and brush little butter on it.

Sprinkle little bit of freshly chopped cilantro and sesame seed on top of the calzone and place it on a hot pan. Cover the calzone with a lid and let it cook for a minutes on medium high heat. Turn it and continue cooking for another minute on medium heat.

Continue making rest of the calzones and serve warm.
Notes
If you make the naan using any other flour, the texture would turn out different and might not be fluffy enough.
Nutrition