We all love quick meal, right? But what about a quick one pan meal! It needs only 7 ingredients, super easy and even if you don't cook very often, you can still make this beautiful looking meal and wow yourself. The salmon bakes to a perfect flaky texture, the vegetables give a color pop and the yogurt mustard dill sauce binds it together delightfully. I am sure you will enjoy this beautiful Spring meal - 15 Minutes Salmon Vegetable with Yogurt Mustard Dill Sauce.
Avyan's taste bud has still not developed enough to enjoy Bengali style fish curry, but he loves salmon. So, we are balancing our fish menu accordingly. He likes if salmon is baked or poached. Also, he is very picky with how it tastes, and I have to get the timing absolutely perfect.
One other thing that he absolutely loves is mustard! On hot dog, on fritters, with sausage, on pancake, if I would allow! So, I always have a bottle Maille Mustard at home, either the original or the honey mustard. This 15 Minutes Salmon Vegetable with Yogurt Mustard Dill Sauce is also prepared in collaboration with Maille. I used their original mustard to prepare the sauce!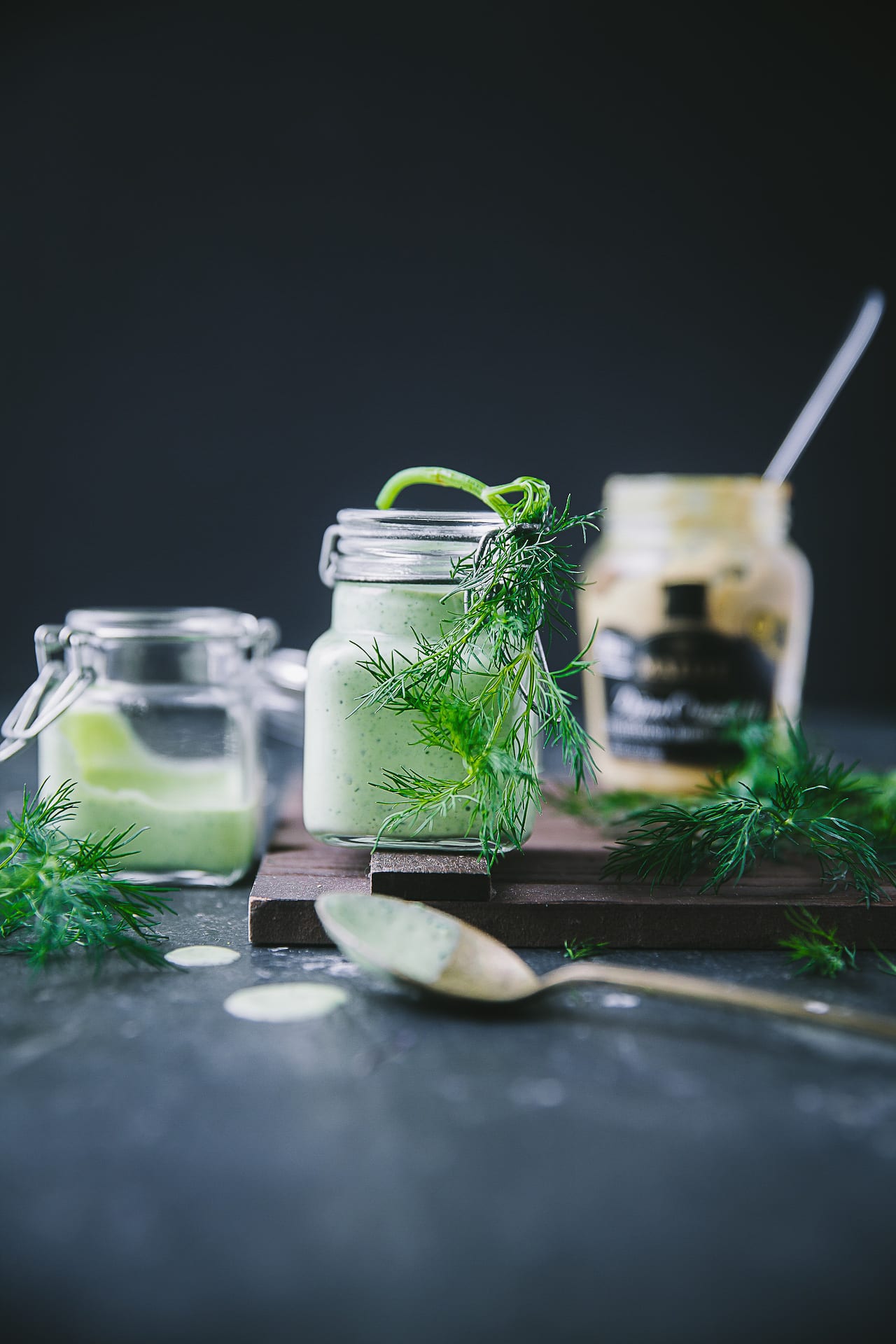 How I prepared the 15 Minutes Salmon Vegetable?
It's a one-pan meal and the oven does pretty much all the work! I do cook the veggie for 5 minutes before adding the salmon. The salmon is rubbed with mustard and topped with panko crust for that crunchy texture. You can add other veggies too, but keep in mind that depending on what you add, the baking time will change.
The Yogurt Mustard Dill Sauce!
The sauce is a keeper and you can use it even as a dip. It's a no fuss 3-ingredient (fresh dill leaves, yogurt, and mustard) sauce that you can whip in a few seconds in the blender. It's tangy with a kick from the mustard and refreshing from fresh dill.
Try you with any other choice of herb if you are not a fan of dill!
Can you make this dish in stove top instead of oven?
Absolutely YES! You just need to cook the asparagus and the tomatoes in the stove top until it's soften. Take the vegetables off the pan to a serving plate and then cook the fish for 10 minutes (5 minutes on each side) in the same pan. Serve salmon with the vegetables and the sauce.
This salmon veggie dish is a perfect spring meal as you get to celebrate the fresh spring produce without changing them too much. Vibrant, delicious, healthy and easy one pan quick meal!
Here are few other salmon recipes that you might enjoy!
15 Minutes Salmon Vegetable with Yogurt Mustard Dill Sauce
Ingredients
3

small salmon fillets

1

bunch asparagus

2

cups

cherry tomatoes

1

teaspoon

oil

1

teaspoon

salt

1

cup

plain yogurt

2

tablespoons

finely chopped dill leaves

2

tablespoons

Maille original mustard

3

tablespoons

panko crust
Instructions
Preheat the oven to 400 F.

Place the asparagus and cherry tomatoes in an oven proof pan or a cookie sheet. I used a cast iron pan. Sprinkle 1 teaspoon oil and ¼ teaspoon salt. Massage it with your hand and layer it in a single level. Roast it for 5 minutes.

In the meantime, sprinkle rest of the salt on the fish fillet and give it a massage. Rub ⅓ tablespoon mustard on top of each of the salmon fillet. Spread mustard only on one side. Add 1 tablespoon panko crust on top of the mustard and gently press it.

After 5 minutes of roasting the asparagus and cherry tomatoes, take the pan out and layer the salmon fillet on top. Place it back in the oven and roast for 10 minutes.

While the salmon gets ready, add the yogurt, fresh dill and mustard in a blender and blend it to a smooth sauce.

After 10 minutes of roasting, place the pan on the top rack and turn the broil on. Broil for 1 to 2 minutes for the panko crust to turn golden brown.

Serve the salmon and veggie while it's still warm and spoon the yogurt mustard dill sauce on top.
Nutrition