The plan was to try new flavors, cook more often and share more often. Instead, I am looking for shortcut easy meals like this Chili and Lime Baked Salmon. Ever since we arrived here, we have been falling under the weather, pretty much back-to-back. Cold, cough and nasty virus, all leading to sleepless nights and a not-so-happy toddler! Avyan gave up food for almost a week and even ice cream didn't excite him. However, he didn't mind gulping those fruit flavored medicines. And as soon as he started to recover, I caught the bug. I just can't stop coughing, stuffy nose and that headache. Huh!
With that entire health situation going on plus the non-stop rainy days, I see myself going for quick meals. Also, using the oven more frequently keeps the house warm too.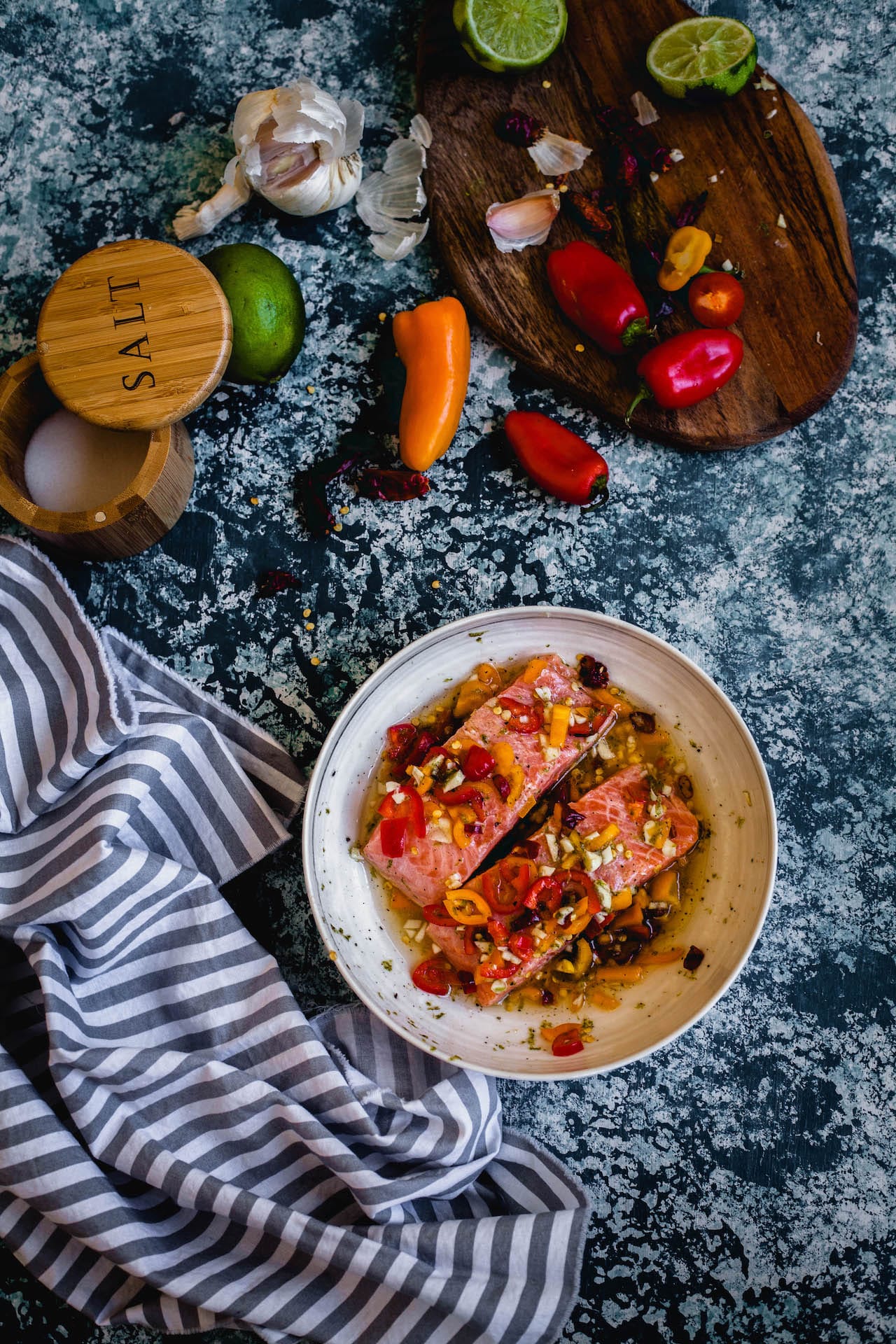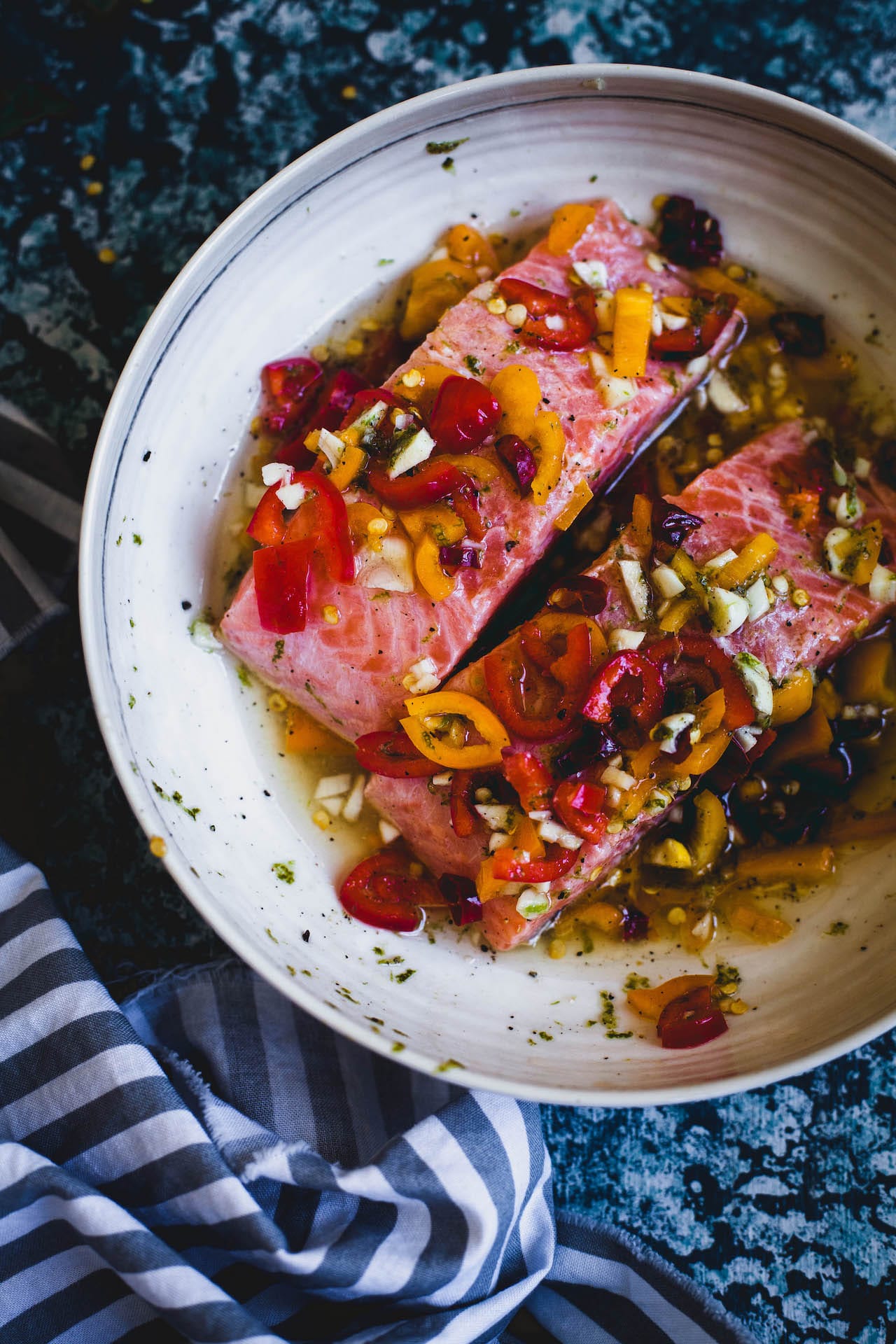 Dishes such as these needs no recipe. Just dig deep into your refrigerator and take out all the vegetables that you enjoy roasted and charred. The only thing you want to be careful about is the temperature and time of baking so the salmon comes out tender and flaky. Also, you need to allow the salmon fillet to marinate for at least 20 minutes so that the flavor goes deep.
We had the salmon with whole-wheat couscous that I cooked in chicken broth and then tossed with a generous amount of fresh cilantro. Such meals make me really happy. Barely any work and yet great flavors in every bite!
Chili Lime Baked Salmon
Ingredients
salmon fillet

(I used 3 fillets with skin on)

juice and zest of 1 lime

1

tablespoon

chili flakes

1

clove

garlic

(grated)

3

mini sweet peppers

3

red capsicums

(thickly sliced)

2

zucchini

(thickly sliced)

1

medium onion

(thickly sliced)

½

teaspoon

paprika powder

¾

cup

whole-wheat couscous

1

cup

chicken stock

1

cup

finely chopped fresh cilantro

lime wedges to squeeze just before serving

oil

salt

pepper
Instructions
In a mixing bowl, add lime zest, lime juice, salt, pepper, garlic, paprika powder, chili flakes, ½ tablespoon of oil and finely chopped sweet peppers. Give it a mix and use it to marinate the salmon fillets. Allow it to rest 15 to 20 minutes.

Preheat the oven to 375F.

In a baking pan, scatter the sliced veggies and sprinkle some oil along with salt and pepper. Give it a mix with your hand and make spaces in between the veggies to place the salmon fillet.

Place the marinated salmon fillet, skin side down and bake for 15 minutes.

In the meantime, pour couscous in a serving bowl and bring the chicken stock to boil. Once done, pour the chicken stock on the couscous and cover. In about 5 minutes, the water should be absorbed. Take a fork and fluff the couscous. Add a little bit of extra virgin olive oil and finely chopped cilantro. Give it a mix and keep it ready to serve.

After 15 minutes of baking, carefully take out only the salmon fillets on a serving plate and put the baking pan back in the oven.

Broil the sliced veggies for about 3 minutes. I do this because I like the veggies with a little char.

Once done, top the veggies on the salmon and serve with couscous. Drizzle some lime juice for that refreshing flavor.
Nutrition