About 4 years back, I had prepared a similar dish but I had panko crusted the salmon and baked it in the oven. It was delicious. We love the tangy piccata sauce and I make it quite often with seafood or pasta. I never added cream and kept it light with just chicken broth. However, when I included cream in the sauce, it made the sauce so silky to the palate that we ended up licking the plate clean. No kidding! This Creamy Salmon Piccata takes less than 15 minutes to prepare, which is my book is a winning recipe.
Avyan is in a phase where his taste buds are quite unpredictable. One minute he loves chicken and the next minute he declares he doesn't like it any more. You might know you get these free food samples to try in Costco. So, one day this lady was offering tiny samples of poached salmon. Avyan, who was still not a big fan of seafood, enjoyed that sample like it's a candy. So, I grabbed a packet and the immediate next day prepared salmon piccata, except it was not creamy. My kid was not a happy diner that day. He did eat a little bit of the salmon and so, my hope was still there.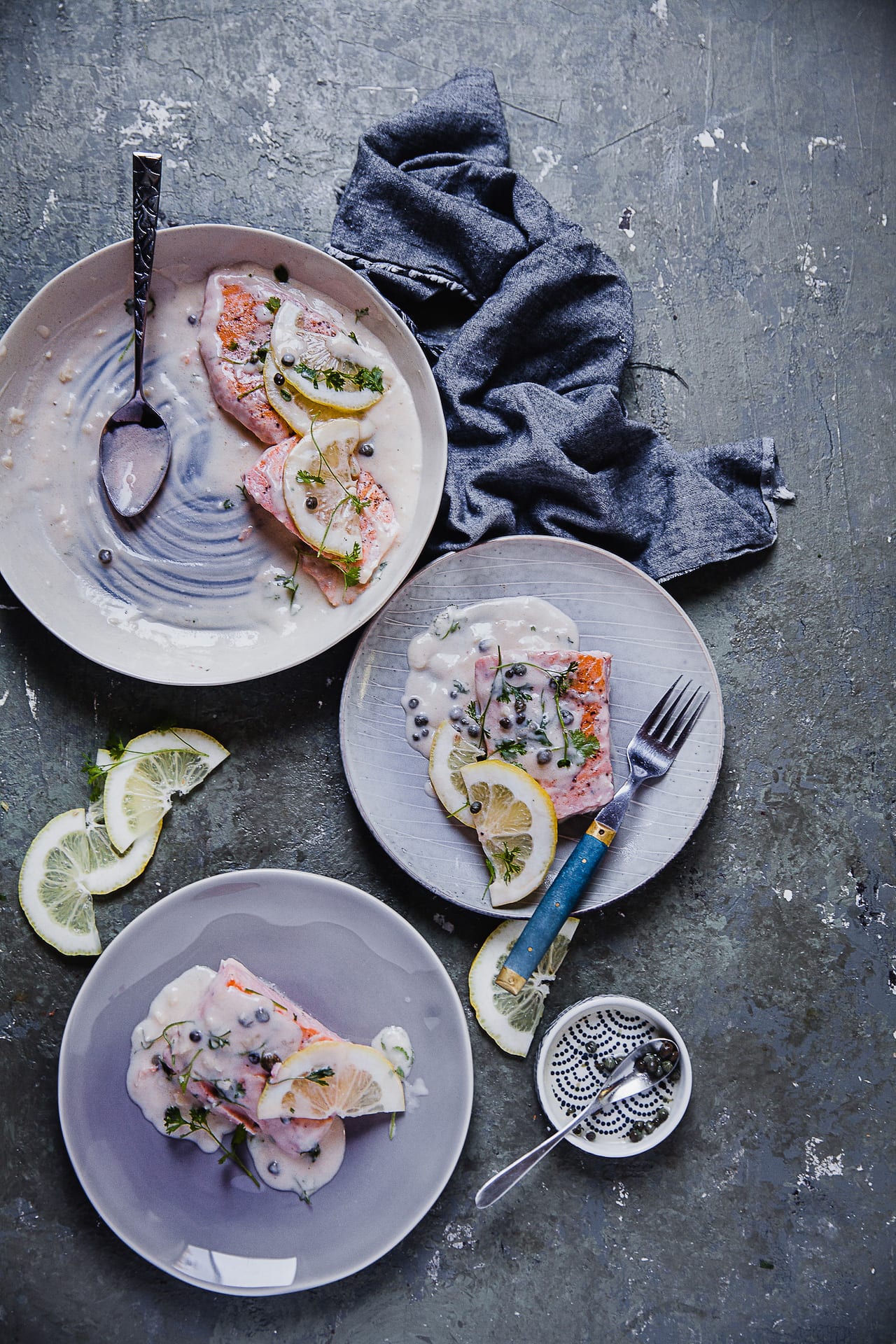 Yesterday, I made the exact same dish with the addition of cream, which helps to mellow down the tanginess. This time Avyan gave me a thumps up. As a Mommy and a food blogger, when my kid smiles and enjoys the food I made, I know it's worthy to be shared.
Piccata Sauce
If you are unaware of this sauce, it's a simple piquant buttery flavored sauce often served with chicken, fish or veal. It's probably one of the simplest sauces to prepare as ittakes less than 10 minutes. You could avoid the cream and just add the broth. You could flavor it up with additional dry herbs or spices or you could add wine for added flavor and richness. There is a room for creativity when it comes to this light and delicious sauce. This could be your go-to sauce.
A vegetarian version of this dish would be to use cauliflower steak, tofu or tempeh. You could also use this sauce with vegetarian balls.
Creamy Salmon Piccata
Ingredients
4

salmon fillets

½

teaspoon

salt

½

teaspoon

freshly cracked pepper

1

teaspoon

oil

2

tablespoons

butter

3

cloves

garlic

(grated)

2

tablespoons

all purpose flour

2

cups

chicken broth

(please read notes below)

2

tablespoons

fresh lemon juice

2

teaspoons

capers

½

cup

cream

few thinly sliced lemon slices
Instructions
Season the salmon fillets with salt and pepper.

Place a non-stick pan on medium heat and pour the oil. When the oil heats up, layer the salmon fillets and cook for 2 minutes on each side. Once done, take it off the pan into a plate and keep it aside to be used later.

To the same pan, drop the butter and garlic. Once the butter melts, sprinkle the flour and cook for a minute. Pour the stock, followed by lemon juice and simmer for 3 minutes.

Drop the capers and simmer for 2 minutes. The sauce should start thickening.

Finally, pour the cream and give it a stir. Layer the salmon fillets and lemon slices. Cook for 2 more minutes.

Taste for salt and add any, if needed.

Take it off the heat and serve warm.
Notes
I used chicken stock with sodium and hence, I didn't add any more salt while cooking. If you are using sodium free stock or wine or water, adjust the salt accordingly.
Nutrition