When it comes to cooking with chicken, I always tend to lean towards curry. Needless to say, we love curries but sometime I feel it's just inbuilt into my system. And I like to break that at times, especially on the days when my bones are too tired to stand by the stove, stirring and simmering. The idea of roasting chicken is relaxing and makes for a perfect meal. A quick prep, a good marinade and let the oven do its job. For us, when it comes to chicken roast, the flavor has to go deep and it has to be bold!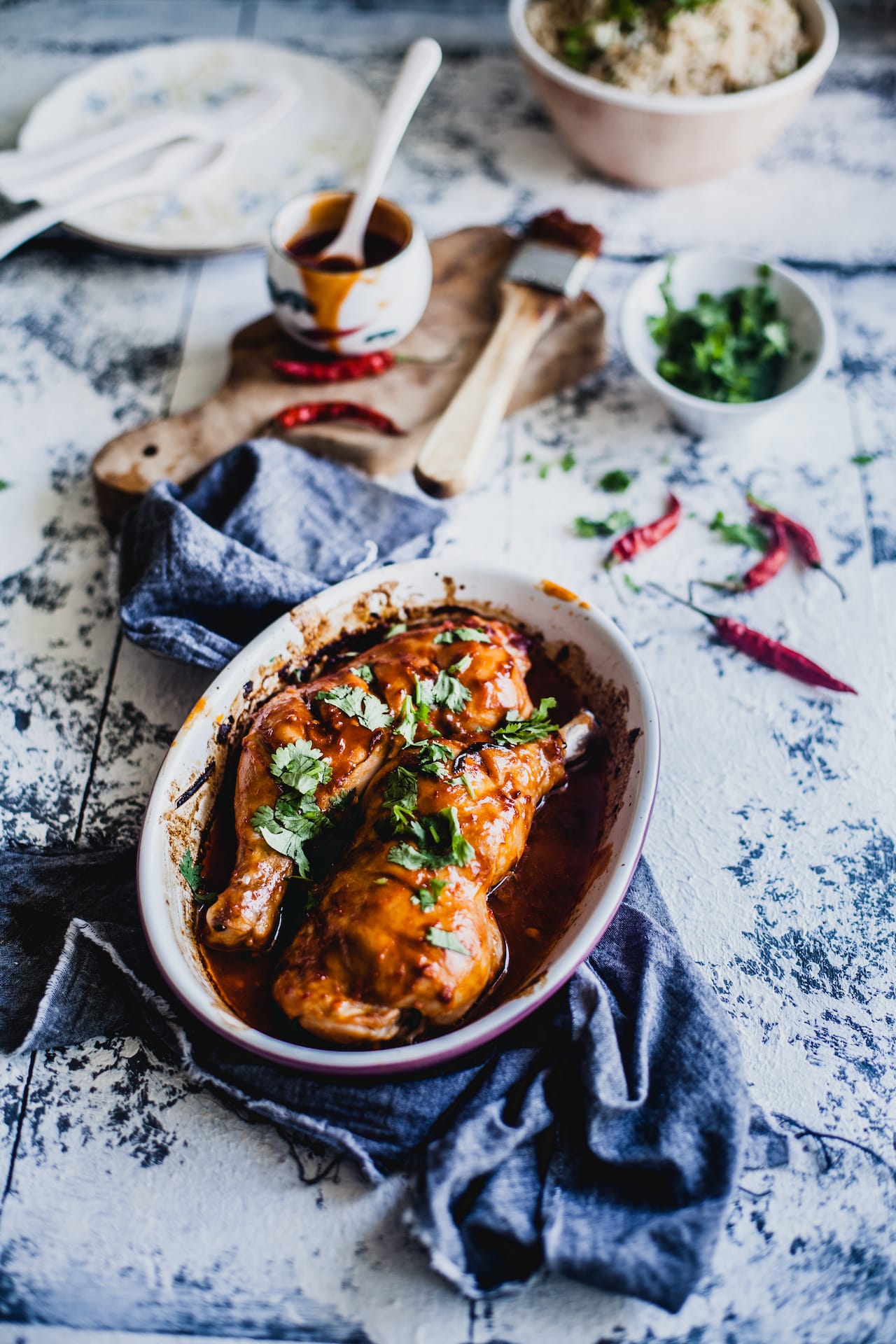 Sweet, spicy and sticky! This roasted chicken thigh is a winner for fuss-free lunch or dinner. With a few basic ingredients, the sauce gets ready in no time. Lots of garlic, some red chilies, savory notes from soya sauce, sweetness from honey and to balance it all together, big splash of fresh lime juice. A quick boil and sauce comes out gorgeous red in color.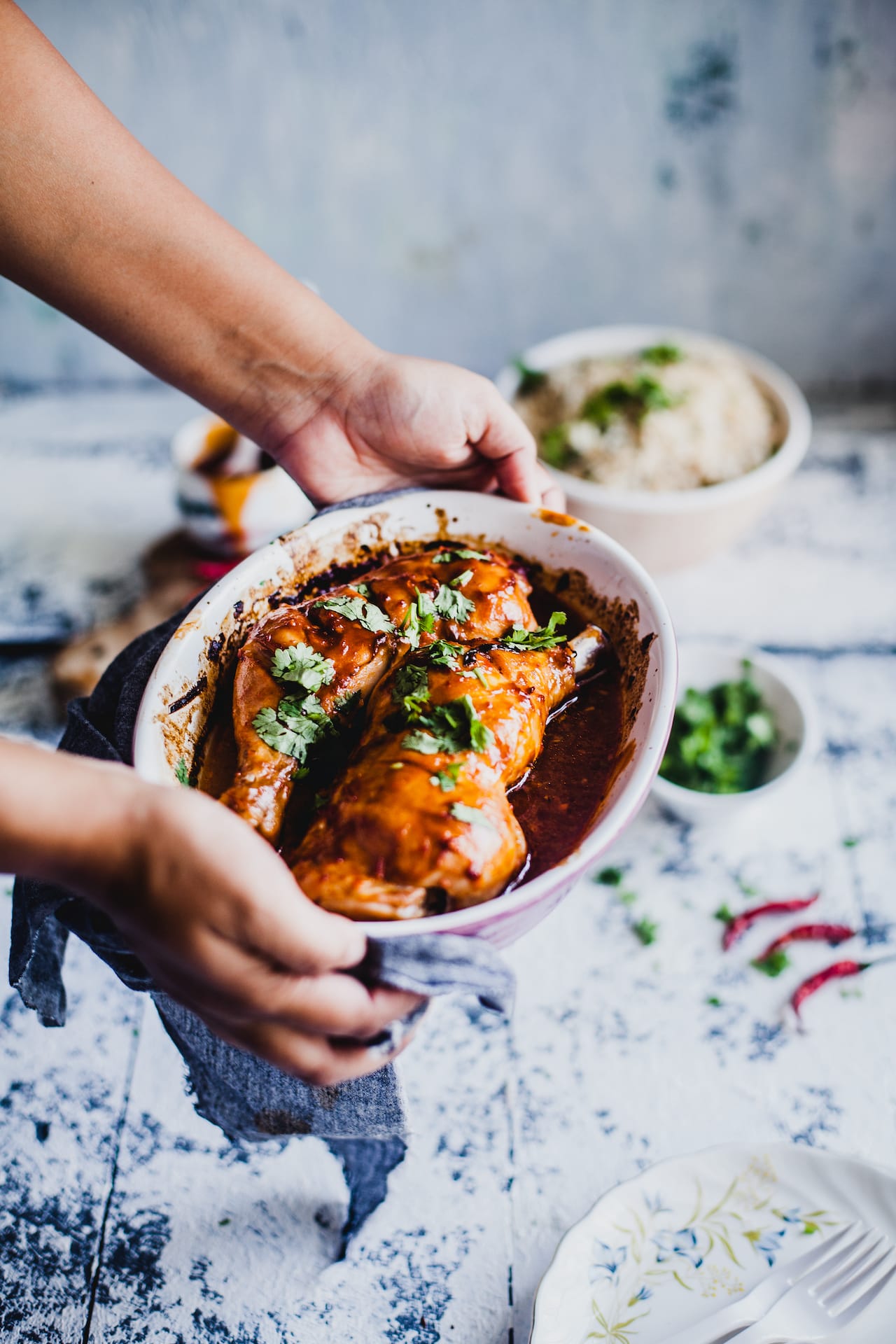 Although you don't need to marinate the chicken but I like to allow it to soak up the flavor for at least 15 minutes before shoving it in the oven. And before serving, brush a little bit more of that superb sauce, garnish with a handful of fresh cilantro and serve warm. We love to relish it with garlic and fresh peppercorn rice on the side.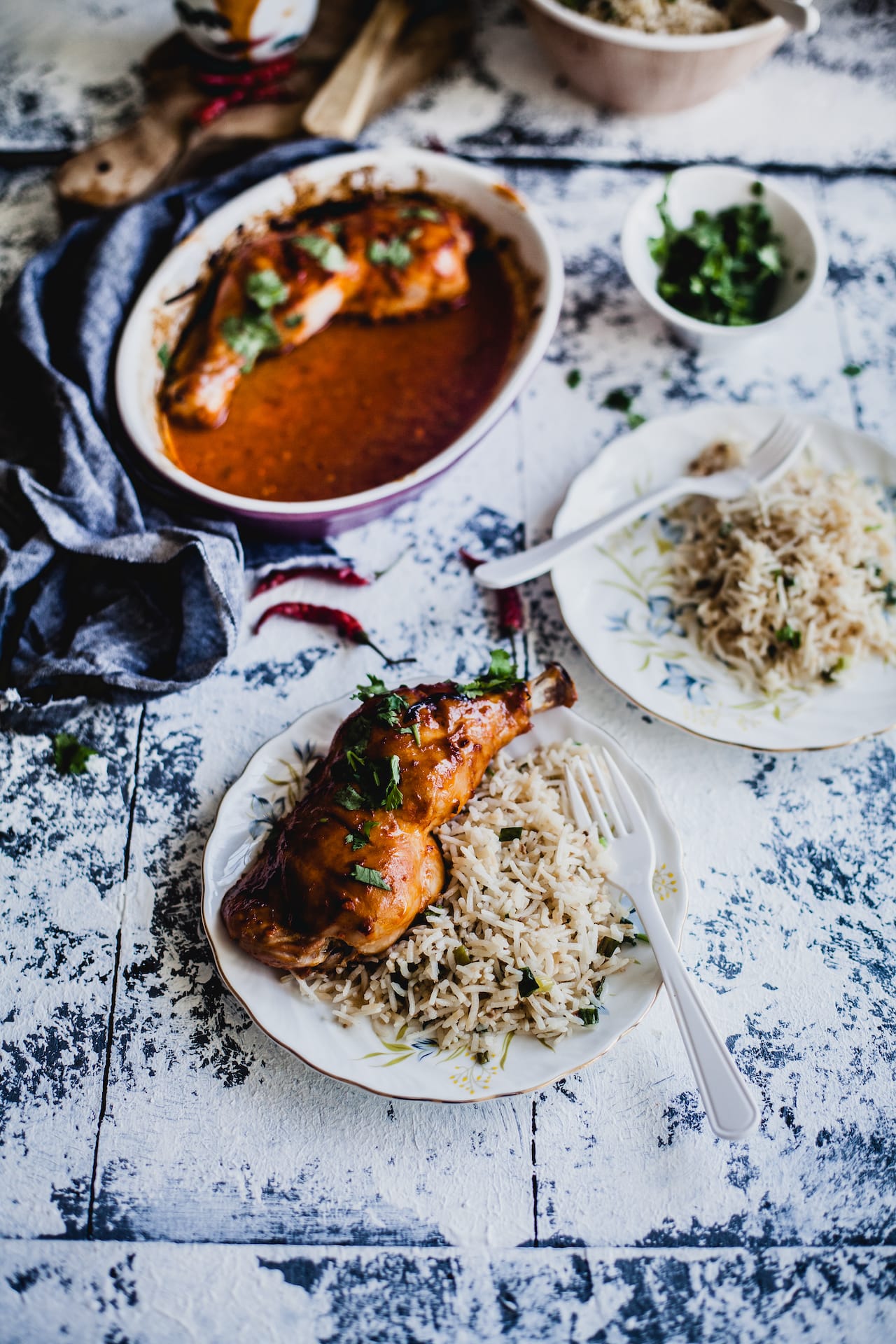 Sweet And Spicy Chicken Thigh
Ingredients
for the sauce
4

dry red chilies

4

garlic cloves

1

teaspoon

soya sauce

1

teaspoon

honey

juice of 1 lime

½

teaspoon

corn flour

salt

pepper

oil
for the chicken roast
2

chicken thighs

oil

handful of fresh cilantro

(finely chopped)
Instructions
Blend the garlic cloves with red chilies.

Add 1 teaspoon of oil in a saucepan and drop the chili and garlic paste. Allow it cook for a while and then pour soya sauce along with honey. Sprinkle salt, pepper and add ½ cup of water. Allow it cook for about 5 minutes.

In a cup, whisk corn flour with 1 tablespoon of water and pour into the saucepan. This will thicken the sauce.

Squeeze lime juice and taste the sauce. If you want more heat, add chili powder. If you prefer it sweeter, add more honey.

Layer the chicken thighs in a baking pan, score it using a sharp knife and pour half of the sauce on it. Give a massage and allow it to rest for 15 minutes.

Preheat the oven to 200C/400F and roast the chicken thighs for about 30 minutes or until the chicken is cooked through.

Brush some of the sauce on the chicken thighs, scatter chopped cilantro and serve immediately.
Nutrition