Crunchy flat green beans and creamy eggplant cooked with mild spices using potatoes for the perfect starch to bind it all together. Shim Beguner Chorchori is a classic Bengali pure vegetarian dish. It is very mildly spiced and taste great with rice or roti.
What is Shim Beguner Chorchori ?
Chorchori is one of those Bengali pure vegetarian dishes that my Mom would often prepare. Especially on the days in the week when we would eat just vegetarian food!
While people may think that Bengalis are meat lovers, there are vegetarian dishes such as this that we equally enjoy.
Your can prepare chorchori with different medley of vegetables. This Shim Beguner Chorchori is one of the most common combination used.
What is Chorchori?
In simple terms, it is a medley of vegetables that's cooked until tender. It's often kept pure vegetarian, meaning it is cooked without any garlic or onion.
It's one of the ways to add all itsy-bitsy left-over vegetables, just chopped to bite size and slow cooked without adding much water at all.
You don't want to make it like a curry and a little water is added just to soften the vegetables.
We also add cauliflower stems, bottle gourd skin and fresh pea skin quite often. There is really no hard rule on how to prepare a chorchori.
Vegetables added in Shim Beguner Chorchori ?
Shim refers to flat green beans and Begun refers to eggplant, and apart from these two veggies, potatoes are also added.
Typically, you will prepare this dish with a different variety of flat beans that are much thinner and smaller in size.
It's almost impossible to find them here, even in Indian stores. Hence, I went with this variety, which is crunchier and takes a tad bit longer to cook.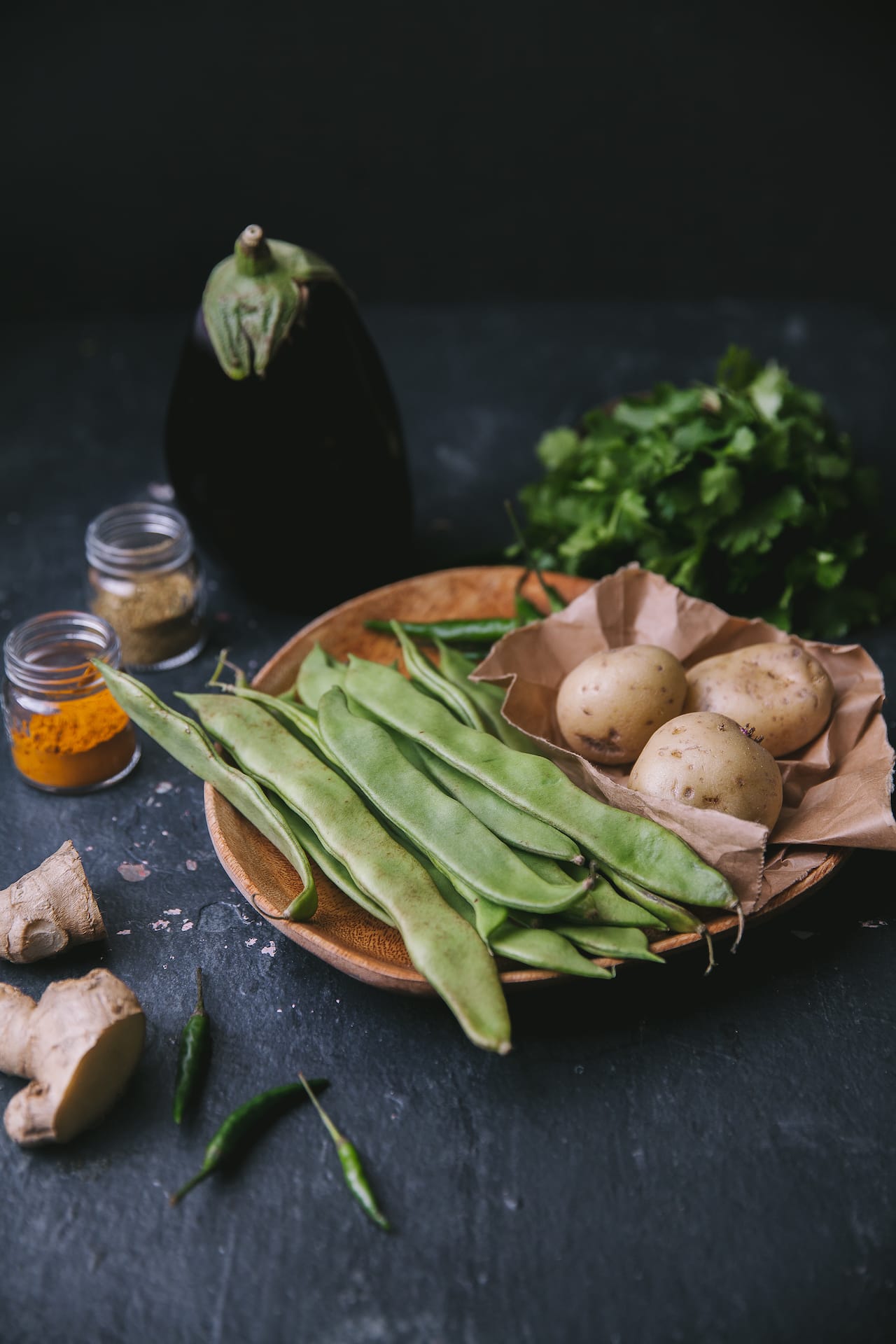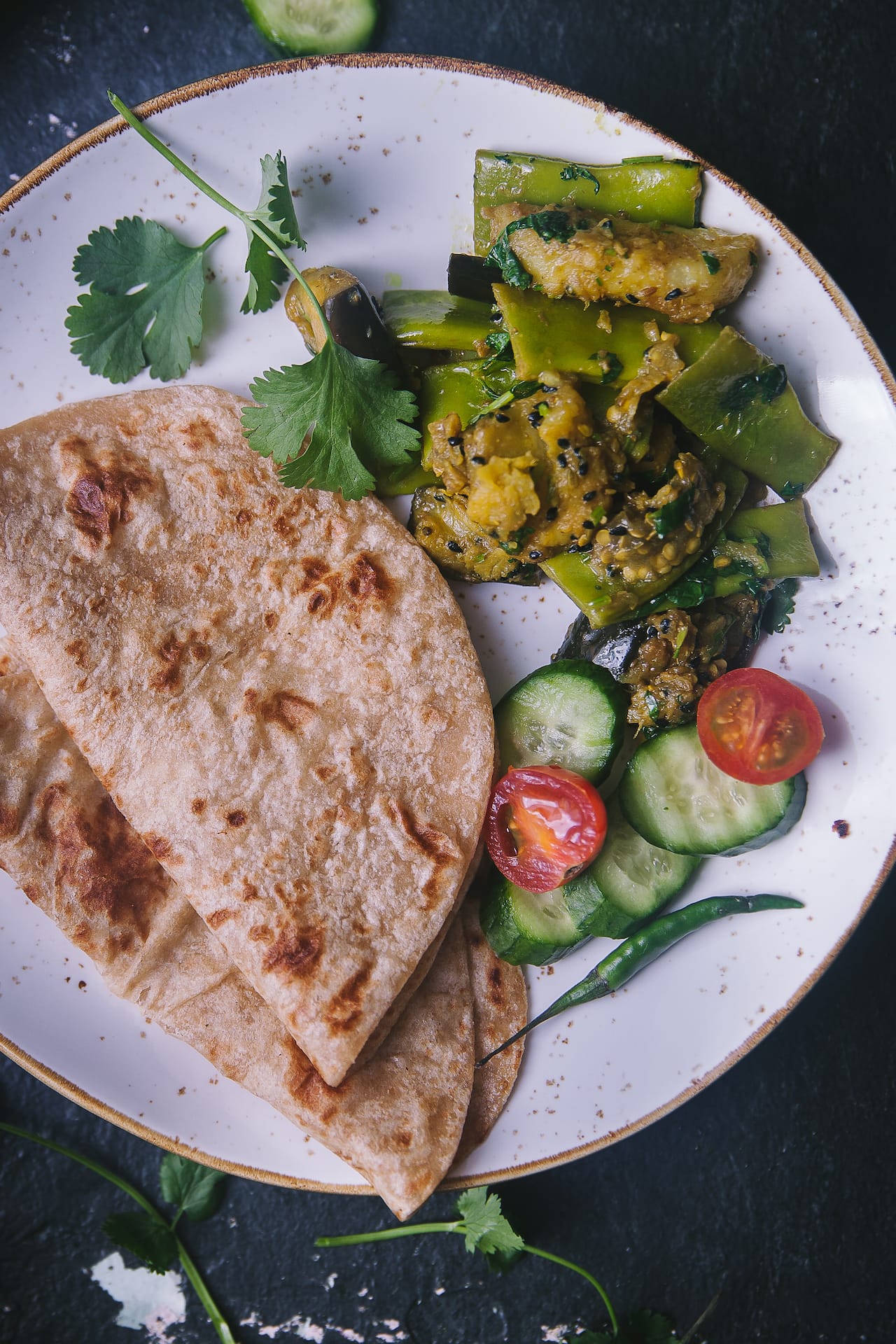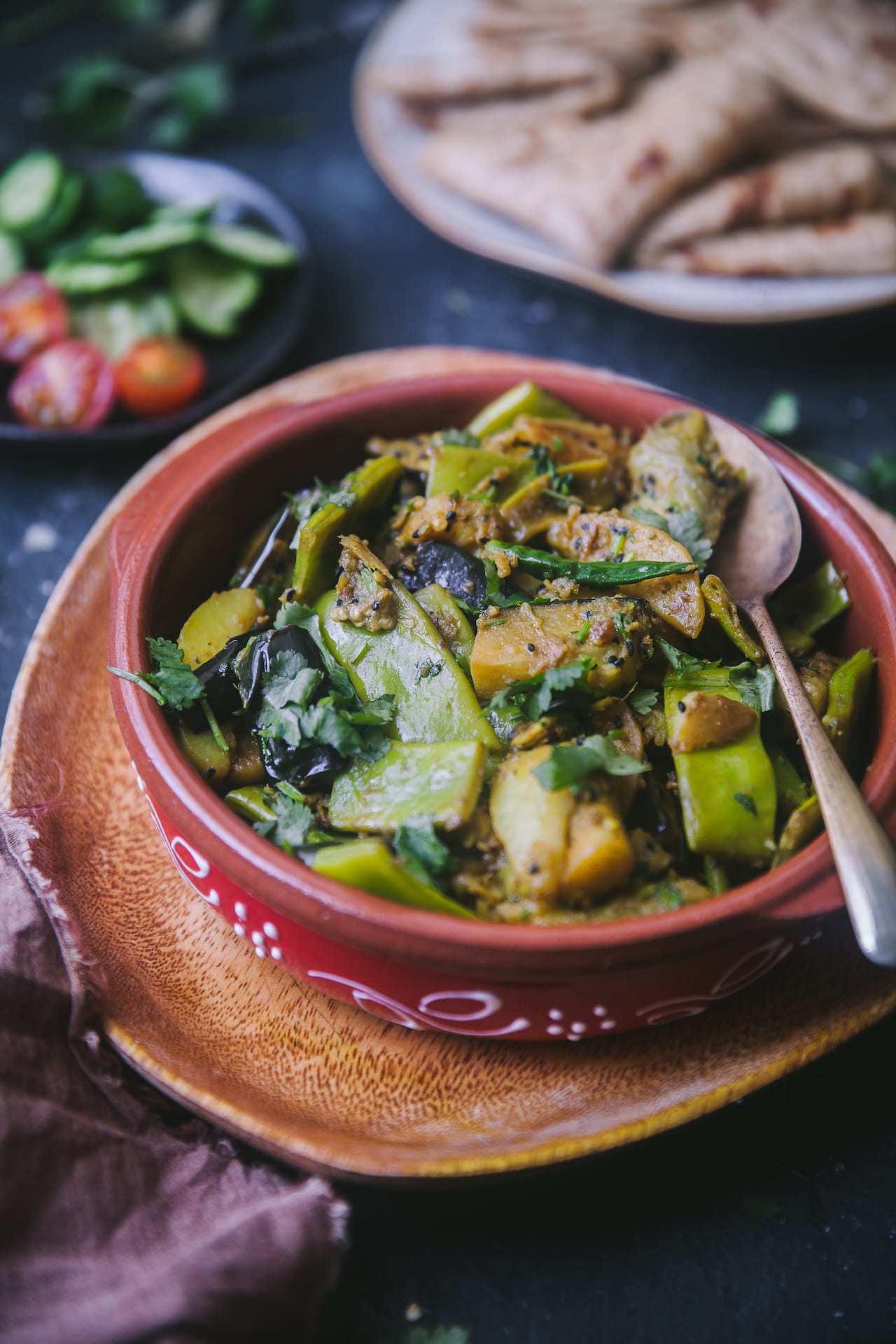 In terms of spices, you could make it creamy with poppy seeds, mustard seeds or keep it lighter like I did here.
Most Bengali dishes tastes best with rice but dishes like these go great with roti or paratha too.
If you haven't tried Bengali Chorchori before, do give this a try and let me know what you think of it!
Shim Begun'er Chorchori (Flat Green Beans and Eggplant Stir-Fried)
Ingredients
8.10

oz/230 g eggplant

8.55

oz/241 g flat green beans

5.70

oz/162 g potatoes

1

teaspoon

salt

1

teaspoon

turmeric

1

tablespoon

oil

1

teaspoon

nigella seeds

1

tablespoon

bhaaja moshla

(Here is the link to the recipe of the spice mix)

1

inch

fresh ginger

(finely grated)

2

green chili

few fresh cilantro leaves
Instructions
Trim the edges of the green beans and slice it into 1-inch chunks.

Peel the potatoes and slice it into wedges. If the potatoes are big, slice the wedges into half.

Slice the eggplant into a similar size as that of the green beans and potatoes. I prefer to keep it tad bit bigger because it cooks down to mushy as compared to beans and potatoes.

Place the eggplant in a bowl and mix it with ½ teaspoon salt and ½ teaspoon turmeric. This will soften the eggplant and thereby, require less oil to cook it down.

Place a pan at medium heat and pour 1 tablespoon of oil. Sprinkle the nigella seeds and once the seeds start to sizzle, scatter the potato wedges and sprinkle rest of the salt and turmeric. Toss it around, cover the pan and cook for 5 minutes, letting the potatoes soften a bit.

Add the green beans and eggplant. Toss it around. Add the ginger, bhaaja moshla and green chili. Toss everything, add ¾ cup of water, cover the pan and simmer for 10 minutes. Toss once in between to make sure it doesn't stick to the bottom of the pan.

Finely chop the cilantro leaves and add it to the pan. Mix it around and serve warm!
Nutrition
Here is a link to more Bengali Dishes if you want to try!
These plates are from Tuxton Home Collection! I quite love these, the white with golden is my favourite.