Kolkata Egg Roll is one of the most loved Kolkata street foods. Delicious flaky flat bread, covered with egg on one side and filled with a simple salad of onion and cucumber. Little amount of chaat masala is added for flavor and sometimes, a pinch of Indian black salt also goes in. A tiny dollop of ketchup and its wrapped casually. The vendors will always make it fresh and serve piping hot to hungry customers passing by. Kolkata Egg Roll makes for a great meal option too and often, it's my go to when I am out of dinner ideas.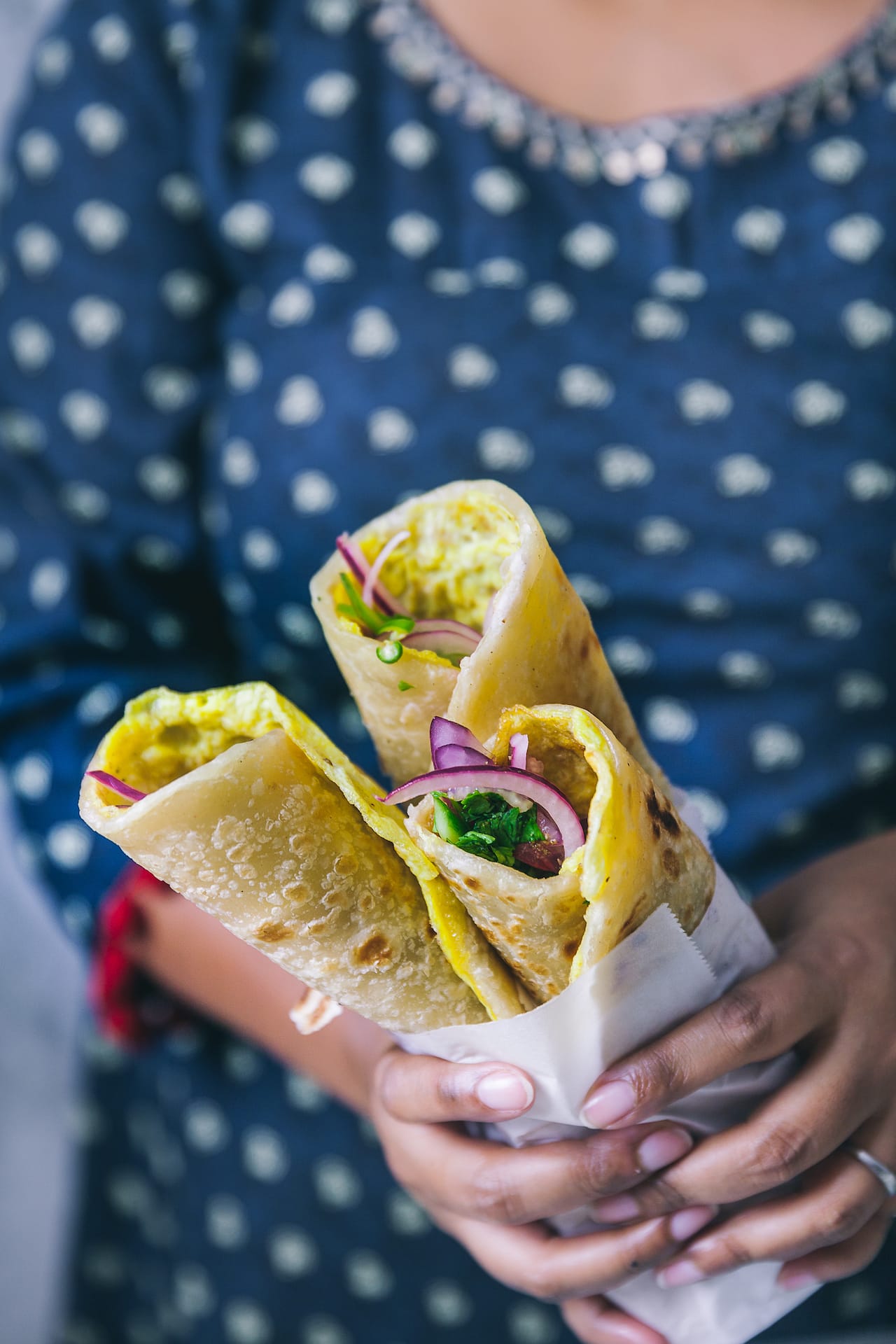 My first memory of Kolkata egg roll was not in Kolkata but in Shillong, a hill station where I grew up. We didn't have this roll as a street food all-year round but it would always be available during Durga Puja. Every Durga Puja pandal has multiple food stalls and at least one of them would definitely serve egg roll. All the four days of Durga Puja meant too much indulging in those food stalls and I would have at least one egg roll everyday.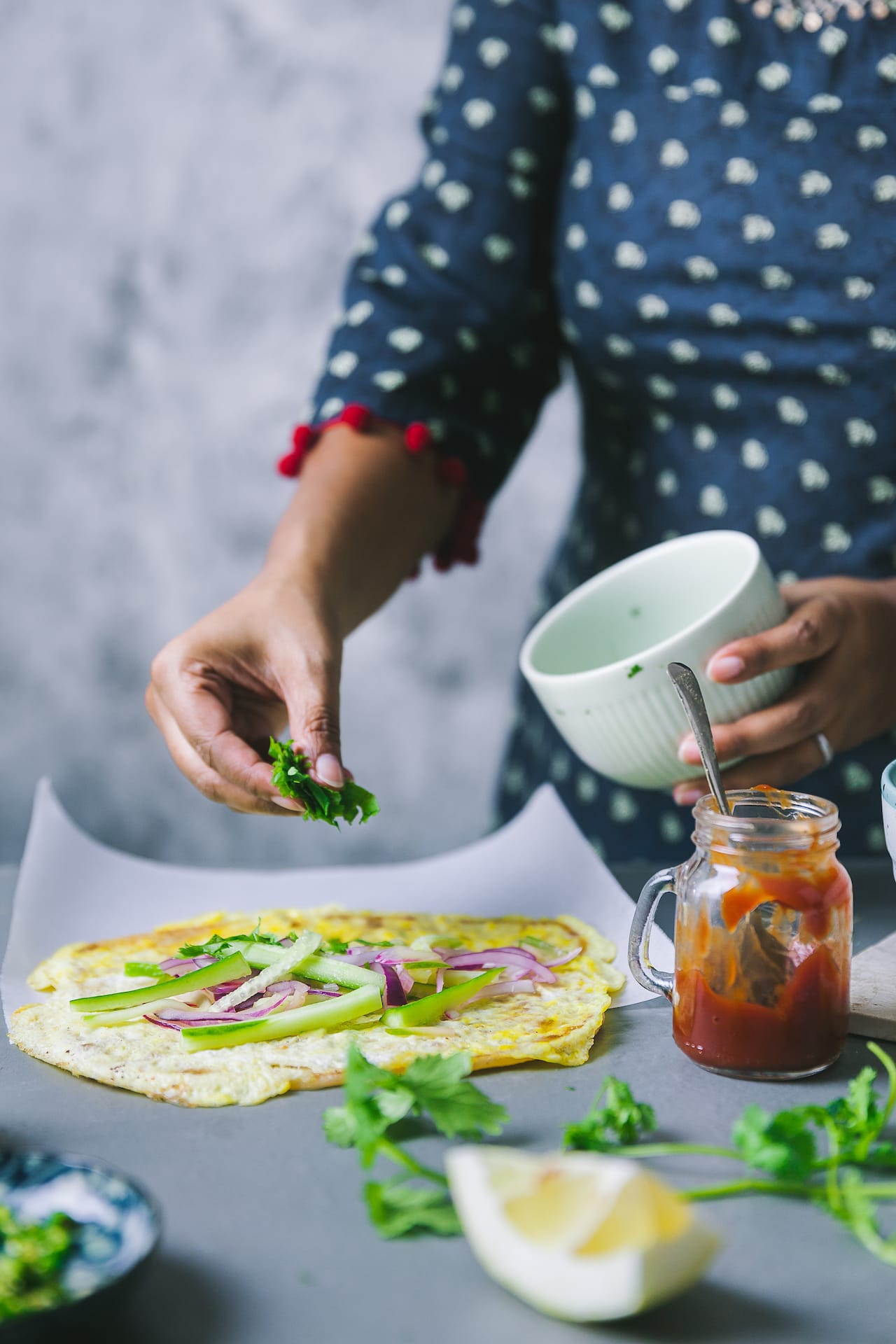 What kind of Paratha you need in Kolkata Egg Roll?
It's a layered paratha prepared with all-purpose flour. You can surely use whole-wheat flour. The taste will obviously change a bit based on that.
Fry the paratha in a cast iron pan as it helps in creating a lovely golden crust on the paratha.
What filling goes in Kolkata Egg Roll?
Kolkata Egg Roll can have different kind of fillings. The most popular one is a simple salad of thinly sliced red onion and cucumber with some green chili for heat and cilantro for refreshing flavor. A hint of chaat masala and lemon juice to bring it all together! Apart from this filing, you can also find chicken or mutton filled egg roll.
Key points to remember while preparing layered paratha?
Prepare the dough with all-purpose flour, water salt and sugar. The dough needs to be soft and pliable.
It's extremely important to let the dough cover and rest for 30 minutes before you shape the layered paratha. Resting the dough at every step allows it to relax and makes it easy to roll.
How many eggs you need?
1 egg per egg roll is needed.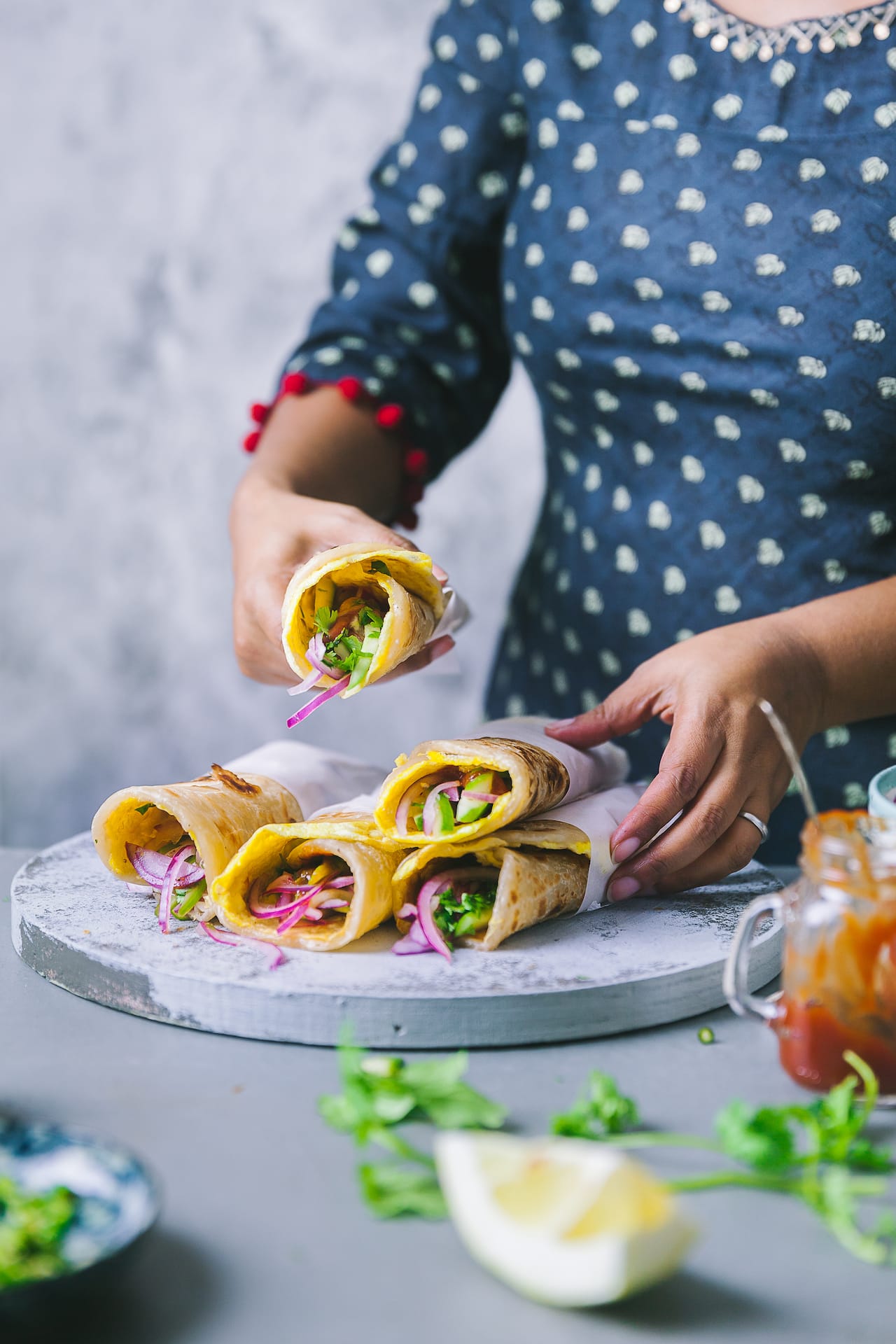 Can you freeze the paratha?
Absolutely yes! All you need to do is shape the paratha, roll it and fry it mildly (without any oil) on both the sides. Let it cool completely before you place it in a zip pouch or any tight container. You can freeze it up to 3 months.
When you are ready to prepare the egg roll, just thaw the frozen paratha. Prepare the filling and fry it with egg in a hot skillet with oil.
Although the traditional method is to prepare the wrap with layered paratha, you could definitely serve it with a plain paratha too.
I have tried various different types of wraps and rolls but in my mind, this easy Kolkata Egg Roll will always hold a very special place. It always takes me back to good old childhood days of Durga Puja Season!
Link to other Indian Street Food you might want to try:
Kolkata Egg Roll
Ingredients
For the Dough
2

and ½ cups all-purpose flour

1

tablespoon

sugar

1

teaspoon

salt

2

tablespoons

oil

1

cup

warm water

(you might need more or less, so add little by little as you form a soft dough)
For the Filling
1

red onion

2

small/ 1 big cucumber

2 to 3

green chili

Handful of chopped fresh cilantro leaves

6

eggs

(1 egg for each roll)

1

tablespoon

chaat masala

(you will need a couple pinches for each egg roll)

1

tablespoon

fresh lemon juice
Instructions
In a mixing bowl, add the flour, salt and sugar. Give it a mix and add the oil. Mix the oil nicely with the flour so that it forms a crumbly texture. Pour the warm water, little by little, to form soft pliable dough. Shape the dough into a ball, rub little oil and cover it with a cloth. Let it rest for 30 minutes.

In the mean time, prepare the filling. Thinly slice the onion and cucumber. I used tiny cucumbers and so, I retained the skin and there were barely any seeds. If you use those big varieties, do discard the skin and remove the seeds.

Place the cucumber and onion in a bowl and add lemon juice. Give it a mix and keep it aside to be used later. Finely chop the green chili and keep it in a bowl. Also, keep the finely chopped cilantro in a different bowl.

To prepare the layered paratha, divide the well-rested dough into 6 portions and shape each portion into small dough ball. As you work with one dough ball, make sure you cover the rest with the cloth. Roll the dough ball into a very thin sheet, almost transparent. Don't worry about the shape.

Starting from one edge, make small pleats by folding the rolled dough. Then, swirl the pleat to form a circle like a swiss roll (watch the video to understand it better). Make sure to tug in the end neatly.

Shape rest of the dough balls the same way. Cover and let it rest for 5 to 10 minutes before you roll it for the paratha.

Place a cast iron plan or any heavy bottom skillet at medium heat. While the skillet heats up, roll the shaped dough into a thin circle evenly. Remember to roll gently from the center to outward.

Drizzle a little oil in the medium hot skillet and place the rolled paratha. Gently press and keep rotating the paratha on the skillet. Cook for 1 minute, drizzle a little oil on top and flip. Cook for one minute while gently pressing. Make sure to press the edges as that part takes more time to cook. Flip and cook for 1 minute. Continue flipping and cooking until you see golden brown spots all over. Take it off the skillet

Whisk one egg in a bowl with a tiny pinch of salt. Drizzle little oil on the skillet, pour the egg and immediately place the cooked paratha on top of the egg. Gently move it around so that the bottom gets covered in the egg. Cook for a few seconds and carefully flip it around.

Prepare rest of the egg rolls the same way.

Layer the onion cucumber salad in the center on the paratha, add a little green chili (if using), little cilantro, sprinkle some chaat masala and add ketchup.

Roll the paratha tightly.

Wrap it with a parchment paper. Make sure to seal the bottom (watch the video to understand it better).

Serve immediately.
Video
Notes
You can always substitute layered paratha to a plain paratha . It's also amazing with Malaysian flat bread. And for a quick not traditional version, just go with store bought whole wheat tortillas.
For the filling, you can be as creative as you want. You could make it heavy or light, vegetarian or non-vegetarian.
Nutrition
Serving:
6
Kolkata Egg Roll