The past few weeks have been a little bumpy for us. First, I caught a bad virus that started with a horrible throat ache. And then, I passed it on to my little boy. He was not eating or playing, fever back to back and he just wanted to rest. We kept him off school for a few days. On top of all this, the workload was getting piled up. It's a good thing that my work spins around food, so even if the laundry gets done in time or not, the food is almost always ready. Of course, with a sick baby at home, cooking takes the last priority and I look for quick meals. One of my go to being, this Paneer Jalfrezi (Cheese and Pepper Stir Fry).
I feel this year has been frequently about dealing with one illness after another. Everyone told that this is common with all kids in their first year of school. No matter how much we prepare ourselves, when the sickness strikes, the days just get extremely stressful. I guess that's the contract we signed when we decided to become parents. Dealing with phases after phases. When one of those chapter hits, I go back to one of my favorite ingredients to cook with - Paneer! It cooks fast, is protein packed and there are numerous different ways to use paneer in your meal.
Paneer is one of the most common ingredients in India. This fresh coagulated cheese, unlike other cheeses, stays firm. It retains its shape as it cooks, soaks up the entire flavor and doesn't melt. This makes it perfect for grilling, stir-fries and curries. The thing to remember about paneer is that as it sits, it gets tough but once you heat it up, it relaxes and gets spongy.
Making fresh paneer is extremely easy and I don't remember Mom every buying it. But then given the fact that it still takes effort, even if minimal and that finding a block of paneer is so easy these days. I almost always just go for the store bought ones. Store bought paneer chunks are never as soft as the homemade. One technique that always works to soften the texture is by soaking the paneer cubes in hot water for about 15 minutes.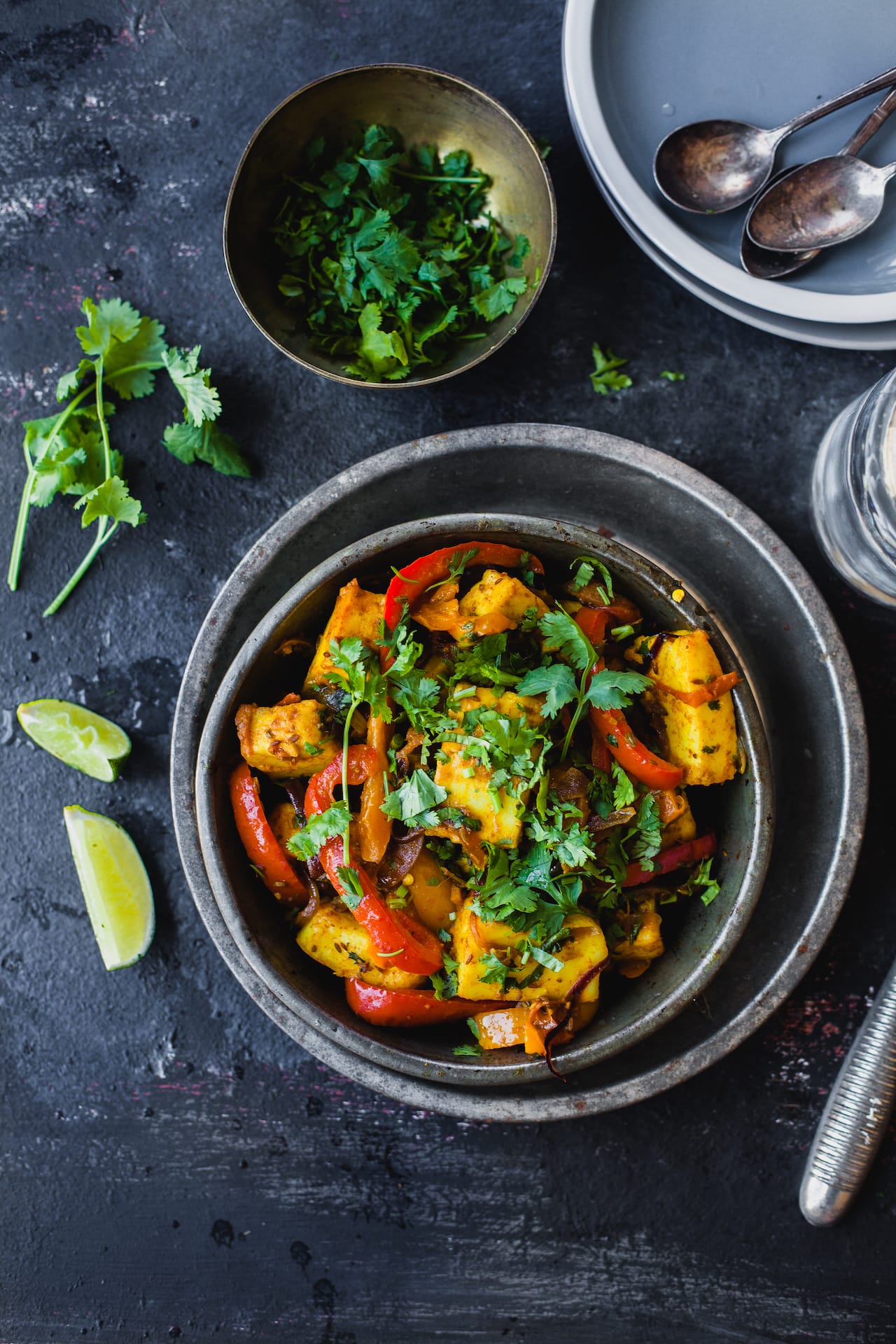 Paneer Jalfrezi is a very common dish in India. You can find it in almost every Indian restaurants. Although the term Jalfrezi comes indirectly from Bengali Jhal (which means spicy), I like to keep , my version of Paneer Jalfrezi, gently spiced. Mostly because Avyan still cannot enjoy spicy food. Typically, this dish requires green bell peppers but I like to prepare with red and orange. It gives a vibrant shade and adds a mild sweetness too. I like this without any gravy, just stir fried. But you can add water  to make is saucy. Either way it's a very hearty fast meal that will work even on busy weeknights. Serve it with roti, rice or try my instant naan.
Paneer Jalfrezi (Cheese and Pepper Stir Fry)
Ingredients
14

oz./400 gm paneer

1½

teaspoon

salt

1

tablespoon

oil

1

teaspoon

cumin seeds

1

teaspoon

fennel seeds

1

garlic clove

(finely chopped)

1

inch

ginger

(finely chopped)

½

of a big red onion

(thinly sliced)

½

teaspoon

sugar

1

bell pepper

(seeds removed and thinly sliced)

½

teaspoon

turmeric powder

½

teaspoon

cumin powder

1 to

mato

(thinly sliced)

finely chopped fresh cilantro leaves
Instructions
Cut the paneer block into bite size pieces. Drop the pieces into a bowl, sprinkle ½ teaspoon of salt and pour enough hot water to soak the paneer cubes. Leave it aside for 15 minutes. This will soften the paneer cubes.

Place a heavy bottom pan on medium high heat and drizzle 1 tablespoon of oil. Once the oil is hot, sprinkle the cumin and fennel seeds. Allow it to sizzle for a few seconds. Then, scatter the finely chopped garlic and ginger. Give it a stir and cook for 1 minute.

Scatter the sliced onion, sprinkle rest of the salt, turmeric powder and sugar. Stir and cook for 3 minutes. Then, add the bell pepper followed by cumin powder and chili powder. Stir and cook for 2 minutes.

Add the sliced tomatoes and stir. Cook for about 5 minutes or until the bell peppers and tomatoes are softened.

Drain the soaked paneer cubes and drop it into the pan. Mix it together to coat the spice on the paneer cubes. Cook for 5 minutes, tossing every now and then. If you want it with more gravy, add some water but I like to keep it dry.

After 5 minutes, check for salt and add any, if required. If you prefer the dish to be spicier, add some Garam Masala at the end and cook for a couple more minutes.

Sprinkle finely chopped fresh cilantro, give it a mix and it's ready to serve.

Note: If you allow the Paneer Jalfrezi to rest for a long time, the paneer cubes will harden a little bit as it is a dry stir fry dish. Before serving, just warm it on a pan or in microwave for a minute and the paneer cubes will soften and turn spongy once again.
Nutrition