Making appetizers for holiday parties is one of my favorite things. I feel it's easy to grab a bite, walk around, sip some wine and come back for another bite. There are a few favorites and humus is definitely one of them. I usually pair it with a bunch of assorted veggies and crackers to dip in. If you want to uplift your regular hummus, add a little smack with Maille Honey Dijon and pair it with zaatar toasted pita chips. Of course, you could keep adding few other sides like radish, cucumber or whatever you like and turn it into a welcoming beautiful Honey Dijon Hummus Platter.
Tips to make Honey Dijon Hummus:
Make sure to peel the canned garbanzo beans. You can surely make hummus with peel and I go for that option when I am in a rush. However, if you want the silky-smooth texture, definitely peel those skins.
Blend the garlic and tahini into a smooth consistency before adding the peeled garbanzo beans to the blender.
Add ice cubes instead of water while blending the chickpeas as it makes the texture ultra-smooth.
This post is done in collaboration with Maille, which has a rich heritage starting from 1747 and honors tradition. They use highest quality ingredients to create complex zesty flavors to make your meal extraordinary. Maille believes that the right condiment can uplift your everyday meal in the most amazing way without much effort.
This hummus party platter was uplifted in an effortless way by just adding Maille Honey Dijon. They have a huge variety of interesting flavors to pick from and you can check it out here.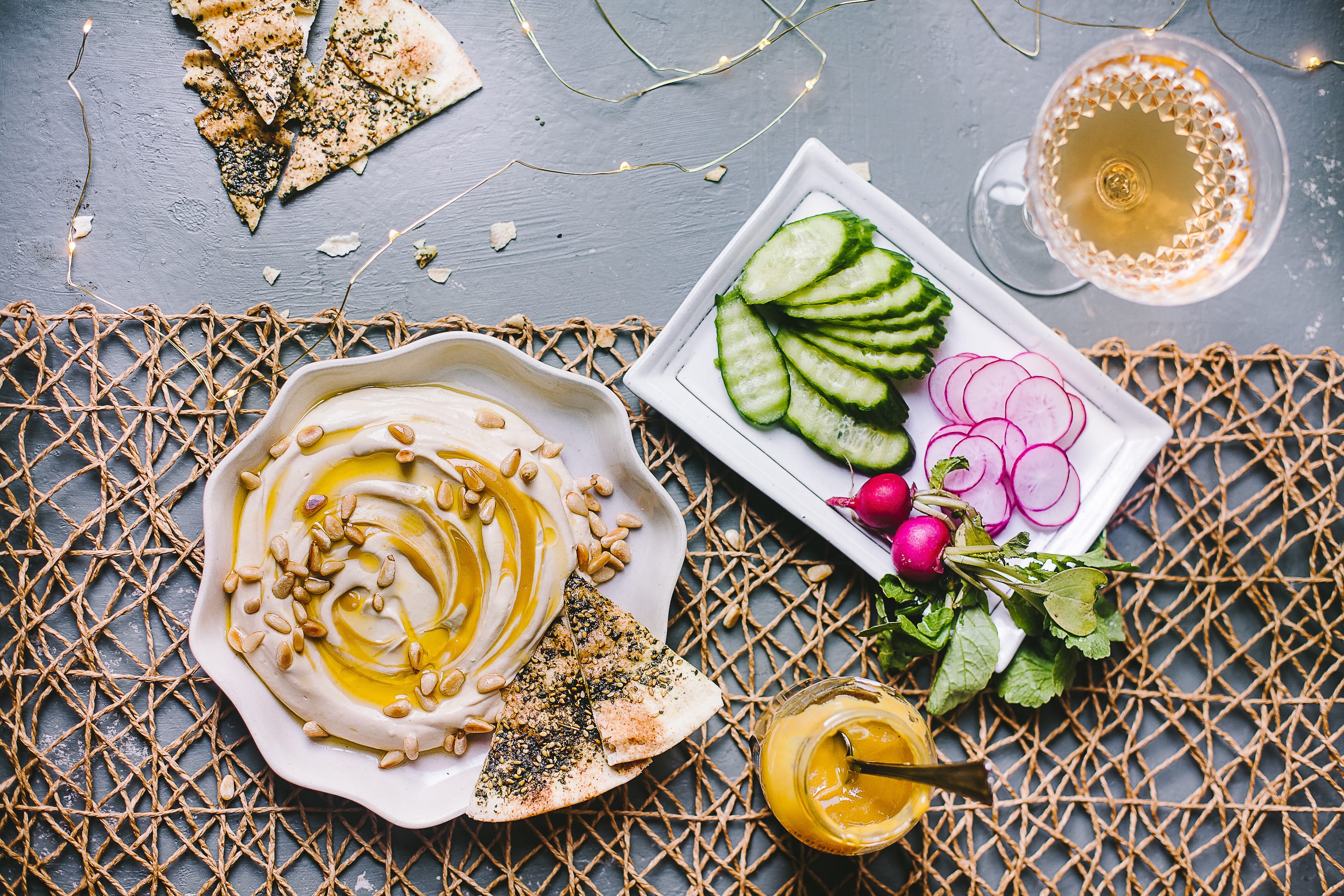 I didn't add any spice or extra flavor to the hummus as I wanted the honey Dijon flavor to shine through. It added a mild sweetness, which paired perfectly with the zaatar spice that I had coated on the pita chips. Without any effort at all, this beautiful platter was ready. So, this festive season, transfer your simple hummus into a fun food experience with a zesty kick.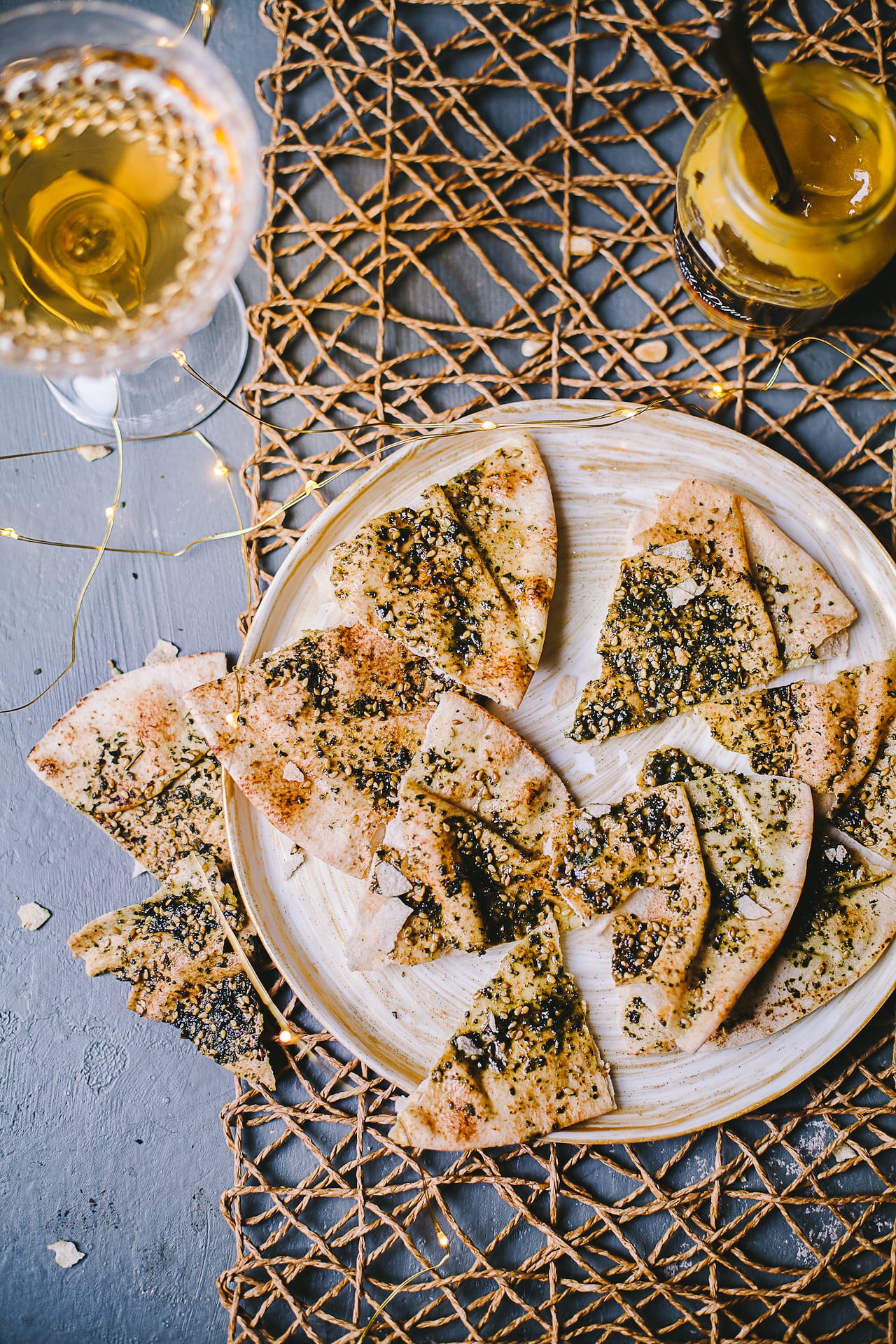 Here are few other appetizer ideas:
Honey Dijon Hummus with Zaatar Pita Chips
Ingredients
for the honey dijon hummus
1

can garbanzo beans

(15 oz/ 425 g)

1

garlic clove

3

tablespoons

tahini

3

tablespoons

olive oil

2

tablespoons

fresh lemon juice

1

teaspoon

salt

1

teaspoon

paprika

4

ice cubes

2

tablespoons

Maille Honey Dijon

toasted pine nuts

(optional)
for the toasted zaatar pita chips
2

big pita breads

2

tablespoons

zaatar

oil to brush on the breads
Instructions
Drain the beans from the can and give it a good wash. Then, soak them in warm water. Take a little bit in your hand and rub it in a towel for the skin to peel off. This process will take sometime but will make your hummus creamy.

Add the garlic and tahini in the blender and blend until it looks smooth. Keep scraping from side as you blend.

Pour olive oil and blend it again to form a smooth consistency.

Drop the peeled garbanzo beans and lemon juice. Blend for 1 minute, scraping from the sides when needed.

Then, drop the ice cubes, salt and lemon juice and blend for 4 minutes, again scraping from the sides when needed.

The texture should be smooth by now. Finally, add the Maille Honey Dijon and blend again to mix everything.

Pour the hummus in a serving bowl and swirl it with the back of the spoon. Pour some olive oil on top, sprinkle some paprika, a little bit more of the Maille Honey Dijon mustard and roasted pine nuts (if using).

For the toasted zaatar pita chips, preheat the oven to 350 F. Brush some oil on the pita bread and sprinkle the zaatar spice on top. Place it in a cookie sheet and bake it for 7 to 10 minutes on the middle rack of the oven. Once done, let it cool down a bit. Then, slice it and serve with the hummus.
Nutrition