Sometimes you can almost predict that how amazing the dish is going to be, even before you finish cooking it. You can smell the aroma, hear the sizzle, see the color and you start to feel hungry. But you don't want to taste it yet.. You want all the spices to play around and do the magic so that you get the best taste at the end. It is always worth the wait!
This is exactly what was happening with me when I was making Butter Chicken for the first time. It's Arvind's favorite chicken dish and I didn't want to mess it up! My idea of butter chicken was so silly.. I thought that it's cooked with butter and that's why the name. Until I saw the amazing recipe in Soma's blog eCurry.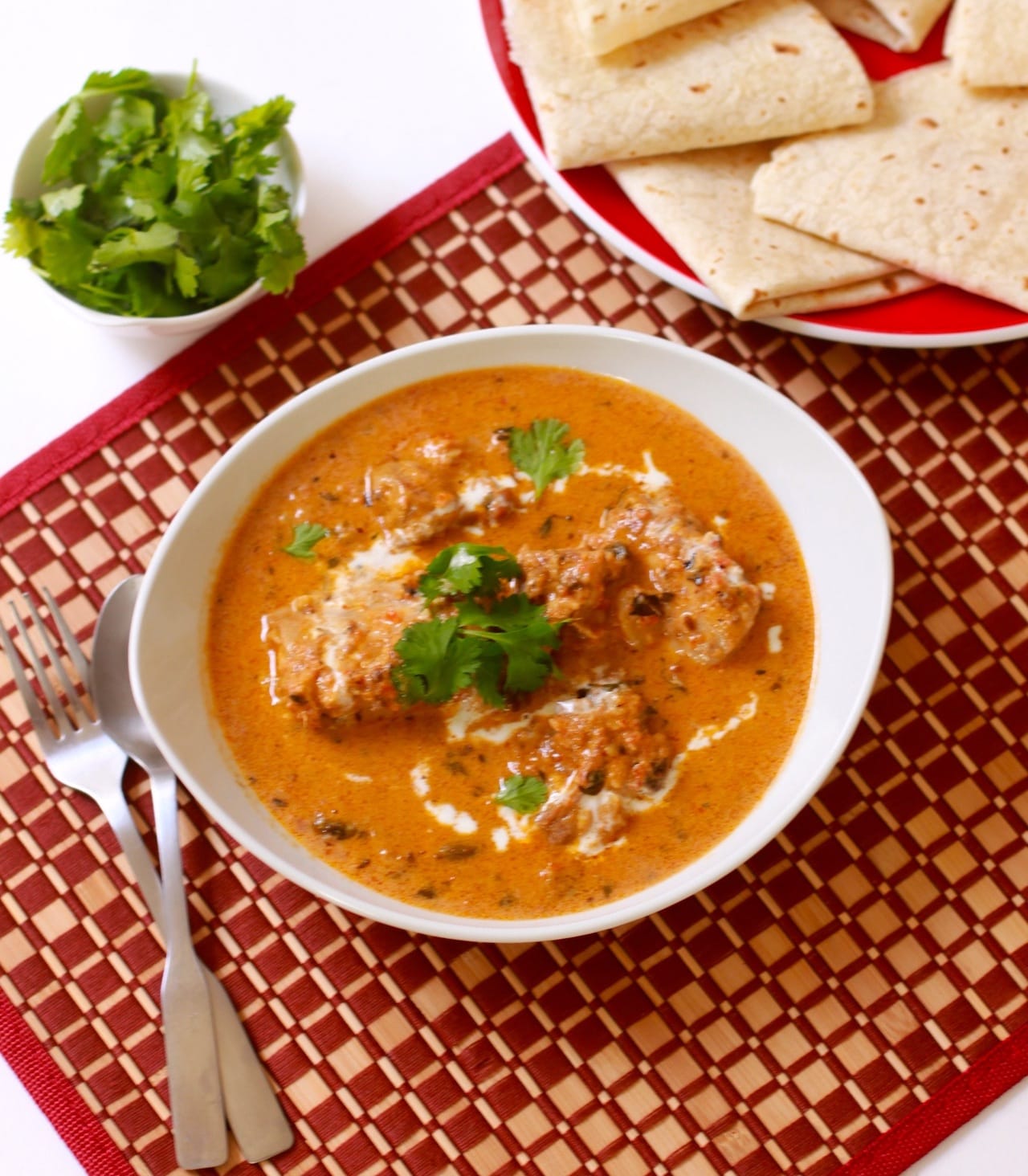 Origin of the dish.. How often do you hear that! This time you will 🙂 Butter Chicken has a very interesting history. This dish was first introduced by a restaurant called Moti Mahal in New Delhi. "The origins of butter chicken can be traced back to Kundan Lal Gujral, a Hindu Punjabi, who ran a restaurant called Moti Mahal Delux in Delhi". It's a very rich dish which involves cream, butter, almonds and cashews. If you google, you will find different variations of the recipe.. including lighter versions too. We wanted the rich creamy buttery version. Well, we did run on the tread-mill a little longer next day. And we cut down on butter and cream the next few days 😉
At first, I thought it might be a complicated recipe but as soon as I read Soma's recipe, I realized that you could make the Makhani Masala/Buttery Sauce in advance and even store it in air tight jar for few days in the refrigerator. Once you have the sauce ready, making the dish is super easy. It just requires some prep time.
This will serve 4
Let's start by making the Makhani Masala which is a thick tomato based sauce.
Makhni Masala
Ingredients
3 cups tomato puree
1 tbs ginger, finely grated
1 tbs garlic, finely grated
1 stick cinnamon
2 green cardamoms
1/2 tablespoon kasuri methi, dried fenugreek leaves. it is easily available in any Indian Grocery store
1 tsp red chili powder
1/2 tsp cinnamon powder
1 green chilly, chopped
salt
oil
Instructions
In a saucepan, heat some oil and add ginger, garlic, cinnamon and cardamom. Let it sizzle for a few minutes.
Next, add tomato puree, salt, cinnamon powder, kasuri methi, chilly powder and mix them properly.
Add 1 cup hot water.
Bring the heat down to medium, cover the saucepan and let it cook for about 15 mins.
When you see the oil separating from the side and the sauce looks thick dark red in color, turn off the gas. The makhani masala is ready.
There was some leftover from dinner and we had it the next day for lunch. It tasted much better the next day. But, that's just me. I always tend to enjoy it more the next day. I think it brings more flavor to the dish.
Did you enjoy this Butter Chicken/Murgh Makhani? Share your creation by tagging
@playfulcooking
on Instagram with the #playfulcooking and I will re-share in my story!