You must be thinking I have gone crazy to enjoy soup at this time of the year and I don't blame you for that. Seriously, who enjoys soup in summer!! Summer calls for smoothies, spritzers, sorbets and something else that doesn't start with 'S' but everybody's favorite – ice creams.
Somehow summer and soup doesn't fall in one sentence and yet, here I was enjoying my wonton soup in summer.
It was not planned.. seriously!
There was some left over minced chicken which I had to use. So, I started to chop some vegetables and the plan was to surprise Arvind for dinner by making one of his favorite dish – Steamed Momo. Then, my eyes fell on some lemon grass stalks.
You see, I have this 'special love' towards anything related to lemon; zest.. juice.. leaf.. stalk. The smell of lemon is so refreshing that it always cheer me up. It's one of those things which I never forget to buy.
Once I sniffed those stalks, I started craving for a spicy Thai soup. And that's how my dish started in one direction and then, landed in a warm bowl with some stock!
I know lemon grass in wonton soup is not normal but you should try it.. and trust me it tastes good.. so good!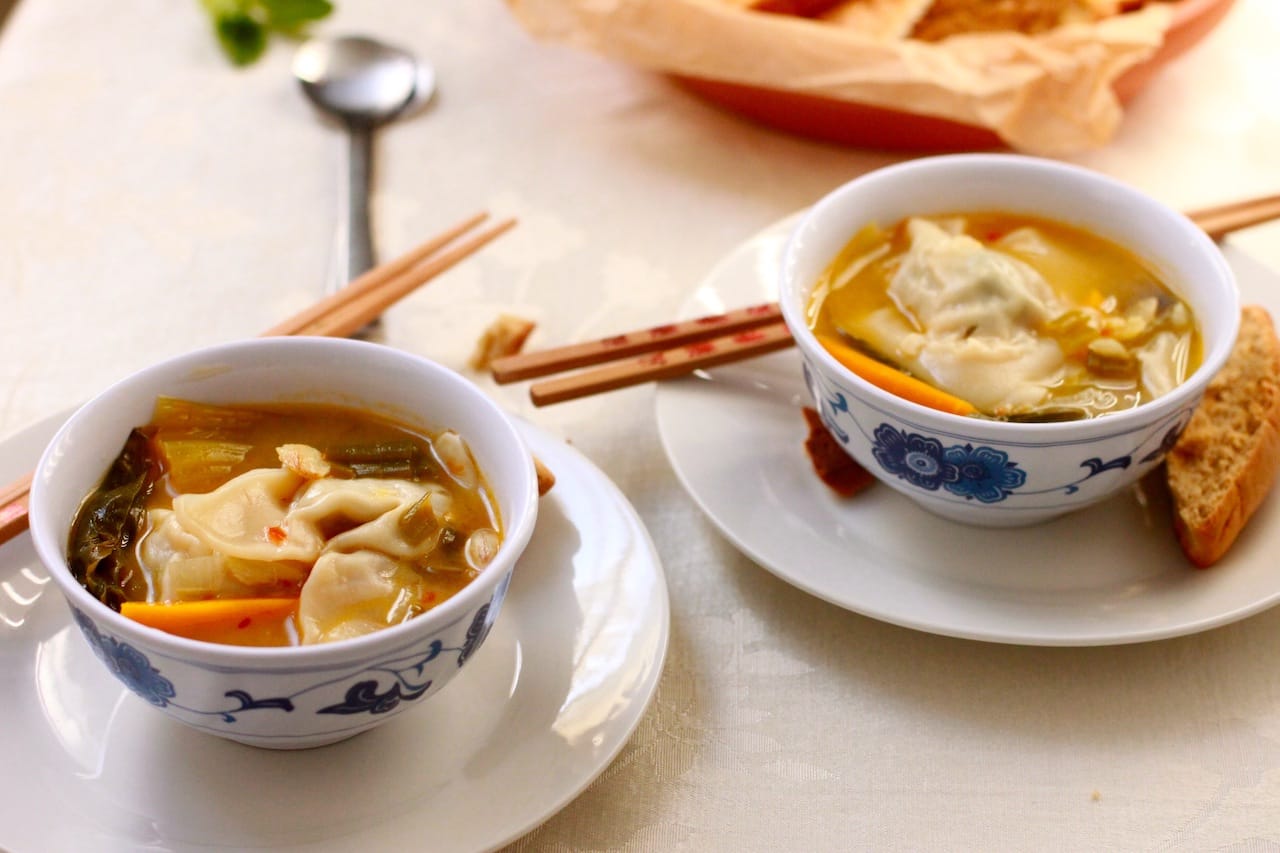 I am not much of a soup person but give me a bowl of tangy spicy Tom Yum Soup or a warm Wonton Soup at any time of the year and you will see me gulping it down like a happy bunny 🙂
This wonton soup was like a combination of both the soups. It had the soft dumping, clear soup which was tangy and spicy. It was one amazing dinner on a sunny summer evening ! 
Print Recipe
Chicken Wonton Soup
Ingredients
For the wontons
1

packet thin wonton wrappers

2

cups

minced chicken

1

cup

finely chopped green onion

3

cloves

garlic

grated

2

tsp

finely grated ginger

2

tbs

oil

1

tbs

chilly powder

1

egg

pinch

of salt

pinch

of pepper

1

tbs

soya sauce
For the soup
1

medium onion

finely chopped

3

carrots

thinly sliced

2

bunch baby bok choy

2

stalk lemon grass

6

cups

chicken broth

1

tbs

chilly sauce

salt

pepper
Instructions
Lets start by making the wontons. In a bowl, add all the ingredients for the wonton(except the wrappeand mix them properly.

Take the wonton sheets and pour little quantity of the mixture in the center. Then, close the wrapper in any shape that you prefer.

The key point is to make sure that there is no air inside the wrapper.

You can make these wrappers in advance and refrigerate them for later use.

For the soup, heat 2 tbs oil in a deep pan.

Add the onions and season with salt, pepper. Saute till the onions are translucent.

Put sliced carrots and chilly sauce in the pan. Next, add the broth and simmer the heat.

Pound the lemon grass which will allow it to release the aroma.

Then, cut it in half and drop the lemon grass in the broth and let it cook for 15 minutes.

Finally, add the bok choy and the wontons and cook for about 5 minutes.

Discard the lemon grass and serve the soup warm.
Nutrition