Momo is a Tibetian street food speciality that is hugely popular in Indian street food section. These are soft steamed dumplings, stuffed with vegetables or minced meat. Oten served with spicy chili sauce. Growing up I ate a lot of Momo, mostly chicken momo and it was very popular in North East India and some parts of Kolkata. Now a days you will find really good authentic style prepared momo pretty much everywhere in India and also outside India.
Chicken Momo is a North Eastern India Speciality!
If you are from northeastern part of India or grew up there, I assume you must be familiar with momo. You probably even love it so much that you could survive on it. I was born and brought up in Shillong, a tiny little hill station in northeast part of India. The place is known for its pine covered hills, flowing streams, cool air and music. Unlike tropical India, the climate was always cooler. The gloomy cloudy days made indulging on piping hot chicken momo with spicy chutney! They would serve plain soup, which is a perfect way to warm up.
It's been ages since I last visited Shillong. Every time I eat steamed chicken momo, I go back to those tiny restaurants where we friends would gather after school for a plate of chicken momo or two. The plain broth that they served alongside the chicken momo was never optional for me. I would gulp down the entire bowl and even ask for more. It was so simple and yet so special. It's amazing how food can transport you back to those lost old days. I never got tired of this famous Tibetan treat. It's still one of my favourite!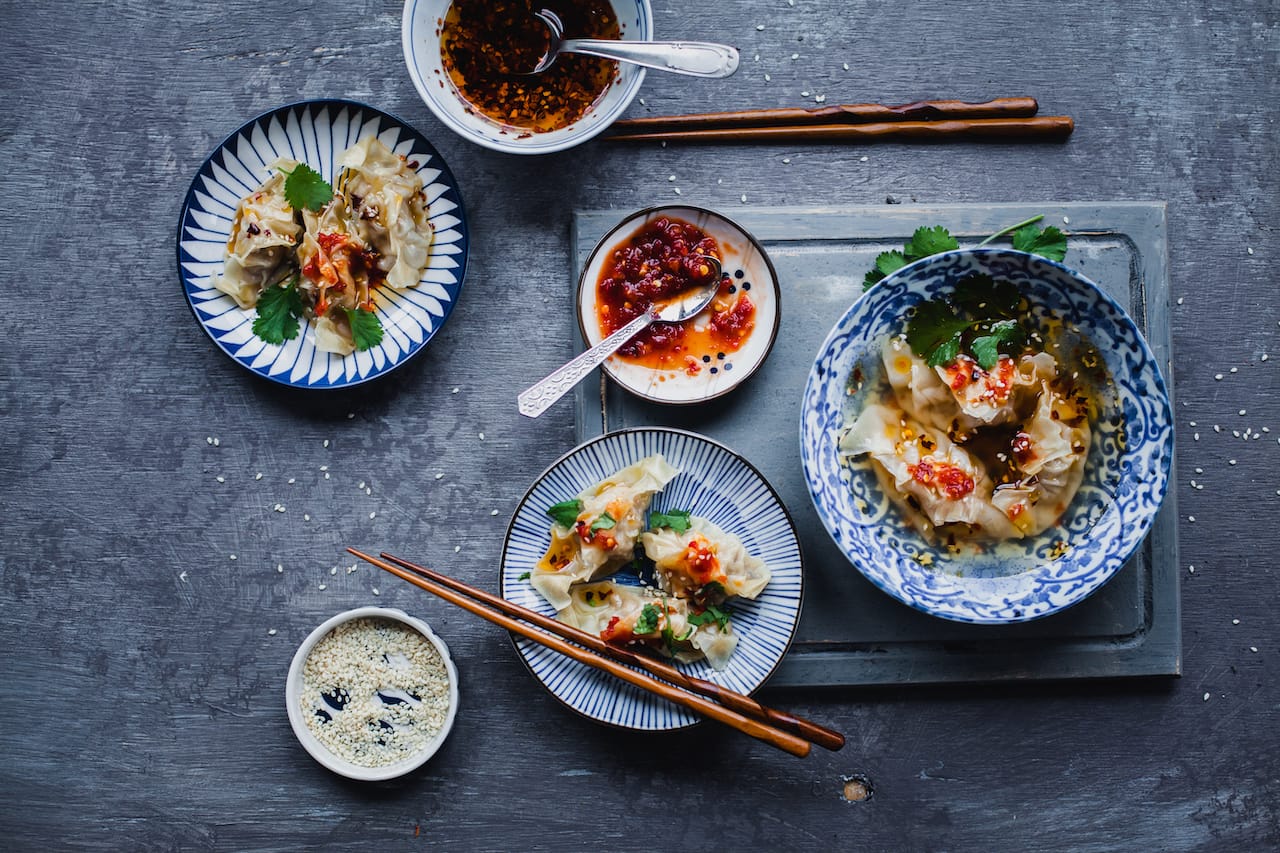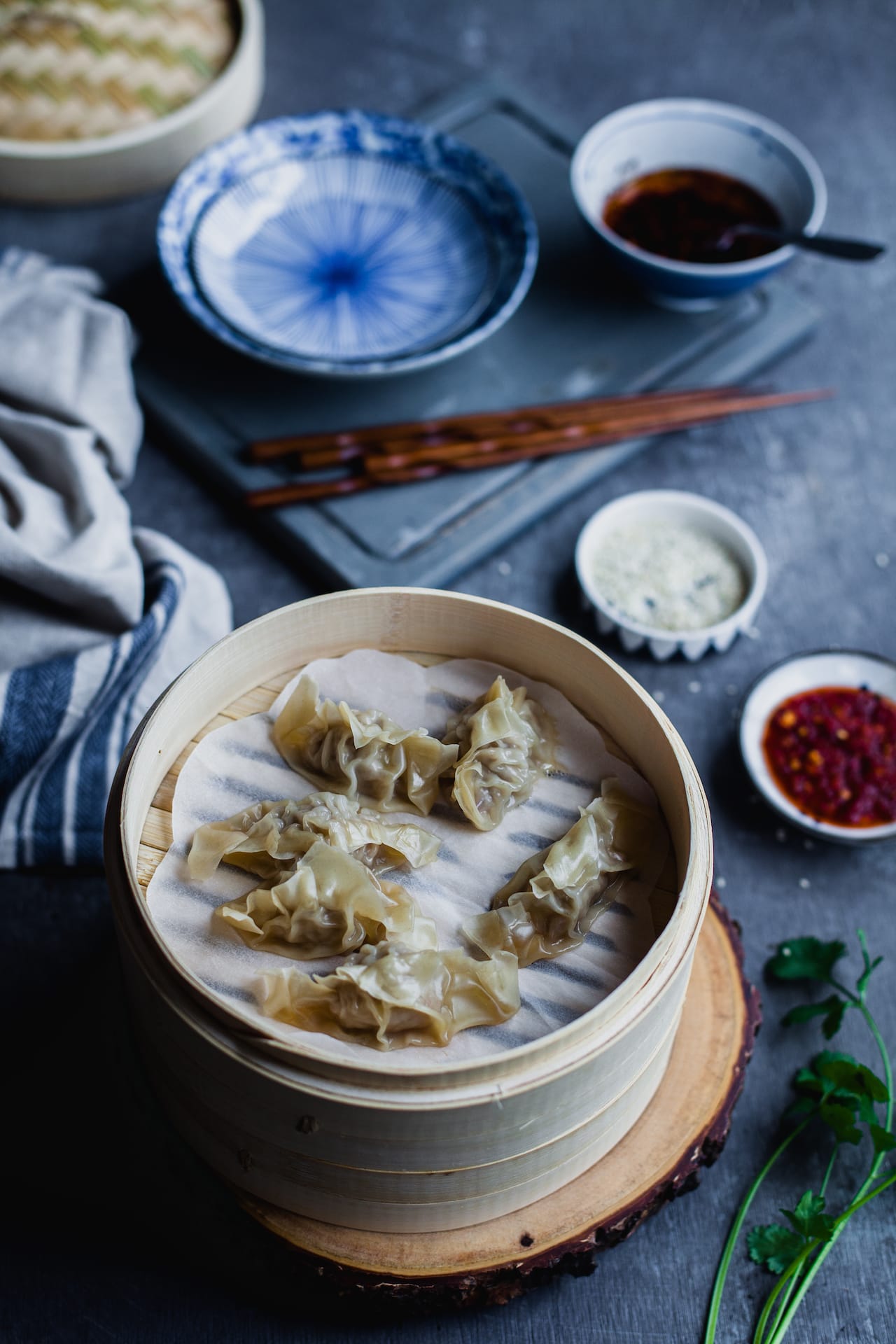 Out here in US, making momos at home is effortless because of the store-bought wrappers. It is quite easily available at Asian stores. They are typically called wanton wrappers. I mostly go with chicken filling that I flavor with some soya sauce, garlic and ginger. And for the broth, I just flavor up the water that I use for steaming the momos. You could of course add some bite size veggies in the water too, and turn it into a soup. But I just go with some fresh cilantro, ginger and a cube of chicken bouillon. Later, I drizzle some chili sauce and it turns into a flavorsome broth. So comforting!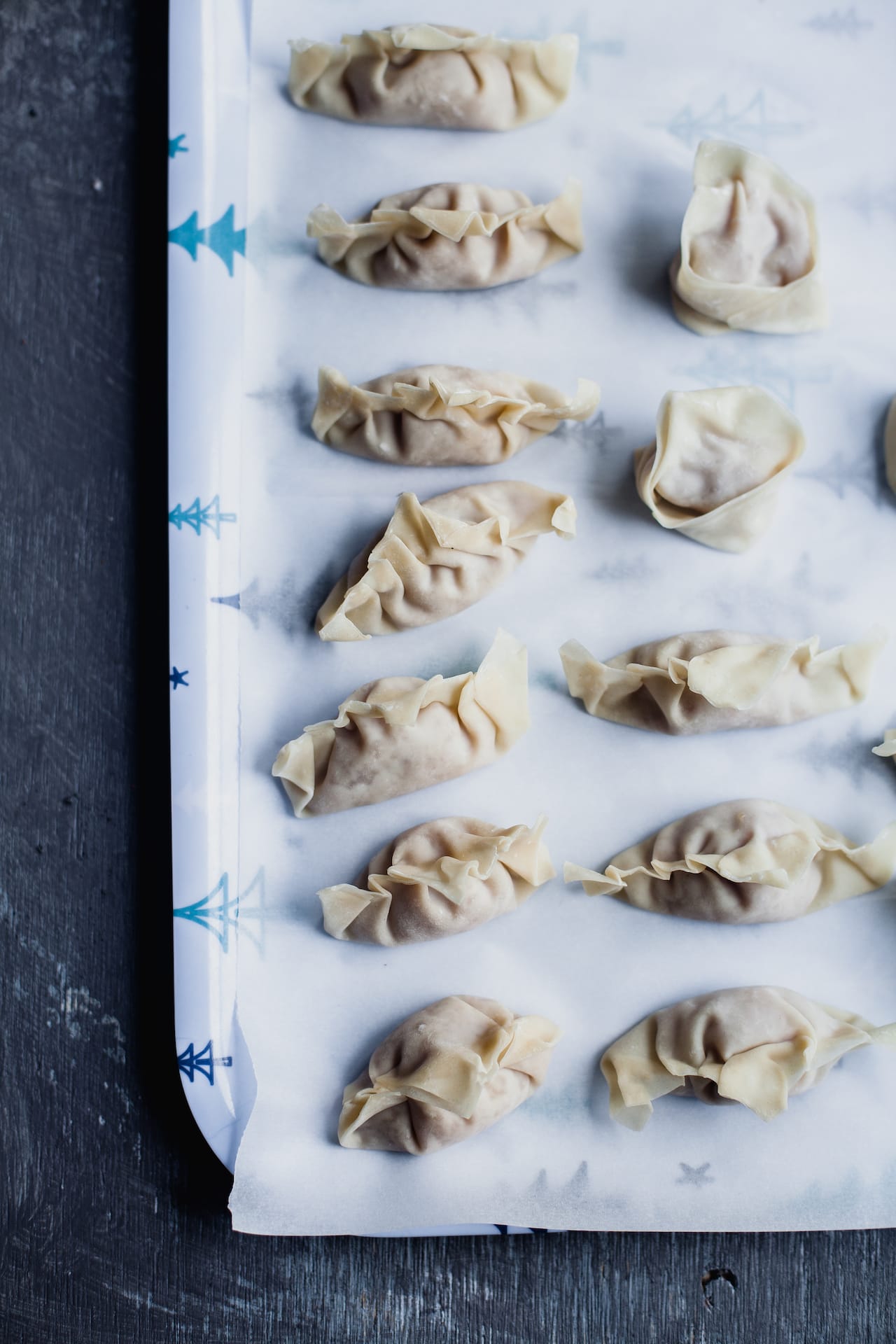 Typically, we eat momos with just spicy chili sauce but this time I also poured some hot garlic chili oil on top. You should try it. It gives such amazing smack. The heat is subtle. It was not too spicy but had that warmth from garlic. Drizzle some in the broth and the flavor gets elevated. The little fella didn't take a single bite but hopefully someday, he too will turn into dim sum fanatic like his parents!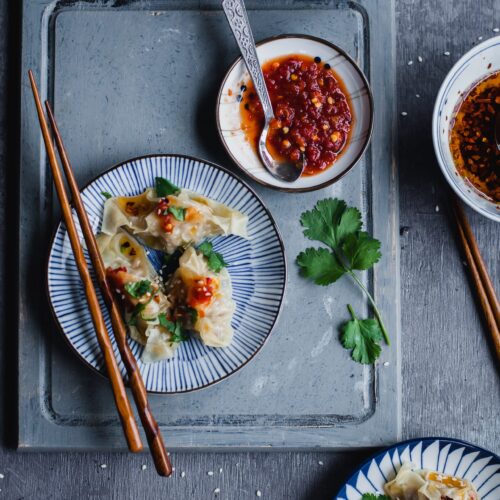 Chicken Momo
Ingredients
for the momos
wanton wrappers

(store bought or home made)

½

lb

ground chicken

1

tablespoon

soya sauce

1

inch

ginger

(grated)

3

tablespoons

grated onion

salt

pepper

1

tablespoon

oil
for the broth
water to steam the momos

1

cup

cilantro roots and leaves

(tied with a kitchen twine)

1

cube of chicken bullion
for garlic chili oil
click here for the recipe
Instructions
In a bowl, mix chicken with soya sauce, grated onion, grated ginger, salt and pepper.

Layer one wrapper on a chopping board and brush water on the edges. Spoon a little bit of the chicken mixture at the center and then fold it in half. Seal by pressing the edges firmly. You could also create textured edges by pinching the edges and folding it. I don't really care too much about the shape as long as it's filled properly. Once you are done filling the wanton wrappers, layer the dim sums in a tray and cover it with a kitchen cloth.

Pick a saucepan, which is big enough to place the steam basket on top for steaming. Pour 4 cups of water, along with tied up cilantro leaves and chicken bouillon. Bring it to a boil and then bring down the heat to medium.

Line the steamer baskets with parchment paper and place the momos. Place the steamer basket on top of the saucepan and increase the heat to high. Steam it for 4 minutes. Once done, carefully take it off and serve immediately with chili sauce and garlic chili oil.
Nutrition