Warm and silky to the palate with a hint of heat from the fresh ginger. This 5- ingredients Roasted Carrot Ginger Soup can warm you inside out! I can go for a bowl of soup anytime of the year but on days when I am under the weather, a hearty bowl of soup feels just right.
What are the 5 key Ingredients  that goes in the Carrot Ginger Soup?
Carrot
Sweet Potatoes
Chicken Stock
White Onion
Fresh Ginger
The fresh ginger makes this Carrot Ginger Soup extra tasty with the right zest of mild spice. You can add powdered ginger too if you absolutely don't have fresh ones.
You know how some ingredients are just meant to be together, like a marriage made in heaven! Chocolate and Orange, Dill and Cucumber, Nectarine and Rosemary, Mango and Chili, Carrot and Ginger are few such flawless flavor combinations. You can barely go wrong with these pairings. When I pick these ingredients for pairing, I try to stay focused just on them and avoid adding too much spices or herbs. I just let these ingredients shine through and blend harmoniously.
The combination of ginger with carrot is unbeatable and works full-proof all the time. Adding sweet potato gives that creamy texture that we all love in a warm soup.
Few tidbits to keep in mind when making the carrot ginger soup!
Use Fresh Ginger - You could use pre-grated frozen ginger or ginger powder or even ginger paste from a store-bought jar but the freshness and zest that you will get from fresh ginger is incomparable.
The Stock – I use stock instead of water only because there are no other spices or herbs that go in. It a quick 5-Ingredients soup and you will get great gravity in flavor from chicken or vegetable stock.
Heavy Cream or Coconut Cream – This is completely optional! I like to drizzle a little cream on my soup because it looks pretty and adds lushness at every spoonful.
Is roasting the root vegetables important?
Absolutely not! You can just let everything simmer in a large pot until softened and blend it into a smooth consistency. However, roasting does enrich the flavors and gives extra richness to the taste.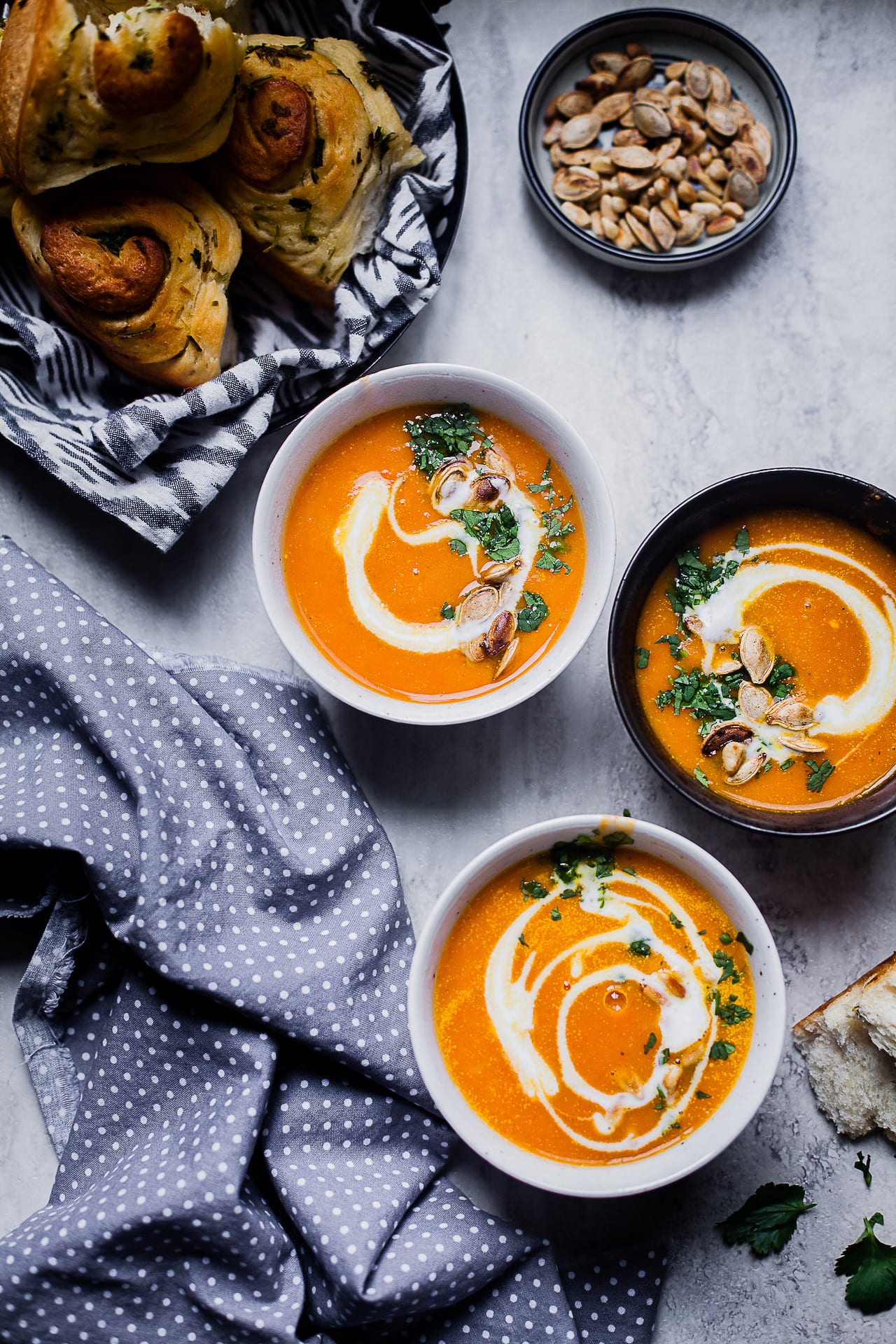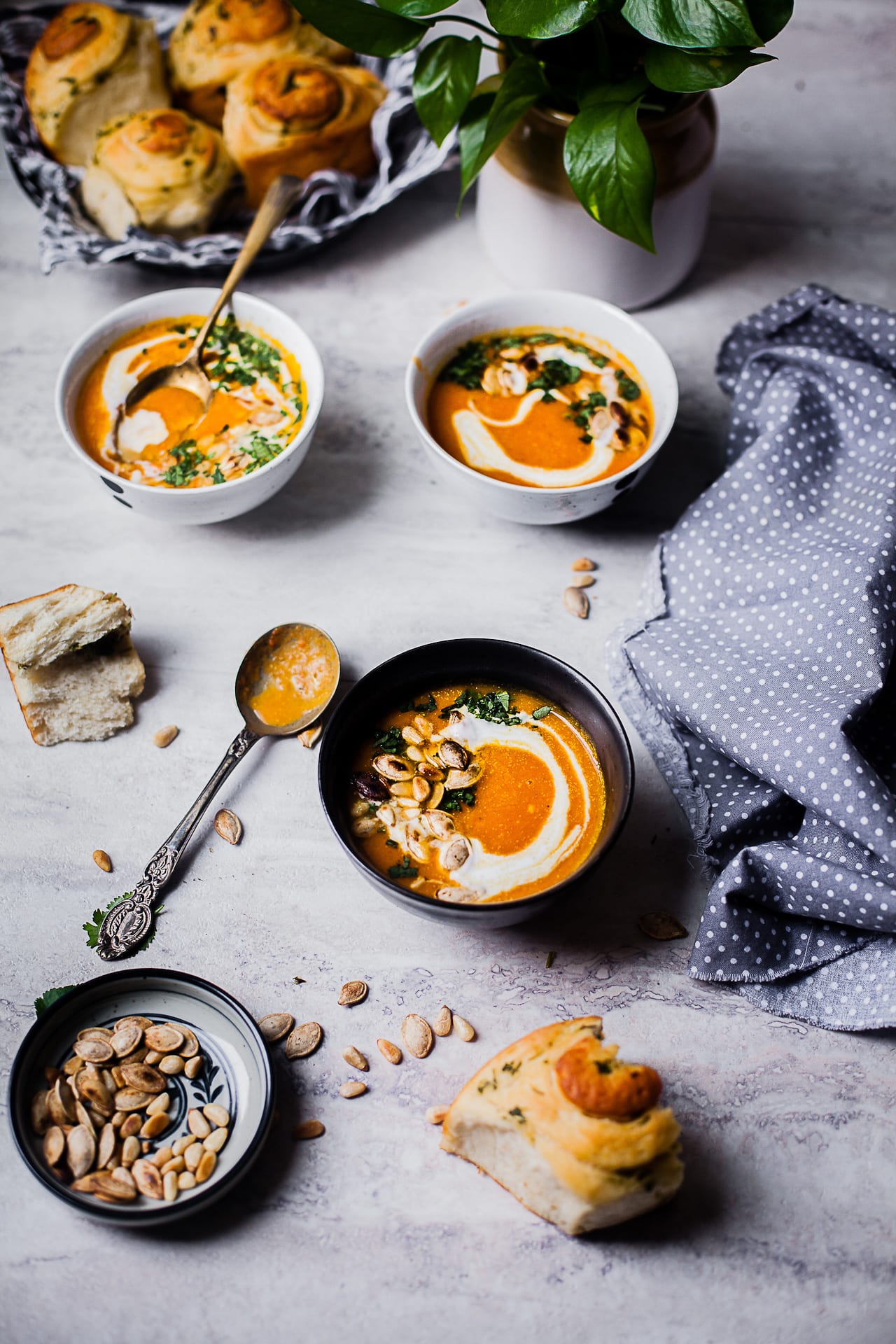 Last week was not very productive for me. First half of the week, I couldn't find my mojo and the second half was spent taking care of my baby. Avyan had cough and cold. Although he was quite fine, running around like a monkey the entire day, he felt the need to find me close to him all the time. A lot of cuddling around and as expected, he transferred the bug to me. So, while he went to school today quite excited to hang around with his friends, I am here trying to get work done with an itchy throat and a bad headache. Hence, the soup to the rescue!
---
More Soup Recipes to try:
5- Ingredients Carrot Ginger Soup
Ingredients
3

carrots

1

sweet potato

1

white onion

1

tablespoon

vegetable oil

½

teaspoon

salt

1

teaspoon

pepper

1-

inch

fresh ginger

4

cups

vegetable/chicken stock
for garnish (optional)
heavy cream or coconut cream to drizzle on top

fresh herbs finely chopped

roasted pine nuts or pumpkin nuts or any variety of nuts you like
Instructions
Pre heat the oven to 400 F.

Peel the carrots, onion and sweet potato. Dice roughly in chunky cubes. Layer these evenly on a cookie sheet and drizzle with the oil, salt and pepper. Roast in the middle rack of the oven for 30 minutes, tossing once in between.

Place a pot at medium high heat and pour the stock. If the stock is sodium-free, add 1 teaspoon of salt. Bring it to a boil and then, add all the roasted carrots, sweet potato and onion. Grate the ginger and add it the pot. Let it simmer for 10 minutes.

Using either a hand blender or a stand blender, blend it into a smooth consistency. Check for salt and add any, if needed.

Just before serving, add the garnish mentioned above or serve as is.
Nutrition